I've Tested Nearly Every Chef's Knife on the Market. These Are the 5 Best for Most Home Cooks.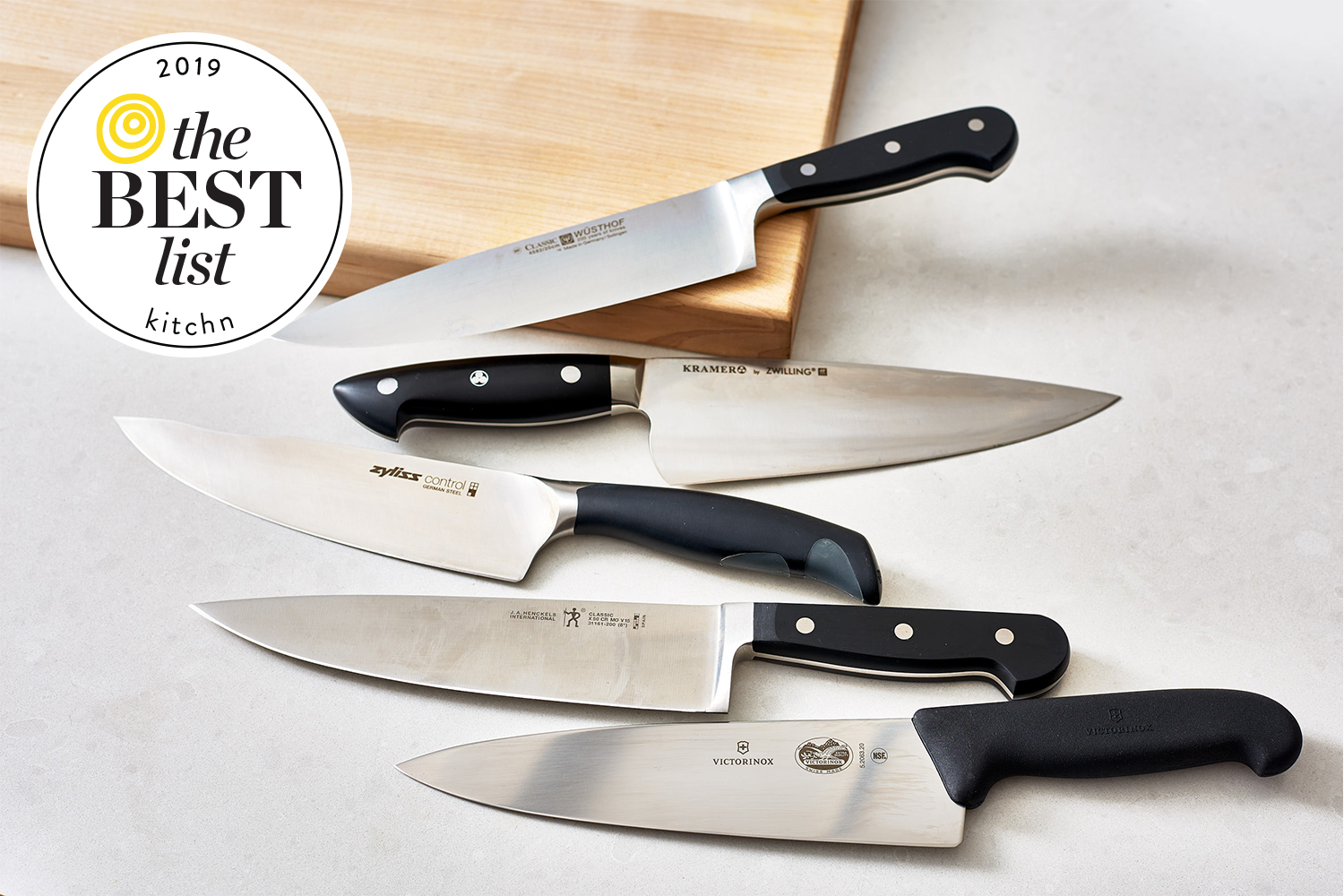 If you're only going to have one knife in your kitchen, it should be a chef's knife. Of course, you're probably going to have more than one knife — this is just the sort of thing people say in order to stress the importance of a good chef's knife.
Why this knife? With its large wide blade, pointed tip, and heavy rear, it's truly all-purpose. You can use it for the obvious things like slicing, chopping, and mincing. And you can use the tip for smaller jobs (like dicing a shallot) and the back of the knife like a cleaver for hacking through bones. With the wide side of the blade, you can smash garlic, scoop up diced veggies to transfer them to a pot, or whack chicken breasts to flatten them into cutlets.
You get the point, right? Whether you are a new cook or an experienced one, a smart, sharp, effective chef's knife is an absolute must-have. Ideally, a good chef's knife. And while you could easily spend hundreds of dollars on one, you don't have to.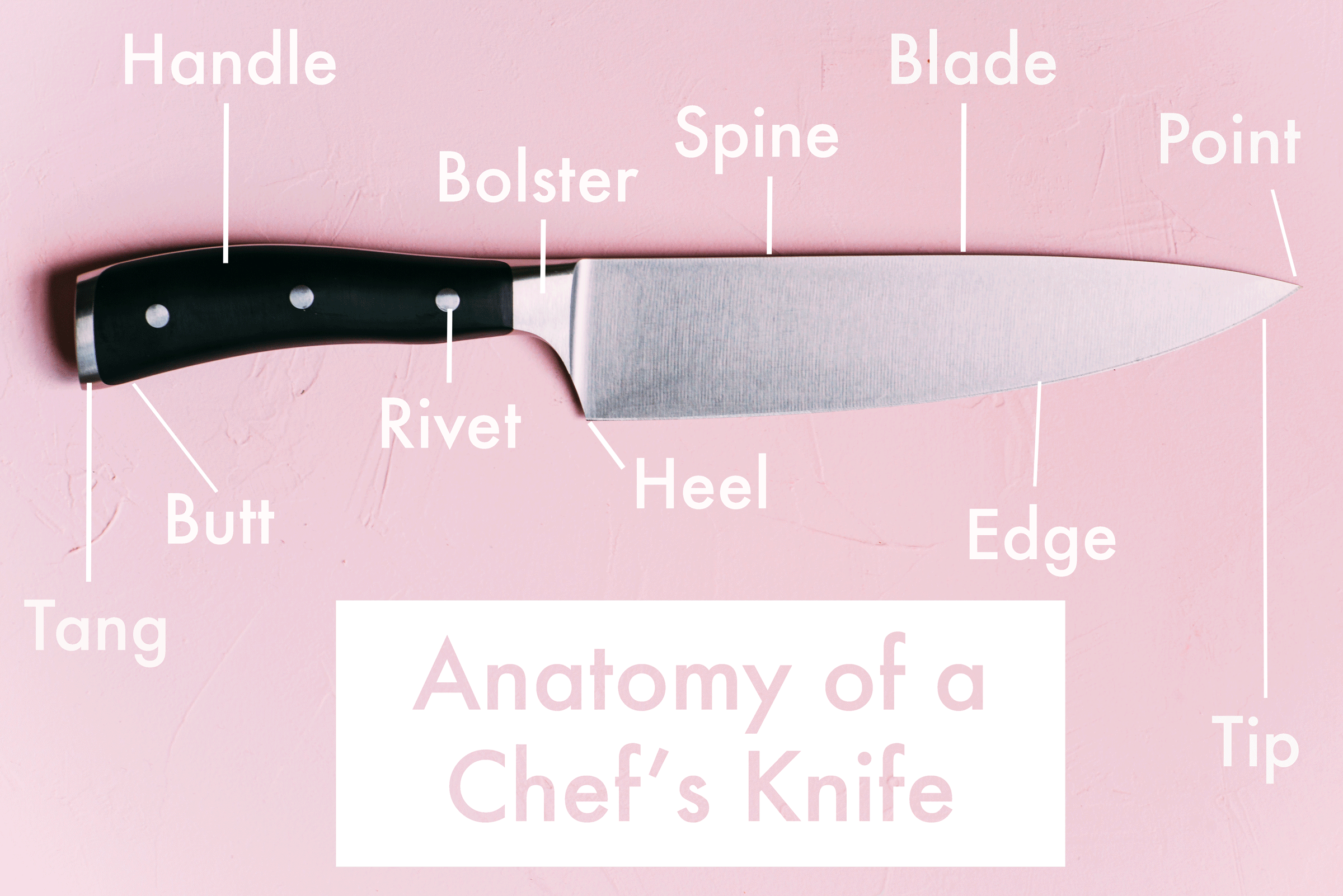 5 Important Decisions in Buying a Chef's Knife
Knife type: There are two main types of knives: German and Japanese. The latter type has a thinner, sharper blade. German knives are heavier, thicker, and more durable. For a more detailed explanation, check out this post. (This Best List focuses on German-style knives. We'll follow up with a second round of picks for Japanese knives.)
Handle quality: Whether made of wood, resin, or plastic, the handle should be solidly attached and not wobble at all when you pick up the knife. Any gaps between the handle and the steel will only get worse over time.
Blade quality: Most knives you'll be looking at are probably either stamped (machine-made using a cookie-cutter model) or forged (which are more labor-intensive to make and usually cost more).
Balance: How does it feel when it's your hand? Do you feel like you have control over it when you hold it?
Sharpness: Obviously, you want your knife to be sharp. And it should be sharp right out of the box. (Your new knife has what's called a factory edge.) If the knife isn't sharp to begin with, that's not a good sign.
I looked at all of these factors when picking these knives. Of course, I also considered how they chopped, sliced, and diced. Plus, how they compared to competitors' knives and what you're really getting for the price of each. With that said, here are the best chef's knives you can buy.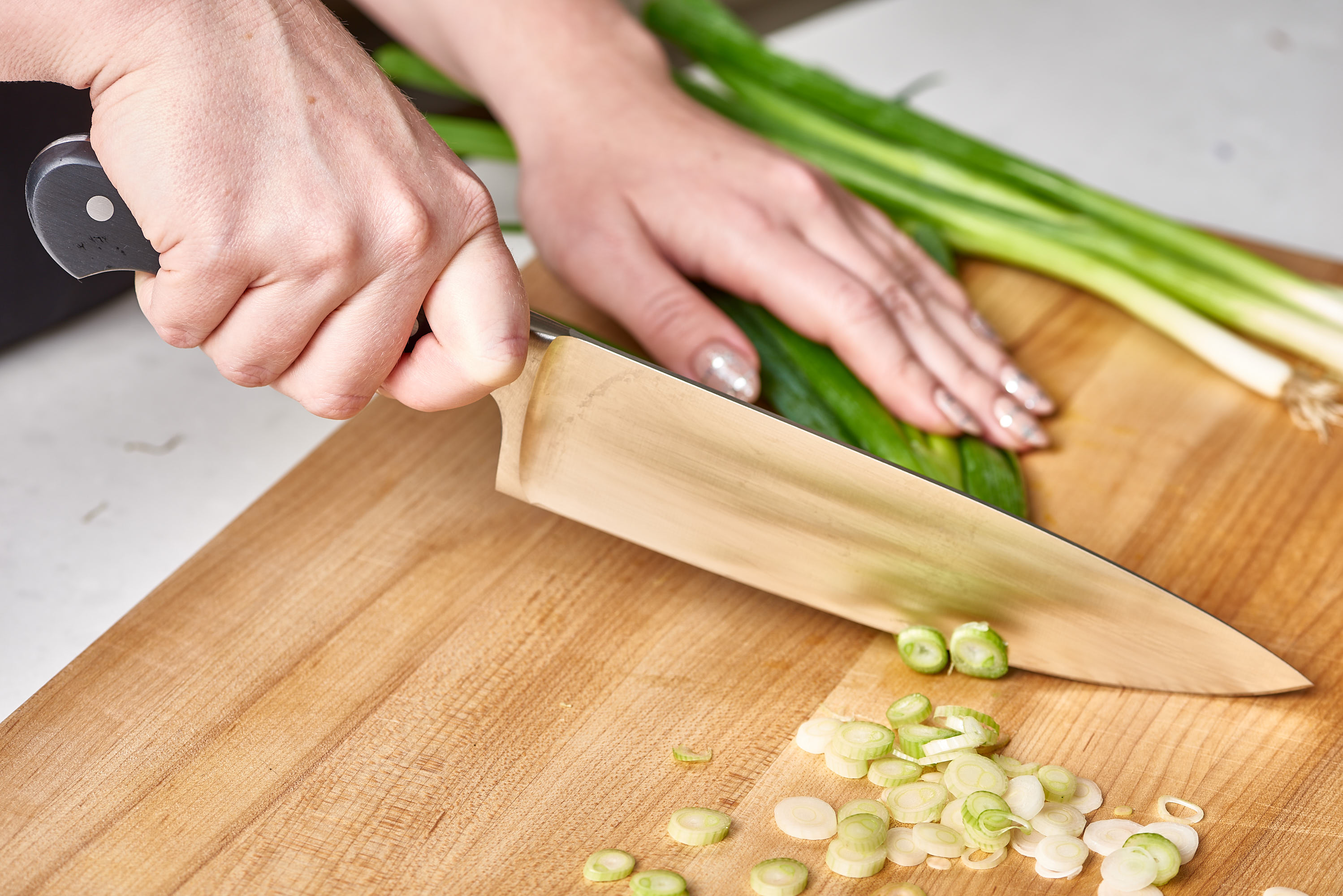 What Size Chef's Knife Should You Get?
The most important thing about a chef's knife (aka cook's knife or French knife) is that it feels comfortable when you hold it. Blade sizes range from six to 14 inches — although most people find an eight-inch blade is both versatile and manageable. Any shorter and you can't cover as much ground; any longer and you may find it unwieldy. For most home cooks, an eight-inch blade is just about right. Eight inches is easy to control and long enough for mincing a whole bunch of parsley at once or even slicing a turkey breast.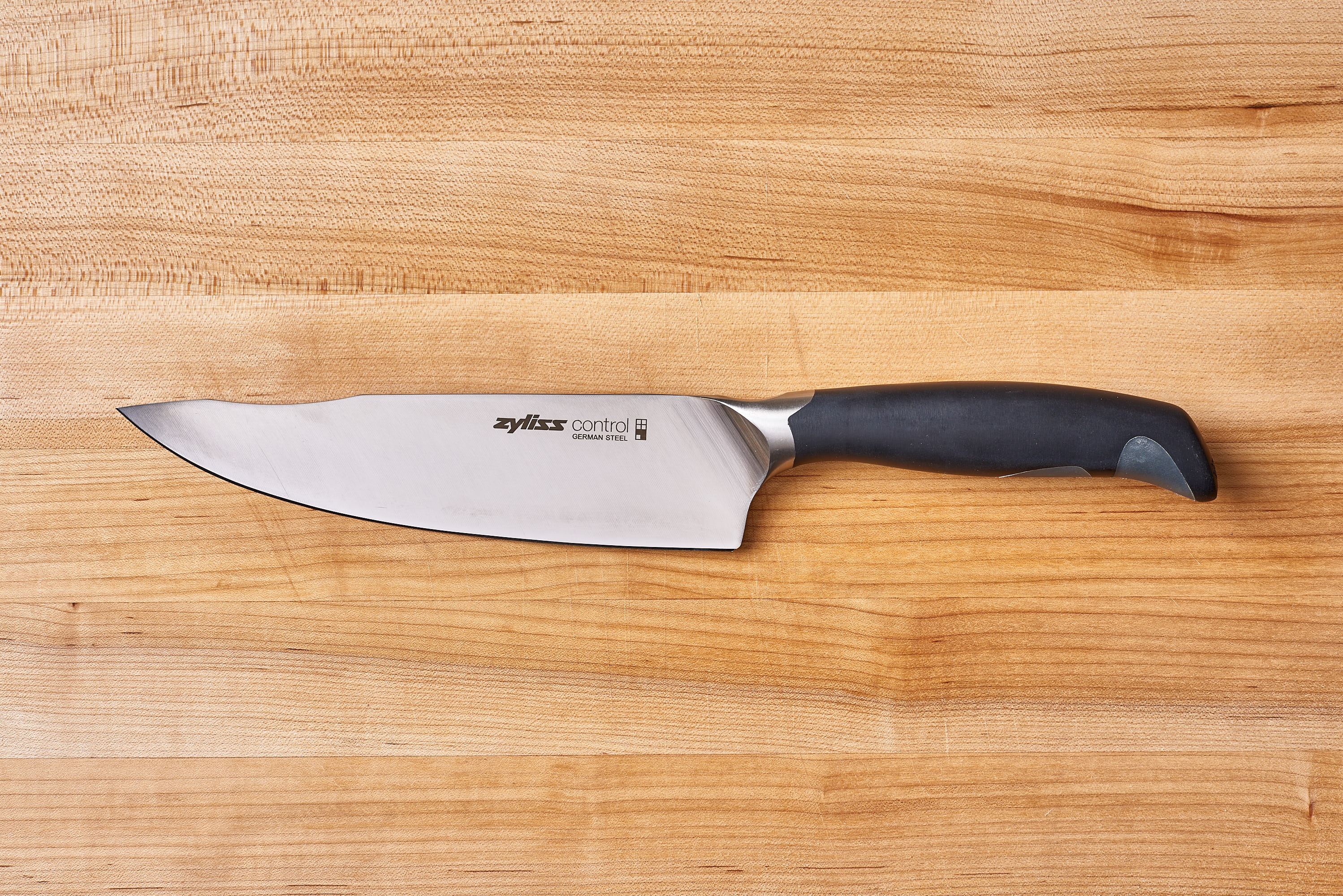 The Best Chef's Knife for Less than $30: Zyliss Control Chef's Knife
At just $26, this knife is a total steal. But in spite of its bargain-basement price, it easily handles every cutting chore — including slicing basil into thin ribbons or even quartering a chicken. It's designed to offer a good grip regardless of how you hold a knife. If you're a traditionalist and like to control a knife with just the handle, you'll find the grip won't slip in your hand. However, if you prefer to pinch grip the way the chefs do, by holding the very back of the blade between your thumb and index finger, you'll find the blade is rounded and comfy just at the spot where you place your fingers.
And unlike many, the Zyliss Control can go in the dishwasher. Just be sure to place it in the basket or a shelf with the blade pointing down and to be careful when you're unloading the machine.
Buy: Zyliss Control Chef's Knife, $19
Second opinion:"I have tiny hands, so while this knife is designed to fit hands of all sizes, I felt like it was a little big for me. That being said, the shape of the handle makes it easy to choke up on and have a proper pinch grip, so I did feel very comfortable holding it," says staff Writer, Lauren Masur. "And the finger guide on the top of the blade (for my non-dominant hand) helped me get even more control over the knife. The thing I like the most about it is that I can put it in the dishwasher!"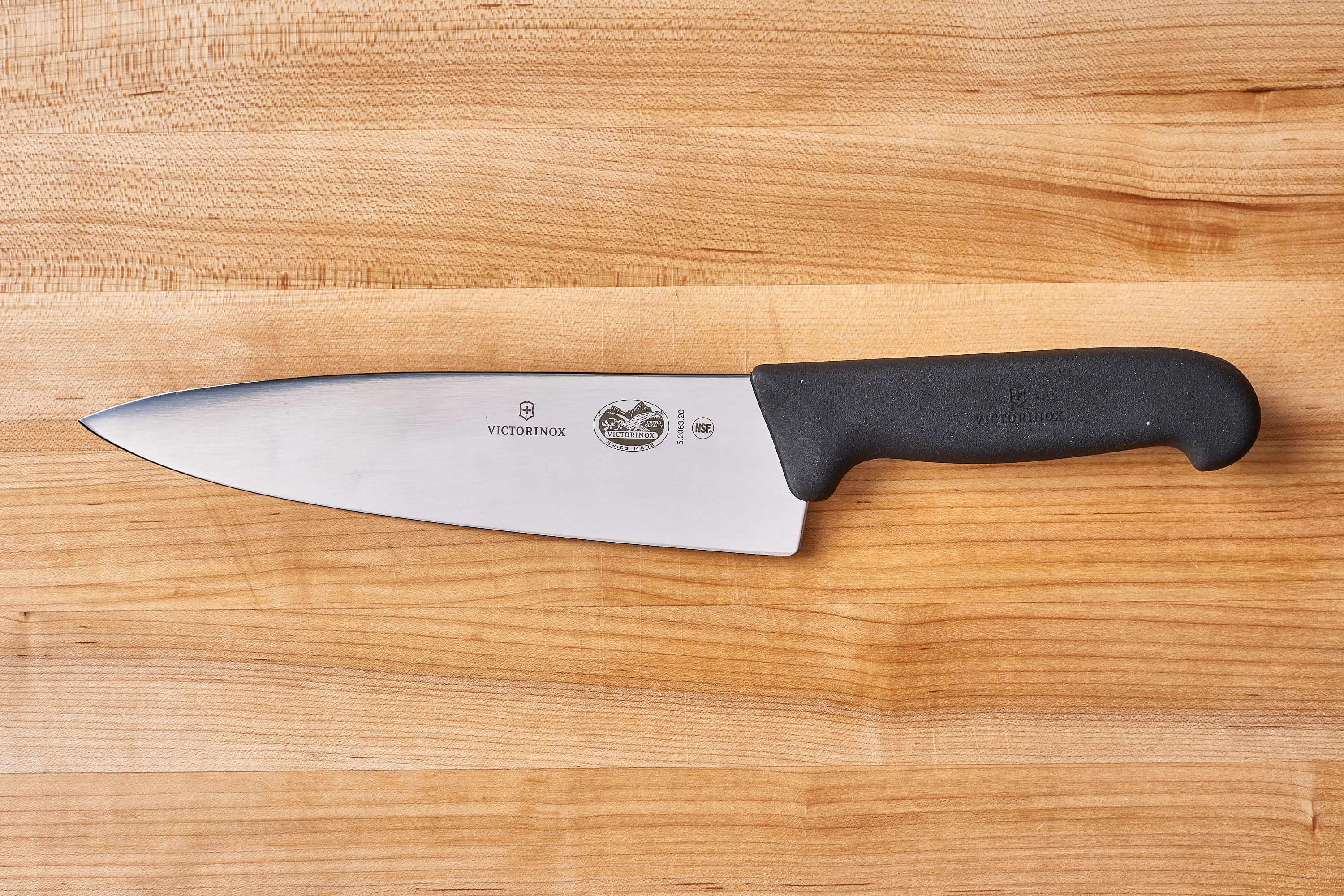 The Best Chef's Knife Under $50: Victorinox Fibrox Pro Chef's Knife
This knife gets you closer to the knives professional chefs actually use. It's not fancy, though. The blade is cut from a single piece of steel rather than forged (which requires more time and labor and ups the price of a knife) and the plastic handle is pretty utilitarian. But this knife is easy to sharpen and holds its edge — and that's what's most important if you do a lot of chopping and slicing. Plus, the handle is textured so it won't slip in your hand. Bonus: The blade has no grooves, so it's extra easy to hand-wash.
Buy: Victorinox Fibrox Pro Chef's Knife, $40
Second opinions: "This knife surprised me!" says News & Culture Editor, Ariel Knutson. "It's lighter than what I'm used to (mostly because of the plastic handle), but it cut everything with ease and felt good in my hand (the most important thing, in my opinion). I would definitely recommend this to any budget-conscious home cook. For the price point, I haven't tried anything better."
Editor-in-Chief, Faith Durand, has also used this knife for over 10 years and raves about how comfortable it is to use, and how inexpensive it is to replace if you (as she once did!) leave it behind in a vacation Airbnb.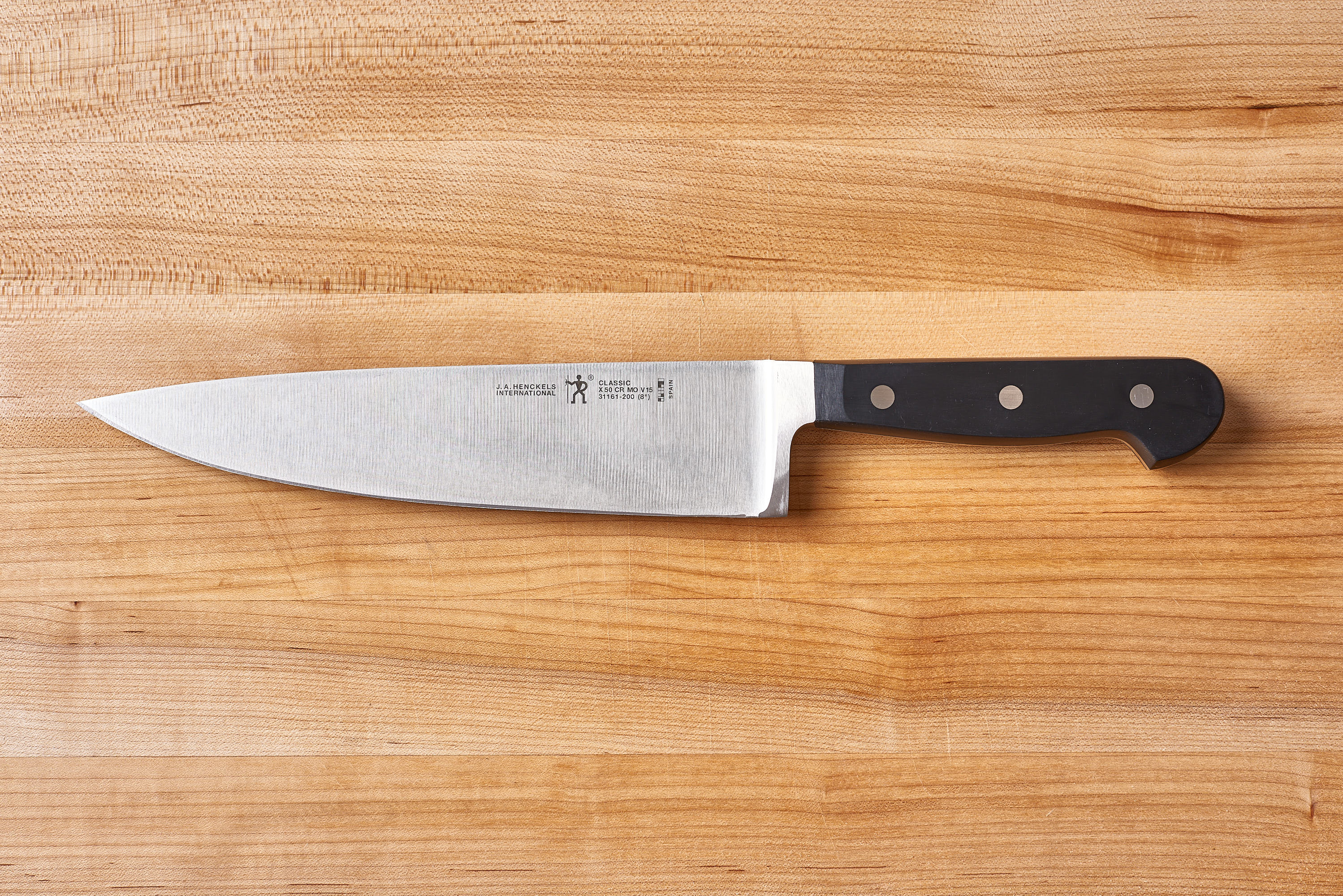 The Best Budget Knife for More Serious Cooks: J.A. Henckels International Classic 8-Inch Chef's Knife
Honestly, this knife is almost exactly the same as the Wüsthof (see below). It's just a small step down in terms of materials. While I really think the Wüsthof version really is just the most perfect knife, this is your best bet if you don't want to spend more than $100.
Buy: J.A. Henckels International Classic 8-Inch Chef's Knife, $54
Second opinion: "I have — and swear by — that Wüsthof knife listed below, so I was excited to get my hands on this guy," says Lifestyle Director, Lisa Freedman. "Not only do the two look almost identical, but they also feel very similar in my hand, too. (And I agree with Sharon that the Wüsthof is a perfect knife, which also makes this one perfect.) I got the Wüsthof as a gift, but if I was buying a knife for myself, I'd go with the Henckels and pocket the savings."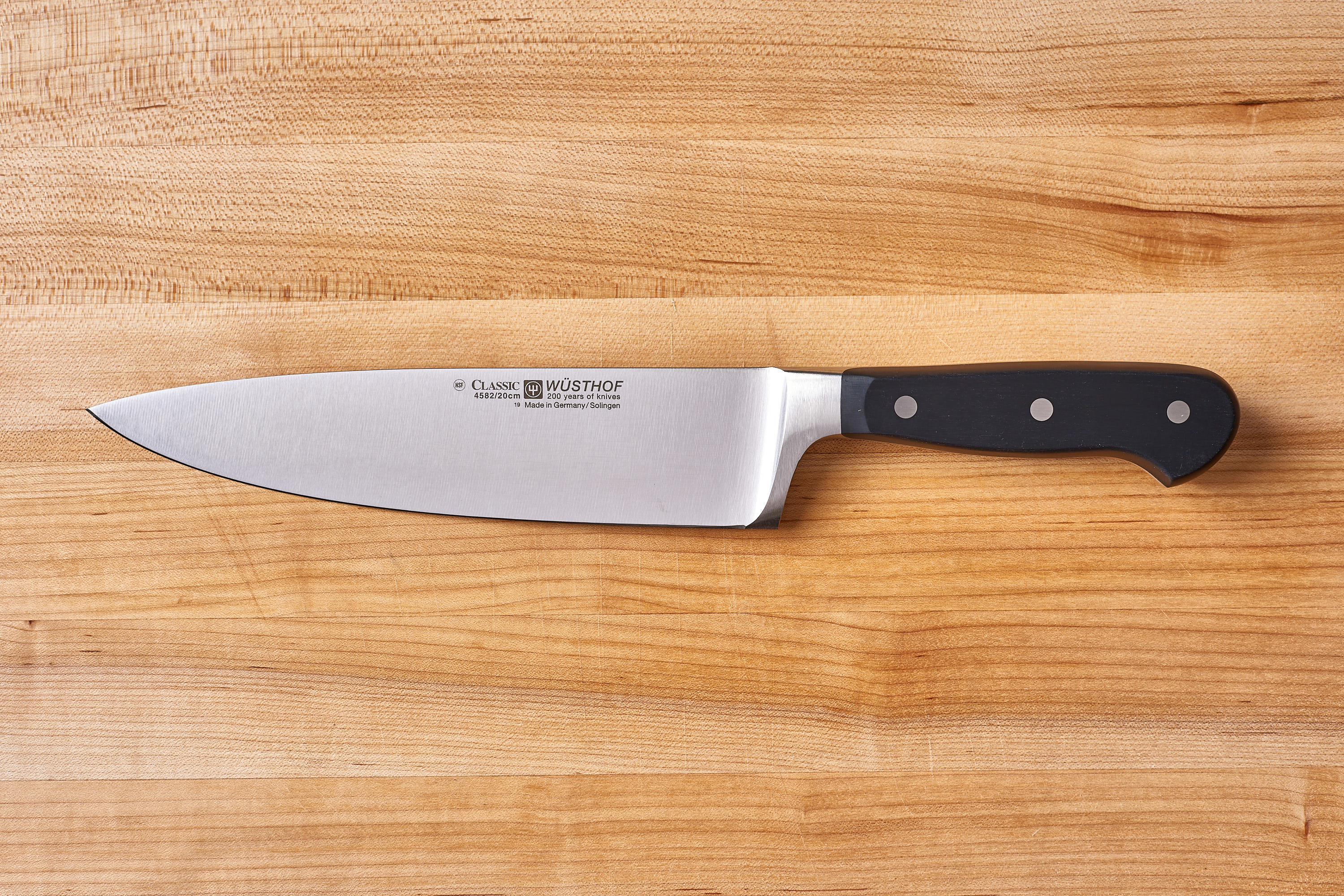 The Best Chef's Knife for Around $100: Wüsthof Classic 8-Inch Chef's Knife
True to its name, this knife is a classic that's been around forever and I think it's just perfect. And it won't set you back a bundle. In your hand, it's well-balanced and just feels right. The blade is well-rounded on the bottom, which helps it to rock back and forth beautifully when you're using it to blitz parsley into confetti, and it has the heft you want in order to effortlessly dice onions or even debone a chicken. If you can afford it, I strongly believe this is the best chef's knife for any type of home cook.
Buy: Wüsthof Classic 8-Inch Chef's Knife, $150
Second opinion: "I love this knife because it's comfortable and my grip feels very natural around the shaped handle. But more importantly, it's just weighty enough (without being too heavy) so that it feels sturdy, strong, and really well-balanced — plus the blade is sharp enough to easily mince fresh herbs, slice a loaf of sourdough, and cut through a tomato with ease," says Associate Food Editor, Kelli Foster. "This knife is also a great value, and a worthwhile investment that will last for years. I've had mine for as long as I can remember."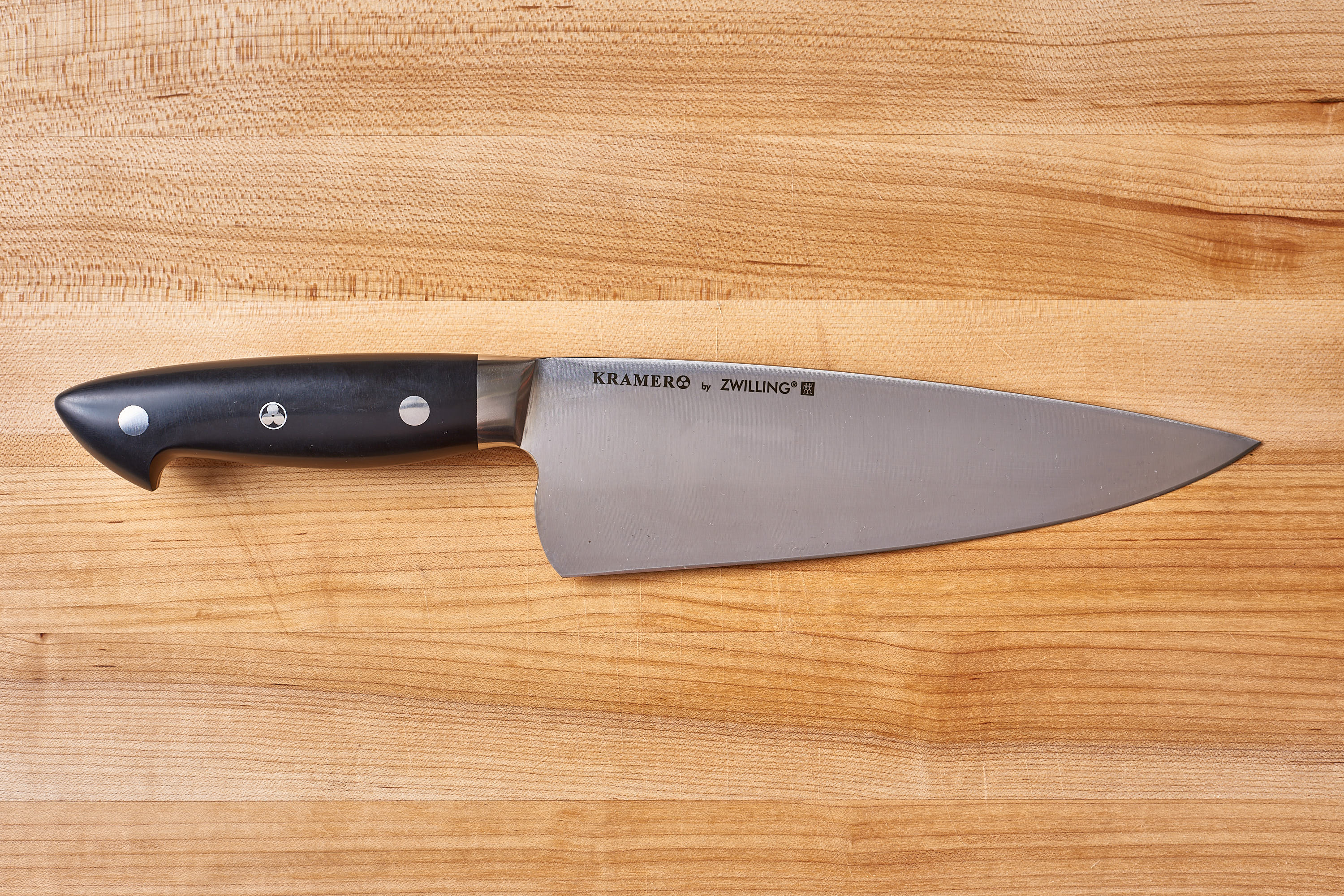 The Best Chef's Knife If You're a Serious Home Cook and Want to Splurge: Kramer by Zwilling Euroline Essential Collection 8-Inch Chef's Knife
Designed by Bob Kramer, the foremost knife craftsman in the USA, and manufactured by Japanese artisans, this knife's sharpness is seriously impressive. And I can vouch for the fact that it stays that way a long time between honings. You'll find you can slice tomatoes or onions so thin that you can see through them.
Because it has a wider blade than most, you have lots of knuckle clearance above the cutting board when you're chopping. The rounded handle is particularly comfortable and the back of the blade is rounded to make it easy to pinch grip. All of these features make this the ideal knife, if you're a serious cook who does heavy-duty kitchen prep. To protect the edge and the handle, you'll want to hand-wash the Kramer.
Buy: Kramer by Zwilling Euroline Essential Collection 8-Inch Chef's Knife, $200
Second opinion: "This is the fanciest knife I've ever used — but that's not why I love it," says Senior Food Editor, Grace Elkus. "To me, the best knife is the one that feels the best in your hand, and this one feels like it was tailor-made for me. It's lightweight yet sturdy, and the blade holds its edge despite the constant use I've been putting it through, meaning I rarely have to sharpen it. And because the blade is so wide, you can scoop up a ton of food in one fell swoop when it's time to move pieces from the cutting board to a pot. If you can afford the splurge here, it's totally worth it."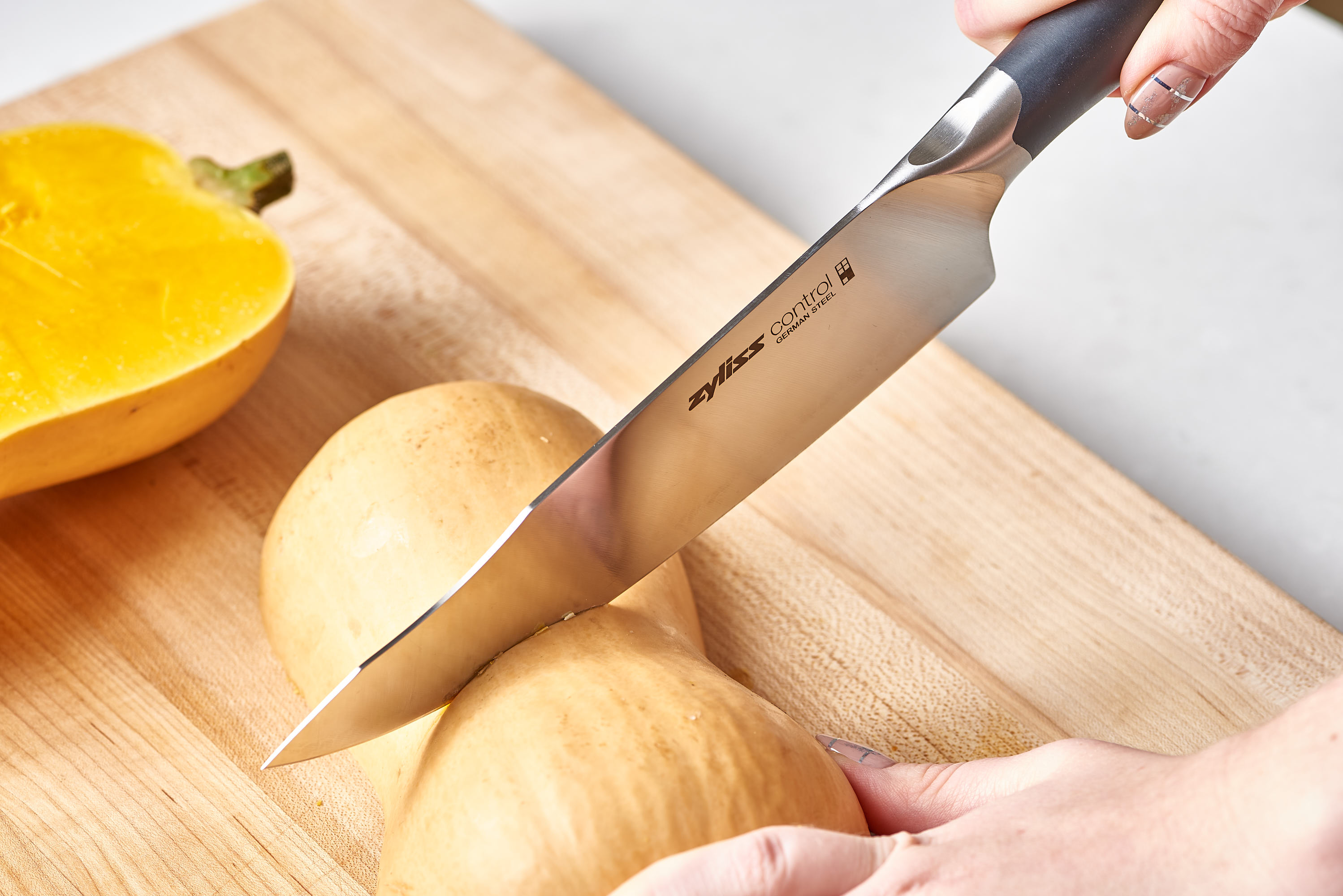 Why You Should Trust Our Gear Pro
For more than 30 years, I was in charge of testing and reporting on everything from wooden spoons to connected refrigerators at the Good Housekeeping Institute. I've walked the floors of every trade show and read every new product release for longer than most digital publications have existed!
My street cred? I also worked as a chef in New York City restaurants for seven years.
I've tested, used, and played with nearly every piece of kitchen gear (including knives) to come on the market for years. When it comes to gear, it takes a lot to impress me, and I know what actually works.
Picked by a Pro. Tested by Real Home Cooks.
I've tested what feels like every chef's knife on the market (at all the price points, low to high!) and these are my all-time favorites. But you don't have to take my word and my word alone, either. Kitchn editors — a unique hybrid of professionals and home cooks, who develop and test great recipes in real home kitchens — weighed in on these picks too, testing my favorites in the context of their actual home cooking.
After all, when it comes to kitchen gear, what matters is that it works for a home cook — not just that a chef endorses it, or that it passed some high-flying bar in a sterile test kitchen. You want gear that is above all, practical, long-lasting, and mindful of real cooks, real kitchens, and real budgets.
Source: Read Full Article