1 million signatures given to consul-general in bid to end Indonesia's dog-meat trade
WARNING: GRAPHIC IMAGES
A petition containing 1 million signatures, collected from around the world, was presented to the Indonesian consul-general in Sydney on Monday calling for an end to that country's brutal dog and cat meat trade.
Campaigners from the Dog-Meat Free Indonesia coalition hand-delivered the petition to consul-general Heru Hartanto Subolo at the Indonesian consulate in Maroubra, in Sydney's east about 11am.
From left: Jeroen Van Kernebeek (Dog-Meat Free Indonesia); an unidentified consulate staff member; Kristie Wilkinson (DMFI); Zani Murnia, diplomat at Indonesian consulate-general in Sydney; Georgie Dolphin (DMFI); Jessica Medcalf (DMFI); Novan Ivanhoe Saleh, consul at Indonesian consulate-general in SydneyCredit:Dog-Meat Free Indonesia
The signatures represent the more than 1 million dogs and hundreds of thousands of cats who are estimated to be killed in Indonesia each year for human consumption.
More than 90 Indonesian and international celebrities such as Cameron Diaz, Chelsea Islan, Jane Goodall, Simon Cowell and Ellen DeGeneres have signed the petition.
The coalition comprises local and international animal welfare groups Animal Friends Jogja, Jakarta Animal Aid Network, Four Paws, Change For Animals Foundation, Animals Asia Foundation and Humane Society International (HSI).
"The consulate was very welcoming and gave us the time to sit and discuss the issue," HSI spokeswoman Georgie Dolphin said.
​Similar petitions are due to be handed in at Indonesian embassies in London, Washington, DC, and the Presidential Palace in Jakarta.
Although dog and cat meat are eaten by only a small minority in Indonesia, the trades affect whole communities who are at increased risk of diseases such as rabies and who often have their pets stolen by weapon-wielding thieves.
It was not supposed to come to this. Discussions over animal-welfare issues have been going on for years.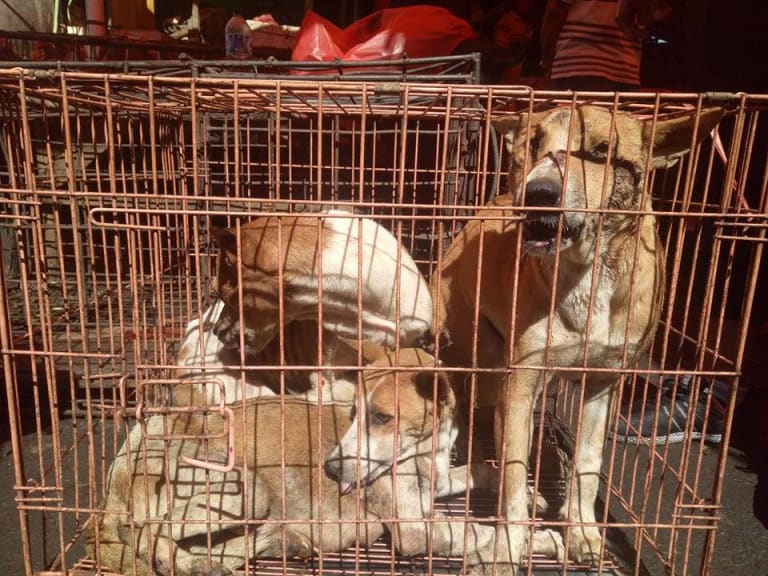 Dogs in cages await slaughter at an "extreme market" in Indonesia.Credit:Dog-Meat Free Indonesia
In February this year, officials from the office of the mayor of Tomohon, in North Sulawesi province, met coalition representatives and pledged to work to end the sale and slaughter of dogs and cats at the so-called "extreme market" in the city.
Then, in August, at an extraordinary meeting between Indonesia's Ministry of Agriculture and the coalition in Bogor, near Jakarta, government officials said they would support a ban on the trade in, and deny veterinary certification for, dog and cat meat.
Leading veterinary public officials confirmed the dog meat trade was a serious public health threat, a significant animal welfare issue and a substantial problem for Indonesia's growing tourism industry, HSI reported at the time.
At the August meeting, director of Veterinary Public Health Dr Syamsul Ma'arif conceded the trade was "torture for animals".
Members of the Dog-Meat Free Indonesia coalition protest against the killing of dogs for meat in their country.Credit:Dog-Meat Free Indonesia
However, in September, the coalition filmed shocking new footage of dogs and cats being bludgeoned over the head and blowtorched to death at an extreme market in Tomohon.
The head of the coalition, Lola Webber, said afterwards: "Every single dog and cat we saw at Tomohon extreme market was blowtorched while clearly still alive.
"It was the most horrific cruelty we have witnessed so far in our campaign to shut down this hideous trade, and it was all done in full view of very young children.
"By the end of our filming we were all spattered with blood and brain matter from the bludgeoning, showing how easy it would be for customers and tourists to become infected with diseases such as rabies, and, in fact, two of our team were extremely sick following the market visit.
"We are really grateful that the horrific cruelty and human-health risks of this appalling trade has been publicly recognised by the Indonesian government, but our latest evidence clearly shows the need for an immediate ban cannot be ignored.
This is an urgent situation requiring immediate action."
Rabies threat
Not only is this treatment extremely brutal for the animals, but it flouts public health and safety regulations to curb the spread of fatal zoonotic diseases such as rabies.
Rabies has a 100 per cent mortality rate in animals and humans if not treated early.
It is endemic in 25 out of 34 of Indonesia's provinces, and dogs and cats of unknown disease status are routinely transported across provincial borders and islands and into densely populated cities.
This is in breach of the law and threatens cities and provinces, including Jakarta, that have worked so hard to secure their rabies-free status.
Human rabies deaths have been directly linked to involvement in the slaughtering, butchery, handling and even consumption of meat from infected dogs, HSI reports.
Although rabies can be effectively controlled and eradicated through dog vaccination programs, 70 per cent of dog populations must be vaccinated to eliminate the disease in endemic areas, and the movement of these dogs out of vaccinated communities must be restricted.
Every year, between 50,000 and 70,000 people die of rabies with about 90 per cent of all human rabies deaths reported from Asia, and most attributable to exposure to rabid dogs, HSI reports.
Katherine Polak, from Four Paws, said: "As long as the dog and cat meat markets in North Sulawesi continue to drive the illegal trans-provincial trade into densely-populated cities, any attempts by Indonesia to secure its rabies-free status will fail.
"Millions of Indonesian citizens and global tourists could be at risk of exposure to diseases.
"It only takes one lick, scratch or bite from a rabies-infected animal to require prophylactic treatment for rabies which is otherwise a fatal disease."
Theft of pets "rife"
In addition, the theft of pets in some areas is reported to be widespread.
Indonesians say that law enforcement officials are failing to deter or punish gangs of thieves who terrorise neighbourhoods and steal dogs and cats from houses.
Jakarta Animal Aid Network says it receives countless reports each week from pet owners who have had their dogs stolen by armed thieves.
A spokesman from the Indonesian embassy in Canberra said: "We appreciate the concern from the public in Australia regarding the safety and welfare of animals in Indonesia, particularly in relation to the sale and slaughter of dogs and cats that still exists in some parts of [the country].
"Indonesian legislation prohibits the intentional and unnecessary harming of animals. Therefore we encourage the public to work together with the Indonesian government, whether at the national or local levels, and help in abating and eradicating the trade in dog and cat for consumption.
"The petition shall be forwarded to the relevant authorities in Indonesia for their further consideration."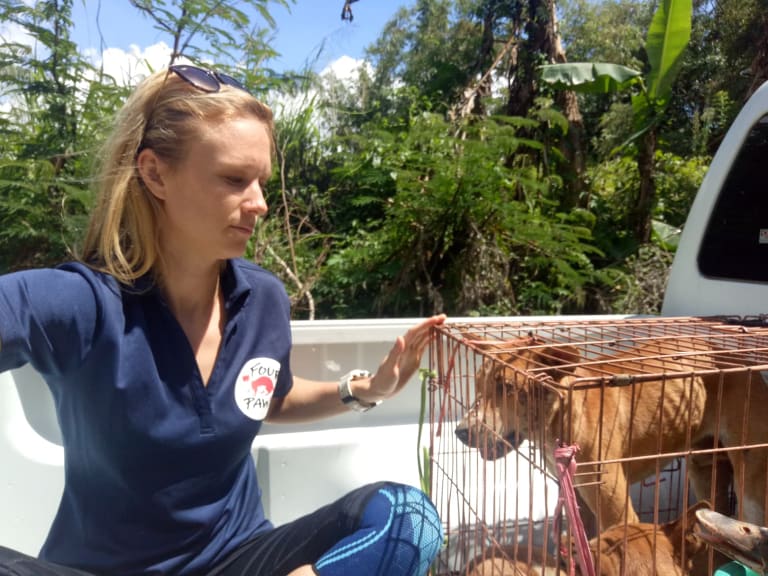 Katherine Polak, from the Four Paws animal-welfare group, which is part of the Dog-Meat Free Indonesia coalition, with a rescued dog.Credit:Dog-Meat Free Indonesia
Source: Read Full Article