16 Harry Potter Socks That Just Scream "Dobby Is A Free Elf"
Do you remember the days when receiving a gift of socks used to be, at best, a silly holiday joke? Or, at worst, a complete and total disappointment that you had to pretend to love, to spare Great Aunt Barbara's feelings? (JK, love you Auntie Babs.) Whether it's a side effect of growing older, or the fact that socks are just oh-so-much-cooler than they were when I was a kid — at least from what I can remember — the days of lame-ish, utilitarian sock-gifts are definitely over. In fact, socks have become one of my go-to gifts and stocking stuffers, and they're always, ALWAYS a hit.
As far as socks for the book lovers in your life go, you definitely can't beat Harry Potter-themed footwear. And you also won't be hard pressed to find Harry Potter socks for the most stylish of Potterheads. From Gryffindors to Hufflepuffs, Hedwig fans to Dobby lovers, the Quidditch obsessed and the Hermione wannabes, when it comes to Harry Potter socks there is something for everyone.
Want the perfect stockings to stuff your stockings with this year? Look no further than these 16 Harry Potter socks. Just try not to keep them all for yourself, okay?
Books Turn Muggles Into Wizards Socks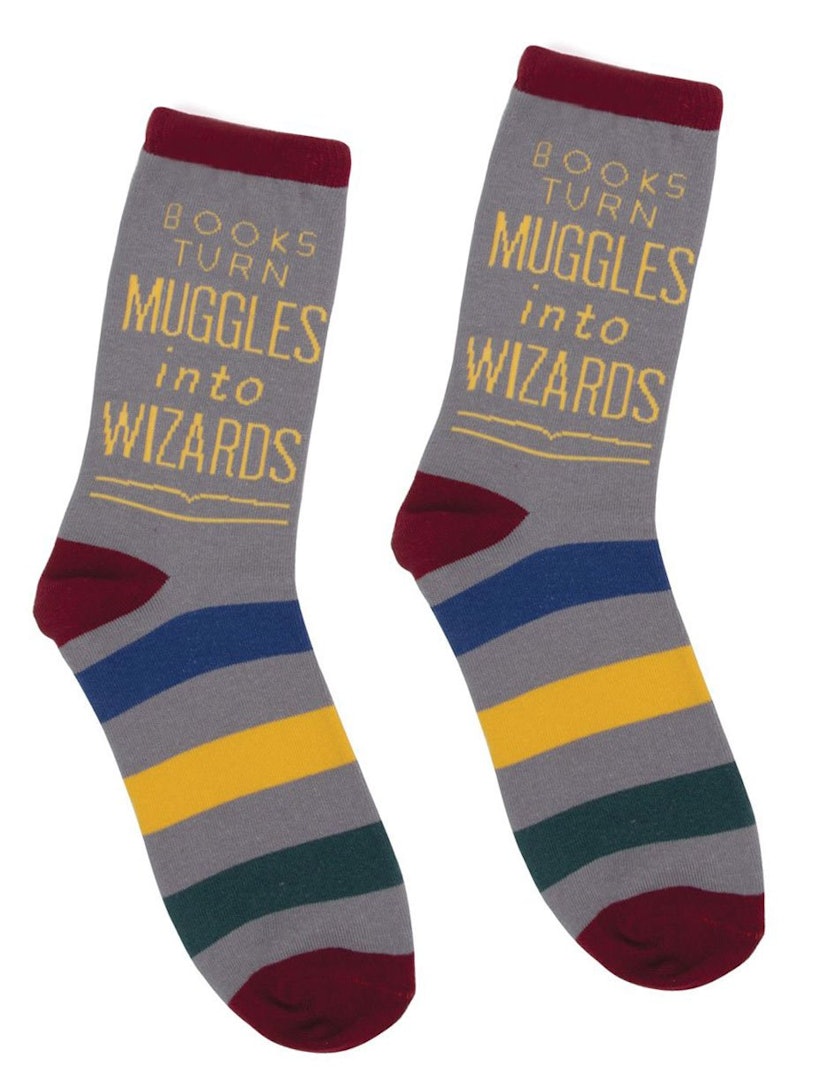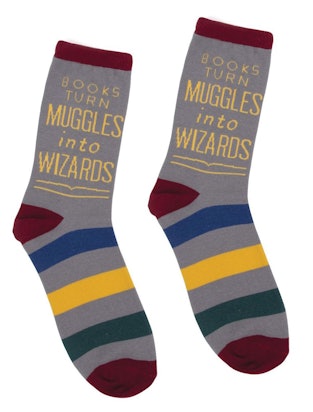 Books Turn Muggles into Wizards Socks
$12
Out of Print
Books DO turn Muggles into Wizards — just ask these adorable, Hogwarts House-striped socks from book-inspired merchandise company, Out of Print.
Glasses & Lightning Bolt Socks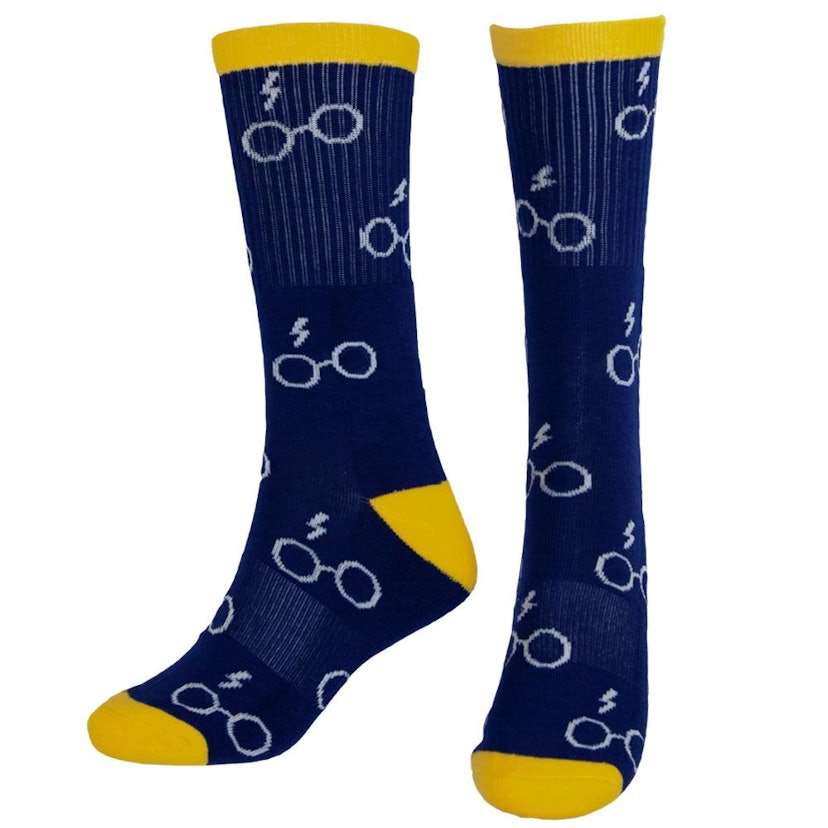 Harry Potter Glasses & Lightning Bolt Crew Socks
$12.95
Harry Potter Shop
No Harry Potter symbol is more iconic than Harry's round glasses and lightening bolt scar. Any Harry Potter will love these crew socks, decorated with both.
Hedwig Letter Socks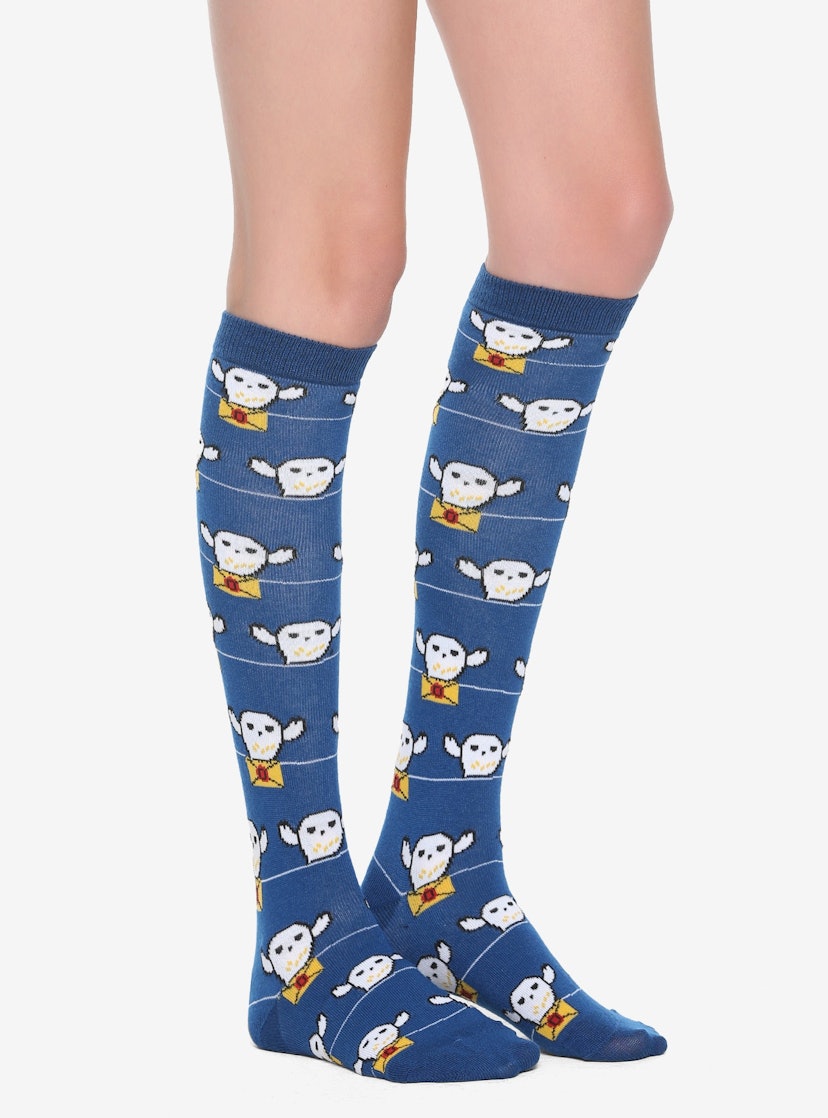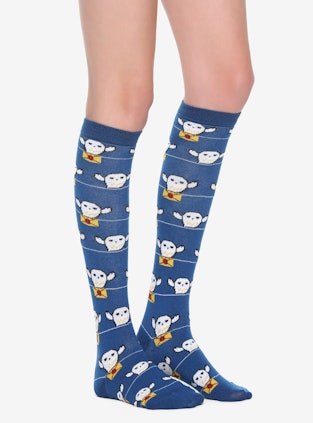 Hedwig Letter Knee-High Socks
$8.90
Hot Topic
Featuring an adorable, letter-delivering Hedwig, these Hot Topic socks will keep any witch or wizard's toes cozy this holiday season.
Ron Weasley Sweater Socks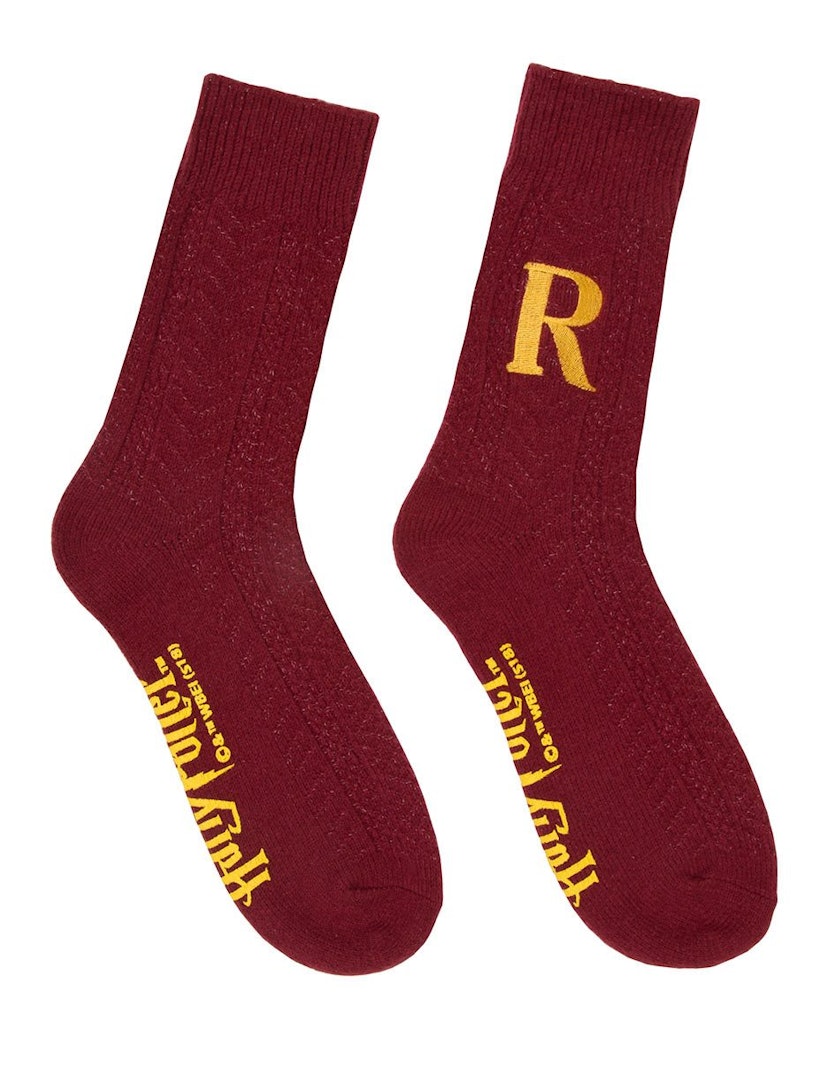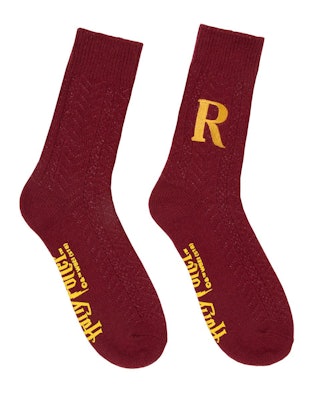 Ron Weasley Sweater Socks
$12
Out of Print
For anyone who has always wanted their own signature Mrs. Weasley holiday sweater, these socks are the next best thing. Inspired by Ron's monogrammed sweater, these socks are cable knit and comfy cozy.
12 Days Of Socks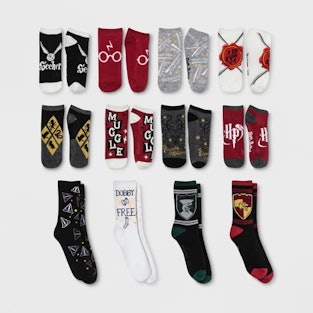 Harry Potter 12 Days of Socks
$15
Target
Why have just one pair of Harry Potter socks when you can have 12? This pack features 12 days of Harry Potter socks in assorted colors and styles — each of the Hogwarts houses, Platform 9 and 3/4, a Golden Snitch, and more.
Gryffindor House Socks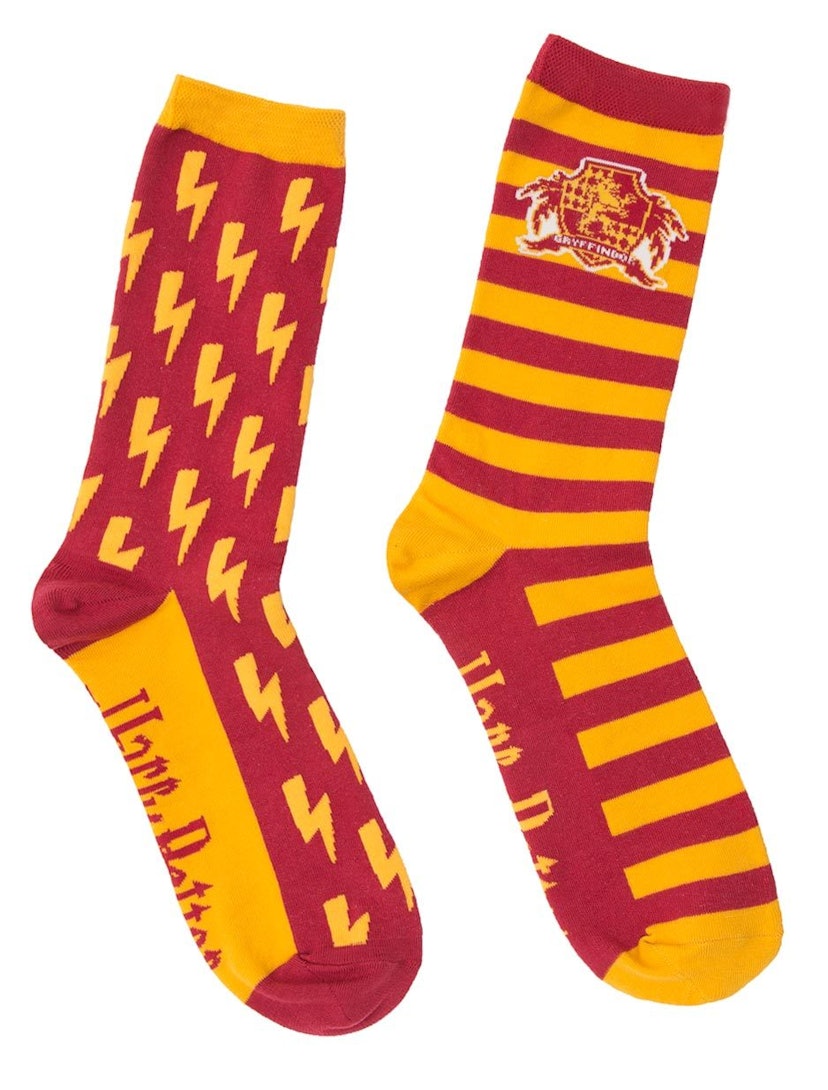 Gryffindor Socks
$12
Out of Print
Warm up your toes and show off your favorite Hogwarts House at the same time, with these crimson and gold Gryffindor socks.
Hufflepuff House Socks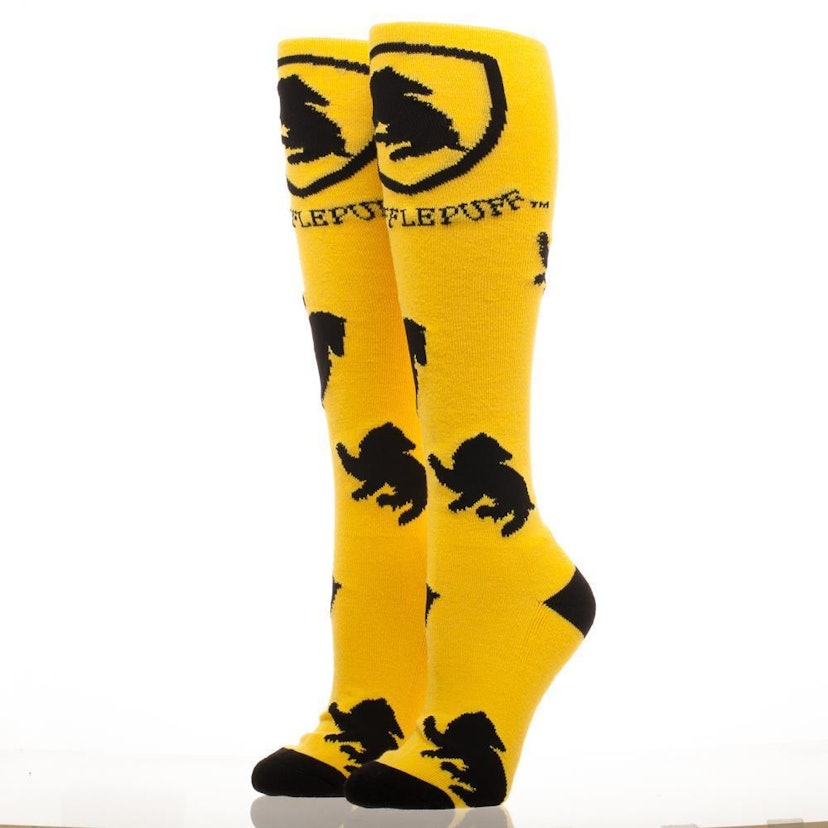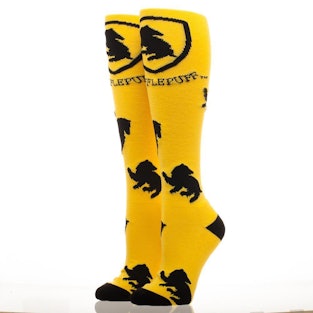 Hufflepuff Crest Knee High Socks
$12.95
Harry Potter Shop
If Hufflepuff is where your heart is, you'll love these black and yellow Hufflepuff Crest knee socks. A great gift for the loyal, hardworking, dedicated, and true.
Hogwarts Crest Socks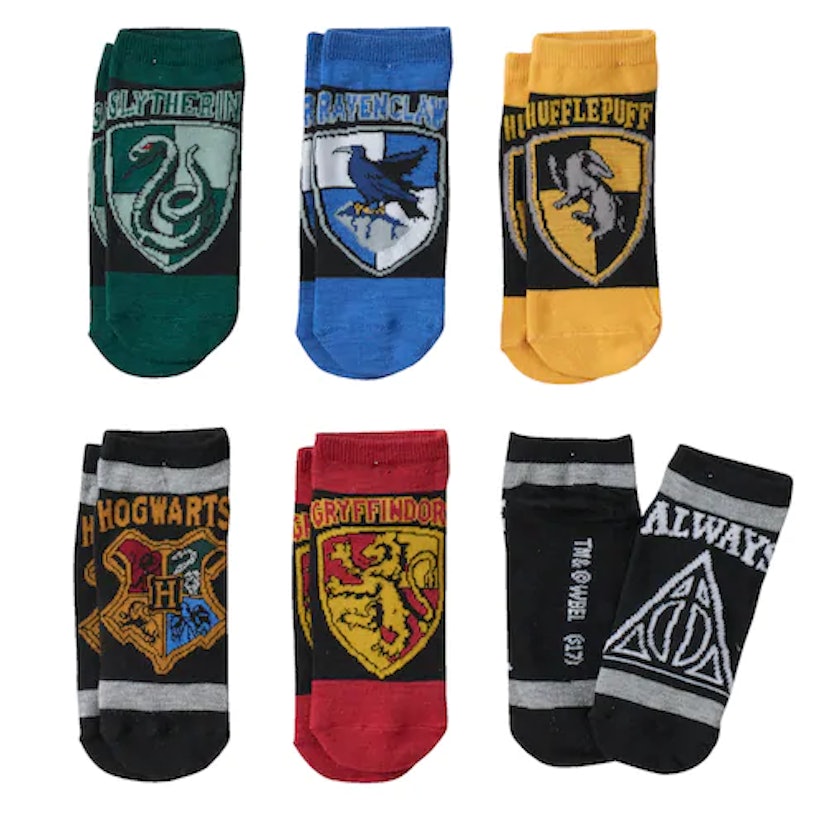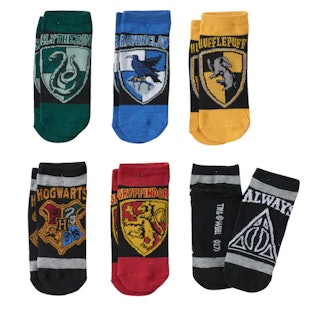 Hogwarts Low-Cut Socks
$12
Kohl's
This 6-pack of Harry Potter ankle socks includes one pair for each Hogwarts House, another featuring the Hogwarts Crest, and one designed with the Deathly Hallows.
Dobby Christmas Socks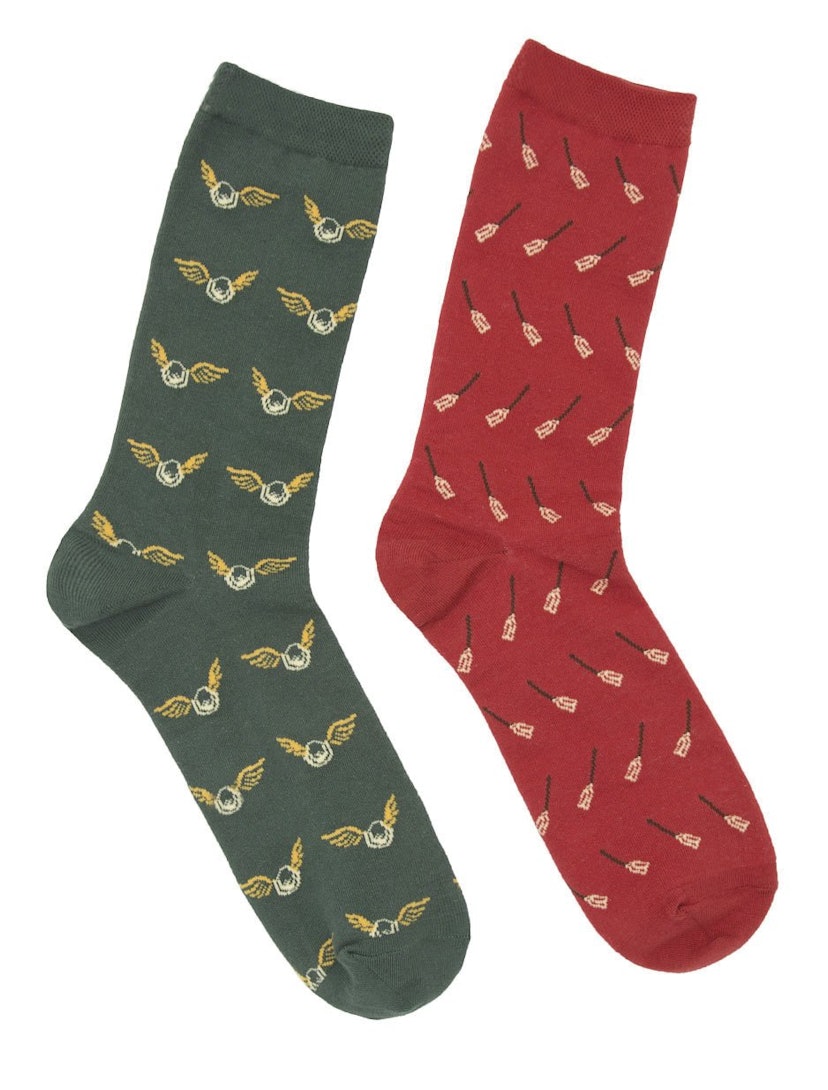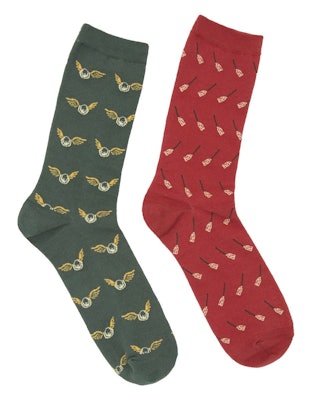 Dobby Christmas Socks
$12
Out of Print
Inspired by the little elf that stole readers' hearts — "Socks are Dobby's favorite, favorite clothes, sir!" — these socks celebrate all things Quidditch: the snitch, and a broomstick.
Gryffindor Casual Crew Socks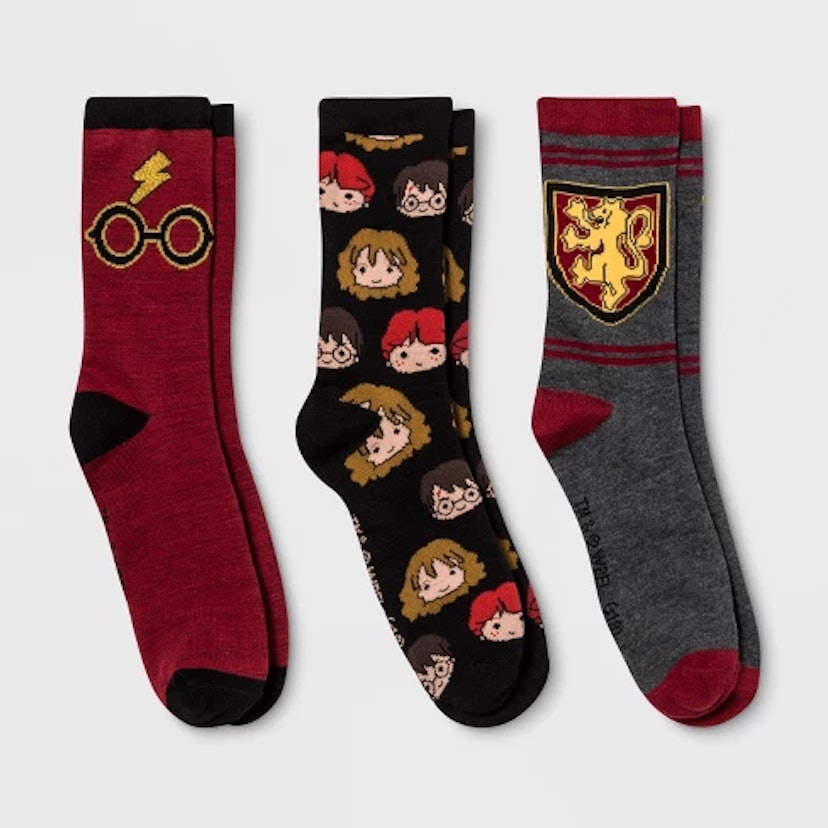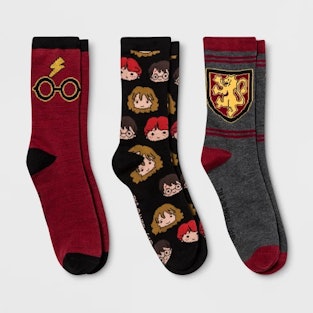 Gryffindor Crew Casual Socks
$8
Target
This adorable 3-pair includes the Gryffindor Crest, Harry's glasses and lightening bolt scar, and a third pair of cute Ron, Hermione, and Harry cartoons.
Hogwarts House Mascot Socks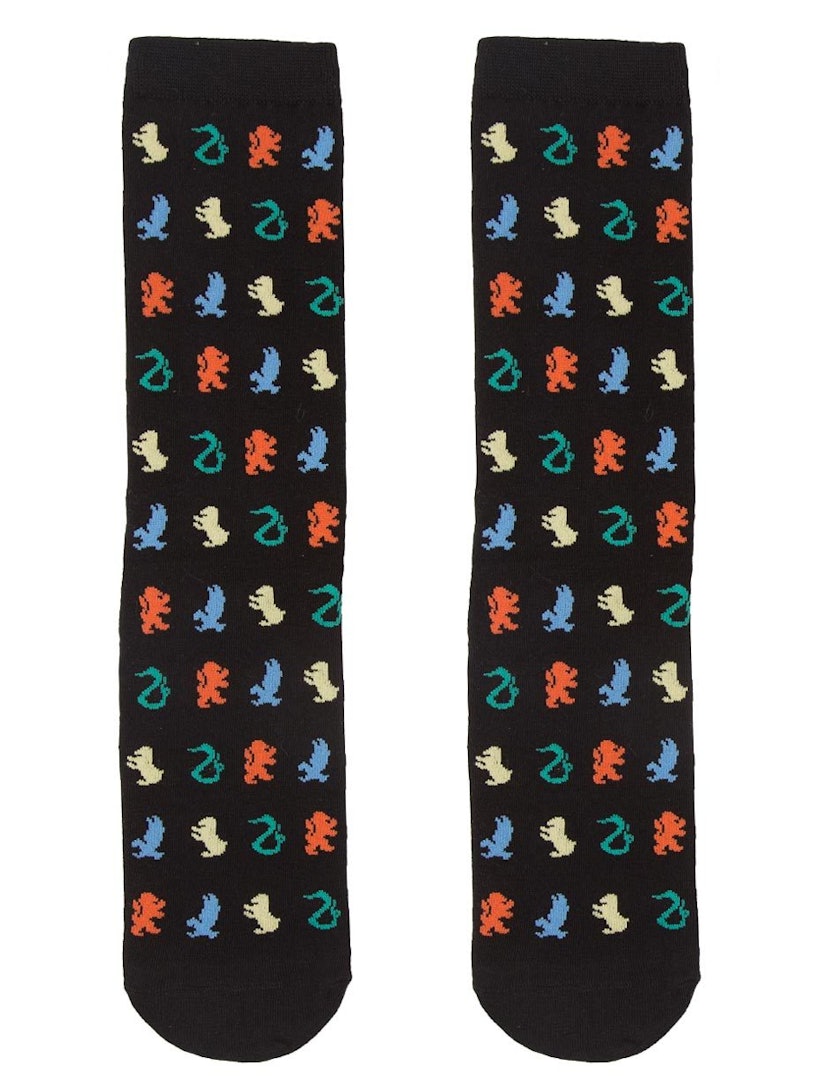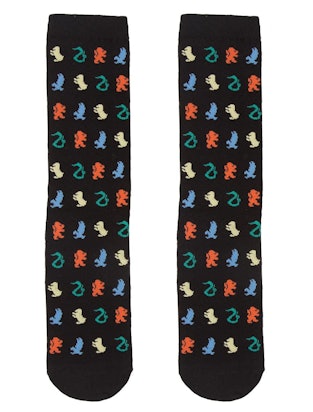 Harry Potter Hogwarts House Socks
$12
Out of Print
Can't decide which Hogwarts House is your favorite? Wear all four, with these socks. Bonus: each purchase helps to fund literacy programs and book donations to communities in need.
Mischief Managed Socks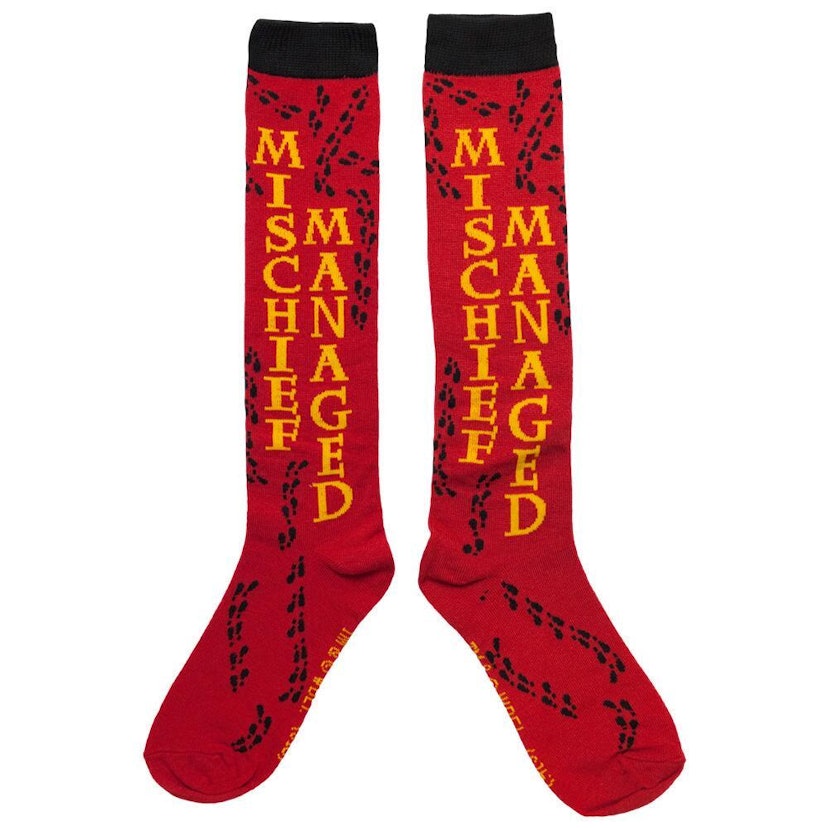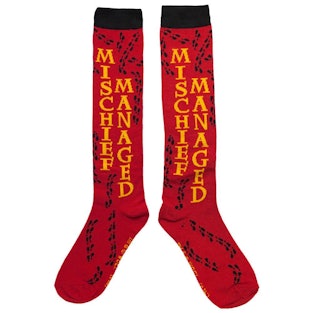 Red Mischief Managed Knee High Socks
$12.95
Harry Potter Shop
Featuring the motto of the Marauder's Map, these socks are definitely the footwear for anyone with a little mischief in mind this holiday season.
Slytherin House Socks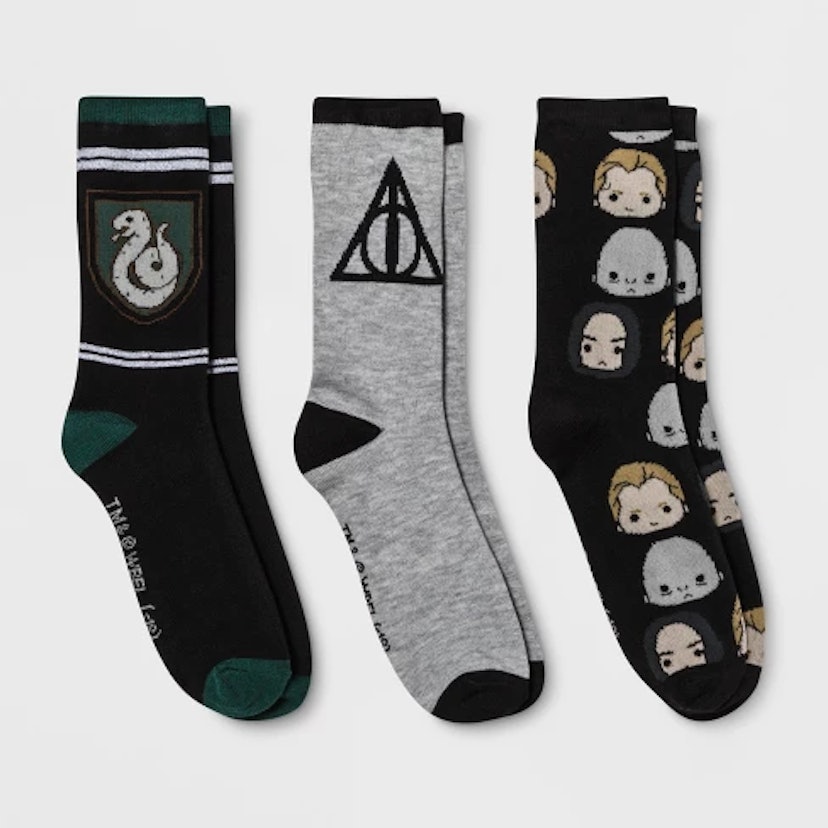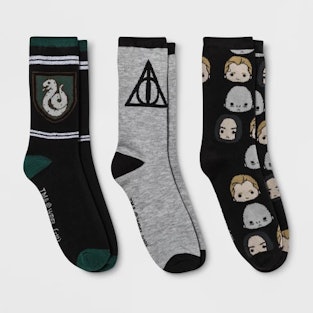 Slytherin Crew Casual Socks
$8
Target
If Slytherin is your Hogwarts House of choice, this 3-pair of socks is exactly what your witchy feet need.
Fred And George Sweater Socks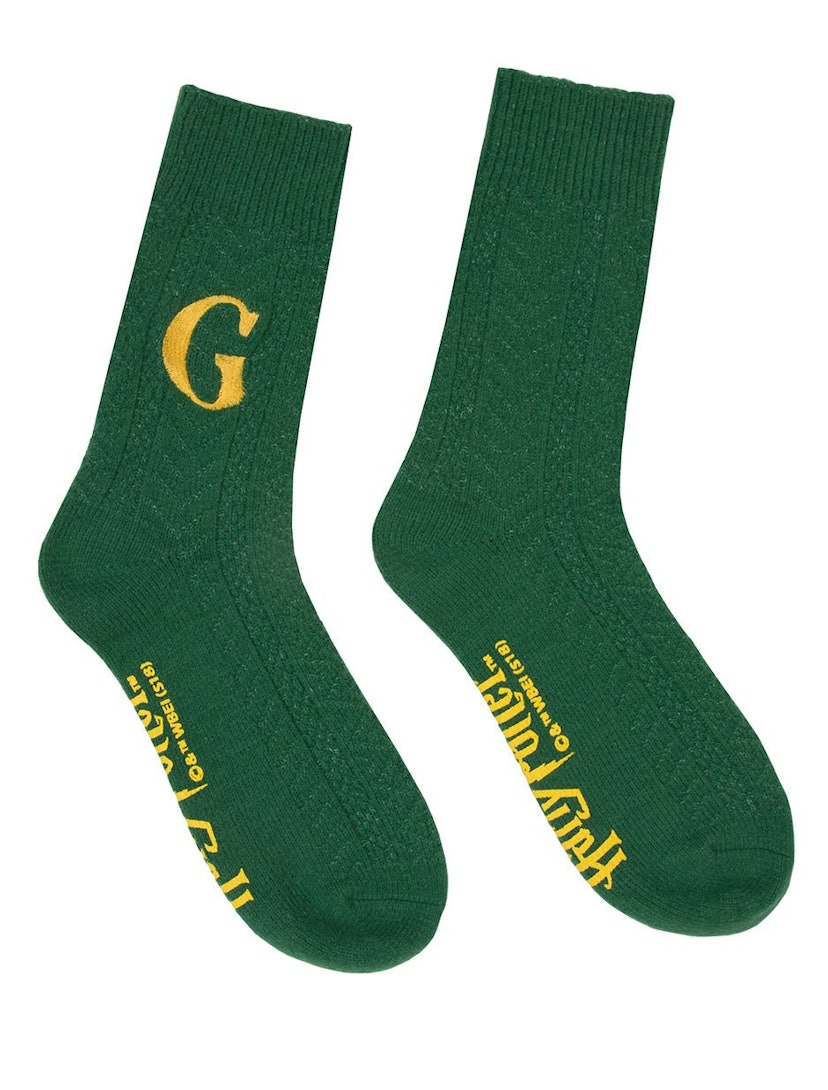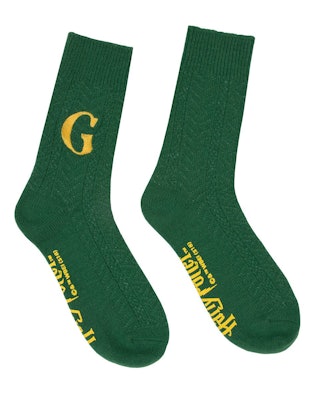 Fred and George Weasley Sweater Socks
$12
Out of Print
Perfect for a Potter-loving prankster, these green, cable knit socks are inspired by Mrs. Weasley's one-of-a-kind Christmas sweaters.
Ravenclaw House Socks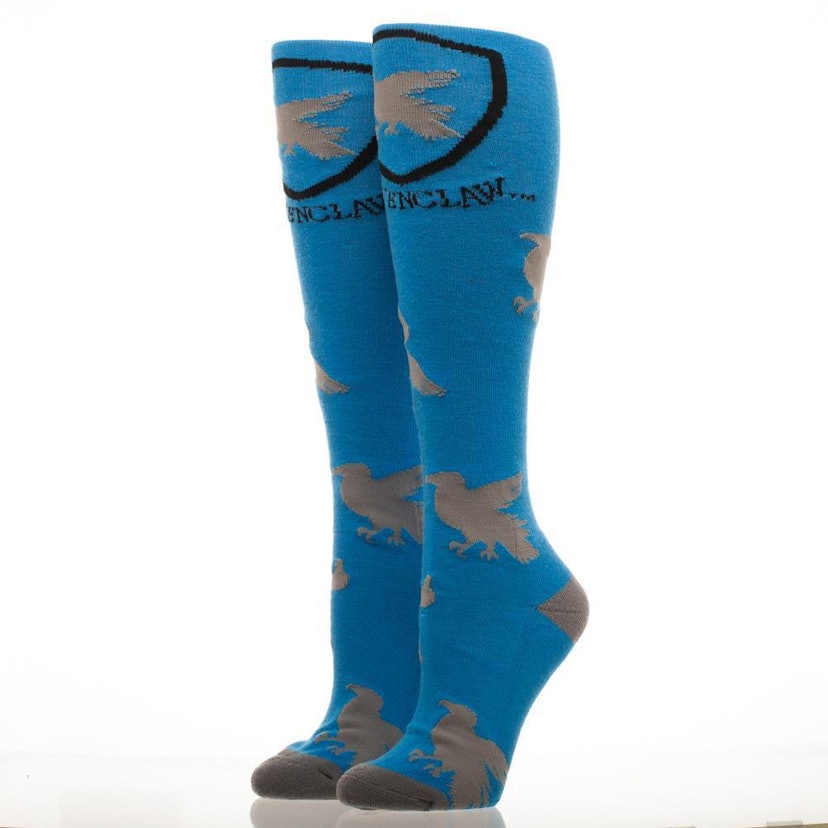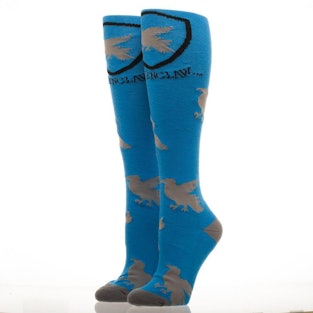 Ravenclaw Crest Knee High Socks
$12.95
Harry Potter Shop
Recognize Ravenclaw House pride with these bright blue Ravenclaw crest knee socks.
Hogwarts Symbol Socks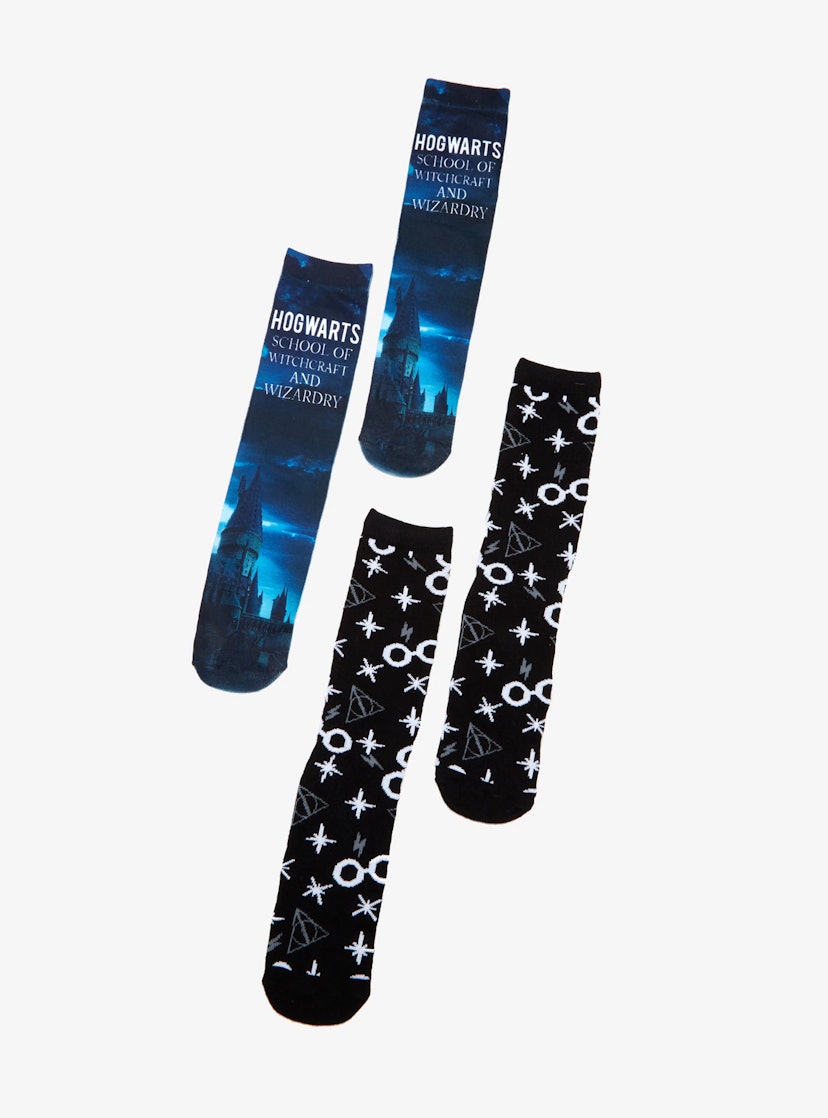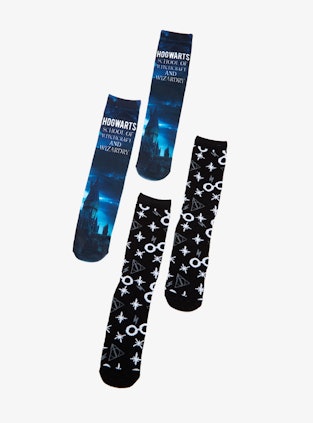 Hogwarts & Symbols Socks
$12.90
Hot Topic
This two-pair of cozy socks features the image of Hogwarts School of Witchcraft and Wizardry on one set. Harry's signature glasses and lightening bolt, and the Deathly Hallows symbol, decorate the other.
Source: Read Full Article