26 Dazzling Pear Cut Engagement Rings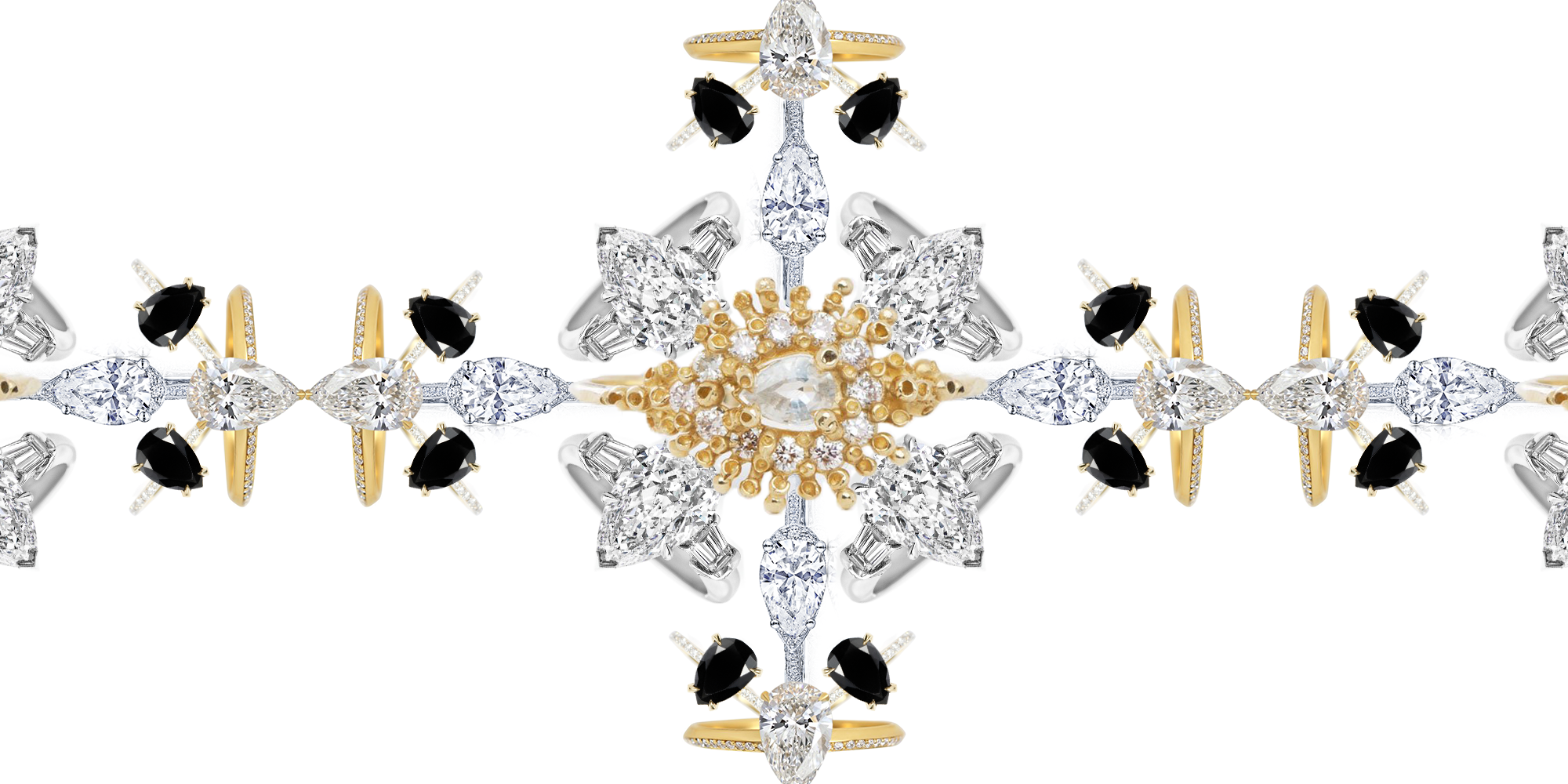 While round and cushion cuts reign supreme in terms of popularity, pear cuts are on the rise for their femininity and symmetry. A mix between the round and the marquise, pear or teardrop cuts boast significant sparkle–in fact, it's the most brilliant of the fancy cuts with 58 facets, and has the same elongating qualities of a marquise cut. Do your research on this cut–it s a difficult shape for jewelers to cut perfectly, resulting in many coming out too broad or with incorrect proportions. When cut to perfection, the pear is a romantic, sparkly show-stopper. Here, 26 dazzling examples of the best in pear cut engagement rings.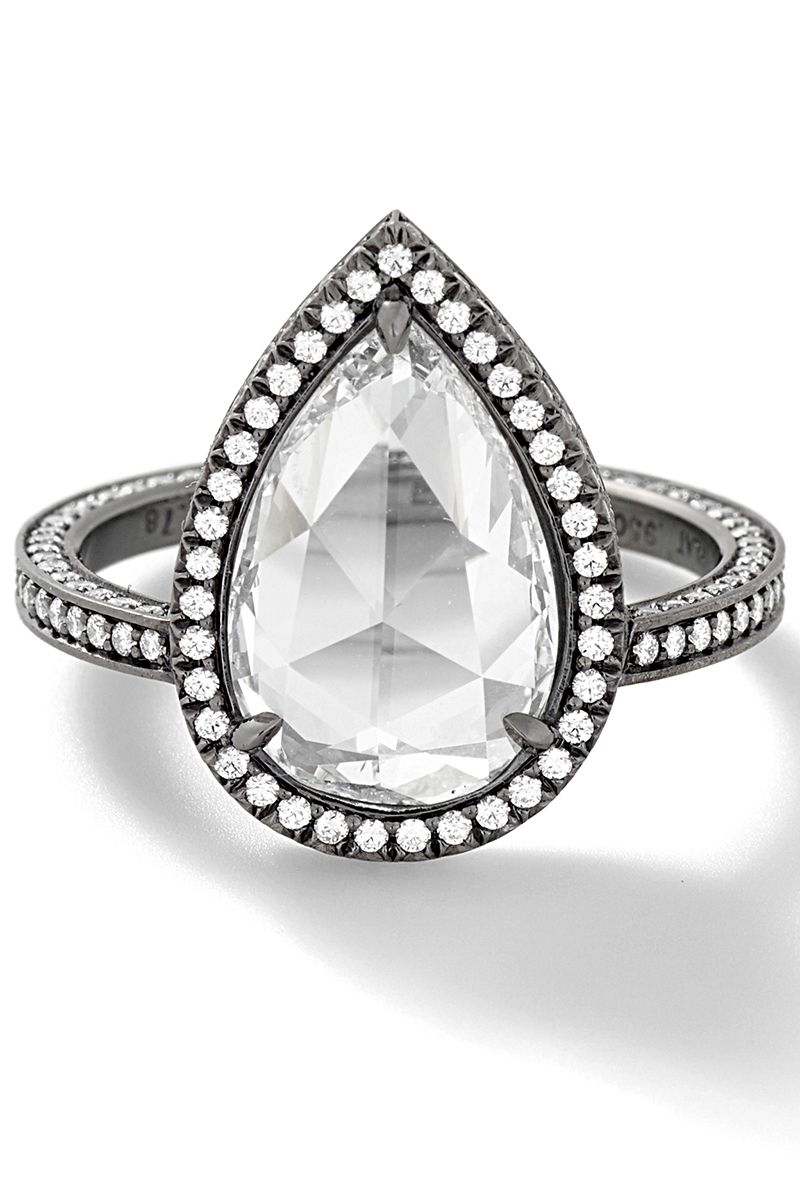 Eva Fehren "The Drew" pear shaped rosecut white diamond and white diamond pavé in blackened platinum, price upon request, evafehren.com.
SHOP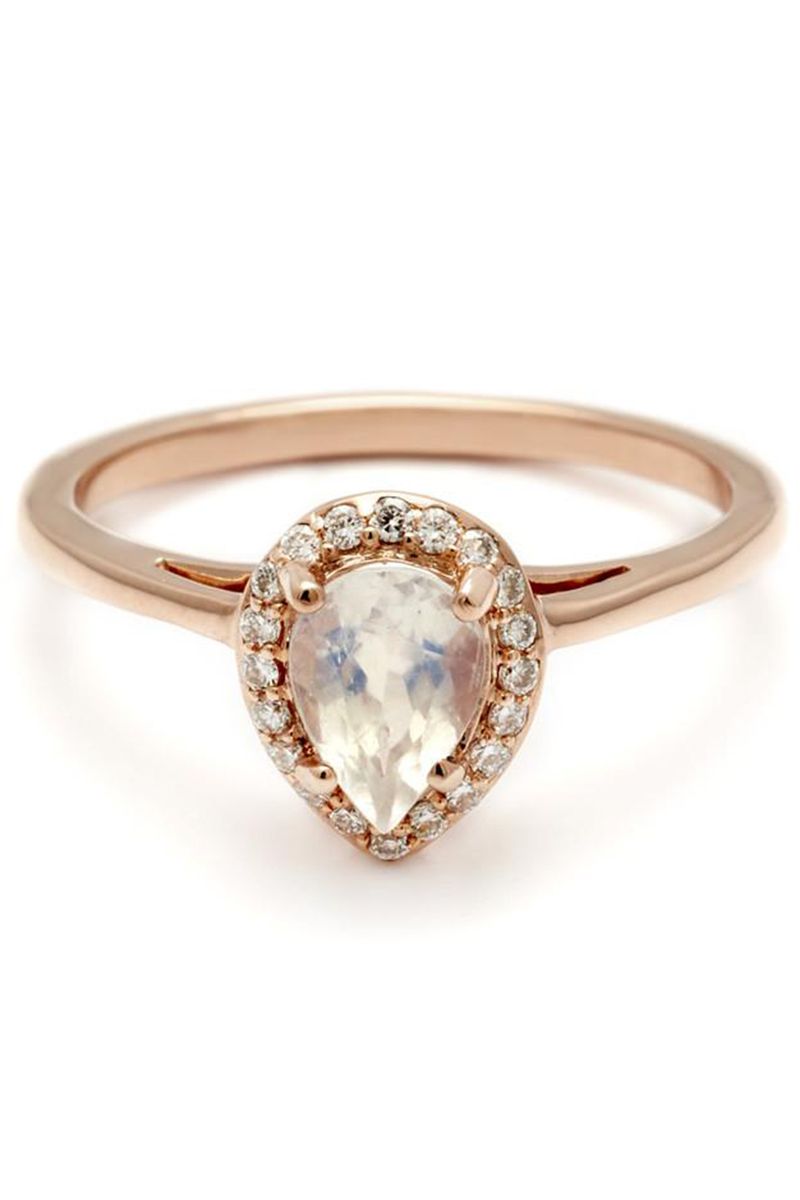 Anna Sheffield pear rosette ring, $3,150, annasheffield.com.
SHOP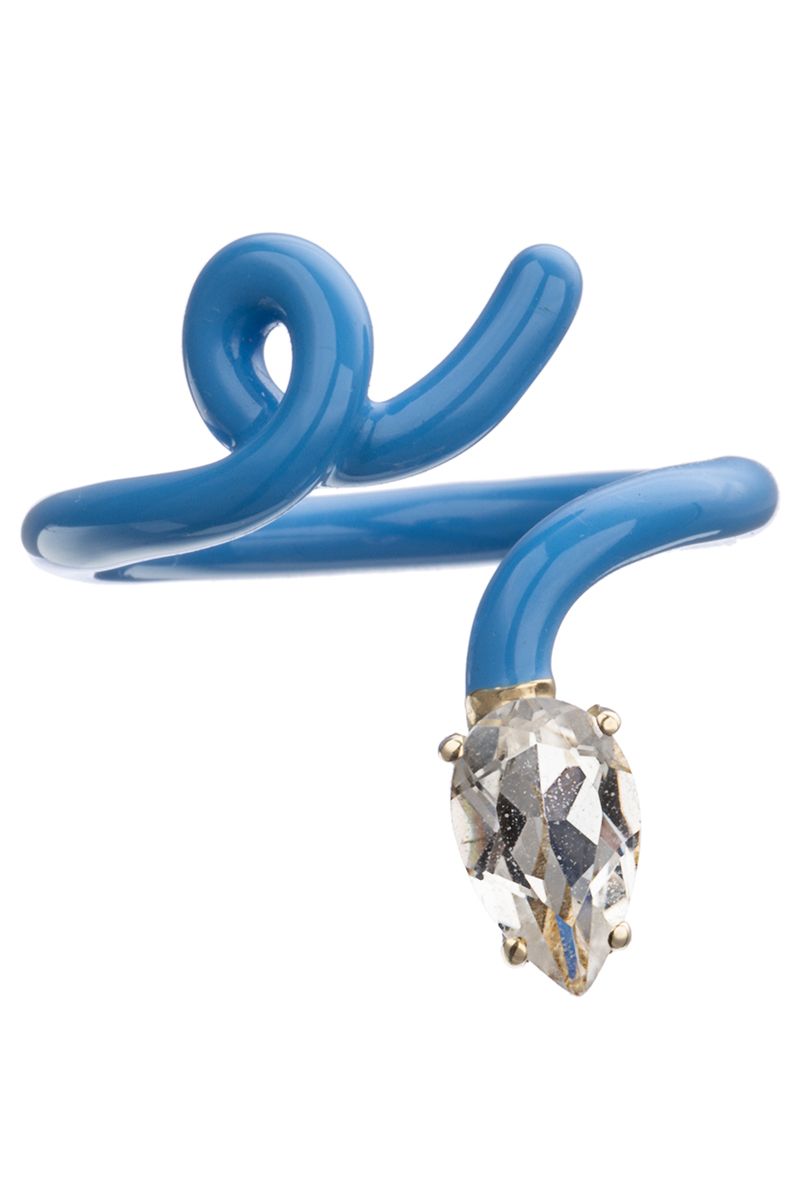 Bea Bongiasca blue tendril ring, $480, beabongiasca.com.
SHOP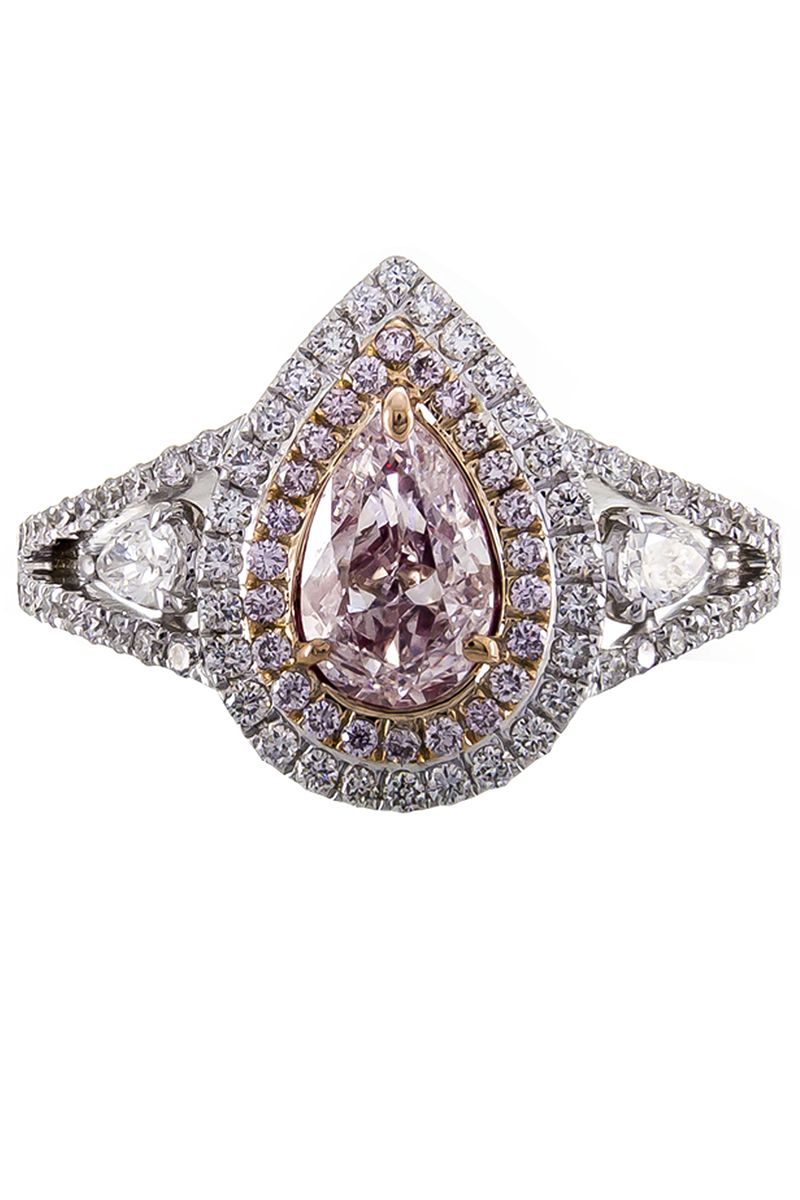 Cirari natural pink diamond ring in 18K gold, $66,000, cirari.com.
SHOP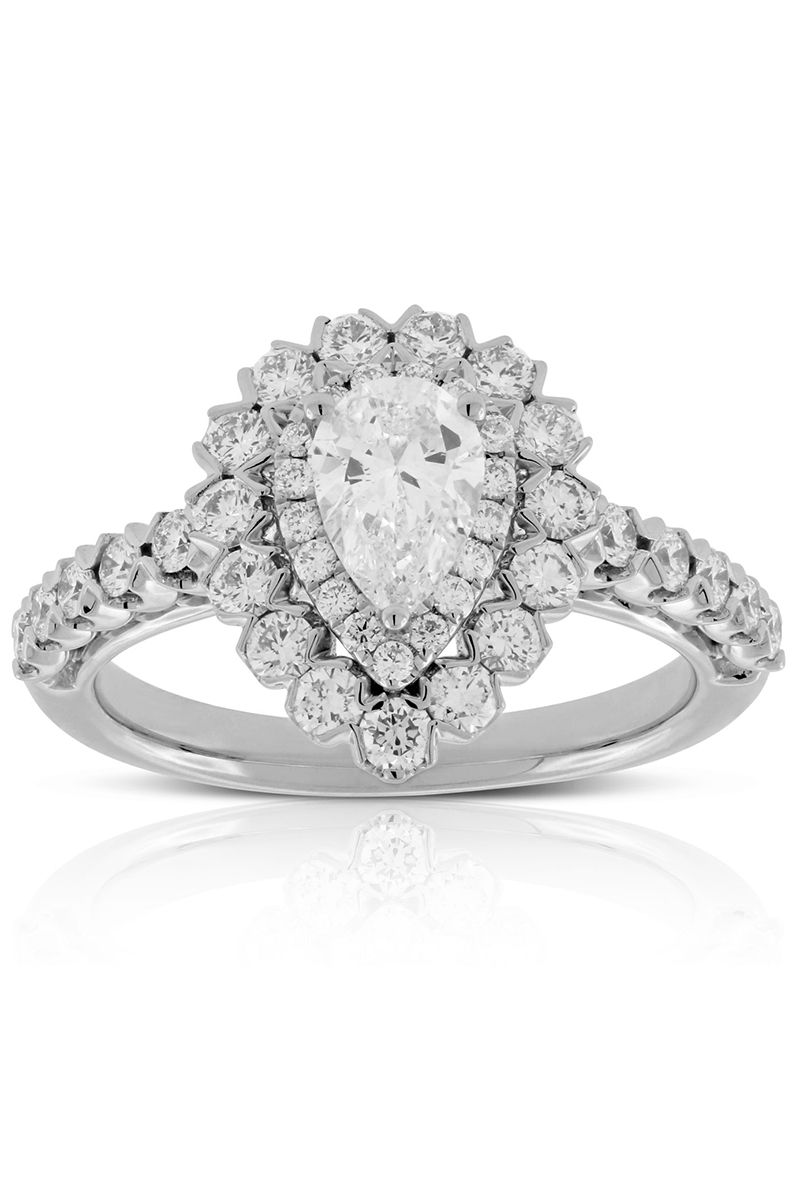 Ben Bridge double halo pear diamond engagement ring in 14K white gold, $4,999, benbridge.com.
SHOP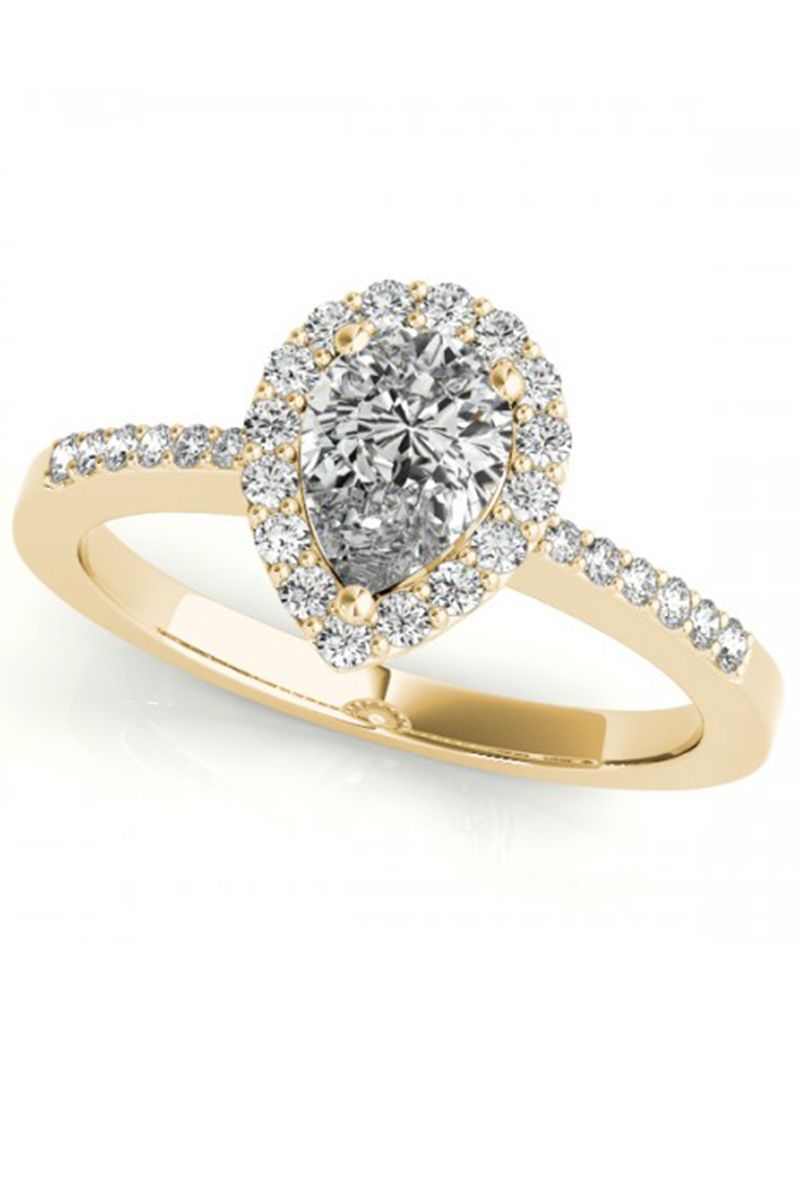 Clean Origin classic pear shaped halo ring, $3,519, cleanorigin.com.
SHOP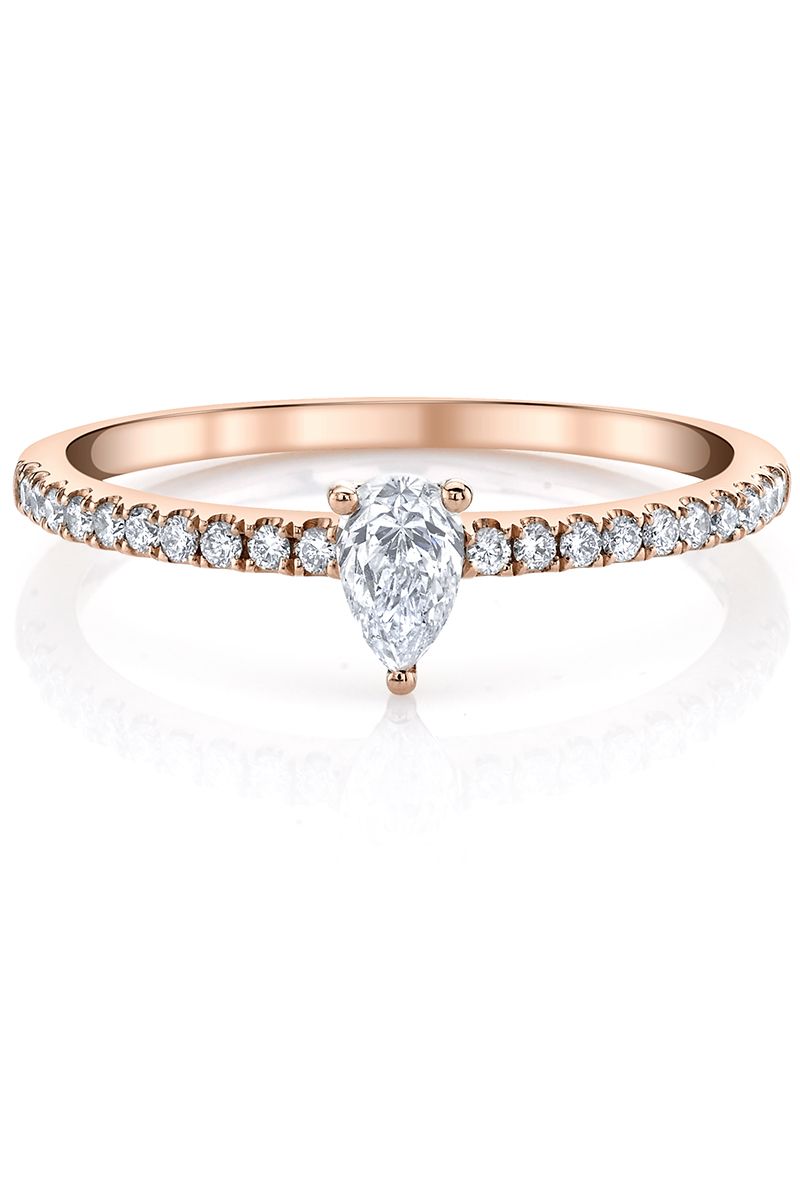 Anita Ko "Me You" pear diamond pave ring, $2,900, anitako.com.
SHOP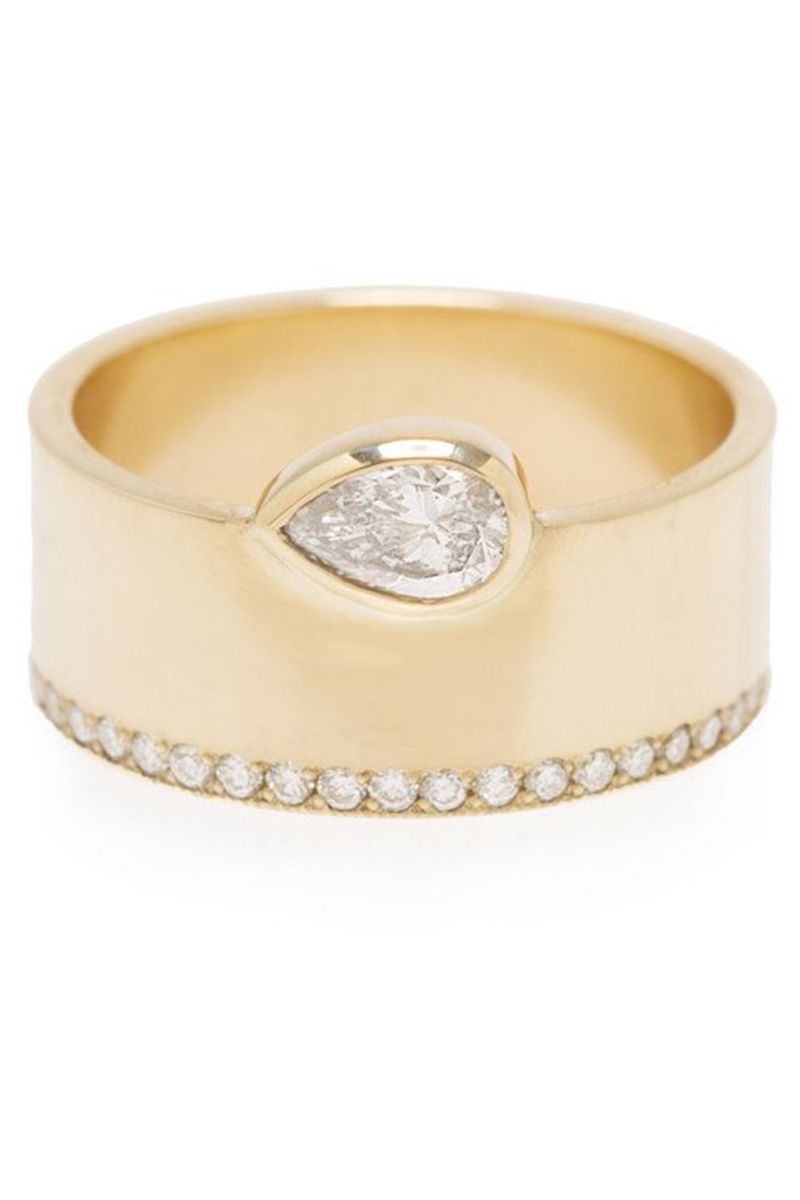 Zoe Chicco pear shaped wide band ring, $5,150, zoechicco.com.
SHOP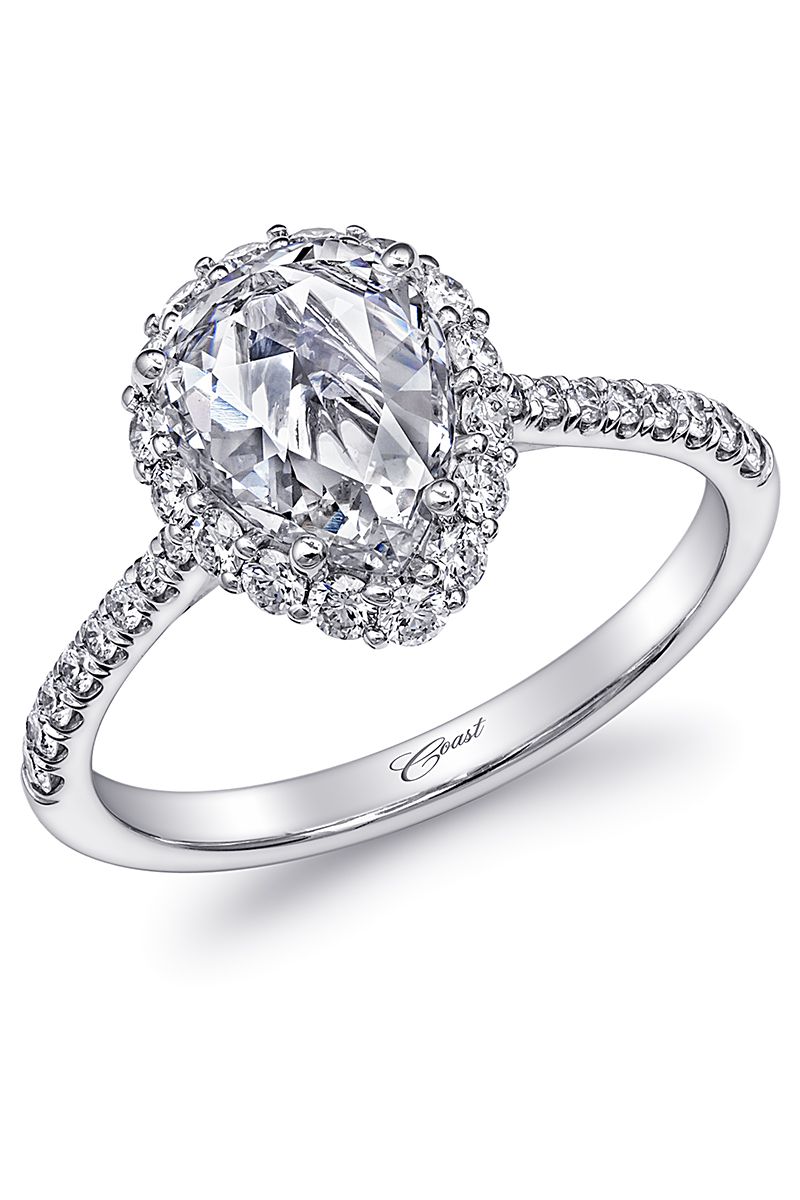 Coast Diamond pear shaped engagement ring with brilliant pave halo and fishtail diamonds, price upon request, coastdiamond.com.
SHOP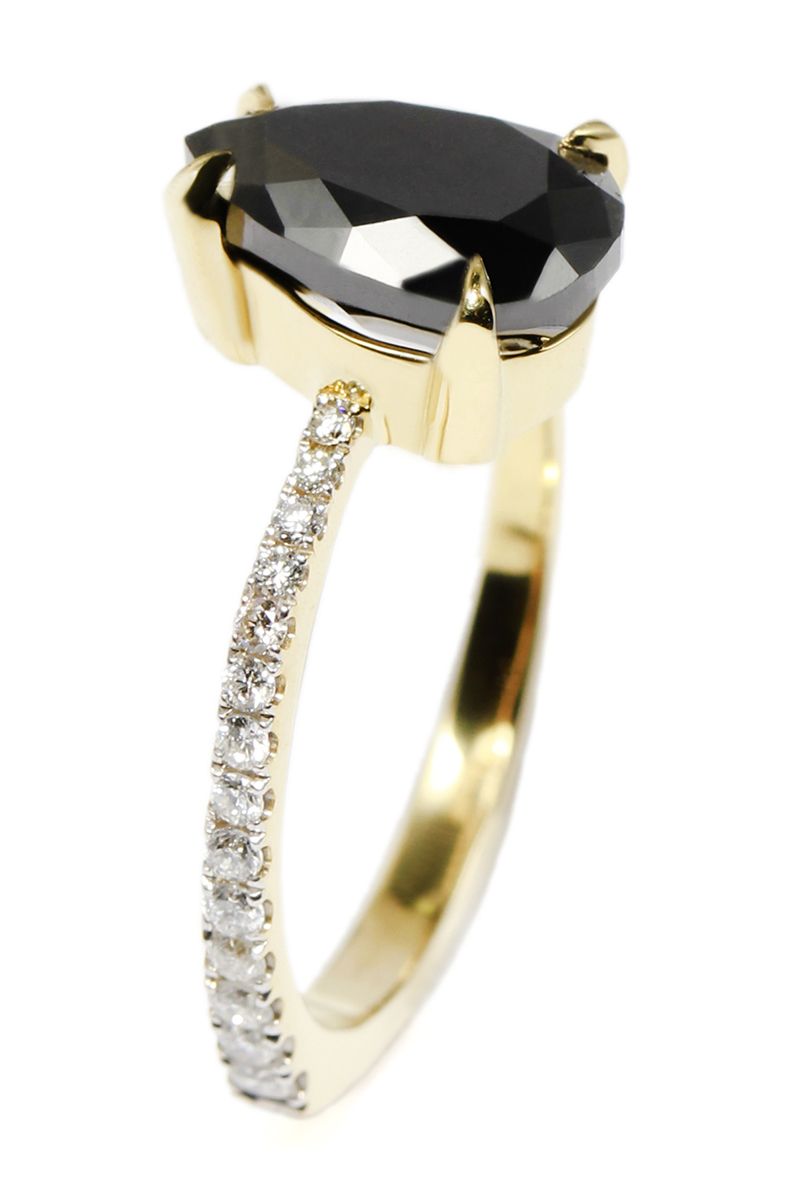 Ara Vartanian black and white diamond ring in 18K Yellow Gold Ring, $24,847, aravartanian.com.

SHOP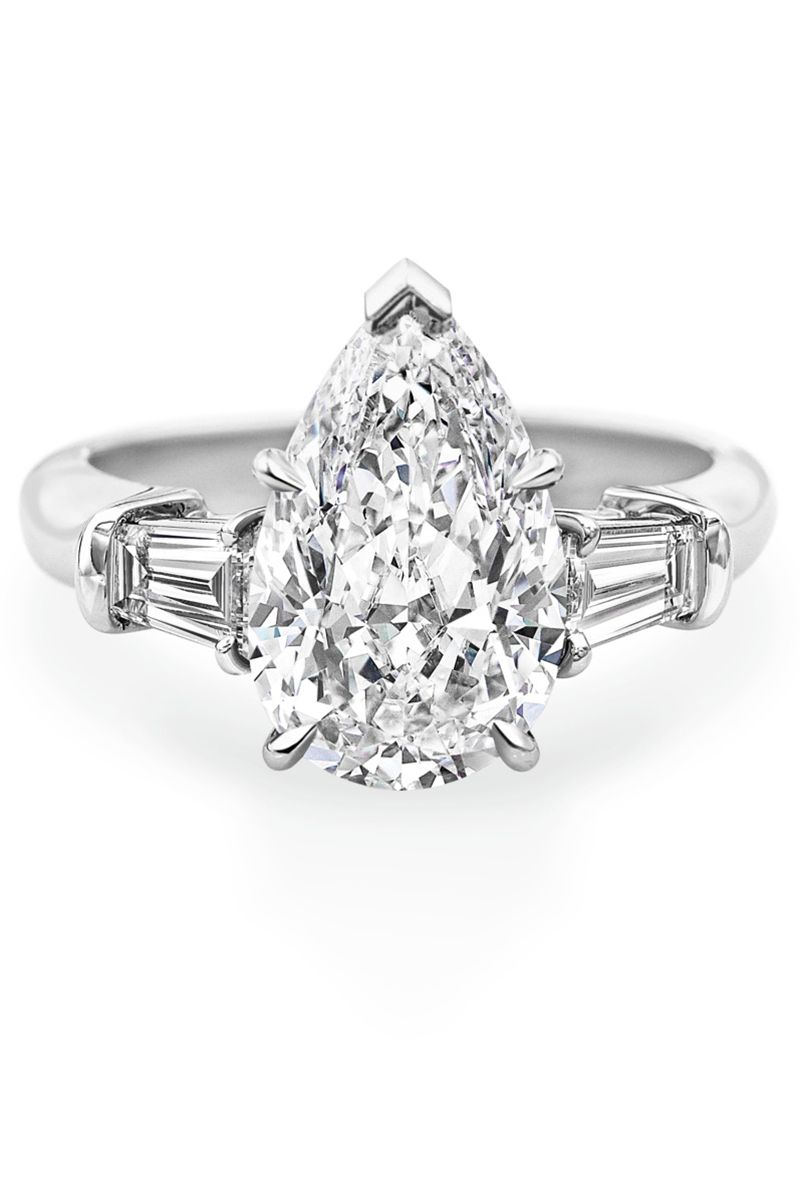 Harry Winston pear shape diamond engagement ring with tapered baguettes in platinum, price upon request, harrywinston.com.
SHOP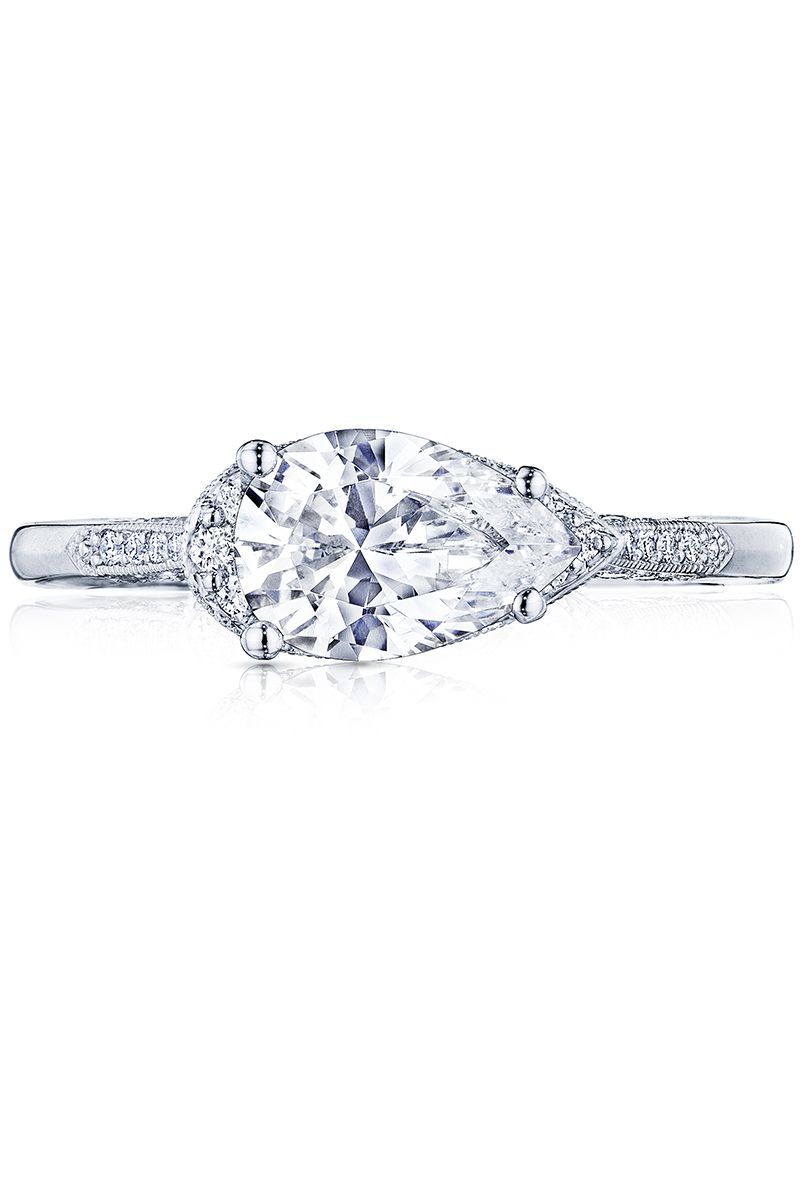 Tacori "Simply Tacori" pear ring, $3,890, tacori.com.
SHOP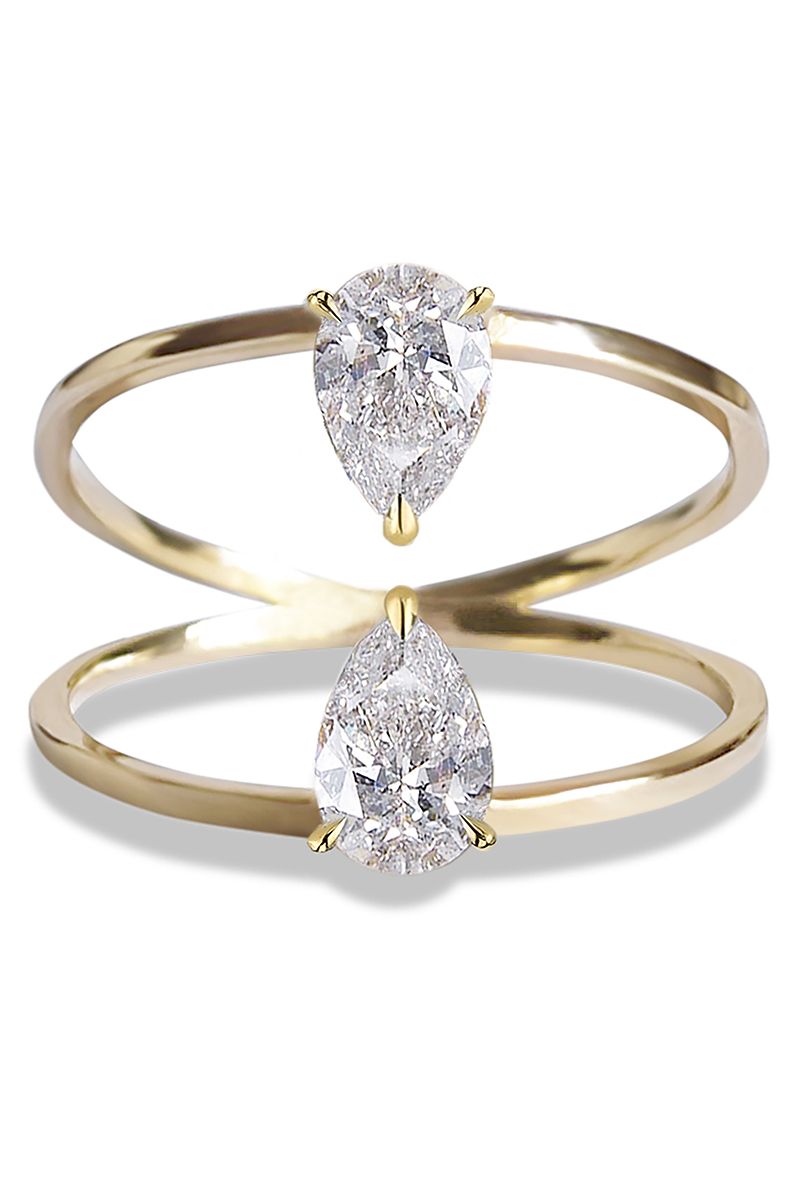 KatKim "Duet Pear" ring in 18K yellow gold , $7,200, katkimfinejewelry.com.
SHOP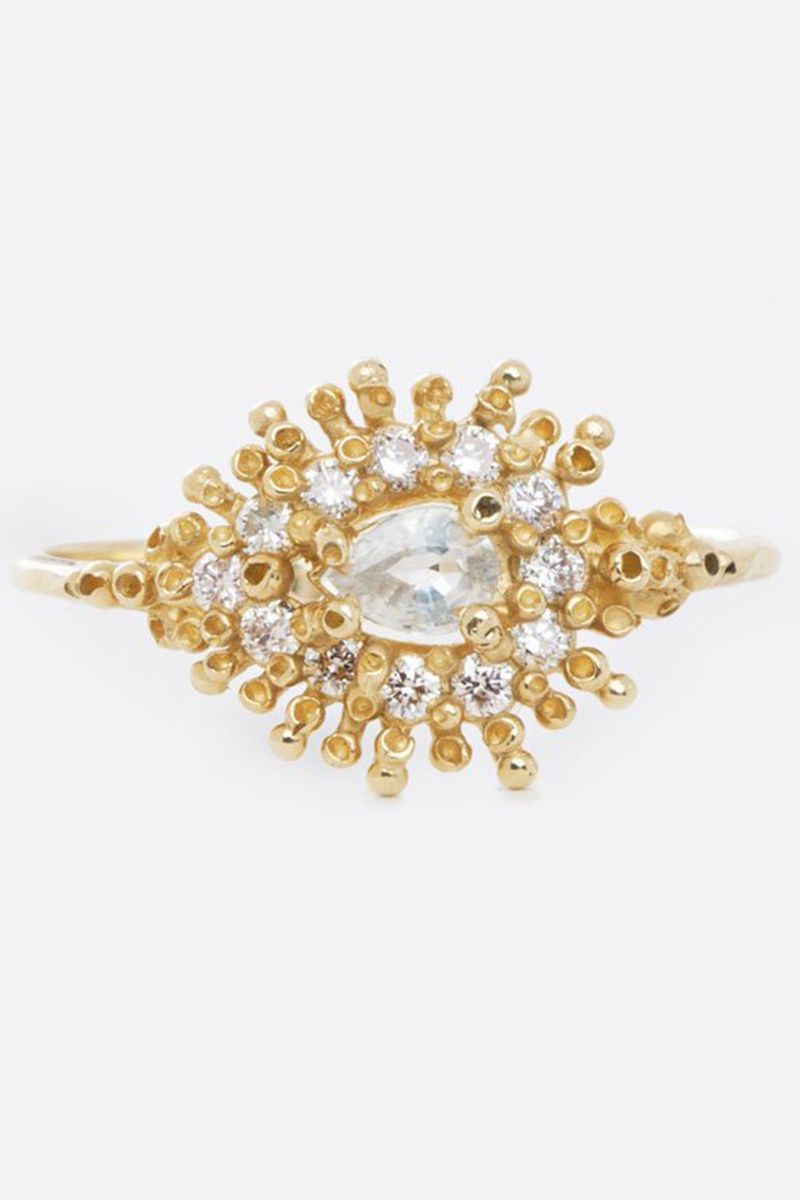 Ruta Reifen at Love Adorned pear halo ring with white sapphire and diamonds, $2,000, loveadorned.com.
SHOP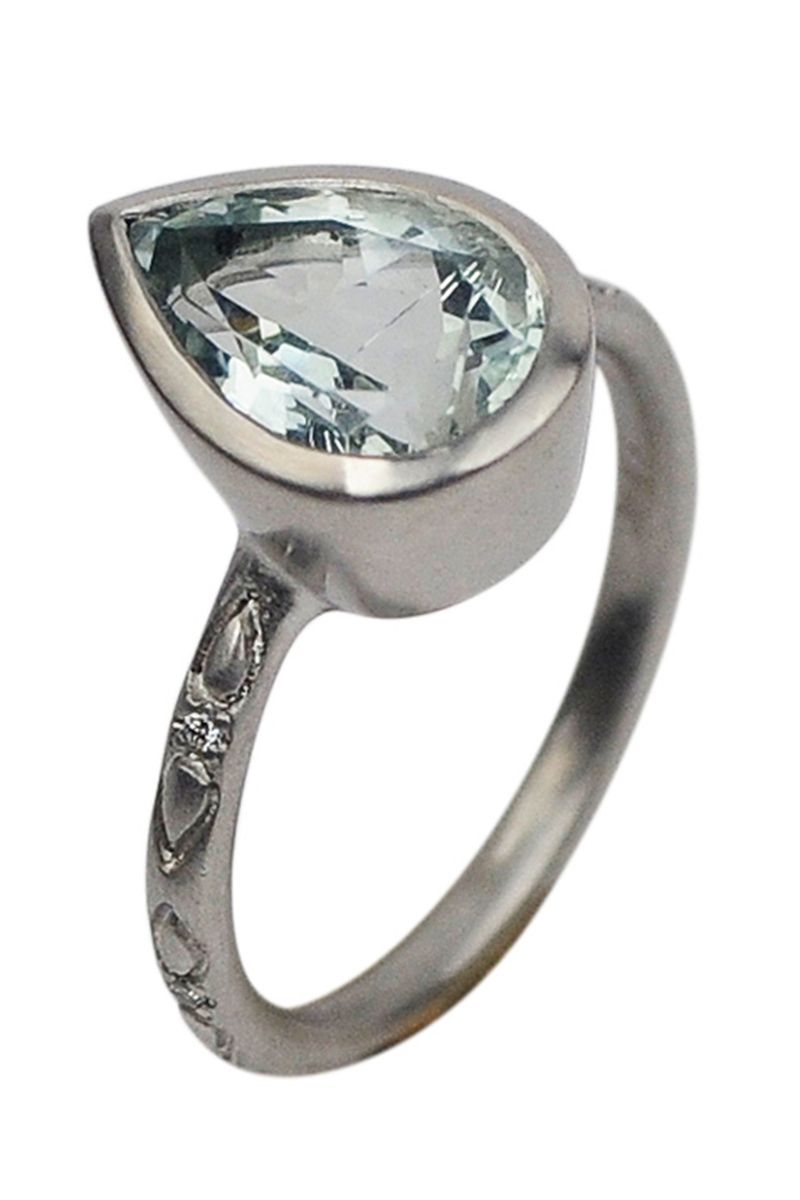 Me & Ro "Lotus Ring" pear cut aquamarine engraved lotus pattern around the band with diamonds set in the center of each lotus in platinum, $4,675, meandrojewelry.com.
SHOP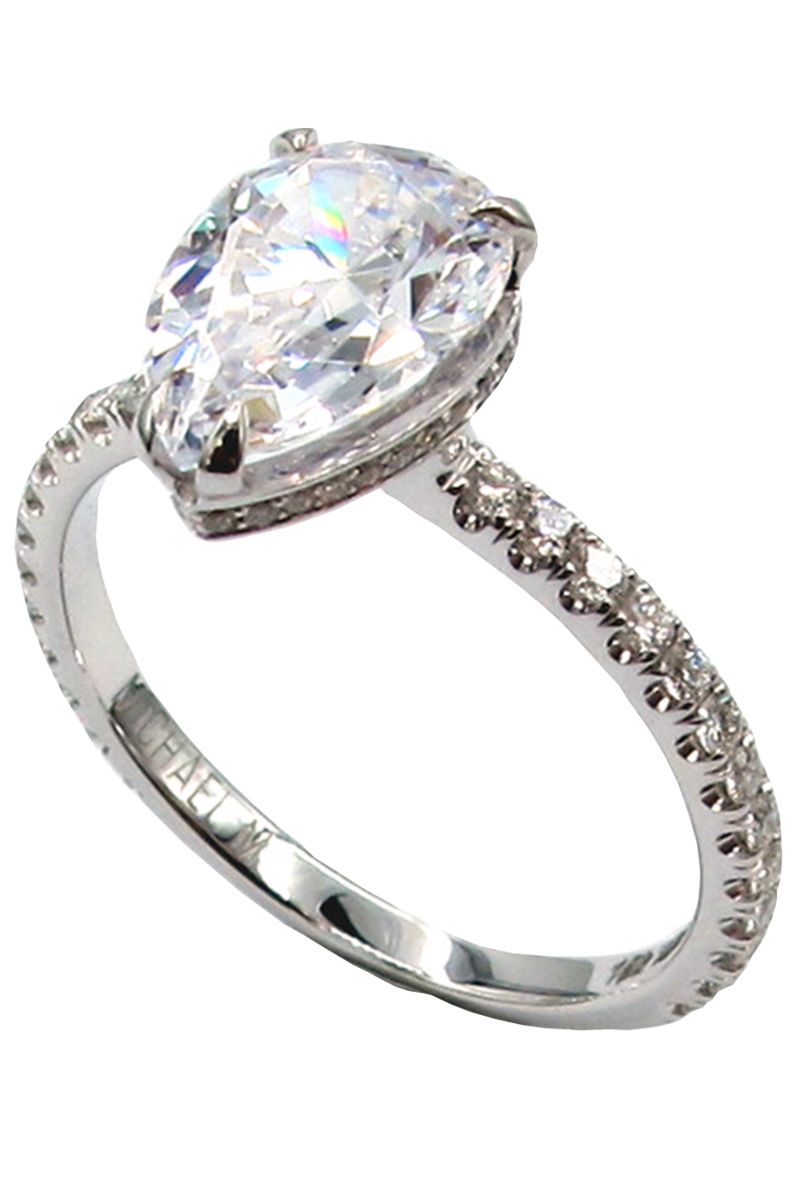 Michael M pear cut engagement ring, price upon request, michaelmcollection.com.
SHOP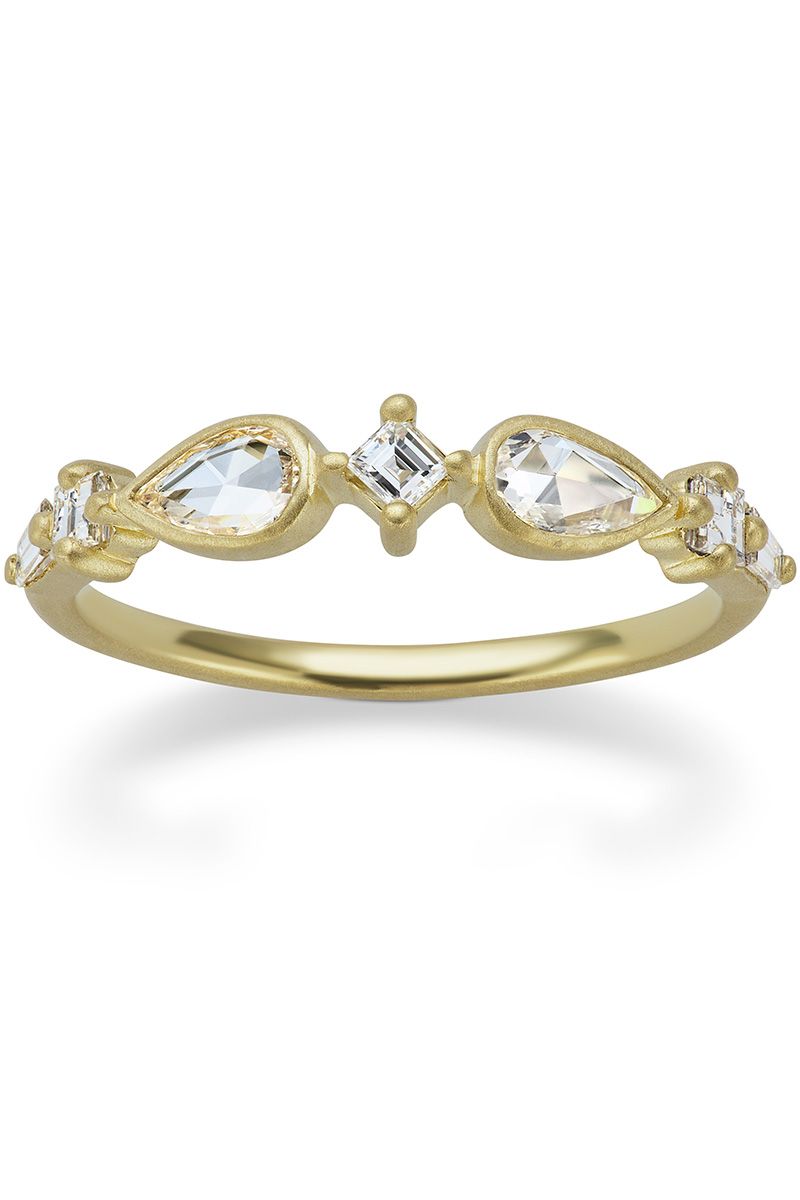 Michelle Fantaci "The Berber Diamond Band" rose cut and baguette diamond ring in 18K green gold, $2,530, michellefantaci.com.
SHOP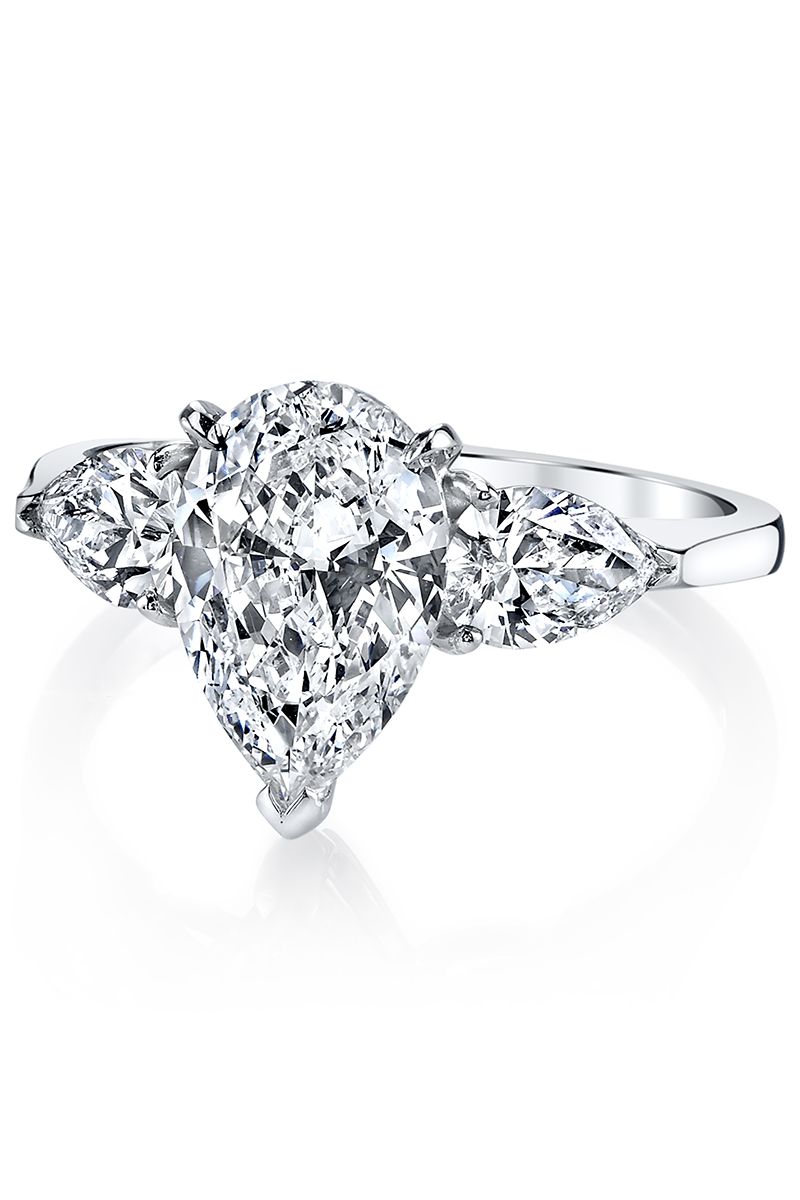 VRAM pear cut diamond engagement ring in platinum, price upon request, vramjewelry.com.
SHOP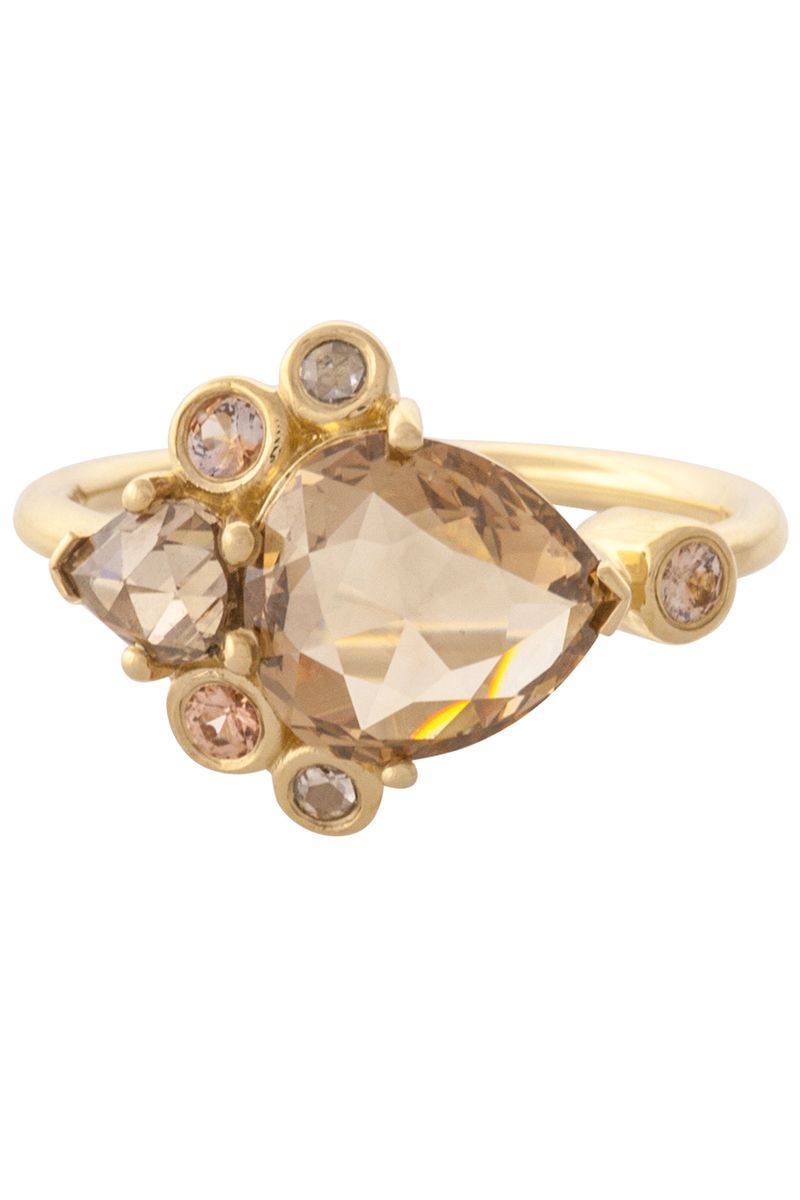 Mociun pear cut champagne diamond ring with rose cut antique champagne diamond, padparadscha Montana sapphires, rose cut white diamonds in 14K yellow gold, $12,000, mociun.com.
SHOP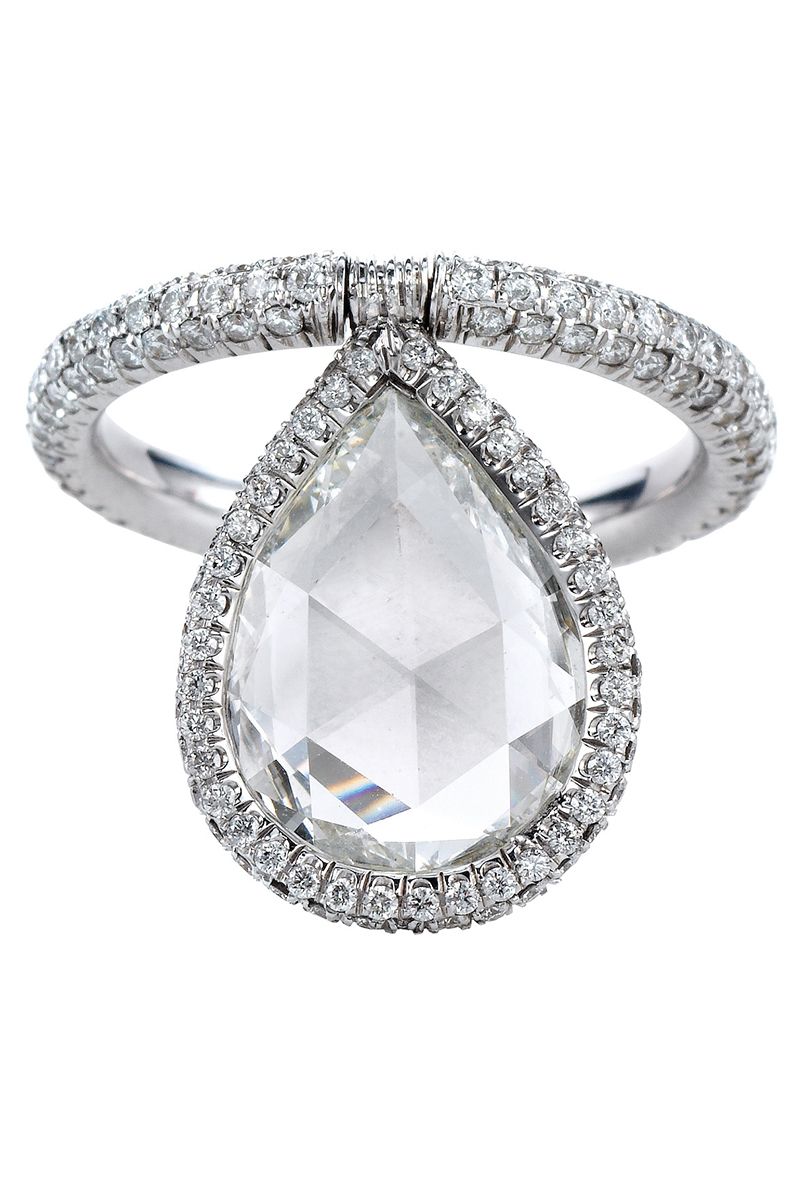 Nina Runsdorf one-of-a-kind diamond flip ring in 18K white gold, price upon request, nsrjewelry.com.
SHOP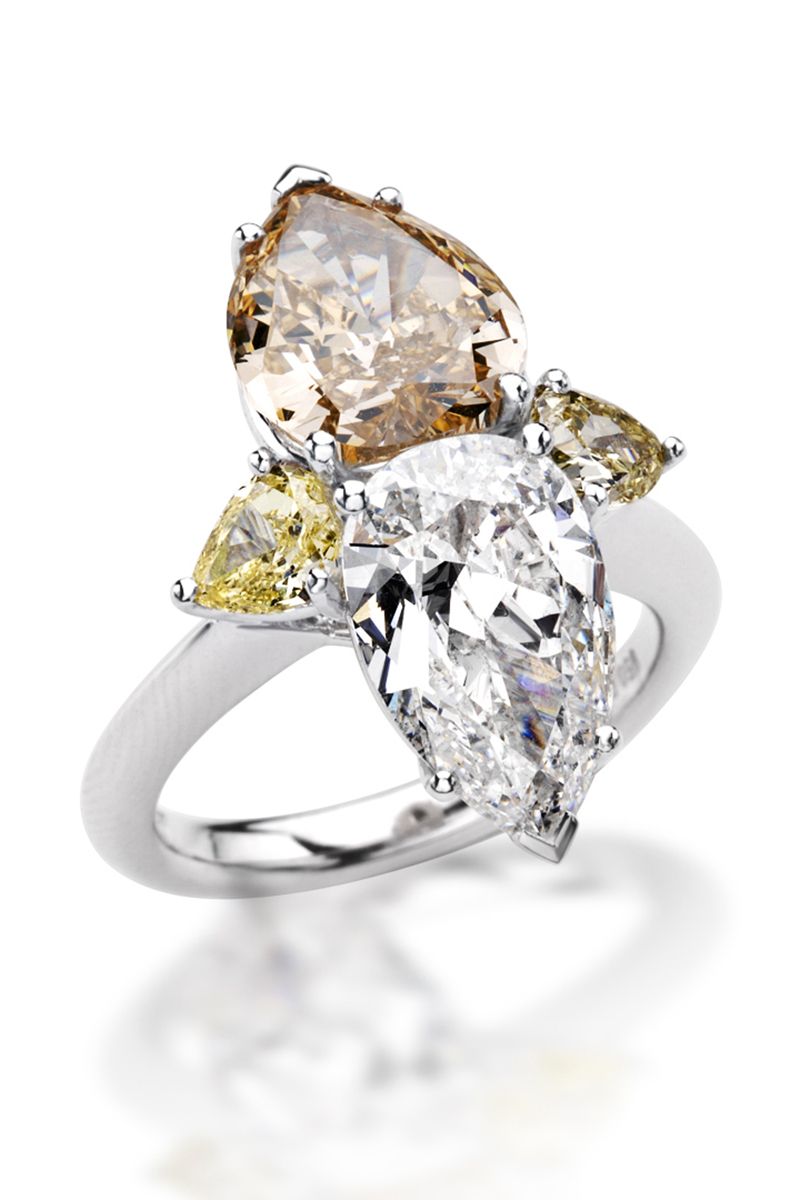 Picchiotti fancy yellowish-brown pear shaped diamond and pear shaped diamond with fancy yellow diamonds, price upon request, PICCHIOTTI.it.
SHOP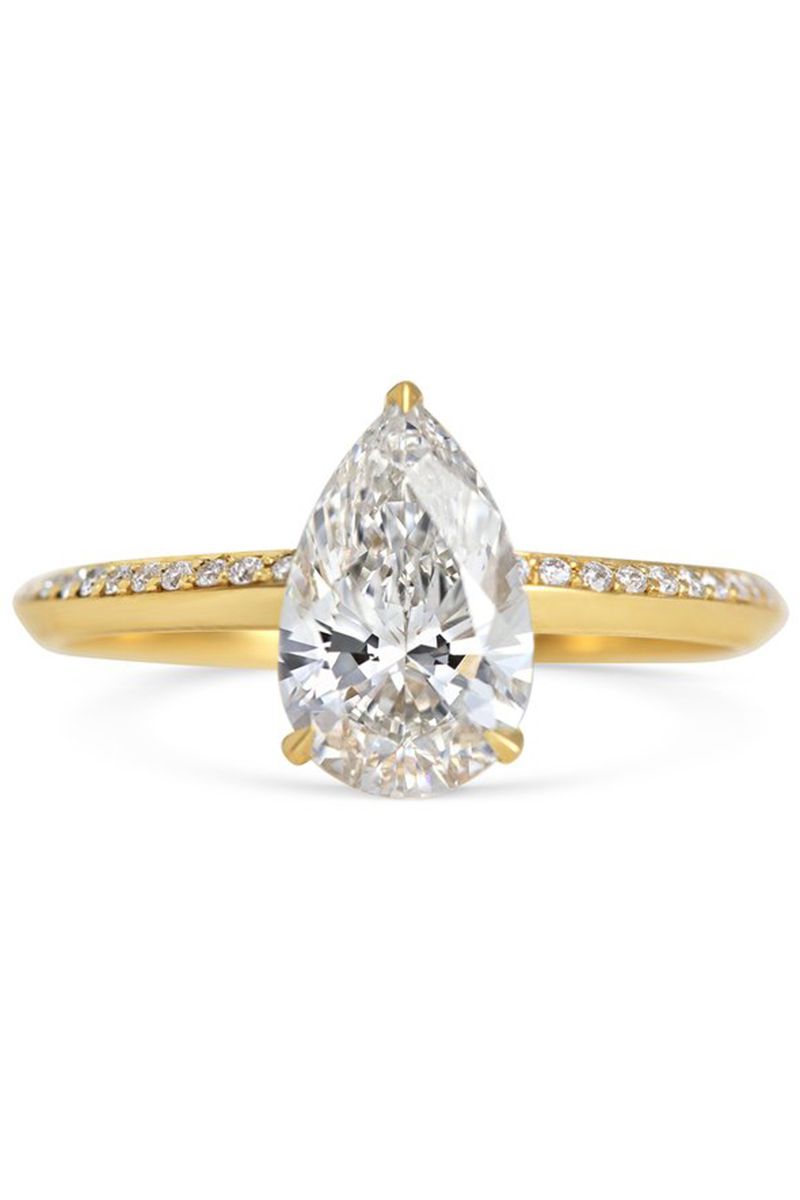 Rachel Boston "Lyra" ring in 18K yellow gold, $8,519, rachelboston.co.
SHOP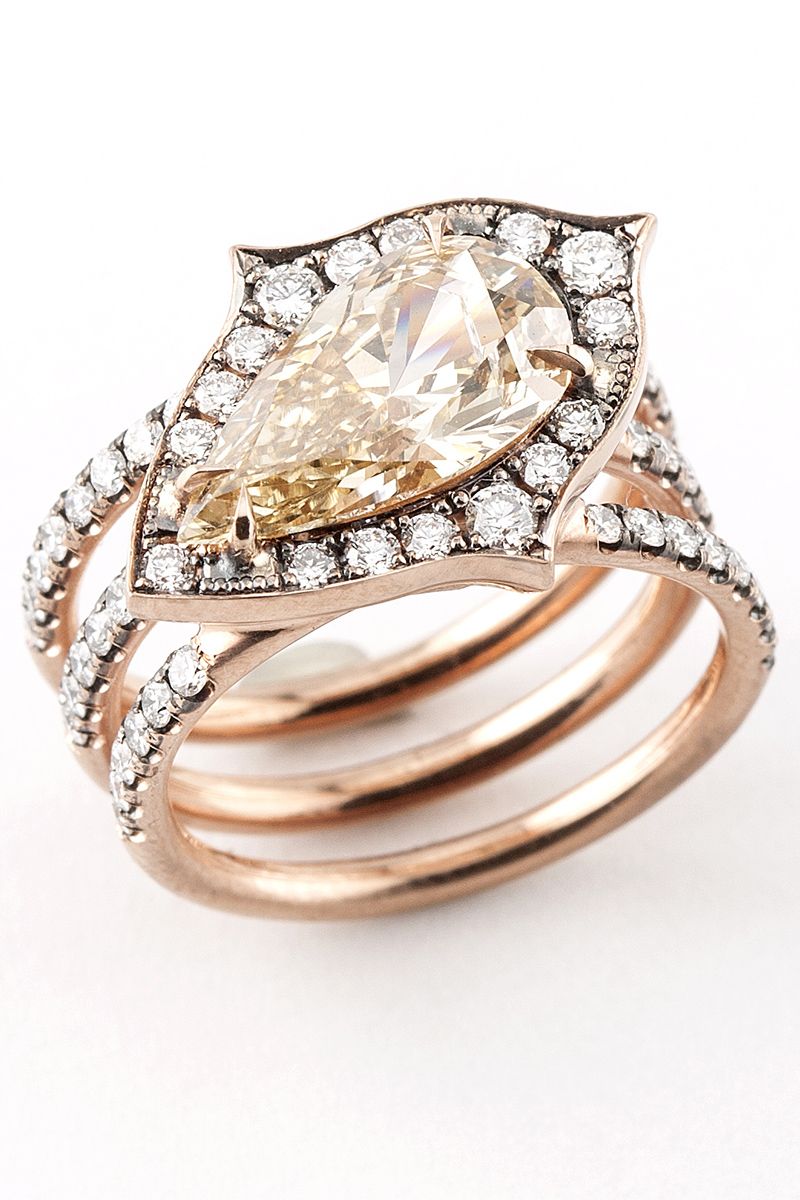 Sylva & Cie one of a kind pear shape diamond ring in 14K rose gold, $43,750, Jeffrey's Atlanta.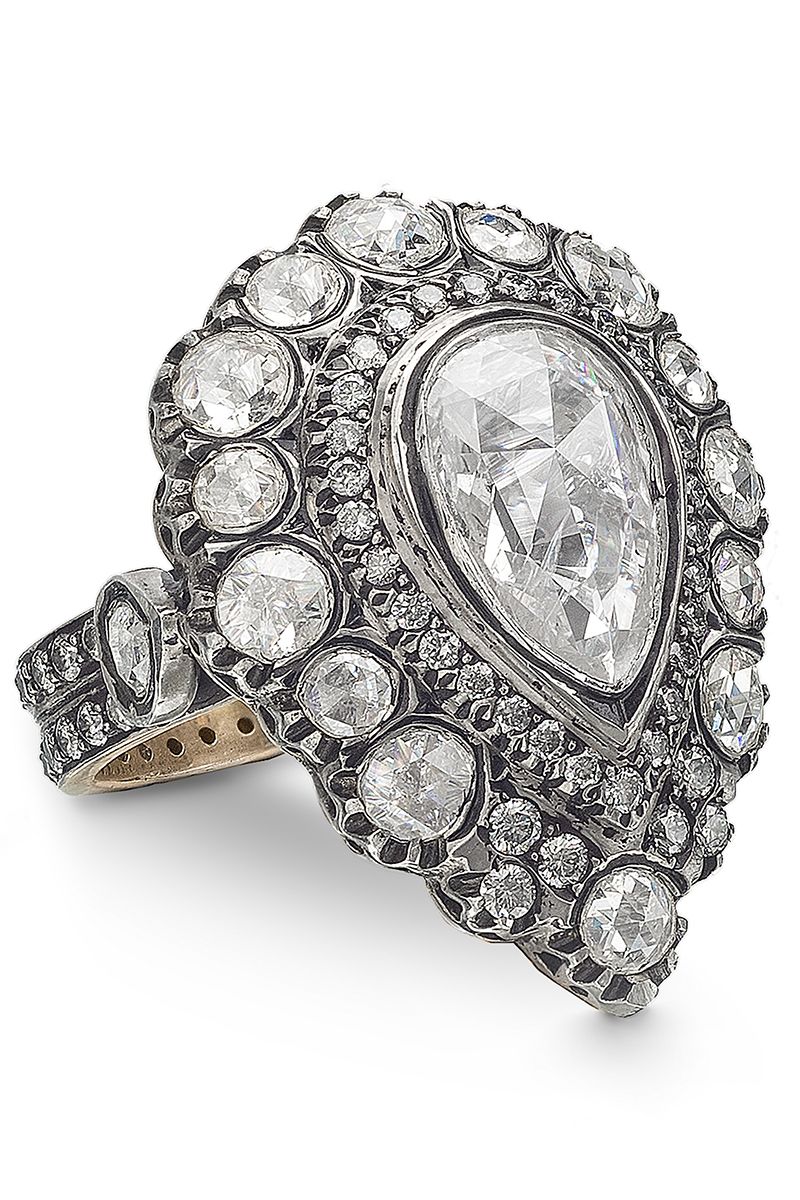 Sanjay Kasliwal mixed brilliant cut and rose cut ring, $28,000, sanjaykasliwal.com.
SHOP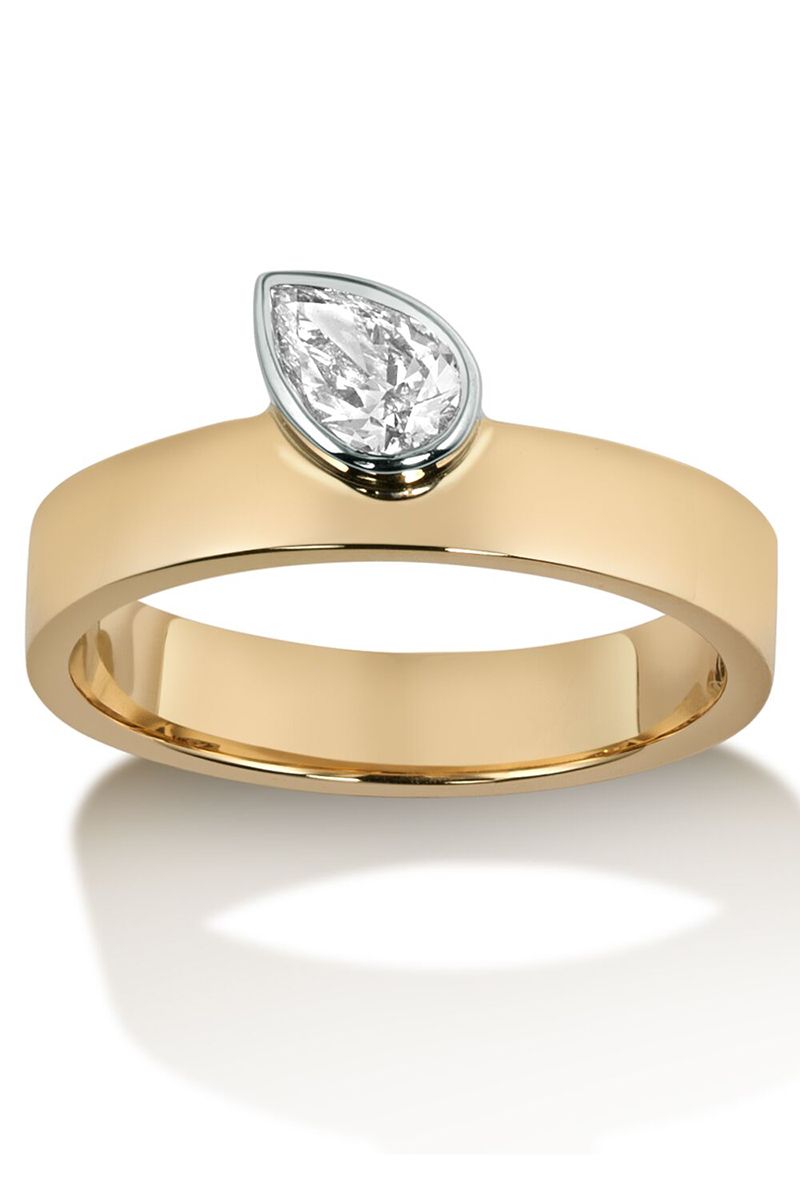 Selin Kent pear ring, $1,950, selinkent.com.
SHOP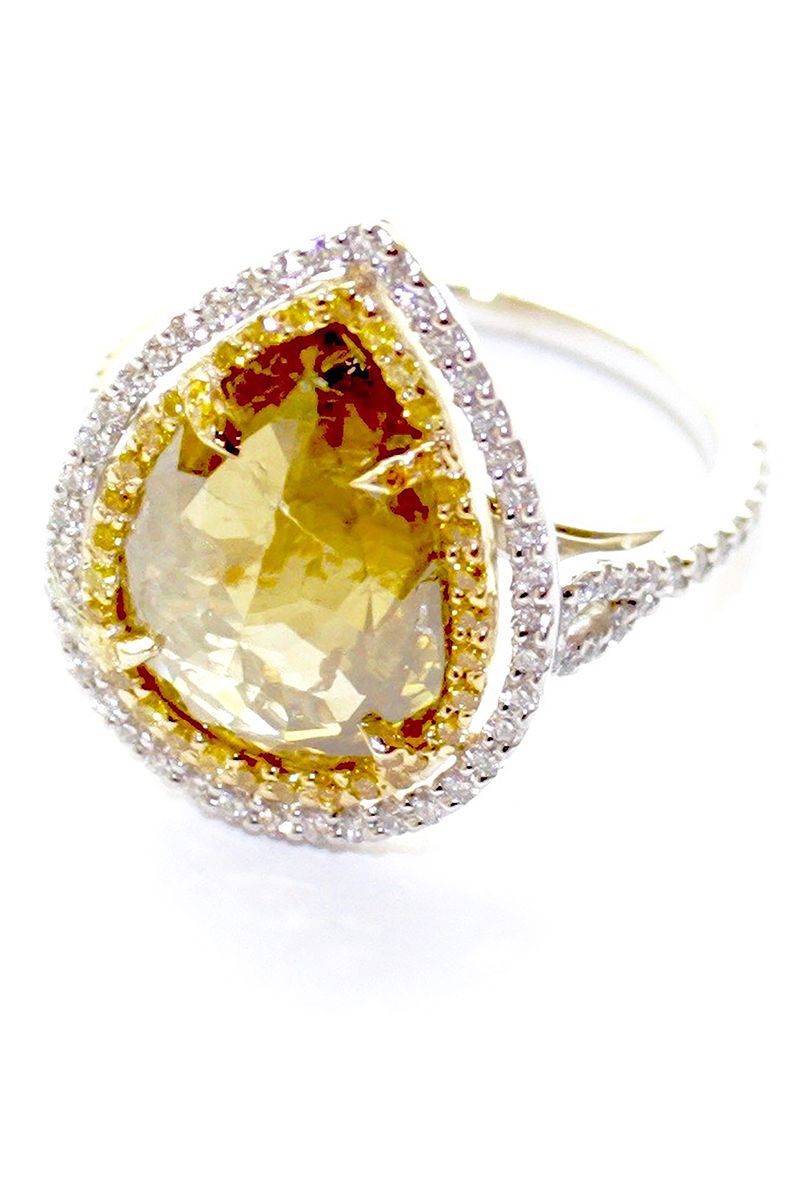 Sharon Khazzam "Bintou Ring" pear-shaped yellow rose-cut diamond with yellow and white diamonds in platinum and eighteen-karat yellow gold, $44,800, sharonkhazzam.com.
SHOP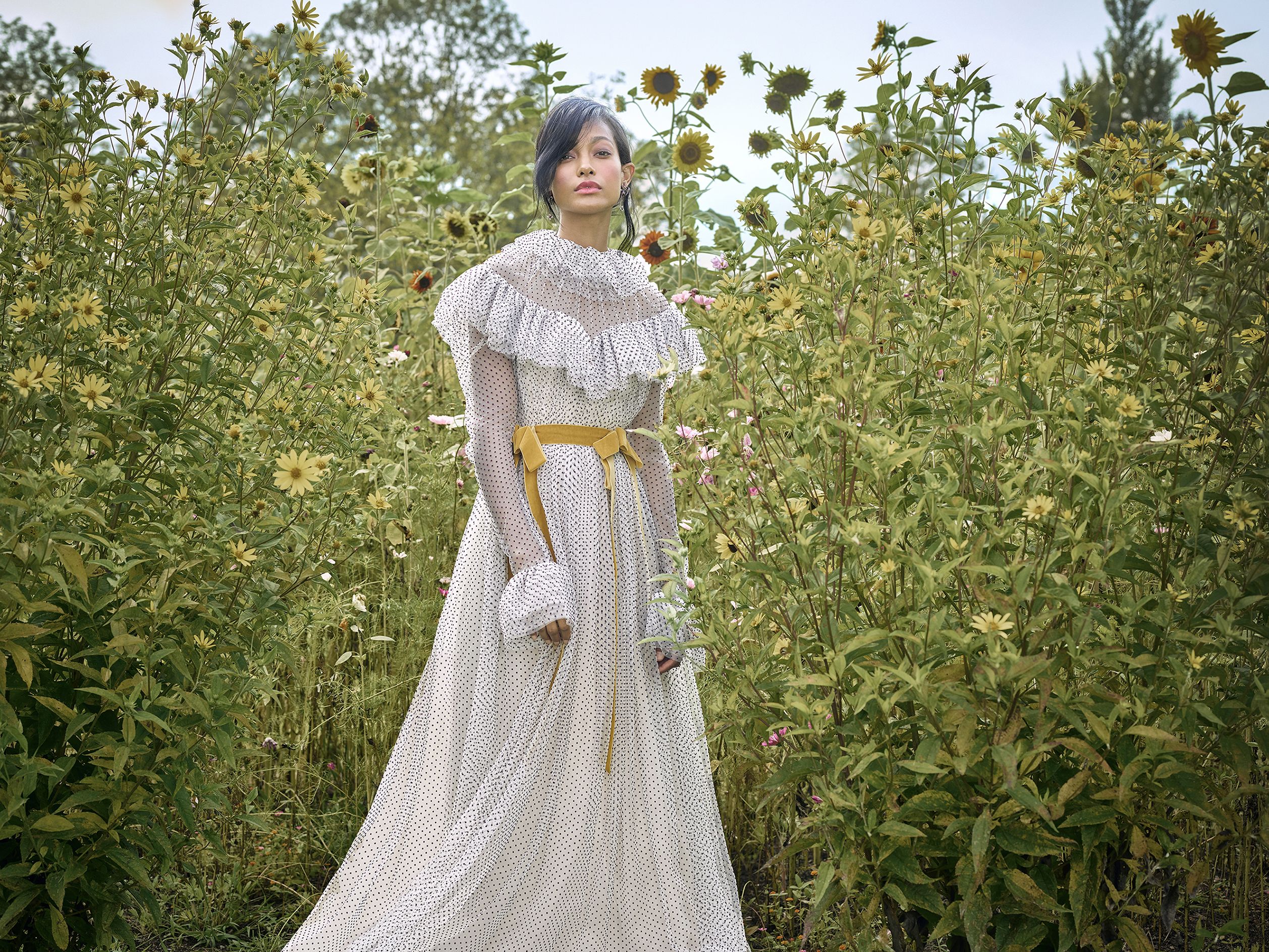 Source: Read Full Article