5 Places To Splurge On Sushi In New York (& 5 Places To Save)
New York City is home to a diverse range of global cuisines– from Instagrammable macrons to buttery bagels and lox, to steaming bowls of ramen, finding global flavors is an easy feat. And, if you're in the mood for sushi, you're in luck. The Big Apple has no shortage of delicious sushi spots that serve up a wide variety of maki rolls, nigiri, and sashimi to customers eager to get a sushi fix.
RELATED: 10 High-End Restaurants You Didn't Know Were Chains
If you're willing to dish out some serious cash on an unforgettable culinary adventure, there are places to splurge. And, if you're looking for a more casual evening with delicious dishes that won't break the bank, try these five places to save.
10 Splurge: Kura
The acclaimed Kura is known for its no-frills, unassuming exterior, and limited 30-customer occupancy. Located in the lower East side, this intimate eatery is headed by 70-year old sushi chef Norihiro Ishizuka, and serves up delicious plates. Kura is an omakase restaurant, meaning that there's no set menu. Instead, Chef Ishizuka serves up bespoke dishes guided by seasonality and his culinary whims. Diners can expect to pay upwards of $90 per guest.
9 Save: KazuNori | The Original Hand Roll Bar
Located in the up-and-coming NoMad area of NYC, KazuNori serves–with the exception of a couple of sashimi offerings–one dish: hand rolls.
RELATED: 10 Restaurants You Must Visit In Los Angeles (& Their Most Popular Dish)
All hand rolls are made to order, and KazuNori uses only the freshest fish and specially harvested seaweed. A set of six hand rolls, included a lobster roll, bay scallop hand roll, and toro hand roll cost only $29.
8 Splurge: Sushi Nakazawa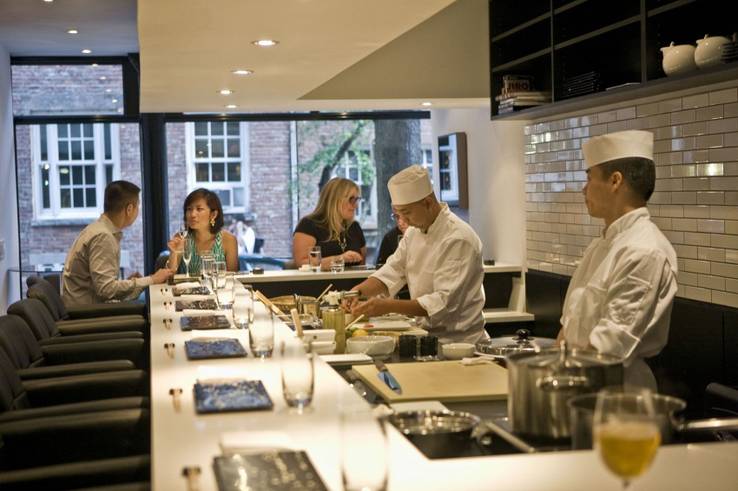 This intimate, minimalist restaurant is home base of the acclaimed chef Daisuke Nakazawa, student of possibly the greatest sushi craftsman in the world, Jiro Ono (of Jiro Dreams of Sushi fame). Like some other entries on this list, Sushi Nakazawa has no set menu. Chef Nakazawa chooses from the freshest selection of fish from local and international waters to create a unique treat for every guest.
7 Save: Pado
East village's trendy Pado gets rave reviews for its comfortable atmosphere, attentive staff, and (of course), delicious sushi. Its menu boasts a range of Japanese cuisine, including traditional nigiri and inventive maki.
RELATED: Las Vegas: 5 Trendy Restaurants You Must Try (5 To Skip)
While Pado may not be the cheapest sushi stop on the block (a 9 piece chef's tasting of nigiri and one hand roll will set you back $45), its prices look awfully good compared to some restaurants on this list, and, considering the quality, it's an unbeatable deal.
6 Splurge: Sushi Ishikawa
The affluent Upper East Side is flush with glitzy restaurants. While Sushi Ishikawa's atmosphere is unpretentious (although certainly glamorous), it's widely considered one of the best sushi spots in the city. Chef and owner Don Pham boasts some impressive credentials on his resumé–he has used his skills at a few famous spots in NYC and LA.  Guests can choose between two special tasting menus designed by chef Pham– a 12-course omakase menu for $85 and a luxurious 15-course version $125.
5 Save: Ki Sushi
Located in the trendy Boerum Hill neighborhood of Brooklyn, Ki Sushi was reviewed for nine years, from 2007-2016, by the prestigious Michelin Guide and Zagat. The eatery gets high praise on Google Reviews and Yelp for its low-key, welcoming ambiance, fresh fish, and selection of yummy maki rolls.
Considering this impressive resume, Ki Sushi's prices– a chef's special omakase with 8 pieces of sashimi and 6 pieces of sushi for $60–look pretty reasonable.
4 Splurge: noda
The noda experience is theatrical, personalized, and unforgettable. Don't plan on wandering in off the street; noda serves eight guests at a time, only twice daily, and its classically trained sushi chef, Shigeyuki Tsunoda creates a 20-22 course sushi menu.   noda seats every guest at the sushi counter– an 800-pound crescent of unfinished wood (sanded daily; don't worry about splinters)– for an up-close-and-personal experience with Chef Tsunoda. This Michelin-star rated restaurant also boasts an impressive selection of Japanese whiskey, sake, and wine, and a group of expert sommeliers ready to find you the drink to perfectly compliment your $285 meal.
3 Save: KanaHashi
KanaHashi, meaning both "Golden Chopsticks" and "Golden Bridges," aims to transport visitors between Brooklyn and Japan. This family-owned restaurant offers diners a taste of traditional recipes the owners have been serving up for over 40 years.
RELATED: NYC Penthouses: The Priciest Sky-High Suites
With an understated but classy atmosphere, and a menu featuring a wide variety of fresh sushi, sashimi, hot appetizers, and even desserts, KanaHashi allows its visitors to have up a truly memorable experience and delicious dinner without breaking the bank. A la carte sashimi ranges from $2.50 to $4.50 per piece.
2 Splurge: Tanoshi Sushi Bar
While the Upper East Side is filled with hyper-glamorous eateries, Tanoshi Sushi Sake Bar is unpretentious and unassuming. Former head chef Toshio Oguma (1959-2018) aimed to preserve the integrity and classic sushi, and drew heavily from the gorgeous simplicity and minimalism of sushi from Japan's Edo period. While Chef Toshio passed away in 2018, the staff at Tanoshi Sushi are dedicated to fulfilling his legacy and continuing to serve up Toshio's innovative style of "loosey-sushi," described on Tanoshi's website as, "dissemble in the mouth easily, allowing all of the textures and flavors to meld, producing a truly delectable and memorable sushi experience." Prices range from $95-$99.
1 Save: Okozushi
The quality of Okozushi's omakase menus has earned it comparisons to the acclaimed sushi spots on this list that serve up $200-300 tastings. However, at 25$ for a "Classic Omakase" and $26 for a "Fancy Nigiri" Omakase, eating at Okozushi is a mere fraction of the cost of some other places on this list. How do they manage to keep the price so low and the quality so high? Okozushi forgoes foreign fishes and sources everything on its menu sustainably from local waters. Looking to claim a spot at this appropriately priced place? With room for only 10 lucky guests, plan to be at Okozushi right when it opens!
NEXT: 10 Most Expensive Restaurants in NYC
Source: Read Full Article