'Animal Crossing: New Horizons' Festivale Event 2022 Complete Guide
Mardi Gras 2022 is right around the corner, which means it's time for Animal Crossing: New Horizons to celebrate Festivale. Hosted two days before Ash Wednesday, Festivale is an island-wide party where players and villagers can dance with Pavé the Peacock. The event features special clothing and furniture items, so players looking to collect everything in the Nintendo game will want to participate. Plus, the event's bright colors and characters make it a blast. Here's a guide to Festivale's activities, rewards, and more.
'Animal Crossing: New Horizons' Festivale 2022 date and start time
Festivale in Animal Crossing: New Horizons can take place in February or March, depending on Mardi Gras. It will always occur the day before Mardi Gras begins in real life. The 2021 Festivale event launched on Feb. 15, but fans have to wait a few extra weeks in 2022.
Animal Crossing: New Horizons' 2022 Festivale event takes place all day long on Feb. 28. A new day begins in-game at 5 a.m. local time, so you can expect to see Isabelle wearing a Festivale headband for her morning announcements at that time. Additionally, Pavé sets up his stage outside of Resident Services at 5 a.m. sharp.
Feathers and confetti will float around the island for the duration of the event, and special Festivale music will play in the background. Animal villagers will also dress in Festivale attire and dance around the island.
How to collect feathers for Pavé during the Festivale event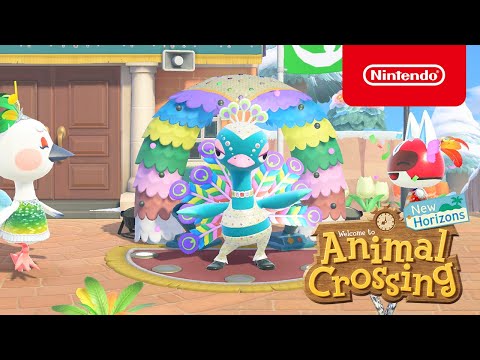 Before talking to Pavé, you should put on your best Festivale attire. Otherwise, he'll insist that you must change. Thankfully, Able Sisters has a full stock of Festivale head accessories, tank dresses, and costumes in various colors. These are the same clothes you'll see on the island's animals. The outfits come in red, green, blue, and pink, according to Animal Crossing World.
Once you've slipped into something more colorful, you can talk to Pavé for a quick introduction to Festivale. He'll tell you to bring him some of the multi-colored feathers floating around the island; they come in red, green, blue, and purple. If you give Pavé three of the same feather, he'll trade you a Festivale item in that color.
Catching feathers is just like catching bugs — simply use your net to capture them from the air. If you can't find a certain color floating around, you can also trade feathers with villagers in either stacks or singles.
After trading feathers with Pavé nine times, he'll give a Rainbow Feather DIY recipe. The recipe calls for one of each colored feather. By trading three rainbow feathers with Pavé, you can get the exclusive Festivale Float reward. Rainbow feathers will also float around the island, but they're much rarer.
All 'Animal Crossing: New Horizons' Festivale items and how to get them
According to Animal Crossing World, there are 10 total furniture items to collect from the Festivale event. Here's the full list:
Festivale Balloon Lamp
Confetti Machine
Drum
Flag
Garland
Lamp
Parasol
Stage
Stall
Float
In the days leading up to the event, you can purchase these items (except for the float) from the seasonal section at Nook's Cranny. Otherwise, Pavé will give them to you. There are five variations of each item: red, green, blue, purple, and rainbow. You can use rainbow feathers to customize the items (again, except the float). Happy Festivale!
Animal Crossing: New Horizons is available now on Nintendo Switch.
Source: Read Full Article