Ariana Grande Helps Reenact Classic SNL Skit With Jimmy Fallon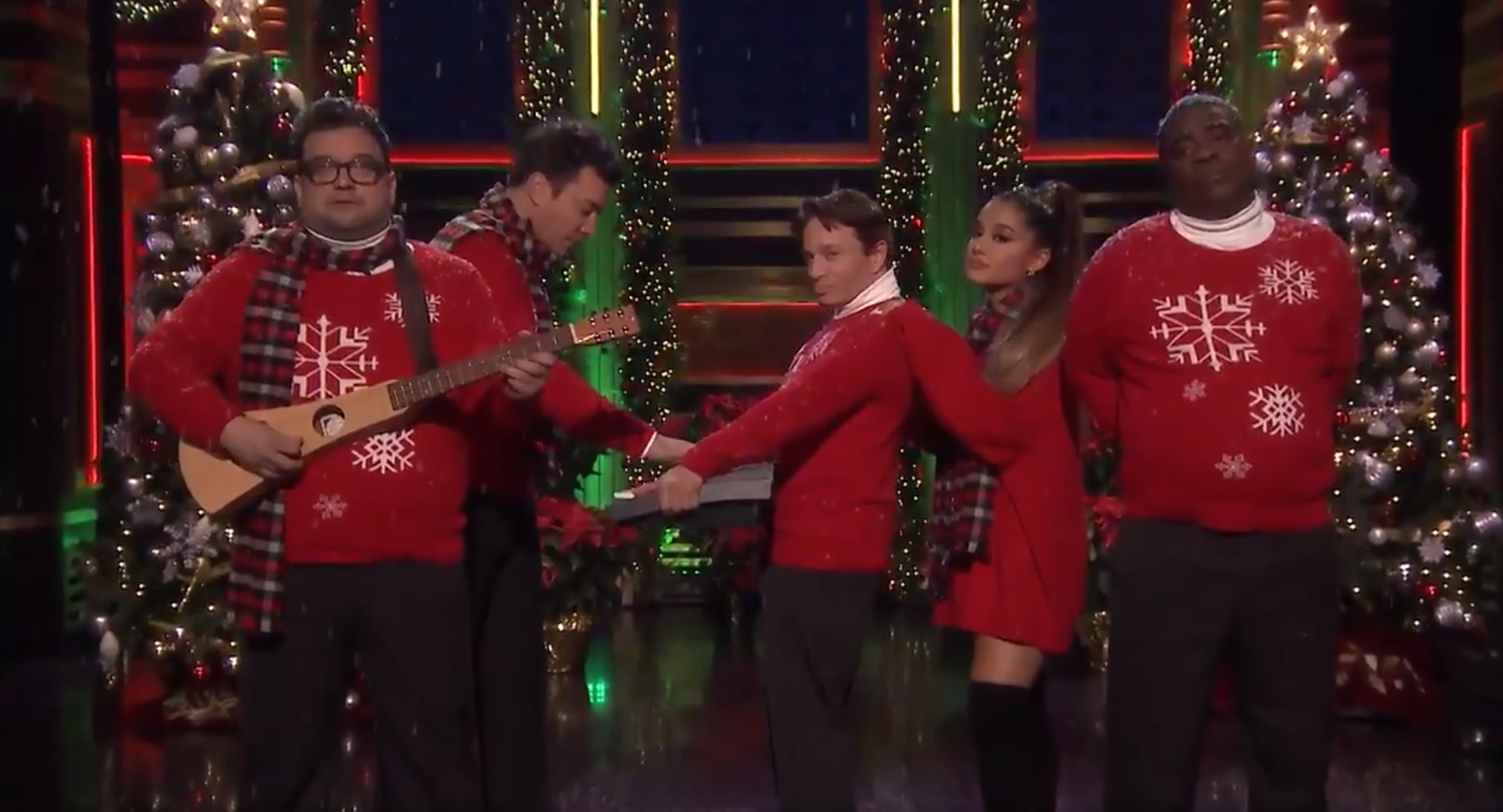 NBC
Ariana Grande helped Jimmy Fallon recreate a holiday favorite Saturday Night Live sketch.
The "Imagine" singer appeared The Tonight Show Starring Jimmy Fallon on Wednesday night and was joined by SNL alums including Fallon, Chris Kattan, Horatio Sanz and Tracy Morganto give a modern twist to "I Wish It Was Christmas Today."
In the 2018 version, the four men wore near-identical Christmas sweaters to those that they donned in 2001 when the skit first aired. With Sanz on the guitar, Fallon on the keyboard and Kattan holding the keyboard, Morgan swayed back and forth while Grande looked (purposely?) unemotive and held onto Kattan's shoulders.
The late night show's sketch aired just days after Pete Davidson, a current Saturday Night Live member and Grande's ex-fiancé, posted an alarming note that sounded almost suicidal.
The Billboard Woman of the Year immediately took notice on Saturday and reportedly rushed over to 30 Rockefeller Plaza to come to Davidson's aid. She got embroiled in the middle of a feud between Kanye West and Drake and immediately received flak from the "Stronger" rapper.
After seeing Davidson's Instagram note, wherein he backed West and praised him for speaking openly about mental health, Grande issued an apology. "I really didn't mean any harm. All I want everyone to be healthy and happy. So desperately. Please," she wrote in a tweet that now appears to be deleted. " My god…I'm downstairs and I'm not going anywhere if you need anyone or anything. I know u have everyone u need and that's not me, but I'm here too."
Grande revealed earlier in the month that Davidson blocked her on Instagram, so her methods of contacting the comedian after his cry for help were few and far between.
Davidson made a very brief appearance on SNL this week, just hours after worrying friends and loved ones with his message.
A source told E! News that Grande did in fact go to 30 Rock to see her ex, but he "didn't want to talk to her."
The insider elaborated on the situation and her attempt to talk to him. "She tweeted and reached out. She tried to contact him and rushed to see him. But, he didn't want to talk to her and made it clear," they said. "She has been worried sick, but doesn't know what else she can do."
According to the source, Davidson "was in a very dire place" when he composed the note, but "he has been with friends ever since and they are trying to help him get through this." They added, "He doesn't want to be in contact with Ariana or hear what she has to say."
Although the comedian ceased communication with her, the insider shared, "She will always be there for him in any way that she can."
Source: Read Full Article