Former Marine from Florida works with alligators and crocodiles, says they're her 'best friends'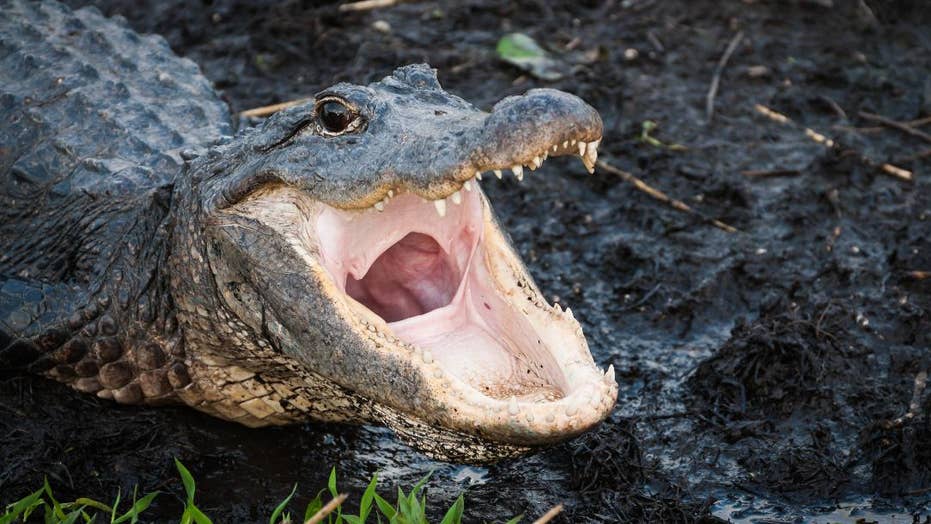 Alligator surprises homeowner, bangs on glass
An Alligator surprised a homeowner by banging on her window and attempting to enter the home during mating season.
A former U.S. Marine now spends her days with some of the world's largest reptiles: crocodiles and alligators.
Savannah Boan opened up to the Daily Mail about her job as a "Crocodile Enrichment Coordinator" at Gatorland in Orlando, Fla., telling the U.K.-based publication the toothy creatures are her "best friends."
ALLIGATORS BELLOW AT FLORIDA ZOO, VIDEO SHOWS: 'IT SOUNDS LIKE SOMETHING OUT OF JURASSIC PARK'
"I have loved alligators and crocodiles and all reptiles my entire life and I have wanted to work at Gatorland for as long as I can remember," Boan, 47, said.
Boan, who boasts more than 130,000 followers on Instagram, where she typically shares photos of herself with the reptiles, told the Daily Mail that "alligators and crocodiles are some of the most misunderstood animals in the animal kingdom."
"They have way more to fear from us than we do from them," she added, noting she wants others to "love" the reptiles and "recognize how important they are to the ecosystems in which they thrive."
"People protect what they love, and if I can help people love them too maybe they will want to protect them as well," she continued. "Alligators and crocodiles have always been portrayed as mindless monsters, but they are not villains."
HUGE ALLIGATOR DEVOURS SNAKE AT PGA TOURNAMENT IN LOUISIANA
The gator-expert went on to say that one of the wildlife park's rescue alligators — Blackwater — is her "best friend in the entire world," while 13-foot-long Dundee is her favorite crocodile.
"He even lets me do a little dental work on him so technically I'm kind of a crocodile dentist as well," she said of Dundee.
Source: Read Full Article