Get Ready for a Busy AF Capricorn Season
All month you've felt Sag season's energy boost your ambition and drive your desire to learn. It filled you with optimism, inspired bright ideas for the future, and motivated you to travel and expand your mind. You've broadened your horizons and have bigger goals—but how will you reach them? On December 21, at 5:23 PM, the Sun enters Capricorn, changing the mood to be more productive, practical, and realistic. Honoring Capricorn's earthy style helps you bring ideas to life by making concrete plans to accomplish what you want. It also supplies determination and an industrious mindset so you can follow through on your plans and succeed!
The beginning of Cap season is always the first day of winter, and Capricorn's nature as a cardinal sign reflects this. Capricorn is a project starter and a natural leader. It knows how to get the ball rolling with any relationship, task, or project imaginable. It's also an earth sign, meaning it's logical, pragmatic, and more than anything else, materialistic. Capricorns focus on status more than any other signs, and achieve pristine reputations by working hard and holding themselves to high standards.
Capricorns when they're great at everything but still don't meet their own expectations pic.twitter.com/xaGp43iqvd
Capricorn season urges you to solidify your goals as well as understand how much hard work and simple determination matters. If you don't have any business opportunities or big plans coming up, be open to the possibility of extra work or starting your own new project. This energy for the next month pushes you to check everything off of your to-do list, set a vision for success in the upcoming year, and find more stability in your life.
This sign is ruled by structured Saturn, a planet known for bringing astrological events that teach you hard lessons and force you to grow up.
Capricorn season may not sound like the most fun time of year, and honestly, it mostly isn't. This sign is ruled by structured Saturn, a planet known for bringing astrological events that teach you hard lessons and force you to grow up. So while it's not particularly lively, Capricorn season's dynamic is still incredibly useful. You may feel like you're almost at the end of the finish line and ready for what's next, but you have to take the last few leaps to the top! This is a point in your journey where your endgame is in sight, but you can look back at the path you've traveled so far and everything that came before this.
he's a capricorn pic.twitter.com/4J891sfic9
In case you needed to be reminded, 2018 was hard. It was tough for each sign, and everybody felt the pressure of this year's heavy hitting astrology in one way or another. Even if you got a couple of bruises or scratches on the way, you've survived the whirlwind of eclipses, retrogrades, and other crazy astro-events. It's not over yet though, and the end of the year and beginning of 2019 has a great deal of Capricorn energy radiating from the cosmos for one final course. December's final week trudges along until New Year's Eve when—bam! Mars enters the sign where it's strongest, fiery Aries. This shot of astrological adrenaline warms you up to start 2019 off on the right foot, and you'll be slaying the game.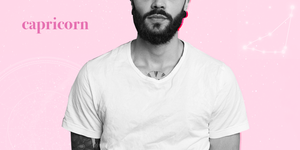 Take a moment to pause and reflect on the upwards mobility you accomplished this year. How many milestones and standout moments did you have? How far along your journey to your end goal are you? If you're not quite at the mountaintop yet, this is the time to figure out how to reach the peak and finally get there. By the end of the season, you have your crosshairs aimed on a target that you're able to confidently rush towards without looking down, just like a Capricorn. Happy winter solstice, happy New Year, and happy Capricorn season! Read below for your sign's Capricorn season horoscopes!
Aries:
Your sign's big focus is career moves and upwards mobility this month. You're always upbeat and ready to go, but when it comes to applying your energy towards a project or goal, you often lack the precision and patience to do your best. This month, you're facing additional responsibilities and making important decisions re: your job. The choices you make and your performance are being watched by your supervisors right now, and depending on how well you handle this month, 2019 could start with a promotion!
Taurus:
In your chart, Capricorn season is activating the zone associated with adventure, travel, and learning. Are you taking any winter vacations? The experience is sure to be eye-opening. This vibes of this time of year are pleasant and mesh well with your personality because Capricorn is an earth sign, just like you. Travel opportunities related to your job could come your way, too. Although your workload is increasing under business-minded Capricorn's influence, you're still thriving all month!
Gemini:
Face it, your sign has a reputation for being superficial, which isn't entirely wrong. You love to chat and learn, but rarely delve deep into a conversation. Capricorn season's aim is to teach you about the deeper, more serious parts of life. The zone of your chart being activated is associated with sex, secrets, transformation, and the subconscious—pretty heavy stuff! Capricorn season emphasizes each of these through circumstances having to do with your intimate relationships, financial situation, taxes, or inheritances. By the end of the month, a part of yourself is deeply changed and you have a more comprehensive idea of yourself.
Cancer:
Sagittarius season is known to make your sign crabbier than ever. It's basically a massive headache for you, where you're busier than ever and everything is moving too fast! Finally, it's over, and now that your sister sign, Capricorn, is the star of the show, your focus shifts to your relationships. Friendships, business partnerships, your significant other, and all other kinds of one-on-one relationships are a priority right now. You learn a lot about yourself based on the types of bonds you form and how you operate within them during Cap season. Already-existing relationships become stronger than ever, and relationships starting now typically last a long time.
Leo:
After a month of creativity, fun, romance, and good sex, Sagittarius season finally draws to a close. Your sign arguably has the hardest time during Capricorn season—it's the busiest, most serious sign, and it activates the zone of your chart related to work, duties, servitude, and obligations. Totally not your vibe! This month brings the pressure at work, so make sure you can handle the heat! Busy work is piled on while recognition for a job well done isn't acknowledged. If you're the head honcho at work, your employees are especially stressing you out now. Don't freak out, though! Venus, planet of love, pleasure, and beauty, enters your chart's sweet spot in Sagittarius at the beginning of January, so there's still plenty of opportunity for fun and games.
Virgo:
When most people hear "Capricorn" they think of a serious, strict, intimidating, wet blanket of a sign—not you, though! Your chart's zone of romance, sex, and fun is being activated by the energy of Capricorn season. This is the most exciting and bright time of year in your horoscope, so enjoy it! You're feeling the love from your friends and family, finding some extra romance in your life, and feeling more creative than ever! If you have to pick between work and play, just say "screw it" and pick the more fun option! It's the best time of year for that—you're still thriving at work regardless. Have fun!
Libra:
Sagittarius season's fire has finally died down, and your life slows down congruently. It's not that all of the Sagittarian energy is being snuffed by Capricorn season, it's just all of the action is being contained at home, now. Your chart's zone of domestic affairs and family is being illuminated by the Sun now, so life at the house and your relationship with your parent(s) are emphasized this month. You may be hosting holiday gatherings at home, redecorating, or moving this month. Enjoy this quiet month, and appreciate the alone time it provides.
Scorpio:
Capricorn is famous for giving you stamina and the ability to work nonstop until the job is done. Your sign needs to honor Capricorn's toughness and high energy this month, because your life's busier than ever! Phone calls, texts, and emails flood your inbox and your to-do list is maxed out. It's not a bad time, though, despite the fast pace—earthy Capricorn is naturally compatible with your water sign vibes. Impromptu outings, dates, hookups, and trips fill in the (rare) empty space in your schedule this month. Your mental activity is at sky-high levels for the next few weeks, and a lot of learning can take place if you focus on something productive.
Sagittarius:
Your sign's time of year is always lit (because you're a fire sign, get it?) and it leaves you with fun memories, new experiences, and a better view of the big picture for your life. Now that you've traveled, explored, and learned, it's time to get down to business and apply your new knowledge. This time of year activates your chart's zone of finances and material possessions, so it's a no-brainer that work plays an especially big role in the next month. Long-term projects of yours find completion during Capricorn season, and money seems to find its way to your wallet easier. You could get a raise or a bonus over the next few weeks. Your tendency to spend cash is higher, too, so don't flush it all away now!
Capricorn:
Happy New Year, and happy birthday, too! This month is all about you, Capricorn. The rest of the world is operating on the same baseline energy as you right now. Your high standards and strong work ethic is being mirrored by others, and it's a remarkably productive time of year. Whether it's with professional goals, personal ambitions, or just a task on your daily agenda, you act with more motivation and confidence during Capricorn season. You're the sign of getting shit done and achievements, and this astro-weather more than supports that!
Aquarius:
Capricorn season is a quiet time of year for other air signs, but this is especially true for you. It activates your chart's zone of isolation, solitude, and the subconscious. This month holds more time spent alone than you'd like, but there's a reason behind it. This is both the end of the calendar year and the end of your sign's zodiacal year. Capricorn is the sign right before yours, so Capricorn season is the time of year where you tie off loose ends and clear out the general clutter that's accumulated so you can enter the world bright-eyed and bushy tailed once Aquarius season starts. This time of year is great for working alone, dreaming, and meditating.
Pisces:
You're not known for being a diligent and dedicated workaholic like Capricorn, so at first, you might think this time of year is rough. No worries, the earth energy of Capricorn season is naturally compatible with your water sign sensibilities. It's actually a rather upbeat time of year where you get to stand out and make tons of new connections! With the business mindset of Capricorn taking control this month, it's likely that your new connections are found while networking. The people you encounter this next few weeks can provide you with big opportunities down the line if you trade information.
Follow Jake on Instagram.
Source: Read Full Article