How Much is 'Killing Eve' Star Sandra Oh Worth?
If you miss seeing Sandra Oh on TV as Dr. Cristina Yang ever since she left Grey's Anatomy in 2014, then you're in luck. She stars in the critically acclaimed TV show Killing Eve on BBC America. If that's not good enough, then you can catch her co-hosting the 2019 Golden Globes with Andy Samberg on Jan. 6, 2019. We know what she's doing now, but let's take a look at the past, Sandra Oh's net worth, and what we know about her husband and family.
How did Sandra Oh get started in show business?
Sandra Oh left Grey's Anatomy in 2014. | ABC
The Canadian actress was born in 1971 in Nepean, Ontario, Canada, which is now part of the nation's capital city of Ottawa. She seemed destined to act from a young age. Oh attended the National Theatre School of Canada, and she had a breakout role in the 1994 TV movie The Diary of Evelyn Lau. She garnered a Cannes Film Festival award nomination for the part, according to Biography.
Oh landed a recurring role on the HBO show Arli$$ from 1996 to 2002. Then, she shared the screen with Mr. Bean actor Rowan Atkinson in the 1997 movie Bean. She started her run on Grey's Anatomy in 2005.
What are her most notable roles?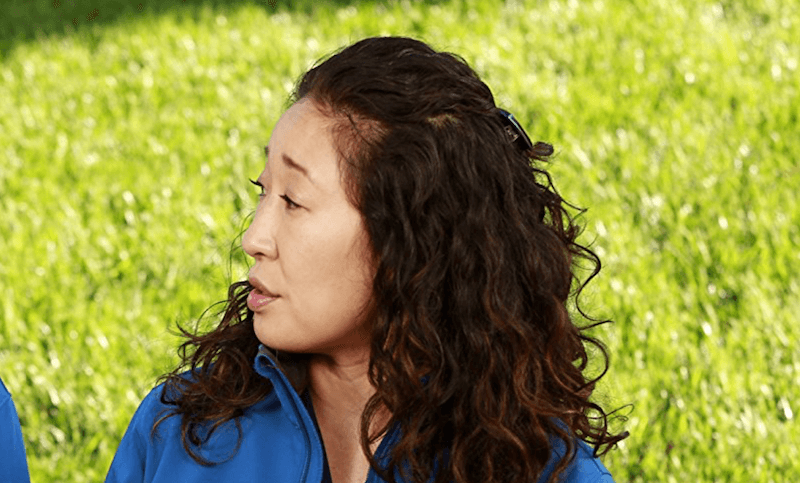 Playing Dr. Cristina Yang on Grey's Anatomy is Sandra Oh's most notable role. | ABC
Dr. Cristina Yang from Grey's Anatomy stands as Oh's most high-profile role, but she has credits in several other notable productions.
She showed up in the era-hopping drama The Red Violin in 1998.
Oh shared the screen with Frankie Muniz, Amanda Bynes, and Paul Giamatti in 2002's Big Fat Liar.
She co-starred with Diane Lane in Under the Tuscan Sun in 2003.
Oh and Giamatti shared the screen again in the wine-country comedy Sideways in 2004.
Ramona and Beezus was one of Selena Gomez's first post-Disney works in 2010, and Oh co-starred. She appeared with Nicole Kidman and Aaron Eckhart in Rabbit Hole the same year.
What is Sandra Oh's net worth?
Even though she doesn't have a fat Grey's Anatomy paycheck to cash anymore (she earned $350,000 per episode at the end), Sandra Oh's net worth isn't suffering. However, hosting the Golden Globes won't help her bottom line very much.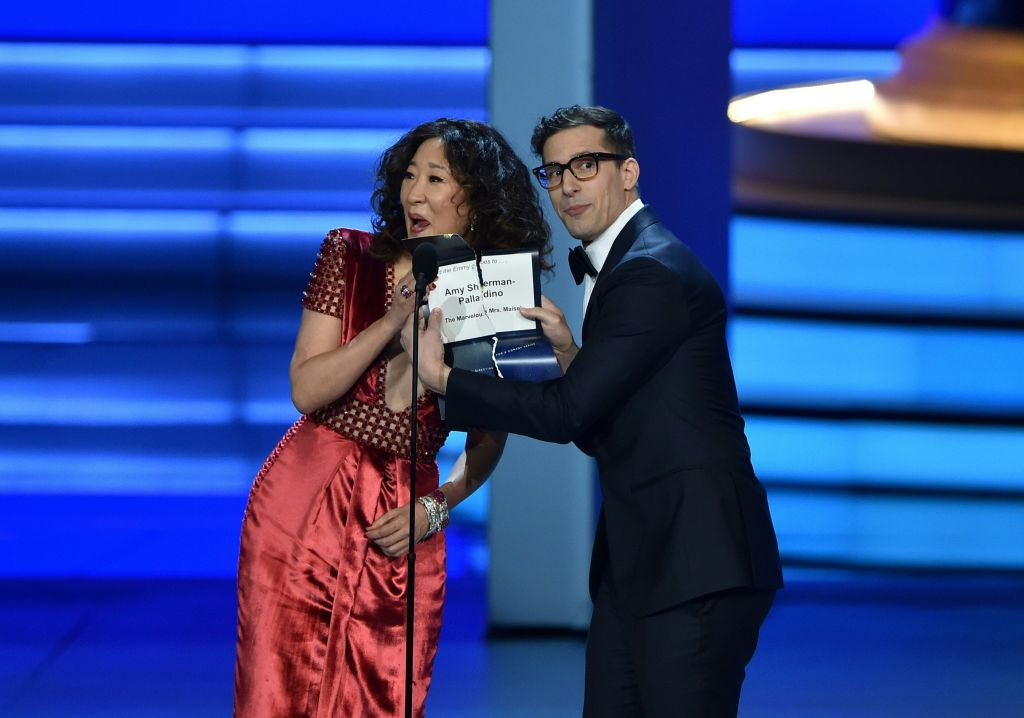 Sandra Oh and Andy Samberg worked together at the 2018 Emmy's, and they'll team up at the 2019 Golden Globes. | Robyn Beck/AFP/Getty Images
Even though it's a high-profile work, the salaries for awards show hosts aren't astronomical. Jimmy Kimmel earned roughly $15,00 for hosting the Academy Awards. Tony Awards host make less than $3,000. A rumor said former Golden Globes hosts Tina Fey and Amy Poehler made $4 million each for their efforts, but that number was probably 100 times higher than the actual figure.
We mentioned that Grey's Anatomy payday, it helped boost Sandra Oh's net worth to $25 million in 2018, according to Celebrity Net Worth.
What do we know about her husband and family?
Sandra Oh keeps her private life very private, but we know she married Sideways director Alexander Payne in 2003. However, they split in 2005 and finalized their divorce in 2007. She doesn't have any children.
Oh reportedly dated/is dating musician Andrew Featherston, according to Bustle, but neither one confirmed the rumors.
Check out The Cheat Sheet on Facebook!
Source: Read Full Article