How Two Ultra-Stylish Brides Dreamed Up the Ultimate Countryside Wedding
Call it magic, kismet, or love at first sight, sometimes two people just click. That was the case for Jade and Emma Shone-Sanders, who met through mutual high school and college friends at Leeds Festival in the north-east of England in 2004.
That it was a romantic connection didn't occur to them at first. Instead, they became best friends, and were soon inseparable. "There was definitely an immediate attraction, something we couldn't understand at the time," says Emma, 34, an Interior Architect at Design and That. "I was so intimidated by [Jade] when we first met! We were totally drawn to each other, but just as friends initially; we had both previously had boyfriends and we didn't realize for a long time how we really felt about each other."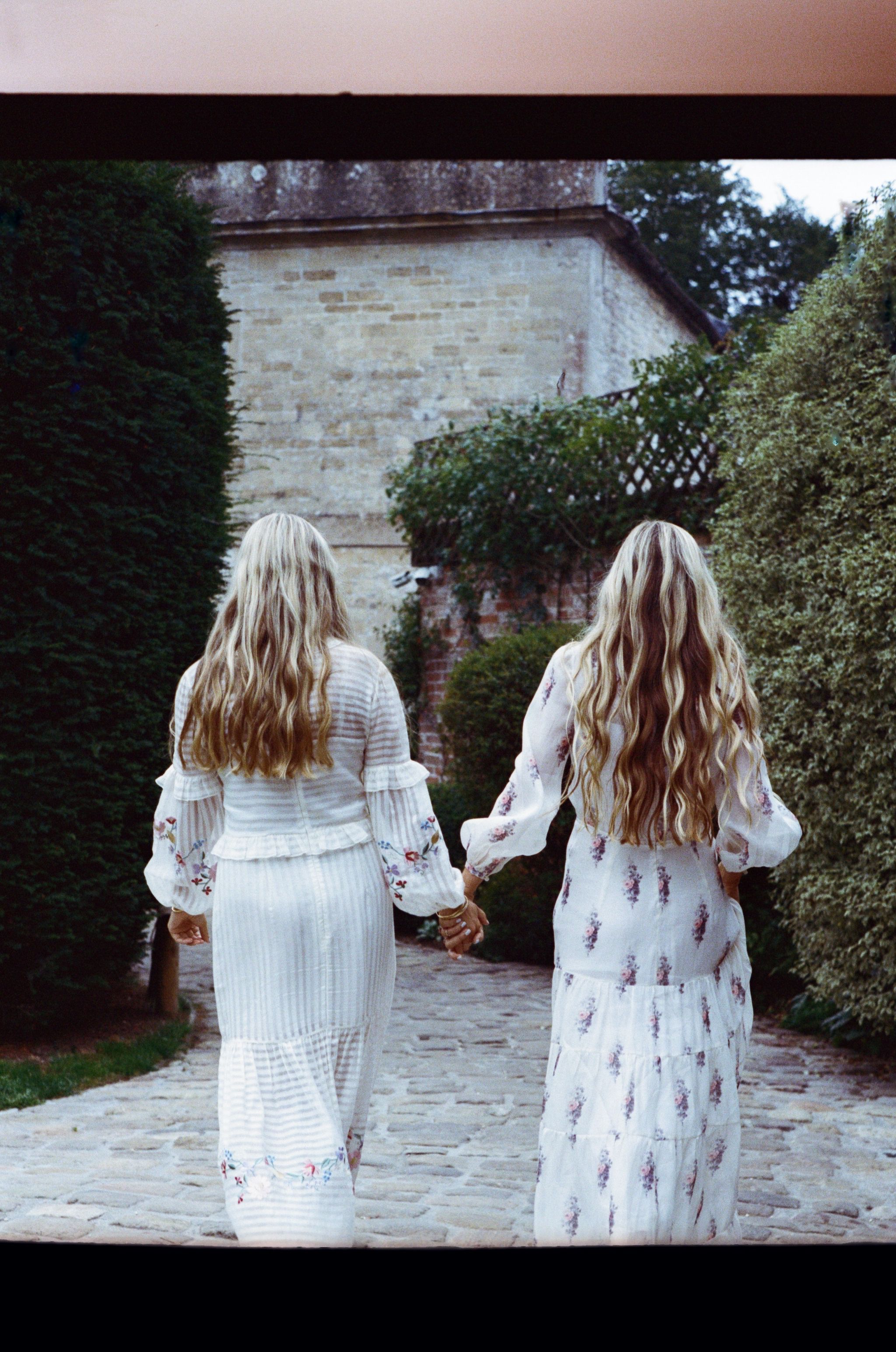 "It all started to change when we booked to go traveling, just the two of us, to Southeast Asia in 2007," says Jade, 33, now Account Director at Rainbowwave, a fashion PR agency in London. "I think we both really fell for each other on that trip. We had the most incredible time together. The only argument I remember from the whole four months was about who turned the lights off at night."
On their return, the pair rented a London apartment together, still as friends. "It was a very gradual thing, but over time we both slowly started to realize that we had feelings for each other—but never had the courage to do anything about it," Emma says, "By the time anything happened between us, we were already totally in love."
They decided to keep their relationship a secret at first. "We wanted to be sure that it would work before telling anyone," Jade says. "It was all so new to us, and we wanted to find the right moment." Not long after, some friends spotted them kissing at Pride in London. "It all came out from then onwards, which was such a relief."
By the time Emma proposed in December 2016, the couple had been together for seven years. Until then, they'd always spent Christmas with their respective families, but when they started talking about visiting one of their closest friends in Sydney, Australia, for the holiday, she knew the timing was perfect. "That Christmas would be our first together, and I knew it would be special," Emma said. She chose a Bea Arrow ring adorned with a sapphire and black diamonds by New York-based jeweler Anna Sheffield. "I asked our friend [and eventual best man] Ian to carry it [to Sydney], as I knew that Jade would be in and out of my bags."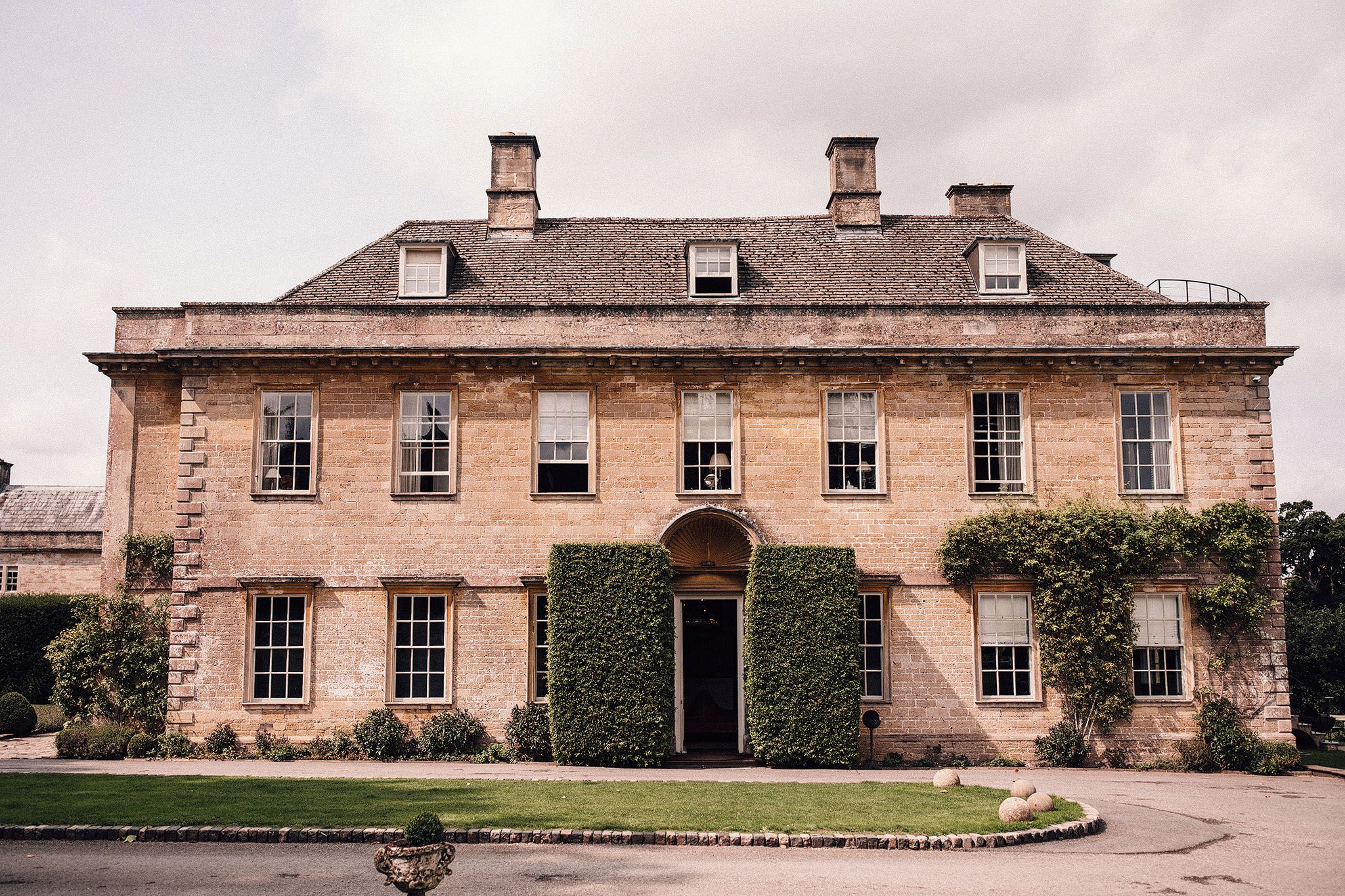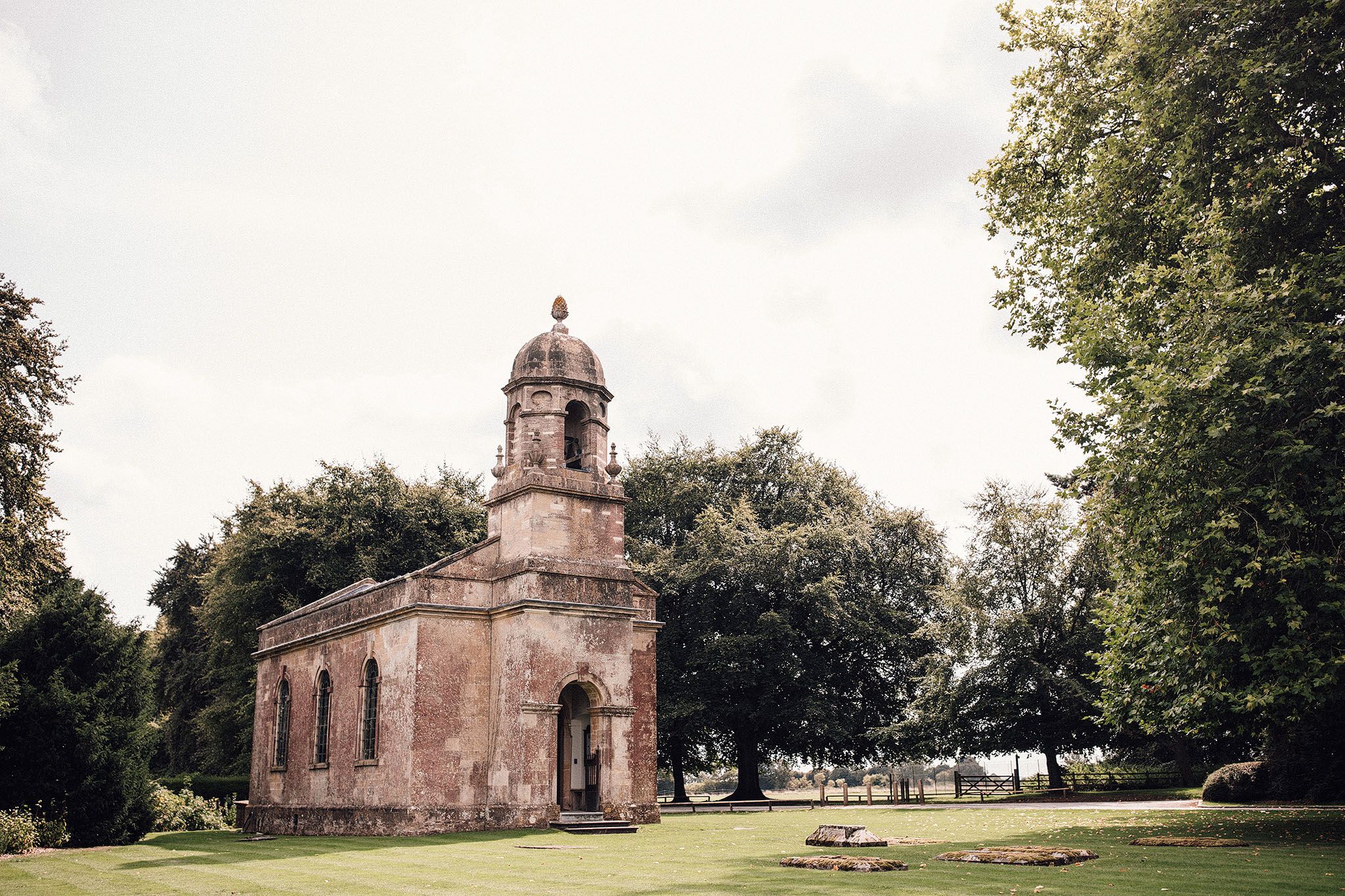 On Christmas morning, the group embarked on a coastal walk from Bronte to Bondi. "I'd picked the spot already and asked our friends to walk slightly ahead," Emma says. "When we got to the rocks that hang over Tamarama Bay, I persuaded Jade to come closer to the edge so that I could get a photo of her in her Santa hat by the sea, which is where I asked her. I was so nervous and shaking and totally forgot what I'd planned to say to her—but it was perfect." The couple spent the rest of the day celebrating with their friends on the beach and sharing the news with friends and family.
"I knew straight away I wanted to 'propose back' to Emma, as I wanted her to know how much I wanted to marry her and feel what I had when she proposed to me," said Jade. She also turned to Anna Sheffield, choosing a Bea Three Stone ring featuring a black diamond flanked by two white diamonds for Emma, and proposed just over a year later at The Pig near Bath, in Somerset. "On December 30th, back at our room after dinner, I got down on one knee and asked her to be my wife," Jade remembers. "I was so nervous, despite the fact that we'd already booked the wedding and sent out the invites!"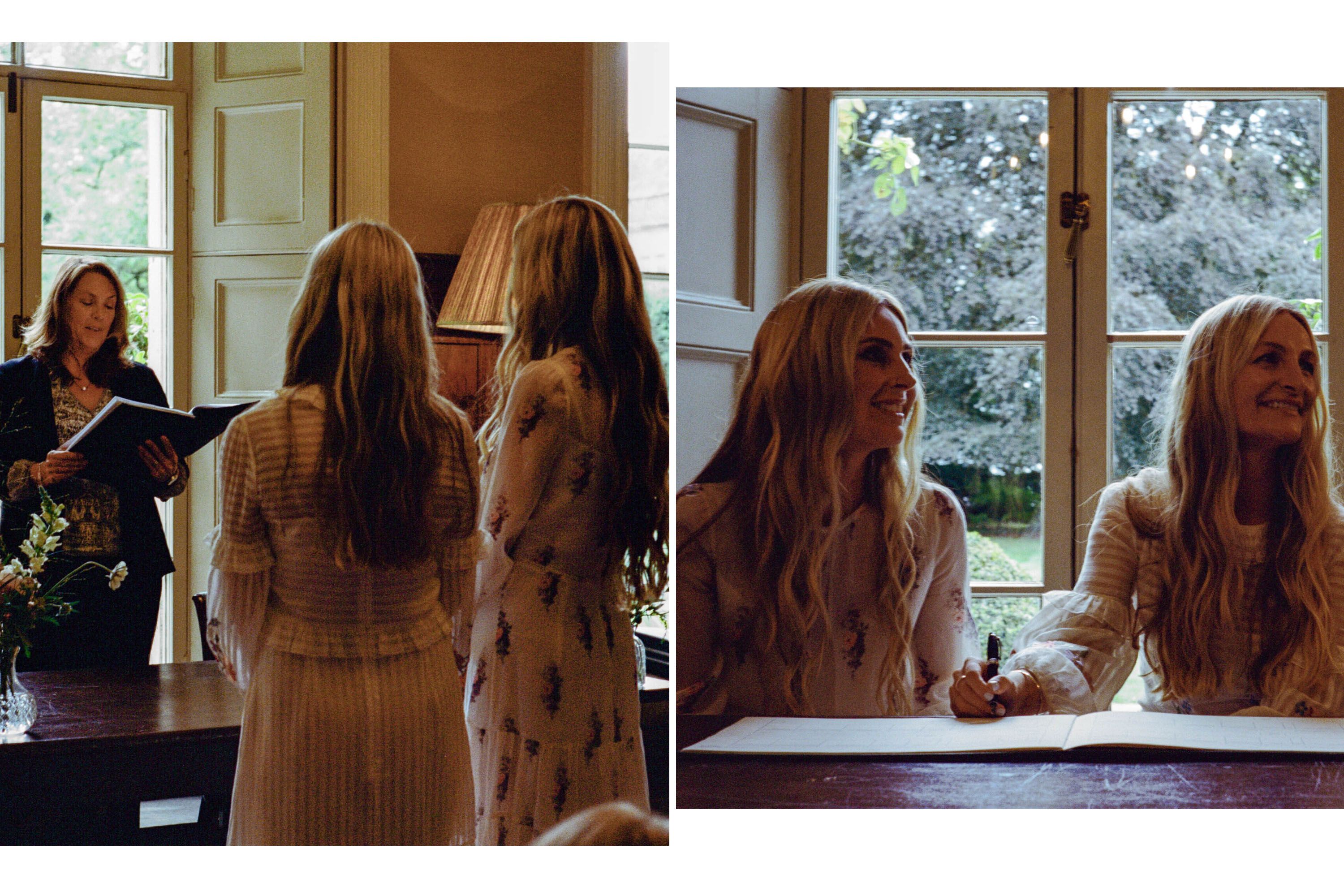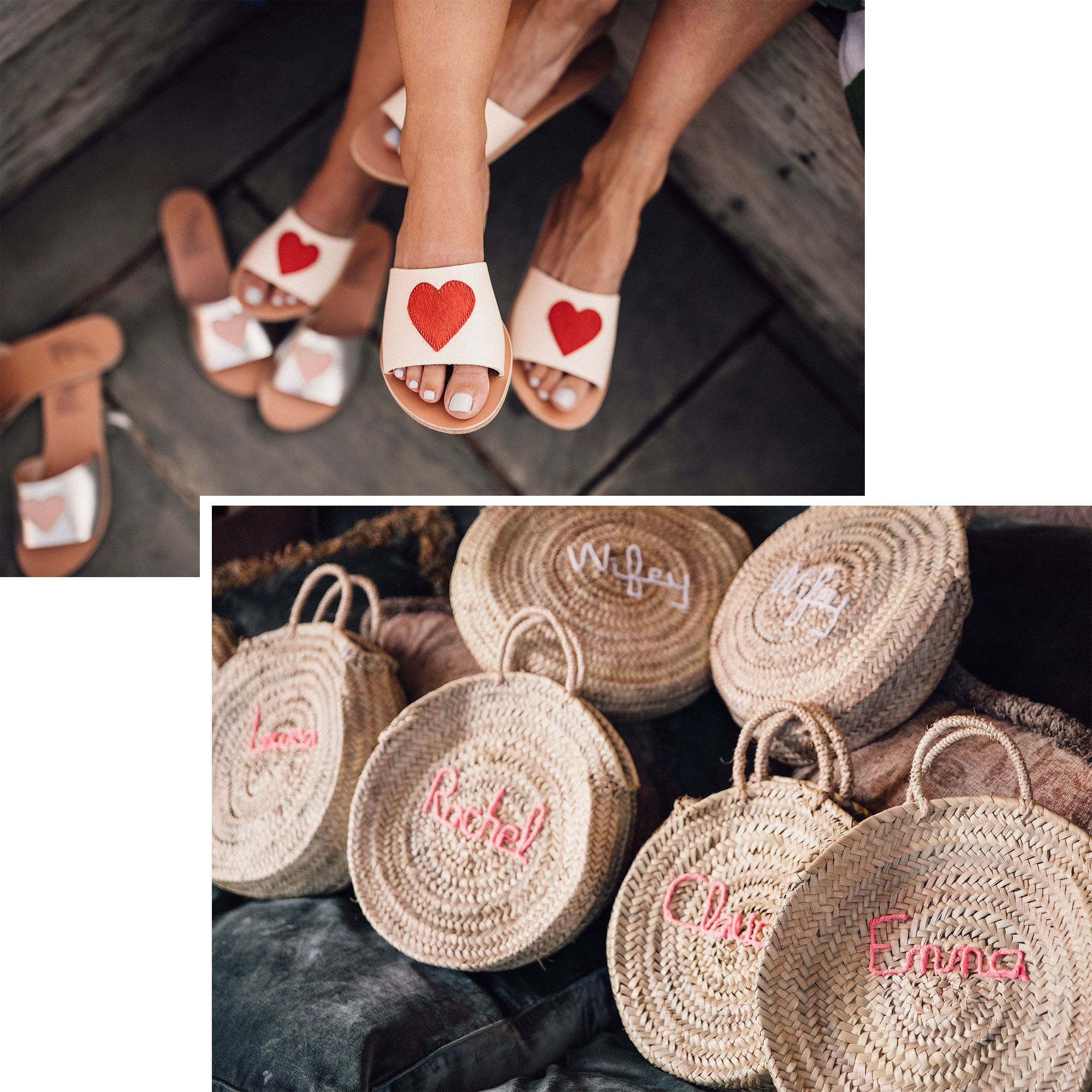 Those invites were designed by watercolor artist Lisa Hardy and best man Ian Ritch. The wedding would be hosted at Babington House, the Soho House Group's country house hotel and members' club in the southwest of England. "It's a beautiful venue and the staff are amazing," Jade says. "We loved that it's an old country house but with a really relaxed vibe and atmosphere and contemporary interiors – something that's important to us both, but especially [to] Emma."
Babington House only allows weddings mid-week, so Jade and Emma's celebrations began on a Wednesday. Each guest was welcomed with a note detailing the order of events, as well as a custom-made candle in a ceramic pot by their friend Puya, scented with a bespoke scent combining their favorite essential oils by Alo Botanics.
"Because the main wedding [on Thursday] was outside, we had to get legally married the day prior," Jade explained. (Marriage ceremonies in England and Wales must take place in solid structures with a permanent roof.) The legal ceremony took place in the Library at Babington House in front of their immediate family and bridal party, and was captured by photographer Adam Titchener. Both brides wore Vilshenko: Emma in the Adeline dress and Jade in the floral Gigi dress. "It was super intimate and really emotional, which we hadn't expected," Jade says. "We had wanted it to be as low key as possible, so the emphasis would be on the following day."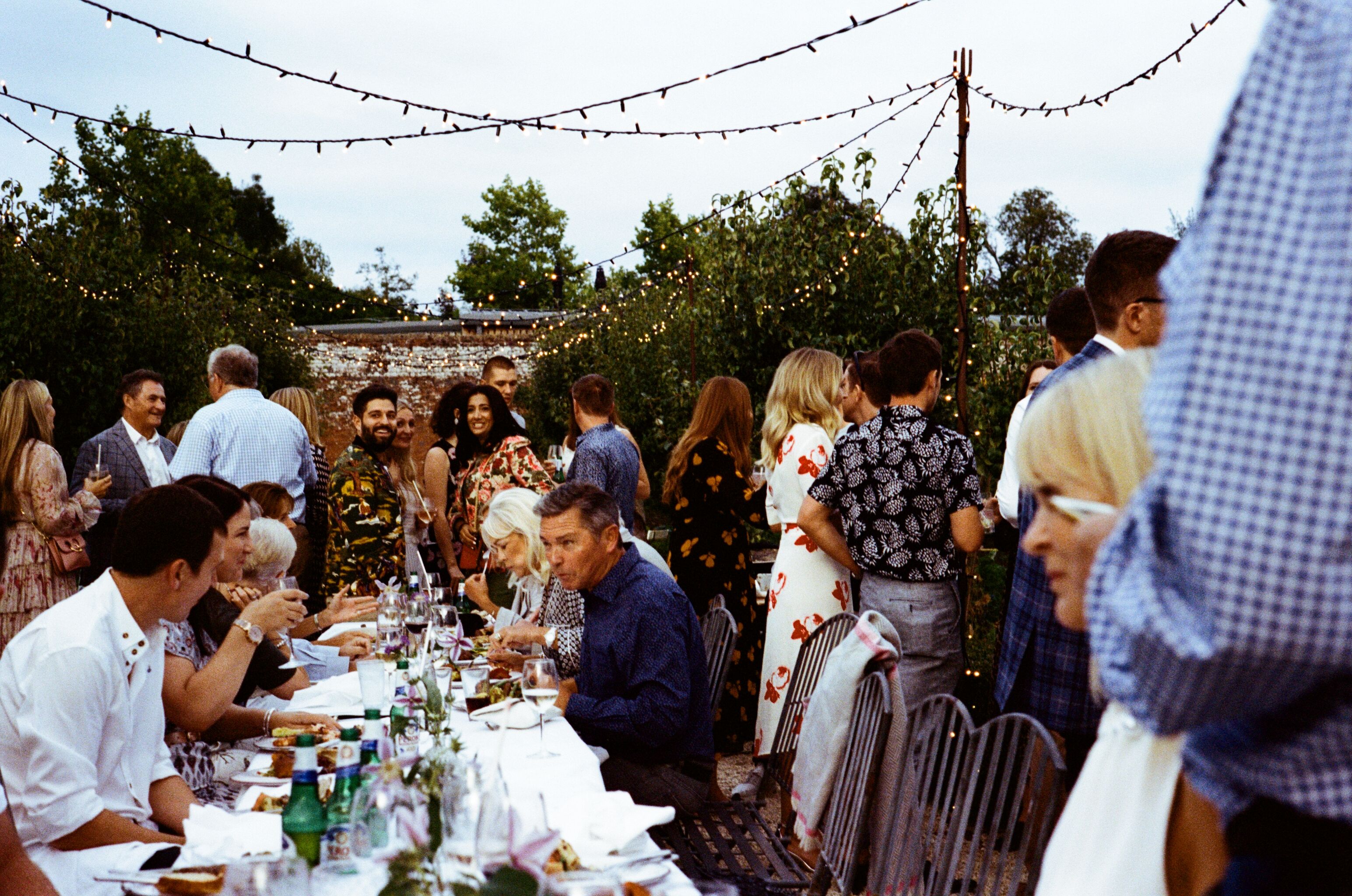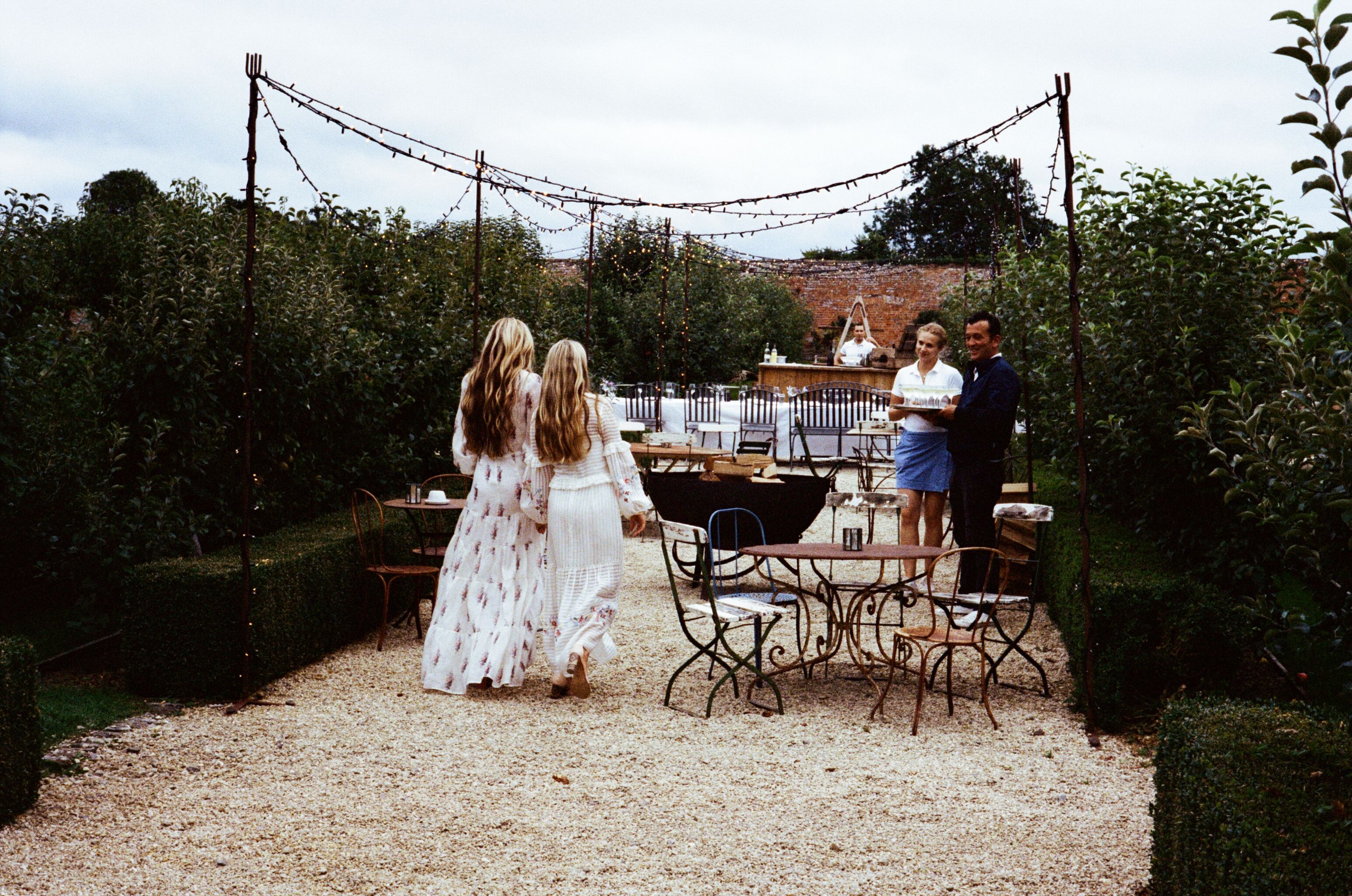 That evening, they enjoyed a rehearsal dinner in the Walled Garden. "It's a magical secret garden at the bottom of the house's grounds," Jade says. "We set up a long table and ate delicious barbecue food, which was served family-style along the table." After the meal they kept the grill going for their guests, who joined them for welcome drinks. Their plans for an early night went awry due to the excitement of having all their favorite people in one place. "We sat up until the early hours drinking rosé and catching up, my 85-year-old grandmother included," Jade recalls.
On the morning of the wedding, Jade's father and Emma's stepfather hosted a 'Father of the Bride Golf Classic' at Orchardleigh Golf Course, while the brides gathered their mothers and bridesmaids in their suite. Each member of the bridal party was gifted with a circular basket embroidered with their name by Edit 58, containing a pair of silver Ancient Greek Sandals with pink pony heart details and pink silk robes to wear while getting ready. Jade and Emma had their own versions of each gift, though their baskets were embroidered with 'Wifey' and their robes and sandals were white. The group spent the rest of the morning by the pool, both brides in matching Solid & Striped x Re/Done white bikinis, enjoying the sunshine and sipping Champagne.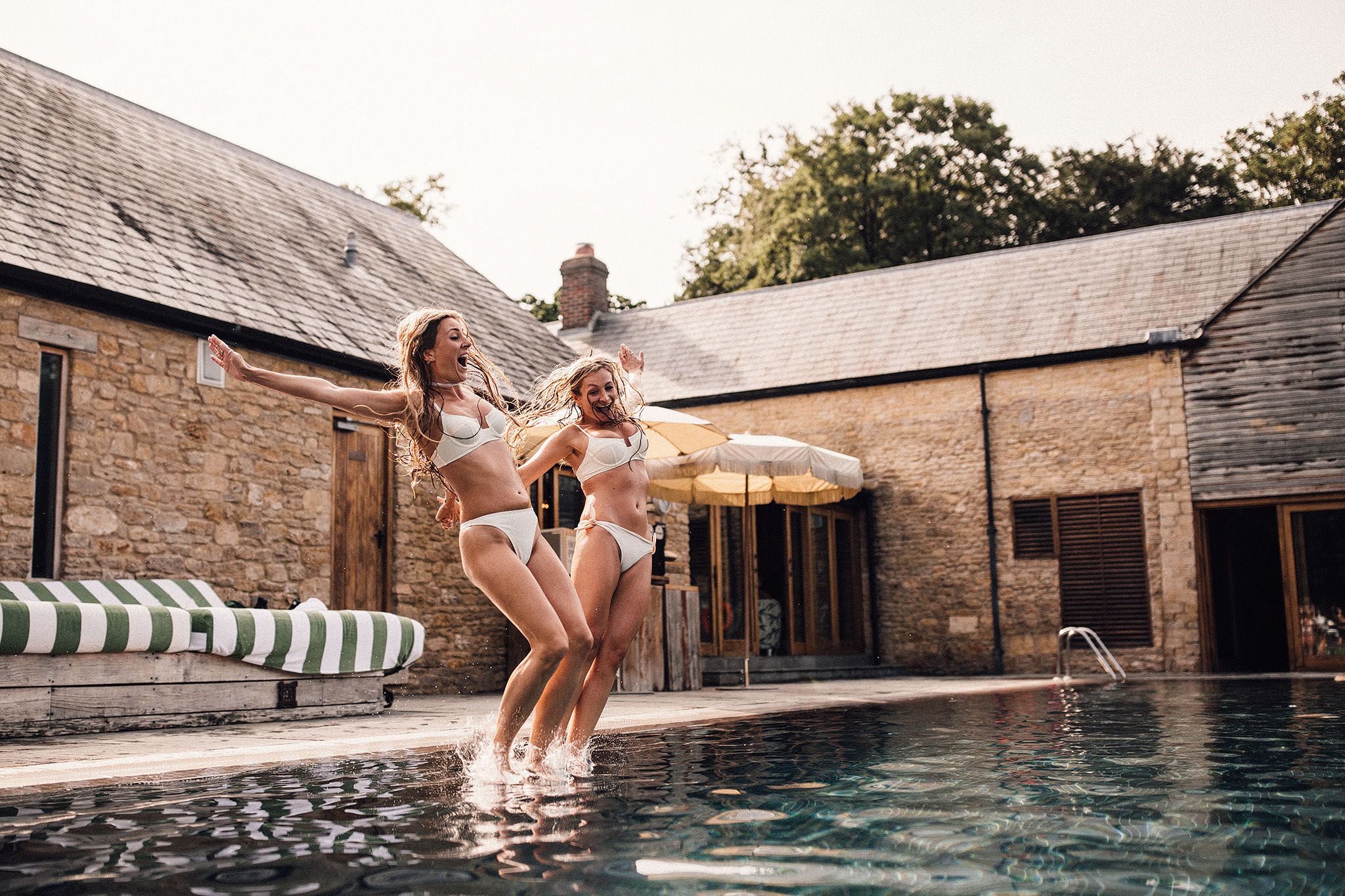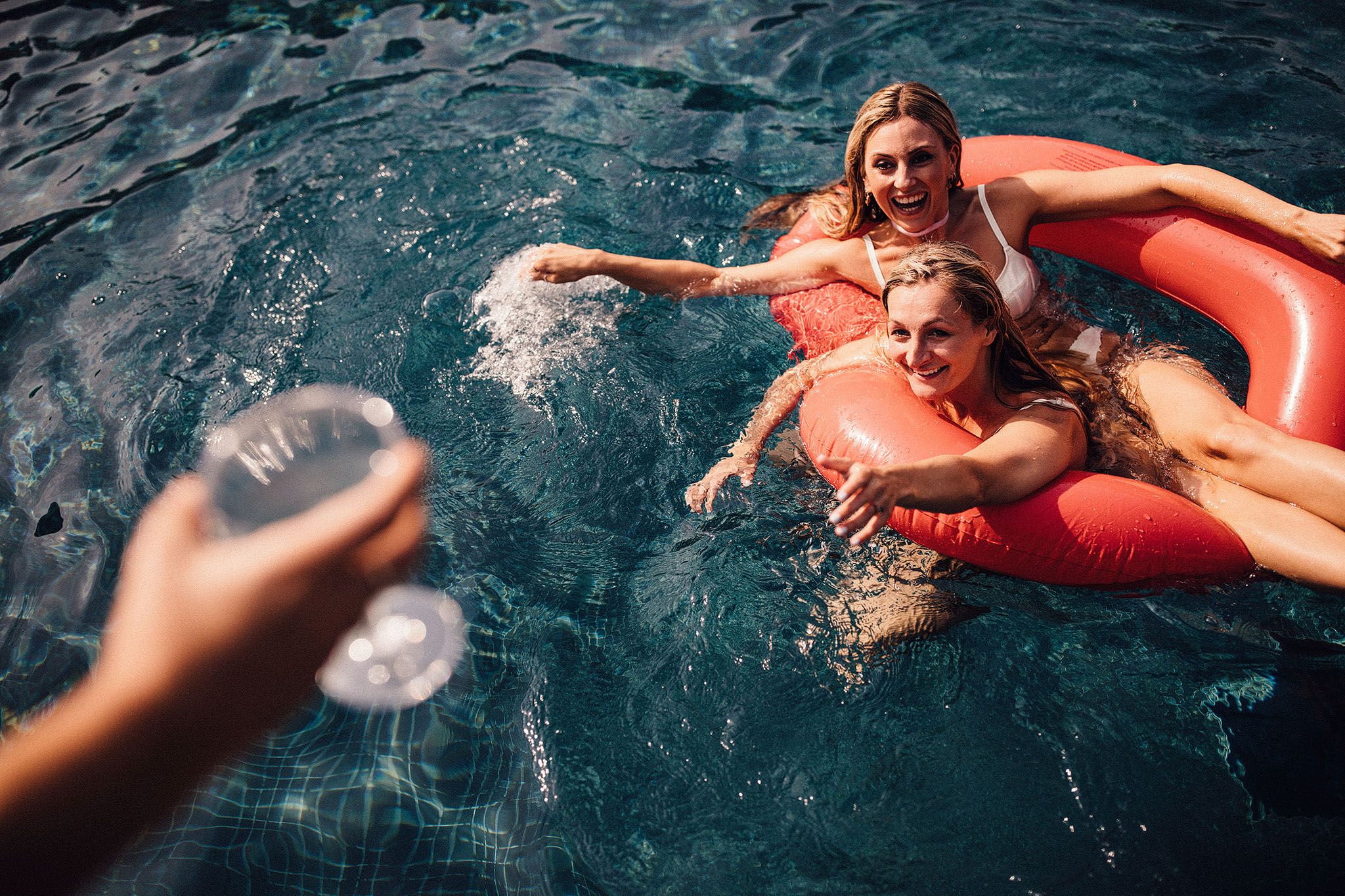 They enlisted Simon Currier to do their hair and Hannah Munn for their makeup. "We decided to get ready together, because neither wanted to miss out, but we kept our dresses a secret," Jade says. "We kept them in our mums' rooms and put the actual dresses on in there."
As it turns out, the couple's tastes are so aligned, they chose bridal gowns by the same designer. "We both wore dresses by Yolan Cris, which was a total coincidence," Jade says. "I tried on thousands of dresses and wasn't content until I'd been to every shop in London, whilst Emma—who is much more decisive that I—went to one shop, tried on one dress and bought it there and then." They even purchased their gowns from the same store, London Bride Couture in Pimlico.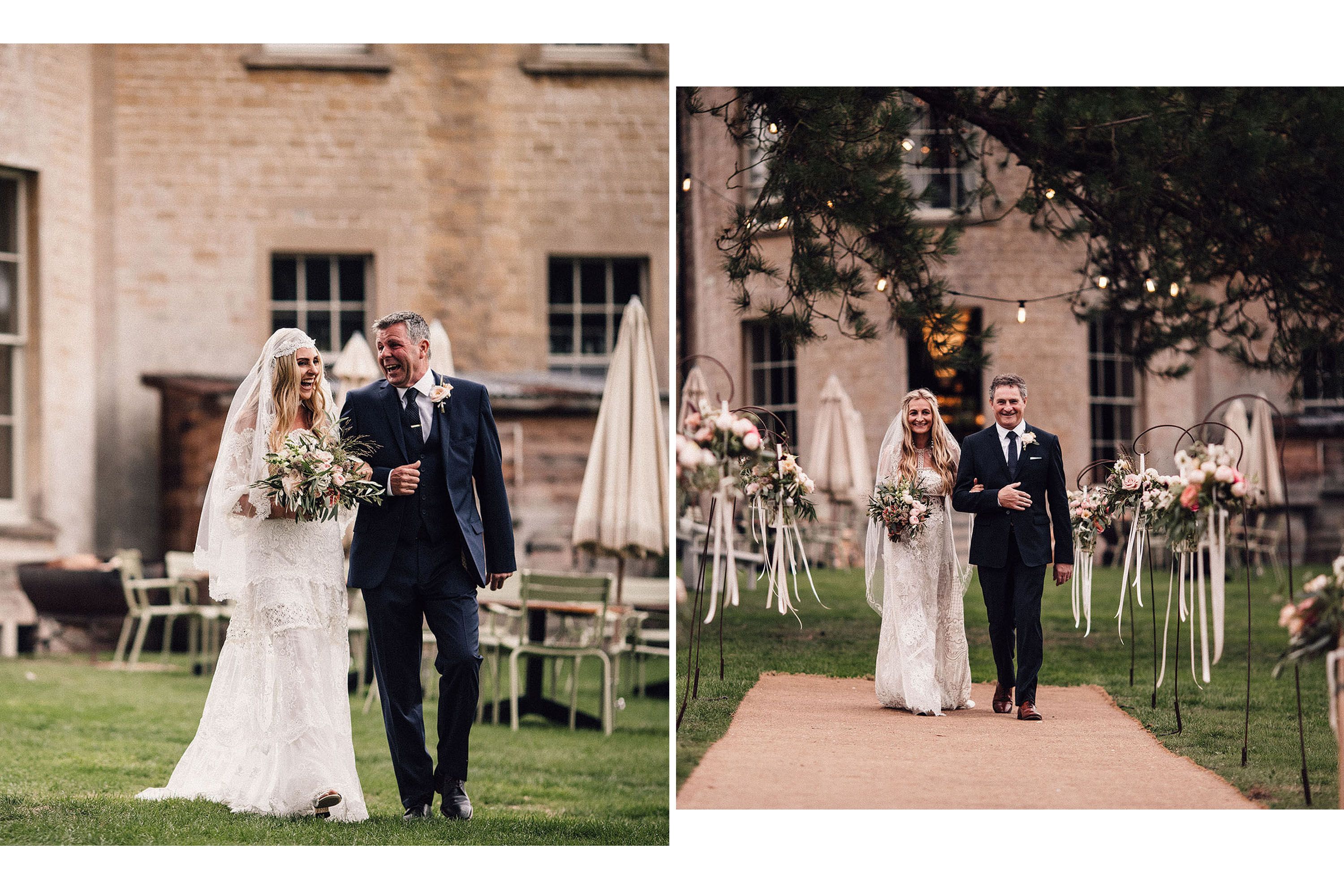 Emma's Canela dress featured raglan sleeves, silver macramé-embroidered tulle, and white Chantilly lace, which she wore with an elbow-length veil by Malis Henderson and Luna Bea white floral hair pins. She completed the look with silver platform shoes by Mulberry.
Jade wore the lace Siula gown with gold block-heel Gucci sandals; her mother made her veil. "I was desperate to have a Juliet veil, but couldn't find one I liked, so my mum offered to make it," Jade says. "I think she might have underestimated the stress levels, but I was so pleased with the result."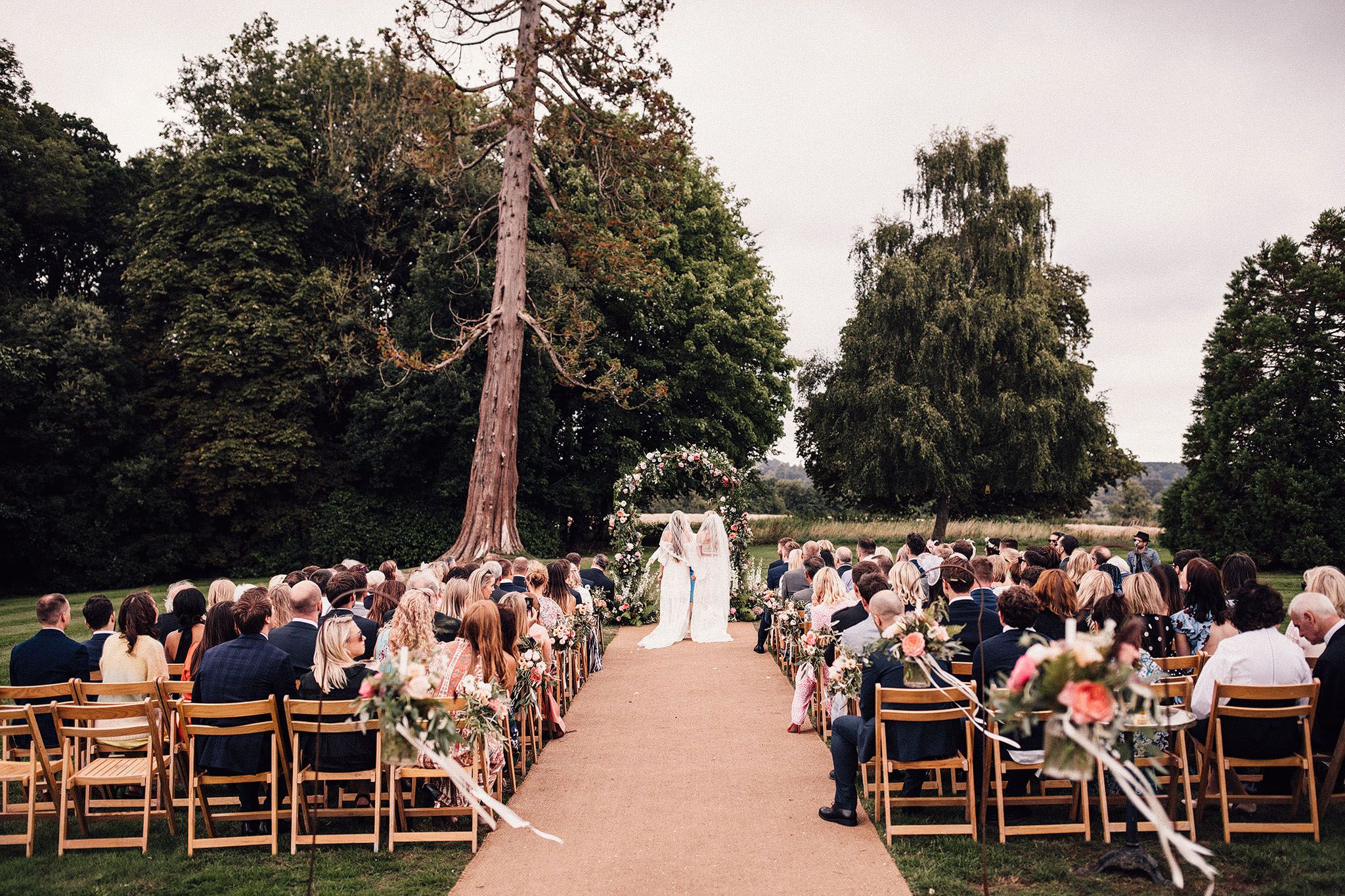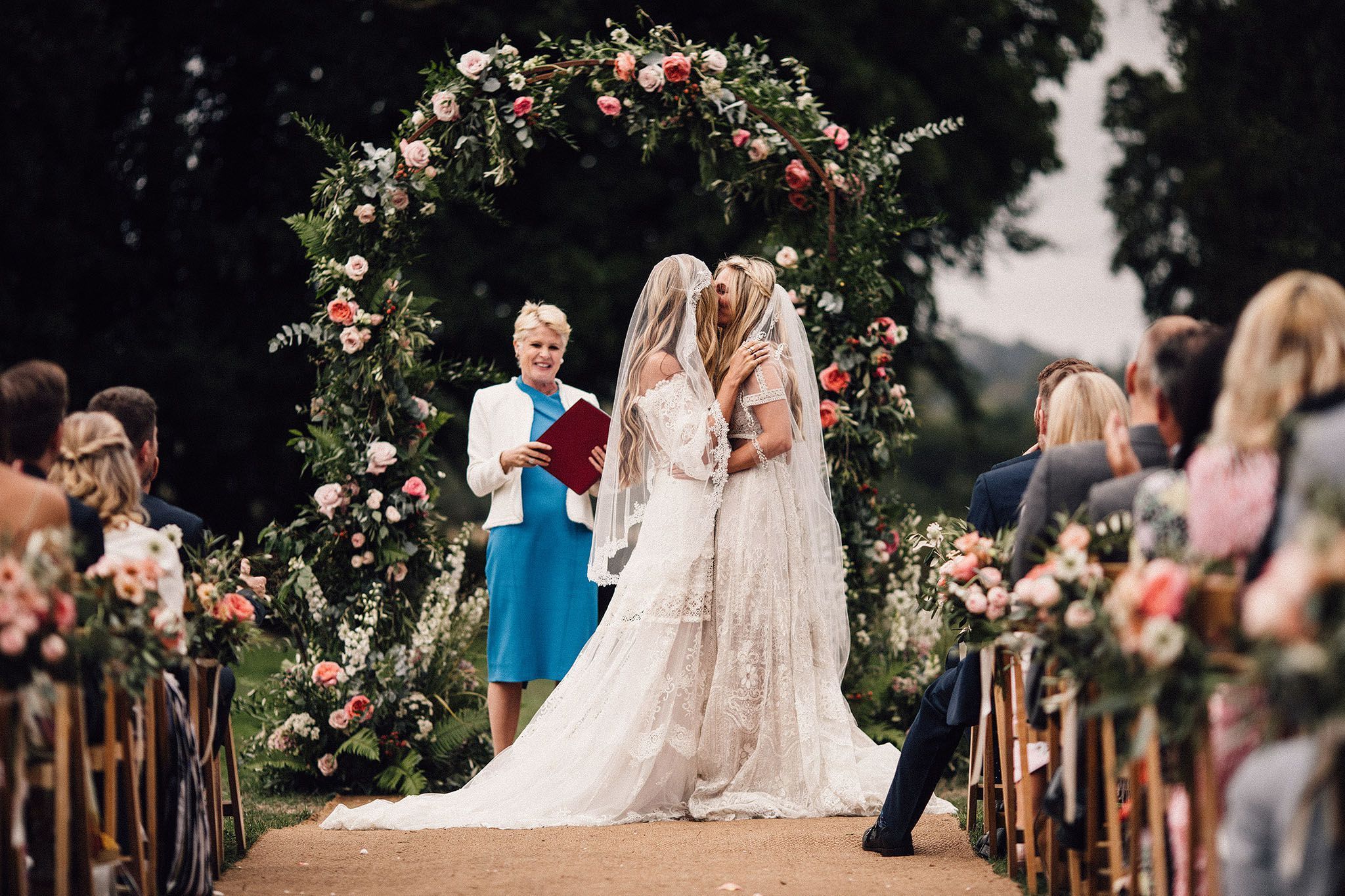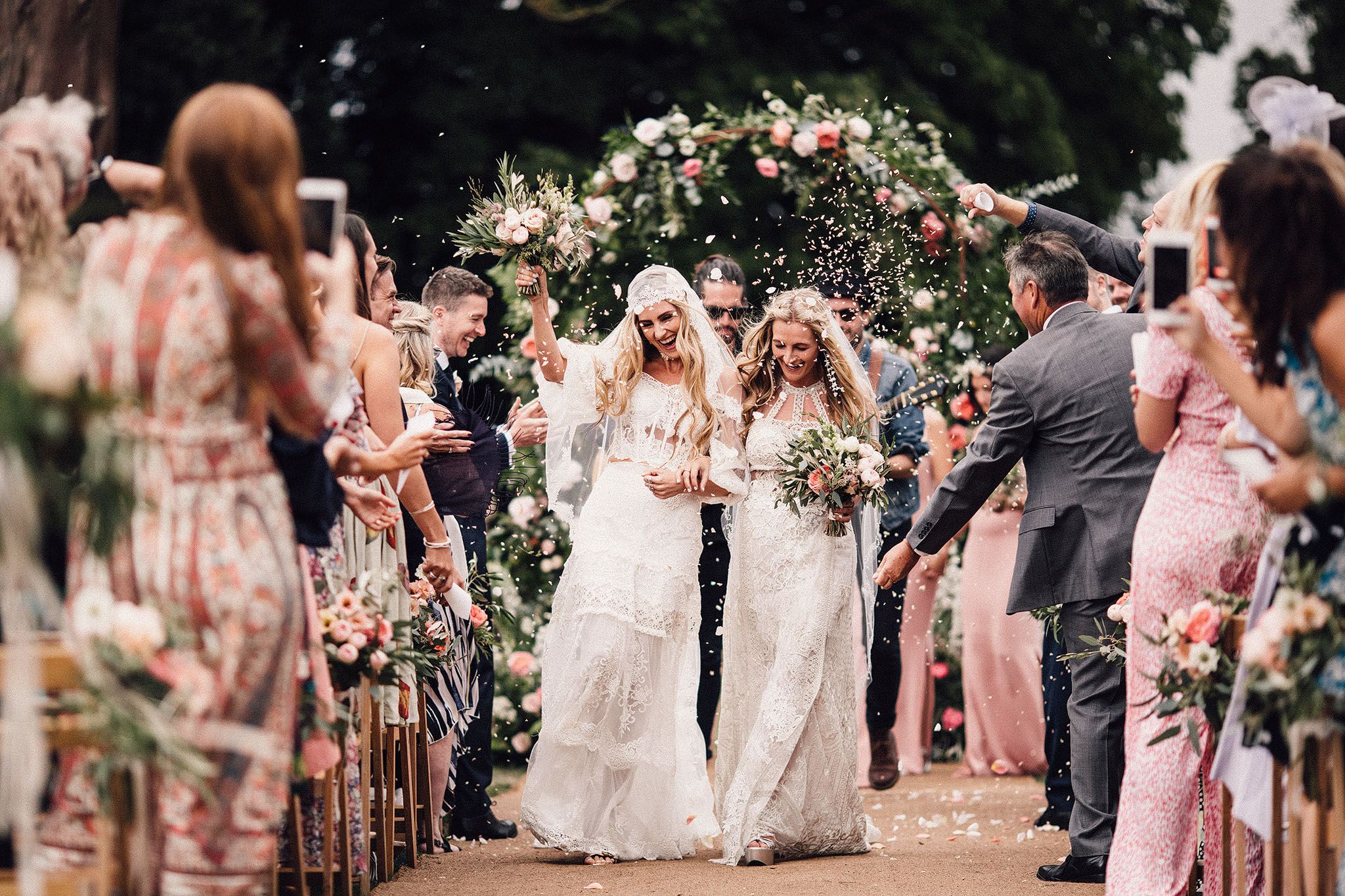 The groomsmen wore navy three-piece suits with navy polka-dot ties by Peckham Rye at Liberty. The bridesmaids wore pink Whistles gowns with a tie back detail, paired with fresh flower crowns by Passion, who created all the wedding florals, a key focus for the couple.
The brides walked down the aisle on their fathers' arms to an acoustic performance of 'First Day of my Life' by Bright Eyes, one of their favorite songs, performed by the band Alive. They worked closely with Passion on their wedding flowers, and each carried a small bouquet of Romantic Antique garden roses with Mansfield Park and English Miss spray roses, eucalyptus, and olive branches. They said their vows under a wild floral arch made up of delphiniums, snapdragons, hydrangea and garden roses.
After the ceremony, the band followed Jade and Emma back down the aisle while performing 'Don't Look Back into the Sun' by The Libertines, and continued to perform an acoustic guitar set throughout the cocktail hour on the lawn.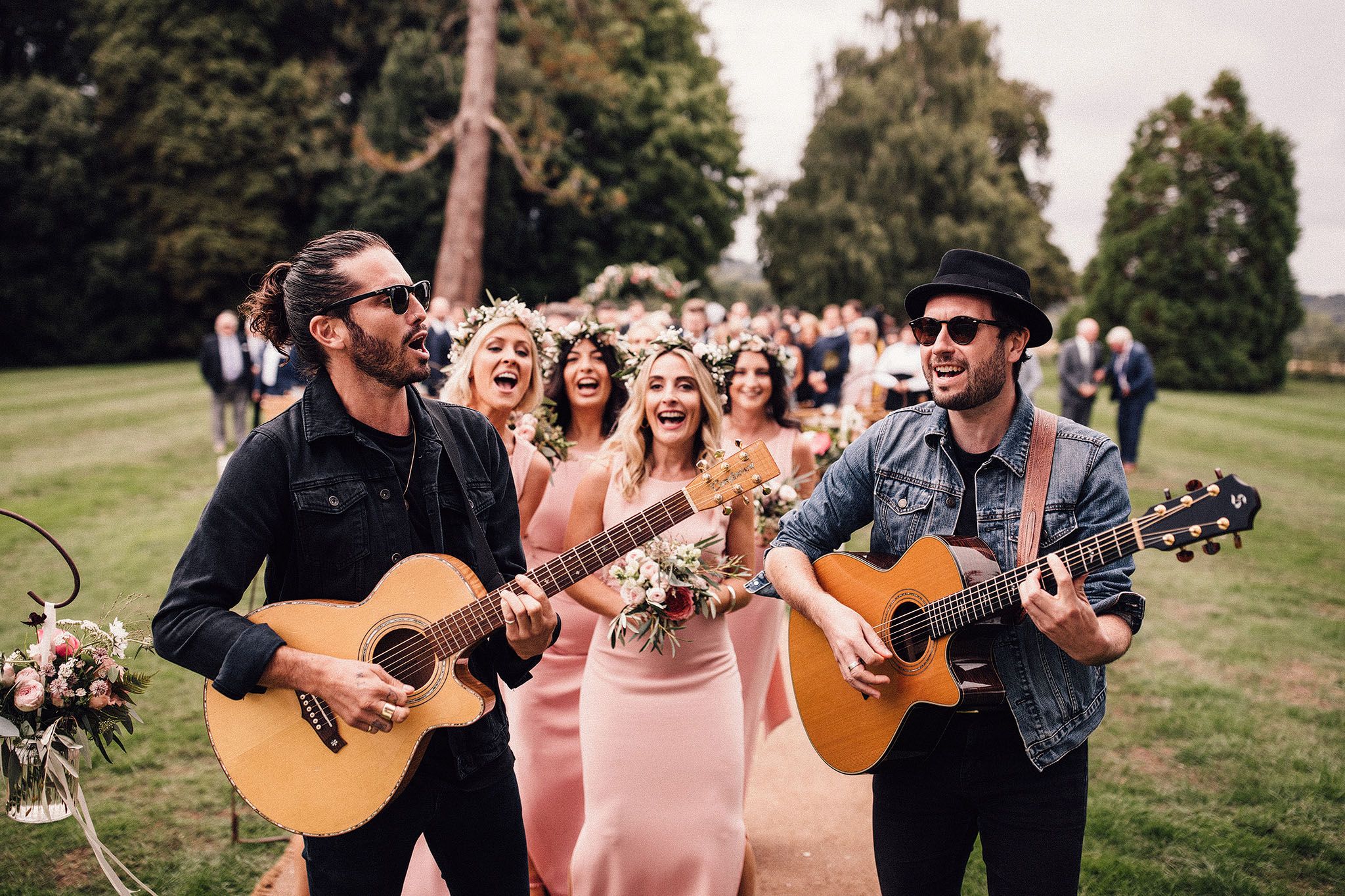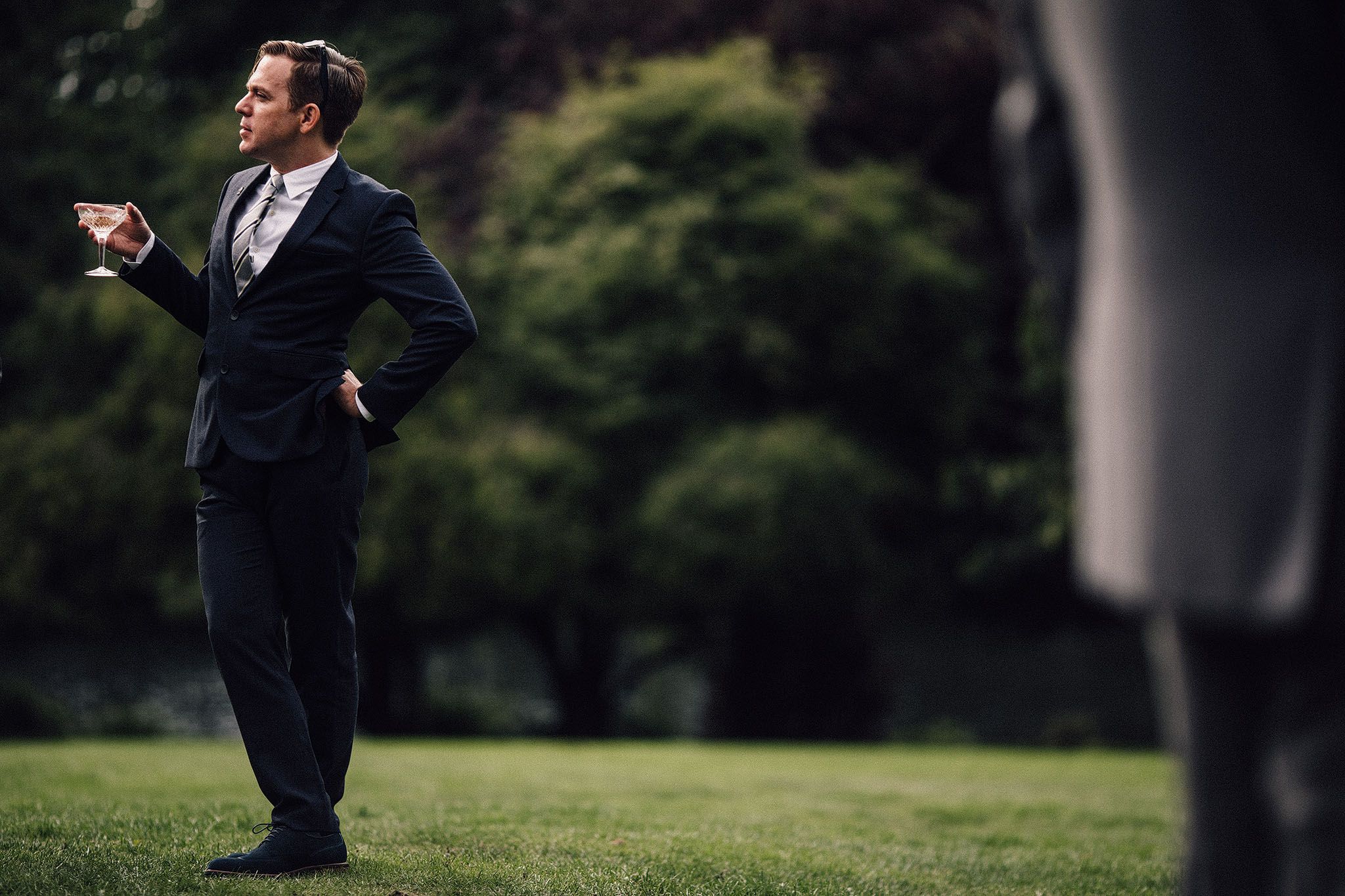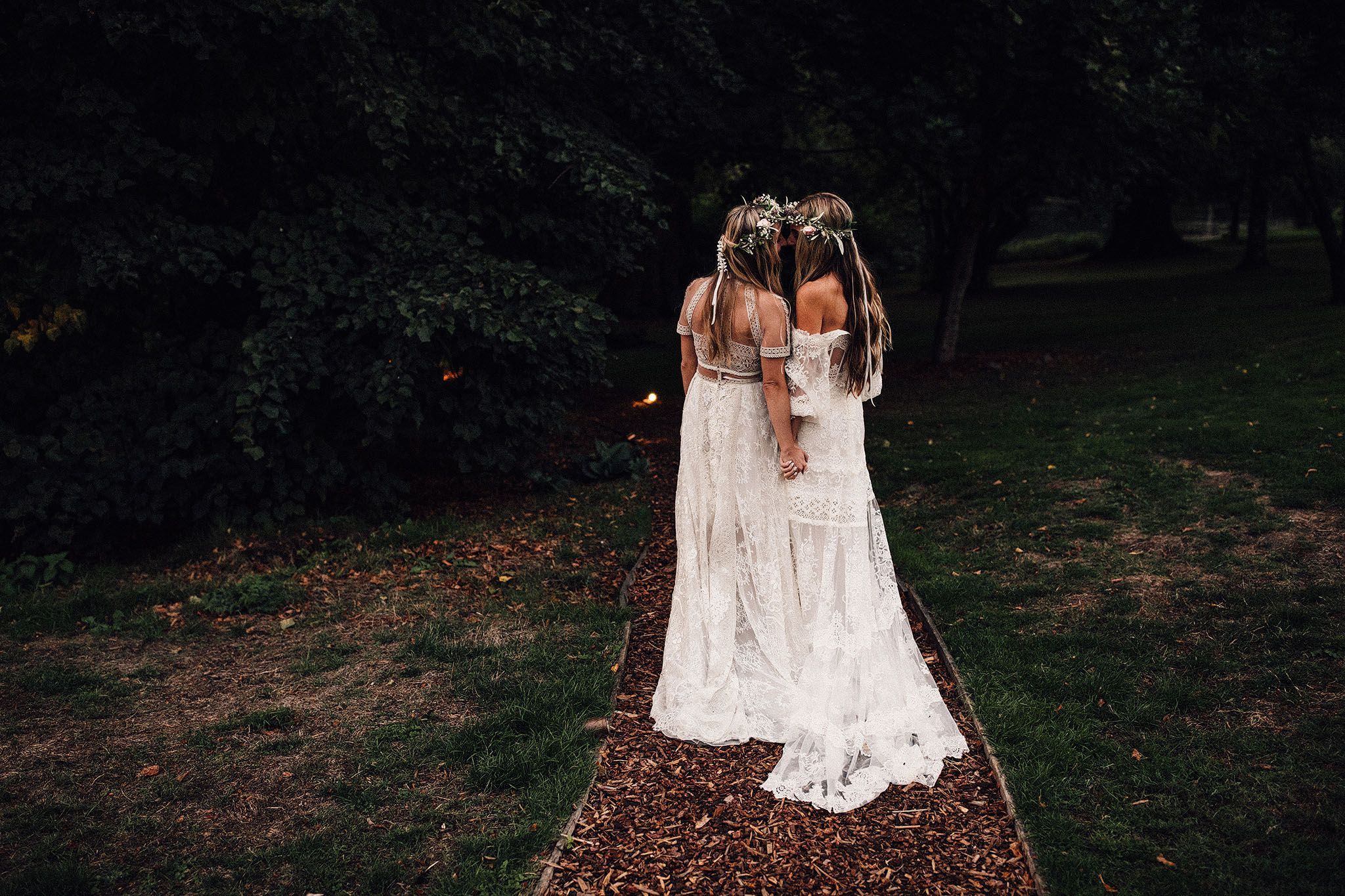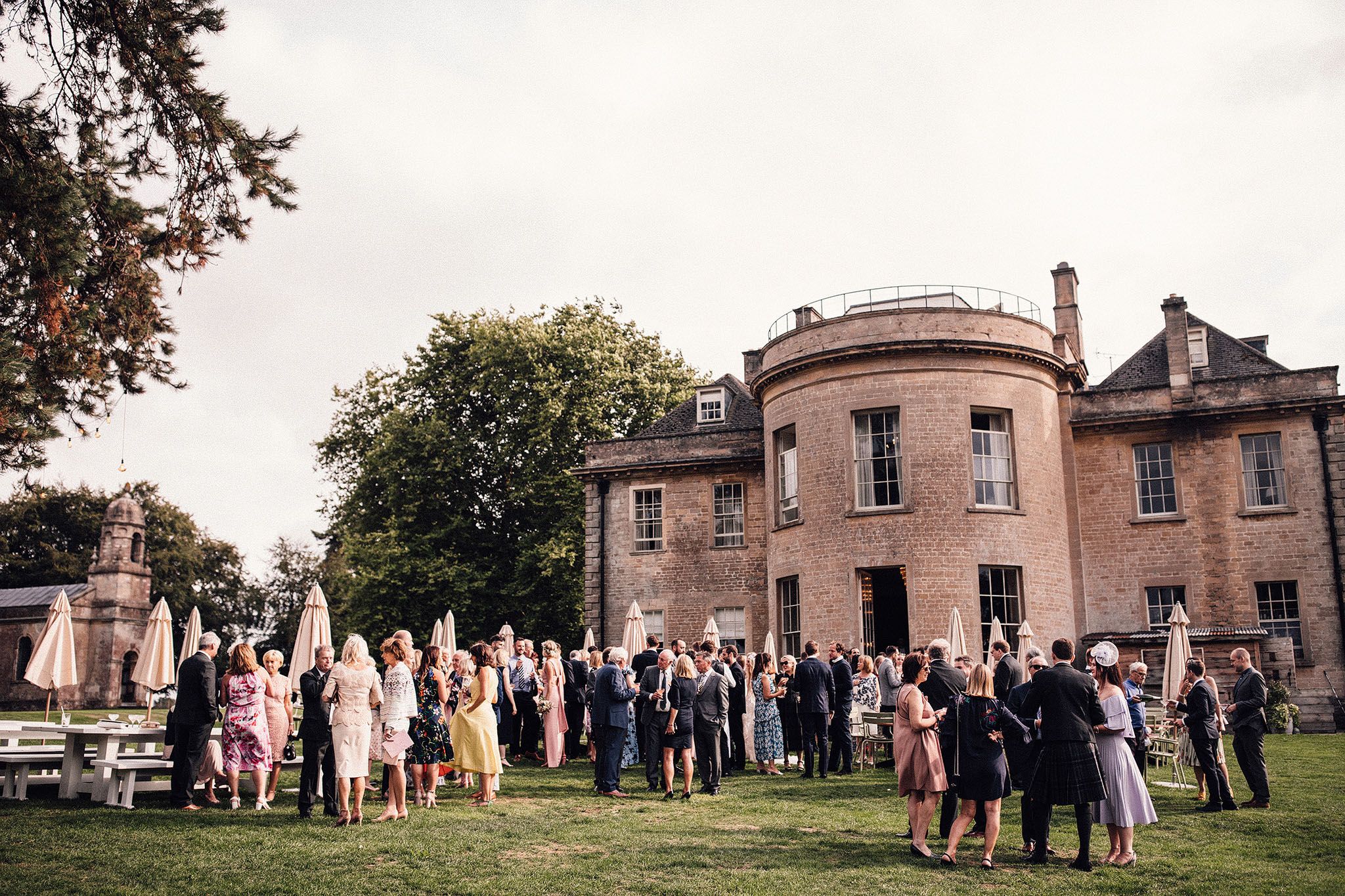 Dinner for their 115 guests was served in the Orangery of Babington House. Jade and Emma traded their veils for fresh flower crowns for the reception, and the floral theme continued in the table decorations; Each of the long tables was adorned with trailing olive branches, brass candlesticks with gray tapered candles, and small bud vases of dusky pink flowers and foliage.
The food was served family style and included prosciutto with melon, feta and hazelnuts; heritage carrots with whipped goat's cheese, bulgar wheat and dukkah; pea and mint risotto and roast rib of beef with duck fat potatoes, followed by a selection of English cheeses and Eton Mess (a traditional English dessert of broken meringue, strawberries and cream).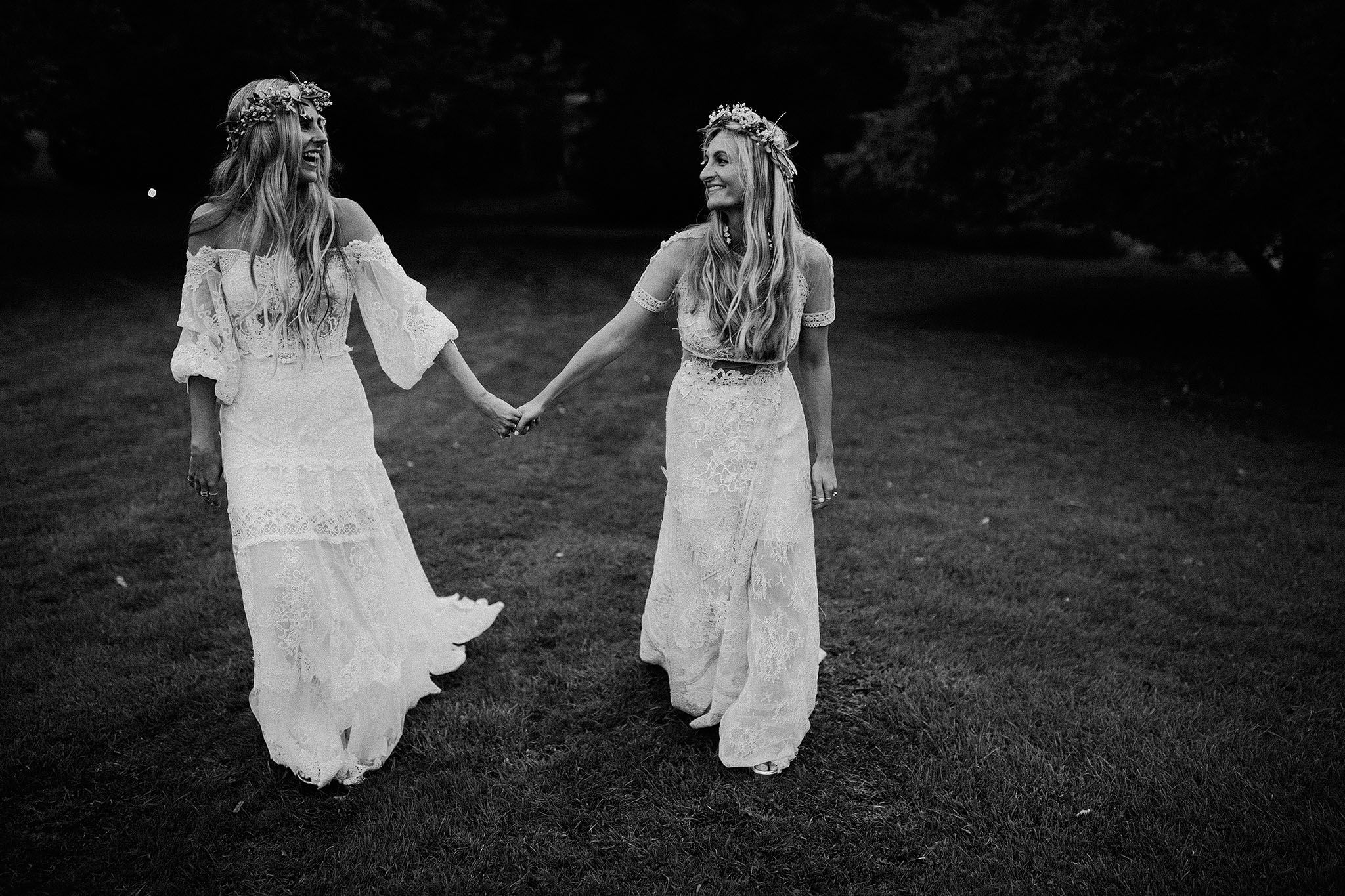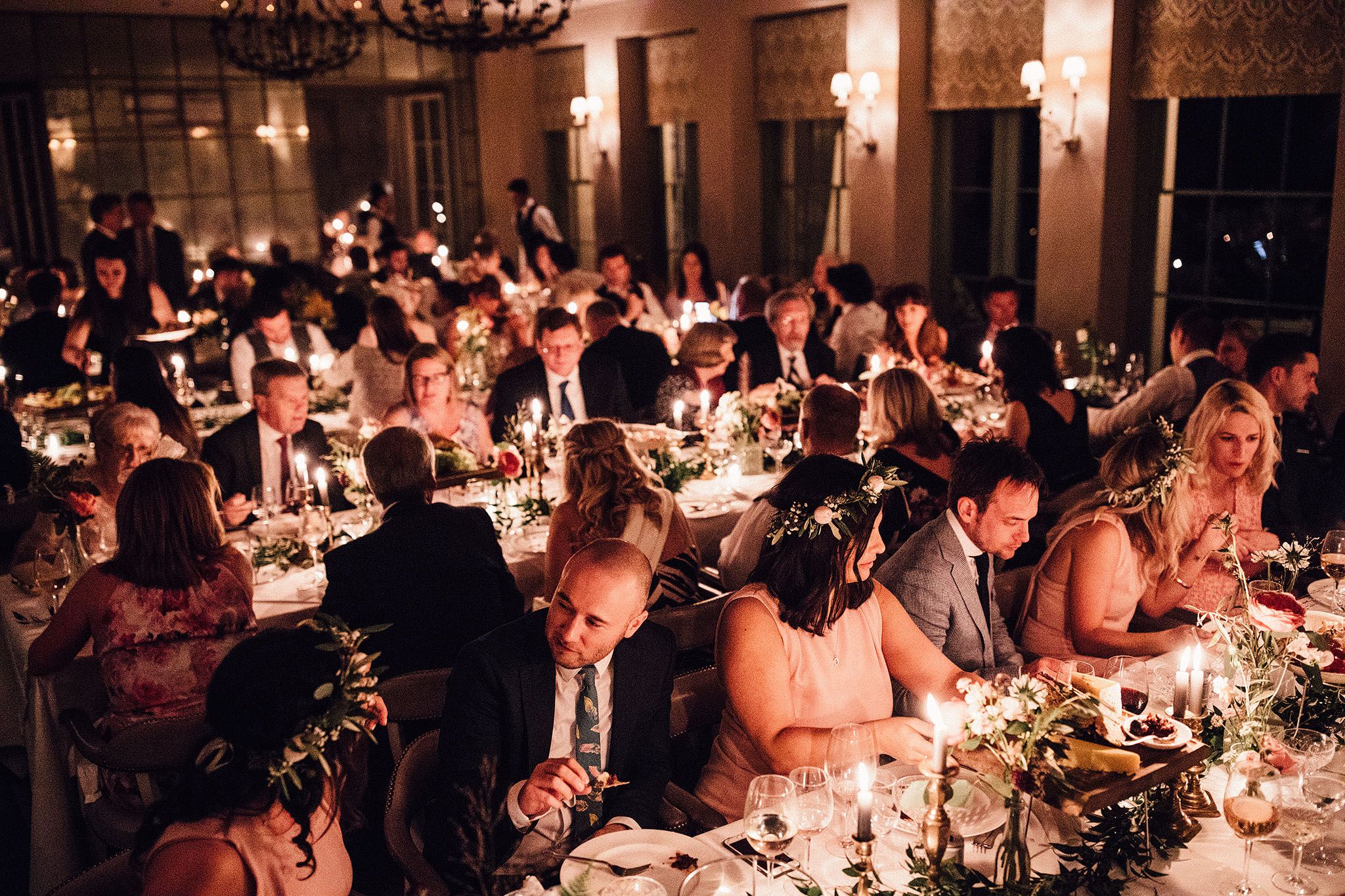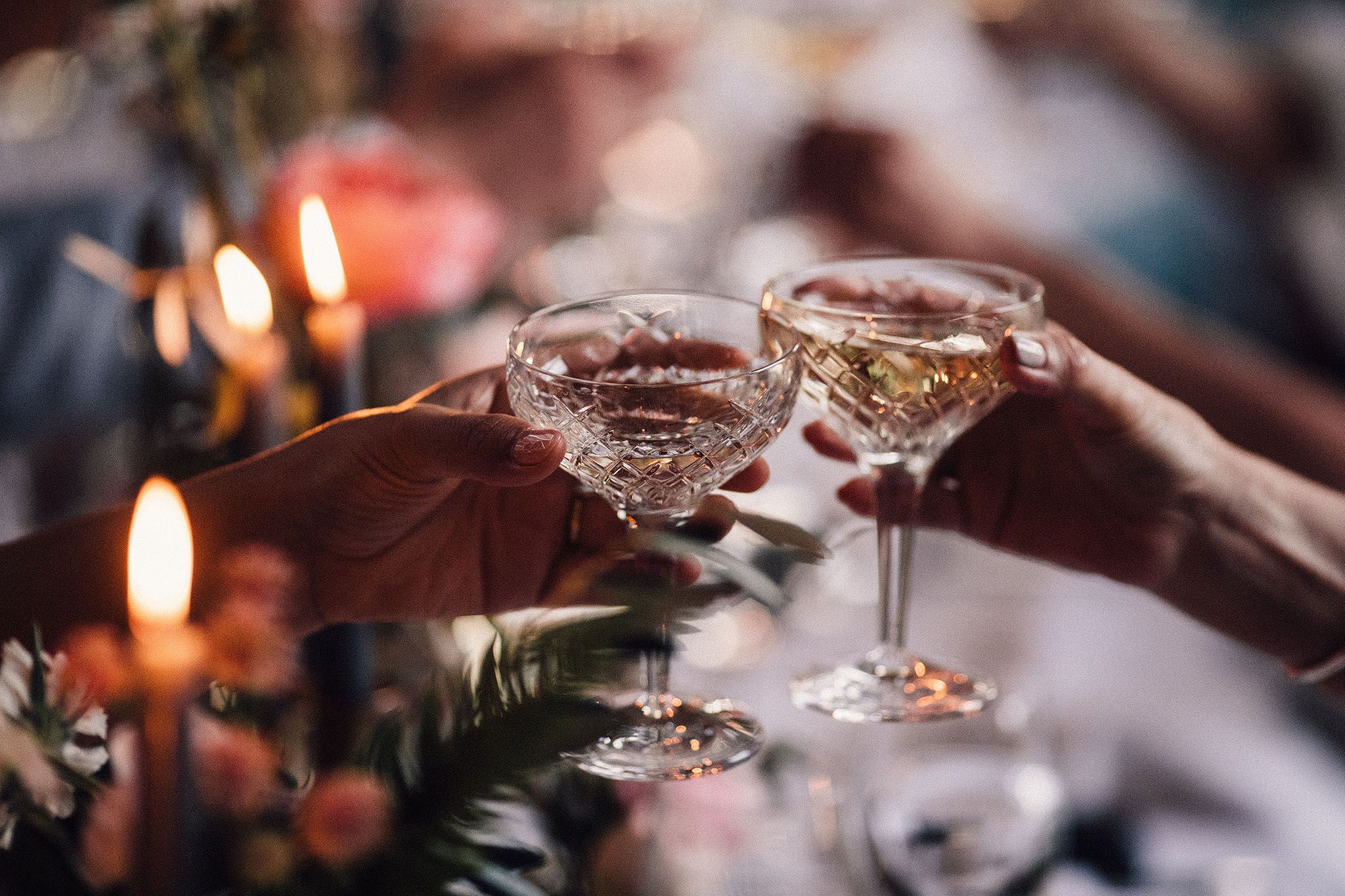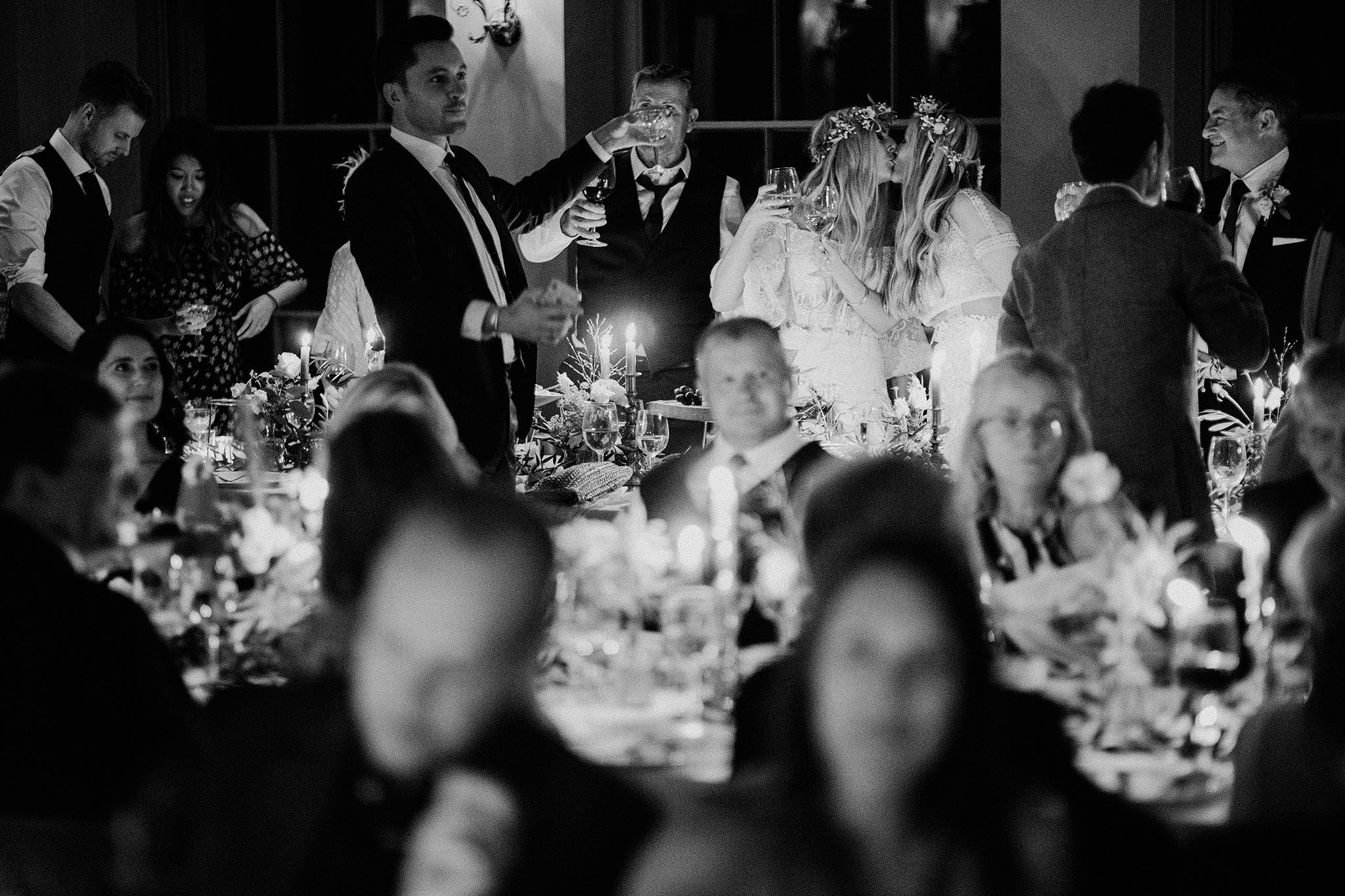 "We had quite a few speeches, so we peppered them throughout dinner," Jade says. The two father-of-the-bride speeches were after the appetizers, the brides did a joint speech after the entrées, then the maids-of-honor (Rachel and Laura who first introduced the couple back in 2004 at Leeds Festival) and the best man Ian spoke after dessert, with photographer Samuel Docker capturing every moment. "They all did an amazing job; the room was booming with laughter and gripped with emotion at all the right times."
Espresso martinis were served as guests made their way from the Orangery to the bar area, where the party continued—but not before an entire drink spilled down the front of Jade's dress. "I can't remember exactly how it happened, but there was a collision between Emma's glass and someone who came running over to hug us," Jade says. They tried soaking the dress in the bathroom with no luck. "It wasn't very funny, but we were both laughing hysterically; I think it was one of those, 'if you don't laugh you'll cry moments.'" She decided to do away with the wet slip – "it would have stuck to me and felt awful" – and returned to the party wearing the semi-sheer skirt on its own. "I was pretty chilled out about it to be honest," she says. "The dress has still not recovered!"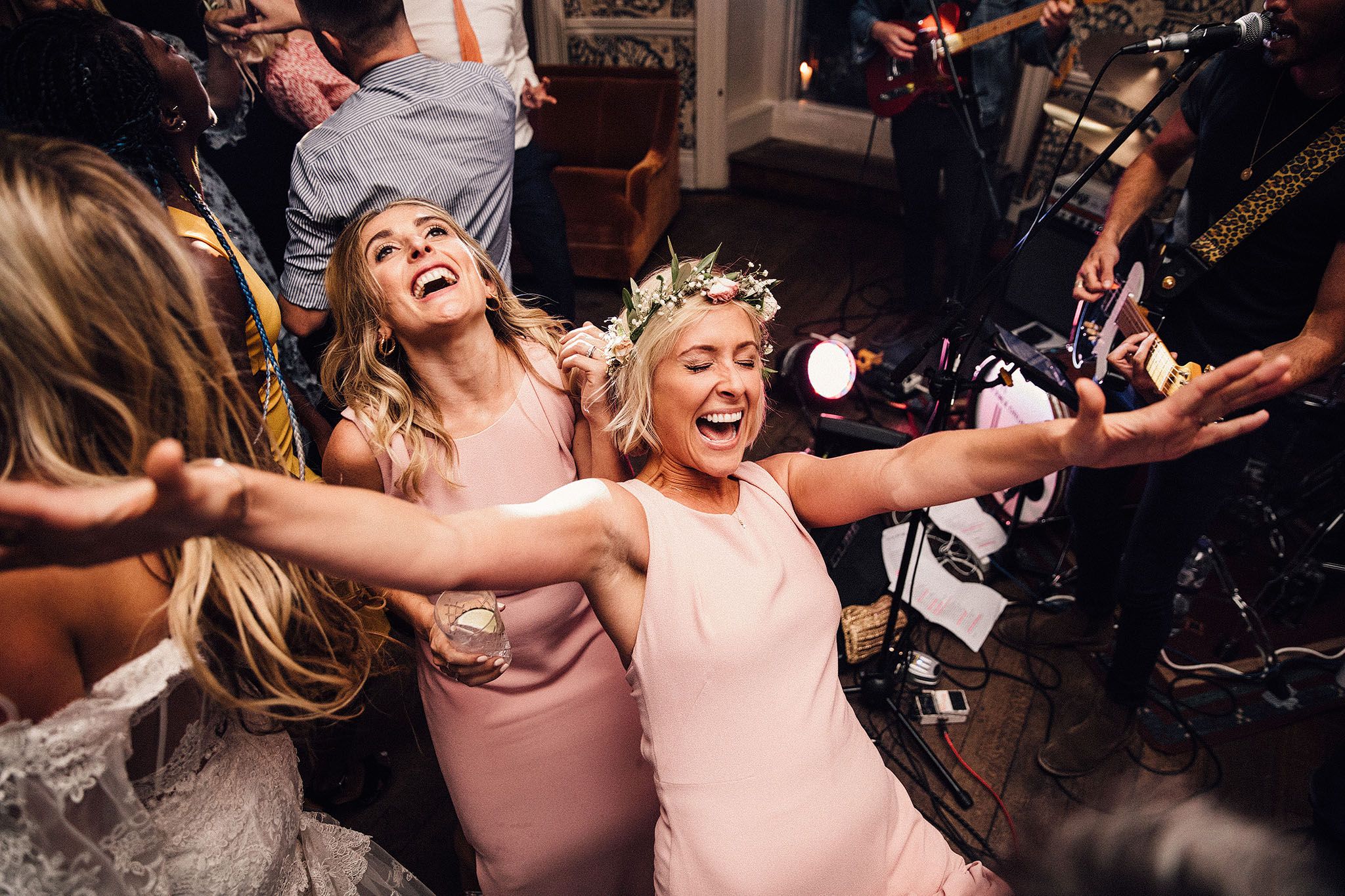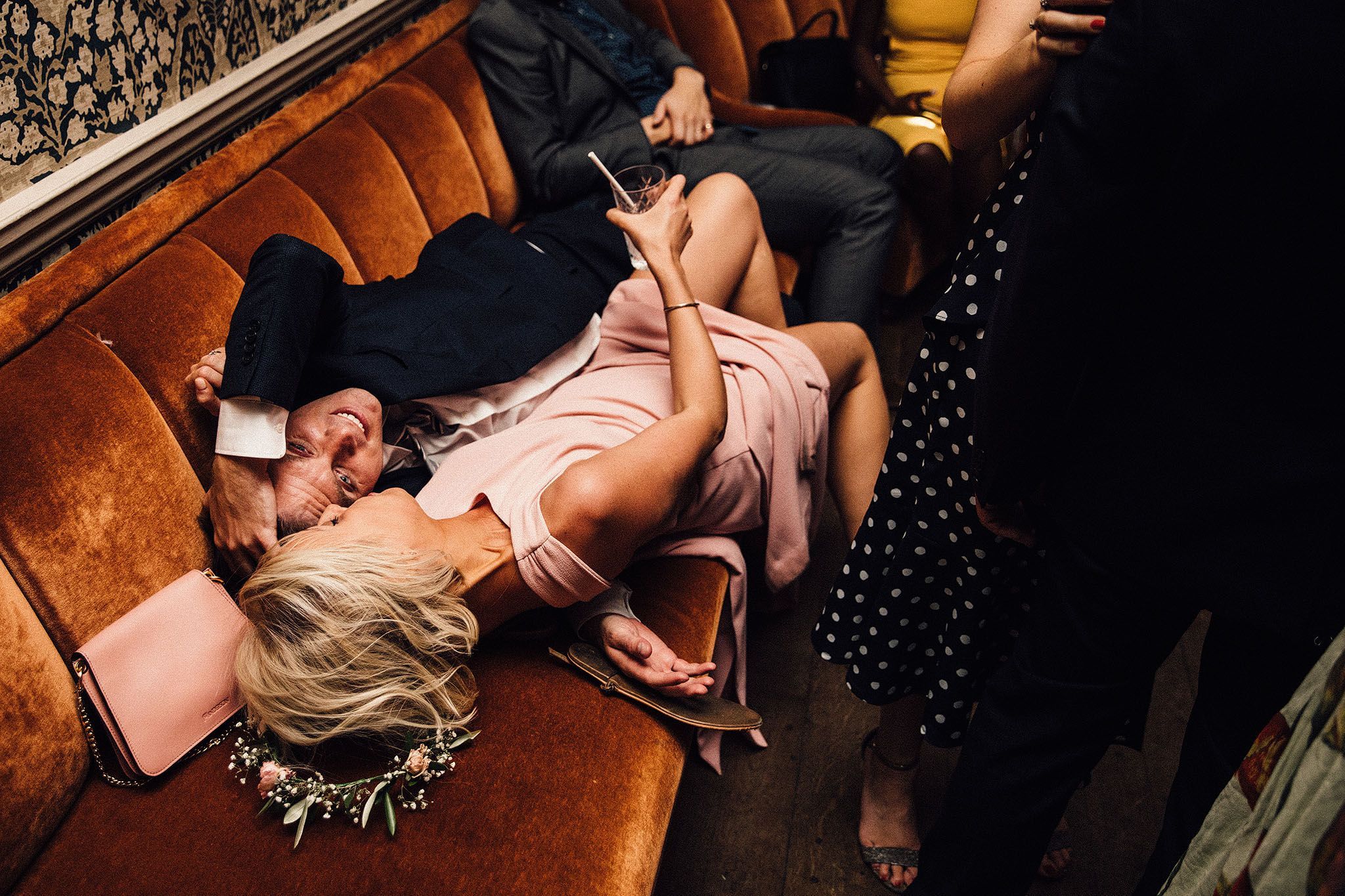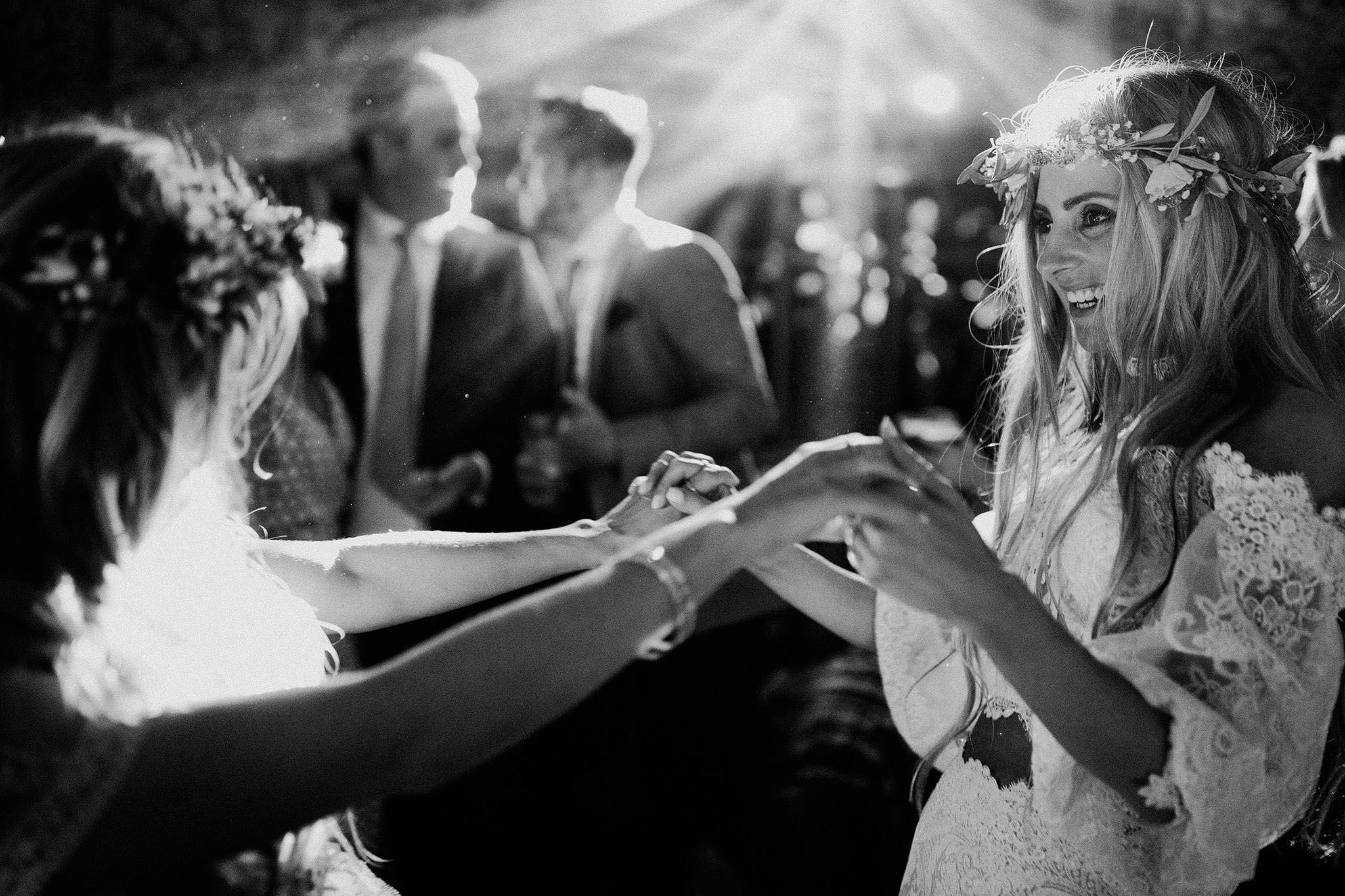 Alive returned for a two-hour set, performing 'For Lovers' by Pete Doherty for Jade and Emma's first dance. Then, DJ Nigel Pearce kept guests dancing until the early hours. "The dance floor was packed all night, it was amazing. The last people left at around 3:30 a.m.," Jade says. "We ended the night with our bridesmaids and best man, plus a few others, in a hot tub on the roof of Babington, drinking the mini bars dry until 6am."
The following morning's hangovers were nursed with breakfast at the Babington House Orangery, followed by a pizza and Pimms party on the bar terrace. "It truly was the best few days of our lives," Jade says. "So much love, so much fun and laughter and happiness all in one place."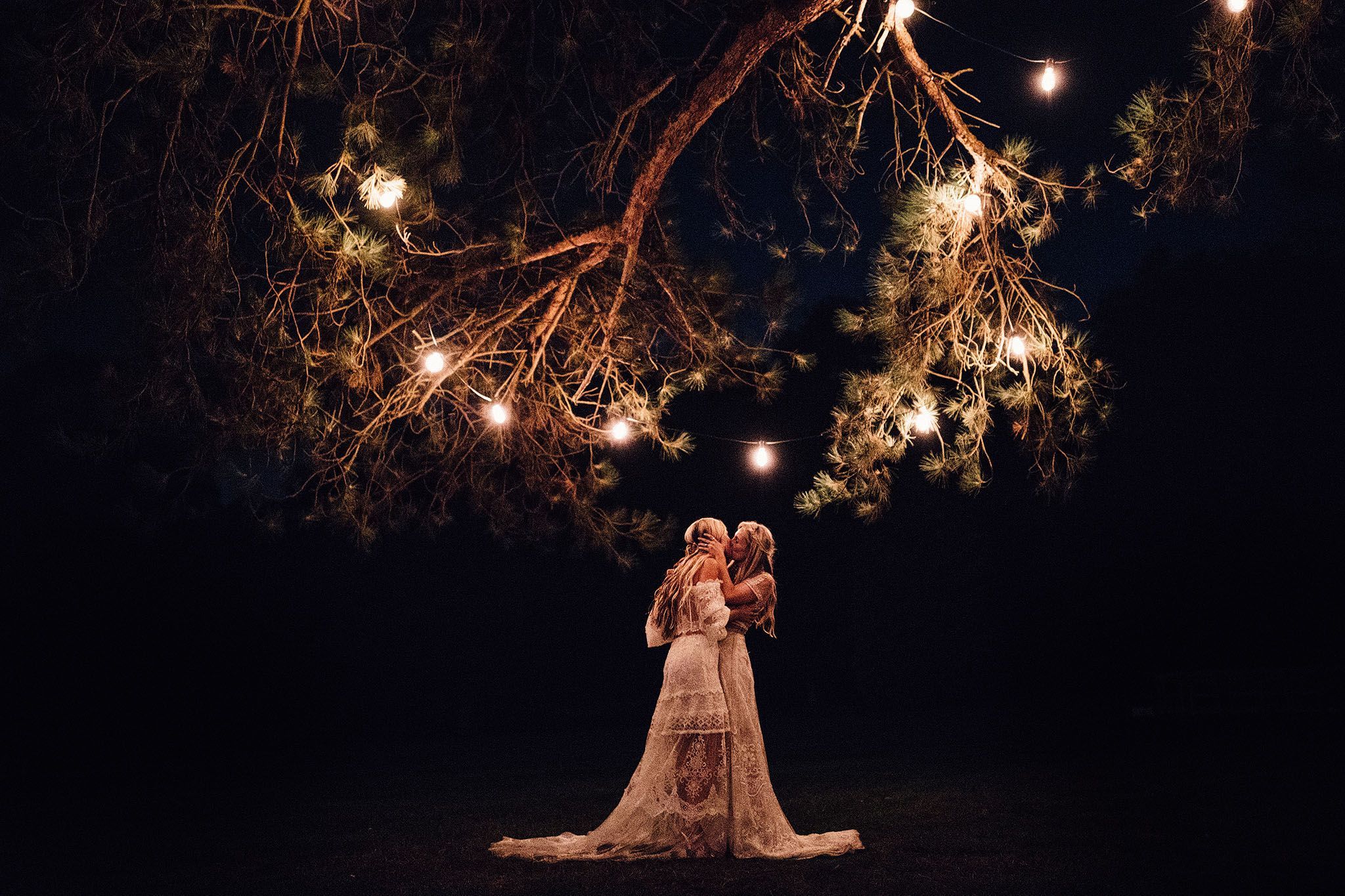 A close friend of the couple was getting married in France the following weekend, so Jade and Emma spent the intervening week in a chateau in the Dordogne region before flying on to the Maldives. "We just wanted total relaxation—it was perfect," Jade says.
It has been almost 15 years since the couple first met, and Emma says friendship is still the foundation of their relationship. "We make each other laugh and we have so much fun together in whatever we're doing," she says. "When we first met we were just so giddy around each other, always trying to make each other laugh. Nothing has changed."
"We are totally in sync and always reading each other's minds, so much so it's weird," Jade adds. "We support each other and look after each other, in different, but equally important ways."
Source: Read Full Article