How Would Prince William and Kate Middleton Feel if Prince Harry and Meghan Markle Moved to America?
Prince Harry and Meghan Markle have been trapped in a media storm since their relationship began more than three years ago. The Duke and Duchess of Sussex haven't had an easy time acclimating to the spotlight as a couple — so much so, that people have even wondered if the two might make a move to America and leave the royal family behind. But how would Prince William and Kate Middleton feel if Harry and Meghan decided to leave the family and the United Kingdom?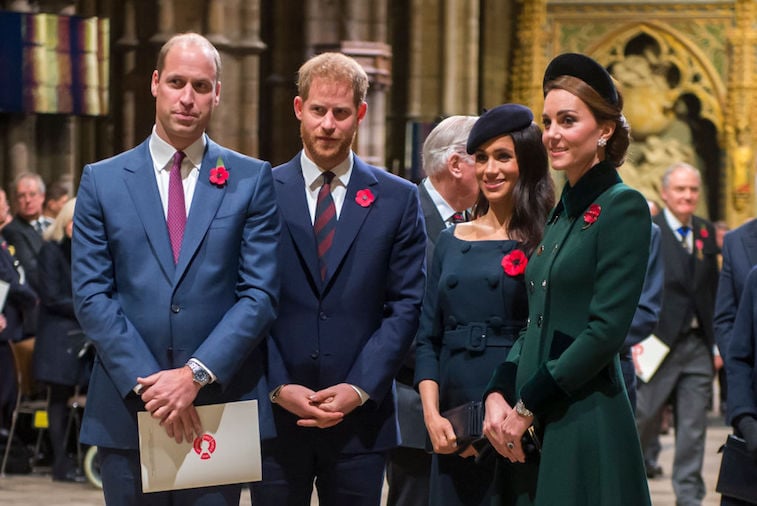 Harry and Meghan have been struggling in the spotlight
Ever since Harry and Meghan started dating back in 2016, things have not been easy for them. Though they had a spectacular wedding and have met thousands of fans, they've struggled to retain a good reputation as the media repeatedly tries to tear them down. Now, Meghan and Harry are suing three tabloids for their poor portrayal of the duchess, and it has only left them to be scrutinized even more by the British public. Some of the couple's social media followers have had choice words for the duchess ever since her television interview came out, where she admitted she has struggled in the spotlight since becoming a new mother.
https://www.instagram.com/p/B4CtjjRpLKa/
Harry recently admitted he and William aren't on good terms
In the same interview, Harry said that he and his brother will always love each other but hinted that they aren't on good terms right now. Speculation about a royal feud has been brewing since last year, with many people blaming the brothers' falling out on Harry's marriage to Meghan. (There has never been any confirmation that Meghan has anything to do with the brothers' relationship.) As William and Harry grow older, their royal roles are becoming increasingly different. Harry said they haven't seen each other as much, which is to be expected and might have something to do with their falling out. 
https://www.instagram.com/p/B2bEgz2FVHY/
William and Kate would likely be frustrated if the Sussexes moved
With everything going on between Meghan and Harry's lawsuit and their relationship with the press, there have been rumors popping up that the couple might decide to leave the royal family. Though it's a long shot, some suspect they could make a move to California to be closer to Meghan's mother and out of the spotlight. However, if they did make the move, William and Kate probably wouldn't be happy. Kate, though loved by the majority of the public, has battled her own demons in the British tabloids; they posted topless photos of her in 2012. And William faced a massive scandal earlier this year with the tabloids accusing him of cheating on his wife. But William and Kate made it out of both instances and probably expect Meghan and Harry to stand tall in their situation, too.
Being a royal is tough, but William and Kate would likely be frustrated to see Harry and Meghan give up on the entire family and desert them for a new life in the U.S.
Despite their differences, William probably wants his brother in his life while he rules
Though Harry and William aren't as close right now, there's nothing to say that their relationship won't improve over time. The brothers were very close growing up, and they likely want their own kids to grow up alongside one another, which wouldn't be possible if Harry and Meghan were to move. As William gets closer to the throne, he might want his brother there more than ever. Though William and Kate have a strong relationship, it's possible he'd need someone else to lean on who knows the royal family through and through.
Right now, it's unclear if Harry and Meghan truly have plansto leave the family or move across the pond. It all seems unlikely, but itprobably wouldn't go over well with the Cambridges.
Source: Read Full Article