I Tried A Social Media Detox Like Ashley Benson & I've Never Had More FOMO In My Life
You've been there before: You're scrolling through your Instagram feed when you see your favorite celeb post about their favorite new product — a face serum, vitamins that will make your skin brighter, or a specialty food service. You can't help but want to be like the stars, but are the products worth it? In Elite Daily's new series, I Tried, we put it all to the test. We're trying those products as well as celebrities' health and wellness tips, recipes, and life hacks. We'll do the leg work and tell you what living like your fave star is really like.
I like to think of myself as a run-of-the-mill millennial. Sure, I keep up with the Kardashians, but I probably haven't downloaded the latest version of Snapchat. I use my social media platforms to post pictures I think make my neck look long and to check in with my friends and family. When I'm feeling particularly political, maybe I'll share a heated message out into the internet void. Mostly, I like to watch cake decorating videos and makeup tutorials. But, when I tried a social media detox like Ashley Benson, I became something else. I became info obsessed. My FOMO flared up like it was 2007 prom and my parents wouldn't let me go to the afterparty. I was certain everything was happening without me and I was totally missing it. It was alarming, uncomfortable, and way more dramatic than it should have been. Like, ugh times a million.
I was inspired to give the detox a shot for two reasons. One, I'd like to believe I'm self-aware enough to see it's a problem that I spend my first and last precious moments of the day in bed with my husband glued to my phone. Two, I love Ashley Benson. Over the summer of 2018, she told Elle that a good social media detox is necessary every now and then. She said, "I've kind of taken a step back from social media. I don't want to spend my life on Instagram," adding,
Ok, well, I'm not really famous or anything, but I DO spend a lot of time online.
Due to the nature of my job and somewhat needing social media to know what's happening in the entertainment world, I had to set some realistic boundaries for my own detox. For me, 90 percent of my research for works comes from Instagram and Twitter, so I felt safe getting off of Facebook first. Also, I kind of hate it there. Whatever Facebook algorithms keep my politically-obsessed family members and ancillary friends at the top of my feed are not working for me.
Facebook
The Tuesday before Thanksgiving, I jumped off "the book" (are the kids calling it "the book" yet?) and left this post: "very jazzed to announce I'm taking a Facebook break! Find me a la email, text, or probs Instagram because let's be real one social media detox at a time. Happy Thanksgiving week, babes!"
As soon as I posted it, I thought, "I'll leave this up for one day just so anyone important sees it before I deactivate my account."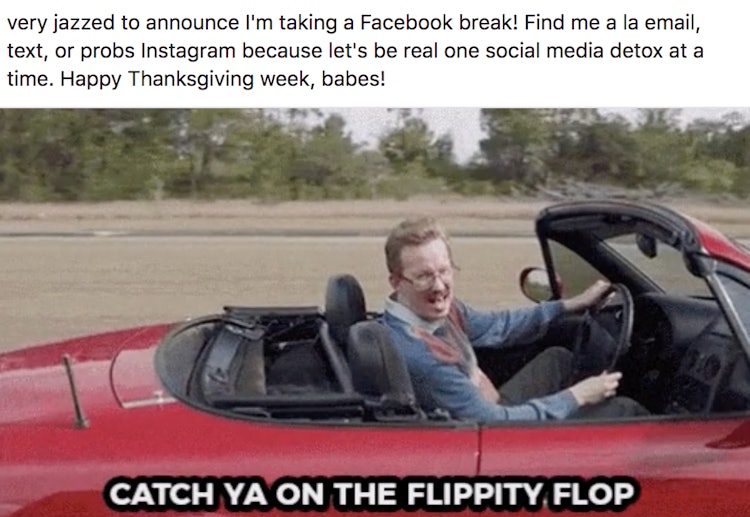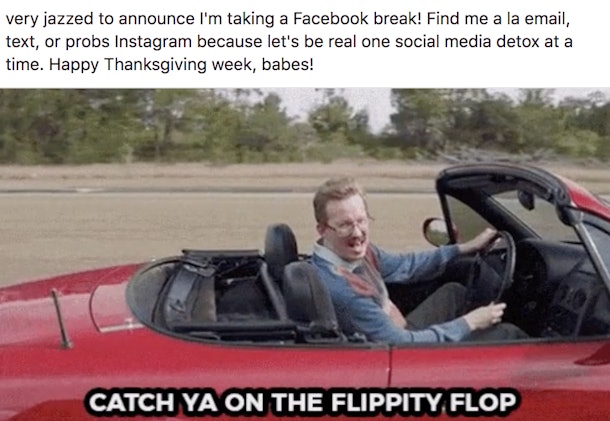 Within a few hours I had two comments and six likes. I know, it shocked me, too.
Like, what do you mean people aren't eager to learn about my every move and stalking me at all moments of the day? I included a funny GIF and everything! One friend wrote, "Girl bye." Sure, it was a joke (right?) but it kind of stung anyway.
I then proceeded to check Facebook every 20 minutes until the end of my workday. It was like reverse psychology. I could go days without logging on, but now that I had committed to staying off of it, I was suddenly desperate to see what was going on there. I also thought of a million funny things I could post that would surely warrant likes. Many, many likes. Way more than six likes. Surely.
Anyway.
I never ended up disabling my account, but I did stay off of it for a full eight days. Hand to Goddess. I didn't even open Facebook up in my browser until a week had passed. When I did, I had a lot of random notifications about silly events nearby and maybe one or two messages. But mostly, nothing happened. No one missed me and I didn't miss anything. (And if I did, I still don't know about it, so, oh well.) Sure, a week isn't a heroic amount of time by any stretch, but it's a start when you're used to doing something tens of hundreds of times a day for the past 11 years.
Next was Instagram, and boy that was a doozy.
Instagram
Real talk — I didn't do great. My intention was to jump off of Instagram a few days after Facebook and stay off of that for another week. The first two days, I found myself aimlessly scrolling before I even realized I opened the app. For a brief, beautiful minute, I deleted Instagram from my phone, but then guess what I did?
I went motherf*ckin skydiving out of a motherf*ckin plane.
Not even the strongest warrior could deny posting that sh*t on Instagram, right?!
On the Friday after Thanksgiving, I crafted a perfectly hilarious and fun-spirited carousel of photos of my dad and I strapping up and then jumping out of a teeny, tiny plane. I'd share them here (because, duh) but my dad is off of social media just, like, because he doesn't care about it and also has a thing about strangers looking at him.
Respect.
Anyway, here I am pummeling towards the planet at 120 miles per hour. Look at me!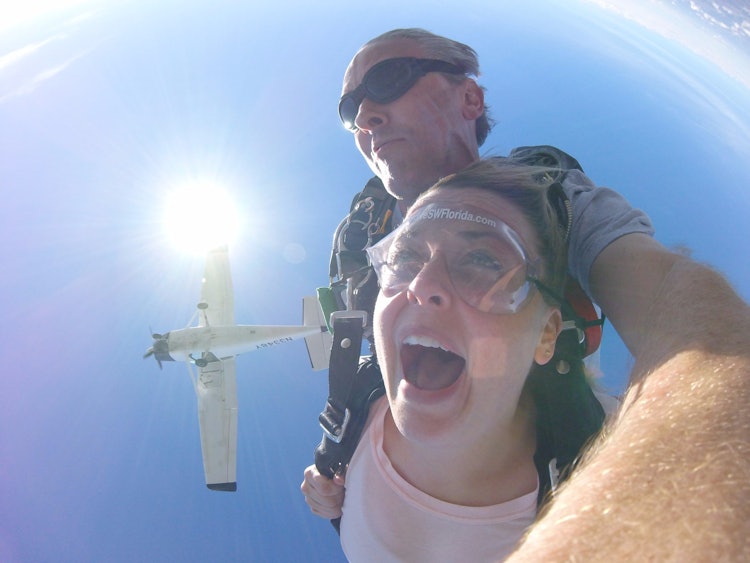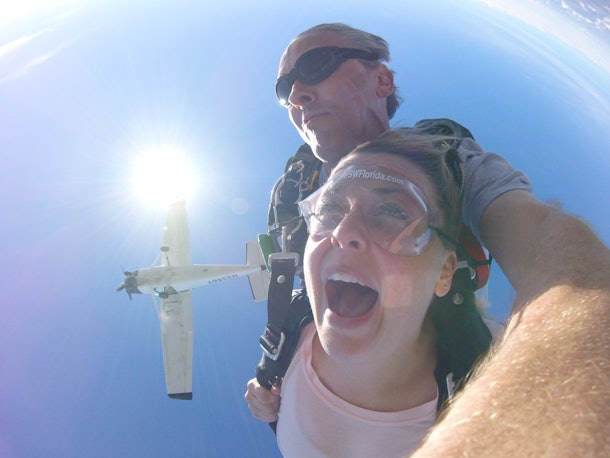 I said look at me!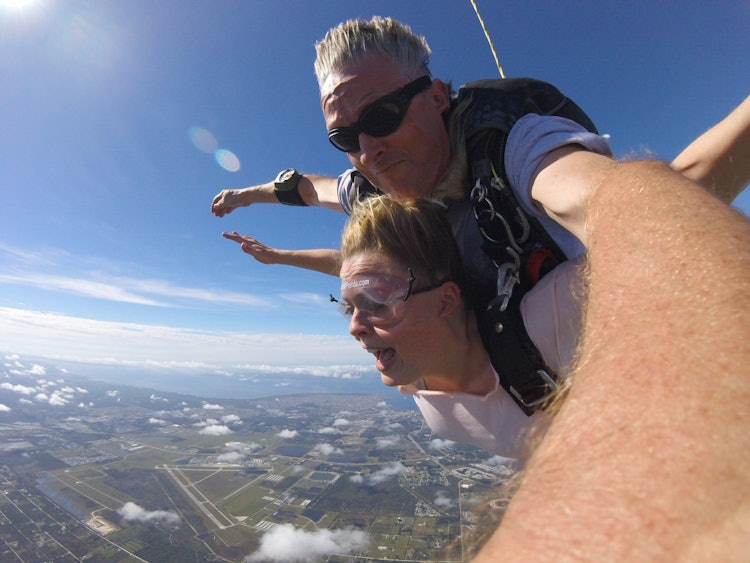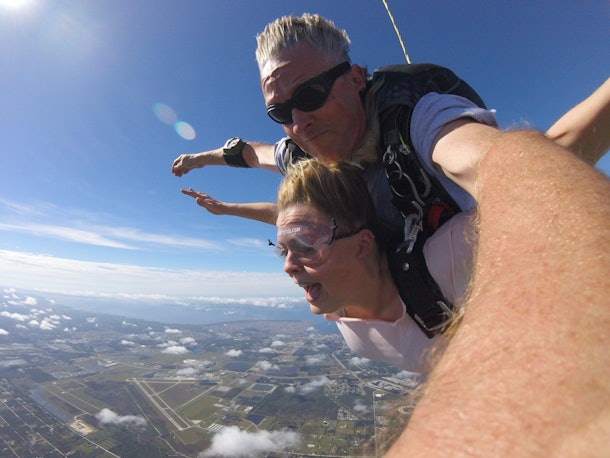 V chill, no?
After that, the Instagram floodgates were kind of open and I checked in regularly to watch my likes rack up. I ended up with 128 likes and 8 comments. Totally worth it.
The next five days were sporadic. I'd log onto Instagram from my computer for work to check out what was going on with the Kardashians, which would naturally lead me to Rihanna's Fenty beauty ads, which would in turn guide me to makeup tutorials, and the next thing you knew I was down a massive rabbit hole of dogs getting haircuts. Which, speaking of dogs getting haircuts… the next picture I couldn't resist posting was this one of my own dog, Linda, after she got a haircut.
Sorry. They gave her a bowtie. This one was out of my hands.
Final Thoughts
While I give myself a solid B- on Facebook and a D+ for Instagram, I will say I definitely earned an A+ for staying off of Twitter. I didn't jump on Twitter one time except when my editor asked me to look up Ariana Grande's "Thank U, Next" tweets. (Worth it.)
All of this to say, more power to you, Ashley. You're an inspiration and have some seriously great posts when you are on social media. Love to love you.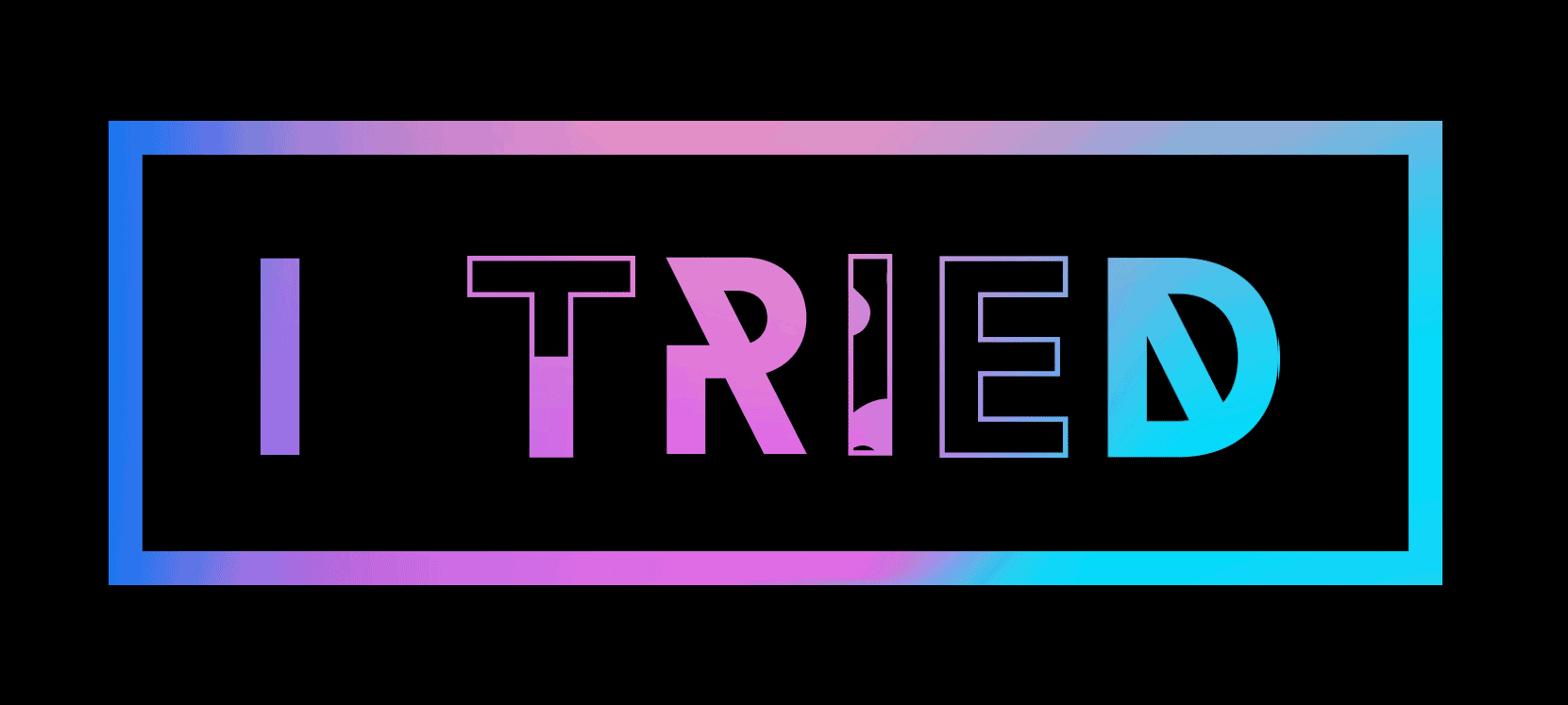 Source: Read Full Article