Jennifer Lawrence and Andy Cohen Lock Lips, Talk Scandoval, RHONJ Family Feud and More
Upset that he kissed John Mayer and not her, Jennifer Lawrence and Andy Cohen lock lips … and then things get very NSFW — plus, superfan J.Law talks all things Bravo from Scandoval to RHONJ, RHOC, and Summer House.
There is almost never a moment that Bravo superfan Jennifer Lawrence isn't smiling when she gets to hang out with Andy Cohen on "Watch What Happens Live" and dish on all her favorite reality shows.
This latest visit, though, got even more serious during the aftershow when Jennifer hilariously lamented that Andy kissed John Mayer but he's never kissed her.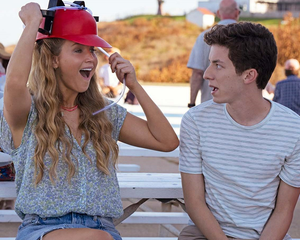 No Hard Feelings Cast, Creators on Parents Hiring Jennifer Lawrence, Age Difference Backlash
"He's more your type, I guess," she joked with a teasing smile.
"I mean he is, but, I mean, I am attracted to you. I'd love to kiss you," Andy countered. "Consensually."
Unable to render YouTube Video.
Jennifer then made it very clear that he has her consent before asking if this segment was going to be on the air. In the end, it didn't matter, as they both got awkward and giggly when they decided to just go ahead and do it right here and right now.
Almost immediately, things got even dirtier — she is promoting a raunchy R-rated comedy, after all — when she waved her hand a certain direction and asked, "Did it do anything? Did it move?" Suffice to say, be careful where you listen to that NSFW conversation after the kiss … because it didn't end there!
It did not, however, go as far as Jennifer did for her film, "No Hard Feelings," which features a full-on naked fight scene. She told Andy that director Gene Stupnitsky even "double checked with me; he was like, 'you know it's like full frontal,' and I was like, 'Yeah, yeah, yeah.'"
During a game of "Plead the Fifth," Jennifer set the record straight about rumors she had an affair with Liam Hemsworth while she was with Miley Cyrus, which internet sleuths got from the latter's "Flowers" video.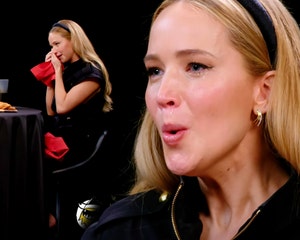 Jennifer Lawrence Breaks Down in Tears Eating Spicy Wings on Hot Ones
In it, Miley was strutting her single status in a gold gown that many thought was reminiscent of one Jennifer wore when she and Liam attended "The Hunger Games" premiere in 2012.
In two simple words, Jennifer said, "Not true."
"Total rumor," she said. Then, referring to her admission in 2015 that they'd kissed off-camera, she added, "We all know we only kissed one time and it was years after they broke up so I just assumed that was a coincidence. Liam and I grew up together. Liam's real hot. What would you have done?"
Elsewhere in the show, Jennifer got to run down her thoughts about all the drama that's been dominating headlines, starting with the most obvious two: the "Vanderpump Rules" Scandoval and the family feud at the heart of "The Real Housewives of New Jersey."
Unable to render YouTube Video.
Talking about the epic concluding moments of the "Vanderpump Rules" reunion, when Raquel Leviss came back after taping and revealed that she and Tom Sandoval had continued to lie about the timeline of his affair on Ariana Madix with her even during the reunion, Jennifer described it as "sickening and bizarre and weird."
Andy then hilariously pulled out a cardboard cutout of Sandoval, giving Jennifer the chance to give her a piece of her mind as if he were right there. She definitely laid into him, but about his skin?
"You have weirdly feminine, in a bad way, skin and there's no amount of spray tan that could ever change the texture of it!" she snarled at the cutout.
She also offered her takes on Scheana Shay watching from the trailer, due to Raquel's restraining order, and was asked if she still thinks James Kennedy — the show's apparent "new number one guy" — should still be fired.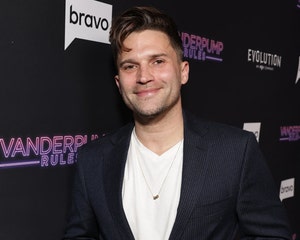 Tom Schwartz Admits He's 'Slightly Terrified' to Film Vanderpump Rules Season 11
At a different point in the show, Andy had her play MFK with Sandoval, James and Tom Schwartz, to which she said, "Obviously we know who I'm killing. I really don't want to shag James Kennedy and I really don't want to marry Schwartz but I guess that's where I landed."
Pivoting to "RHONJ," we almost think she has even more vitriol for the newest member of this cast. Not only did she dig into Teresa Giudice's new husband Luis Ruelas for his apparent botox, she really went in on him when talking about Dolores Catania.
Andy asked where she stands on Dolores cutting down Frank's assertion that Luis left their son high and dry and Jennifer did not hold back. "I totally get Dolores wanting to protect her son from this psychopath that clearly has, like, an army of P.I.s," she said.
She also weighed in on the ongoing feud between Teresa and Melissa Gorga, the drama between Tamra Judge and Shannon Beador on "The Real Housewives of Orange County," the dispute between Lindsay Hubbard and Danielle Olivera, and if she thinks Craig Conover and Paige DeSorbo can go the distance on "Summer House."
You can check out the score in the video just above, which also includes a bizarre Craig story involving a Taylor Swift concert, and then see how she ranks some of her most memorable red carpet outfits right here — including that "Hunger Games" dress!
Unable to render YouTube Video.

Source: Read Full Article