Kendall Jenner With Her NBA Star Boyfriend Devin Booker Had A Lavish Date Night at Marni
When Kendall Jenner and Devin Booker announced that their two-year relationship wasn't as perfect as Instagram would make it seem, the model went into overdrive trying to course correct.
June 2022, Jenner attended her friend Lauren's wedding with her on-again, off-again boyfriend, posting a photo of herself and Booker – albeit with his face hidden – en route to the ceremony. A Jenner source spoke to E! News that week saying they "are fully back together."
"They worked out their issues and decided they want to move forward and be together," the source said, adding, "they moved on and it's going really well. They have been spending a lot of time together recently and Devin was her date to her friend Lauren's wedding over the weekend in Napa."
Now, it appears Jenner is ready to be back to full-blown PDA mode, posting a photo of herself sitting on Booker's lap on vacation to her Instagram story last night. But despite the very public display of 'yes, we're still dating!, apparently, the pair are actually still working on things behind-the-scenes.
RELATED: Kendall Jenner & Kim Kardashian Named In Lawsuit Against 818 Tequila
Their busy careers in modeling and basketball have kept them from being together as much as they would like to be, according to a source close to the couple. "Their work, travel schedules and balancing their professional lives with their personal lives can get overwhelming at times, but their love for one another draws them back to each other."
Part of the reason they're still trying to work things out is that they truly love each other and "can be real and raw and completely and authentically themselves," the source said. "There's no filter, and they love that about their relationship."
Kendall Jenner and her on-again NBA star boyfriend Devin Booker have been spotted front row at Marni's New York Fashion Week one-off show, venturing across the river to Brooklyn to see the action. The pair were seen in floral summery dresses with tights and knee-high black boots.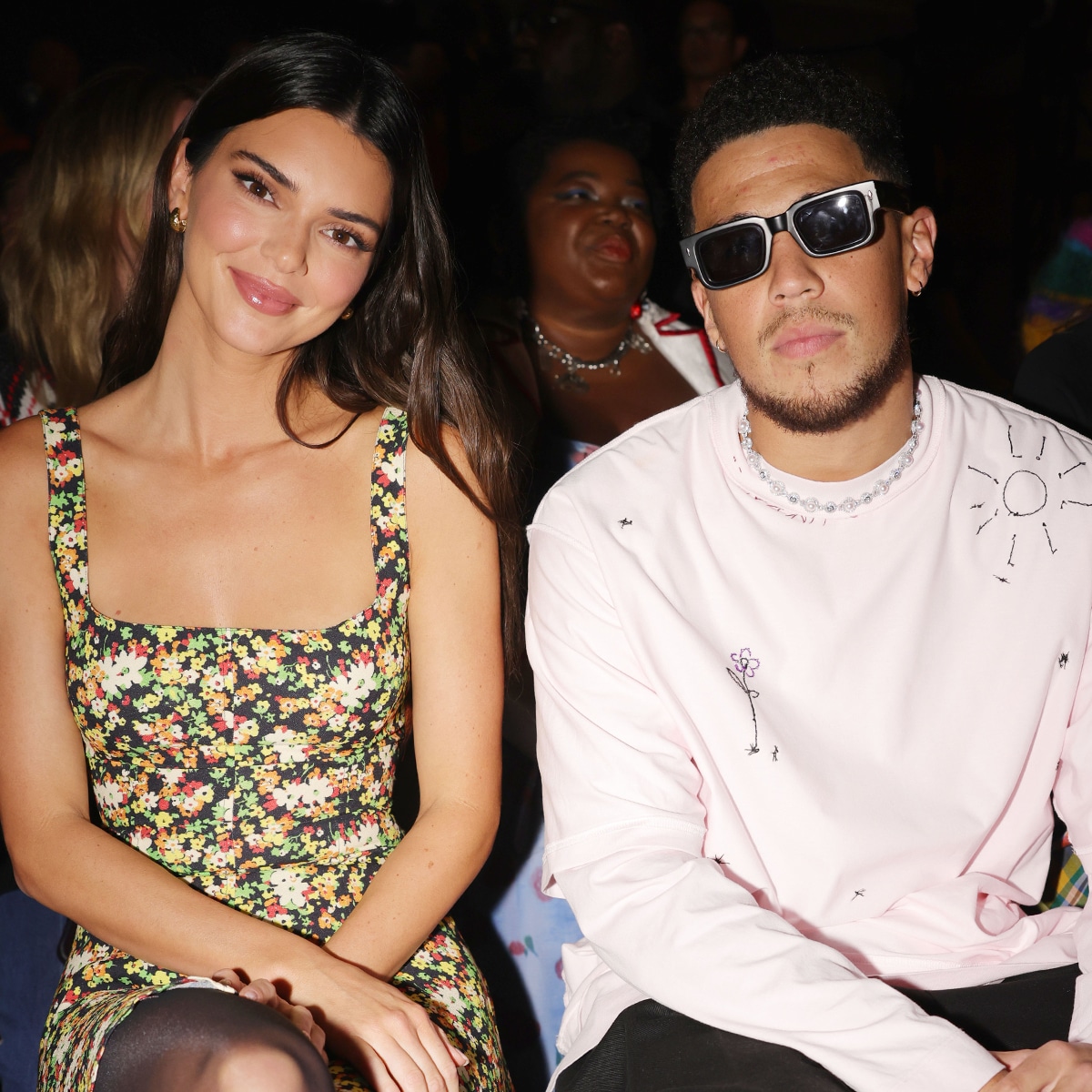 Kendall has been making the rounds this NYFW, walking in the Proenza Schouler show and following up Marni by hosting a party with GQ at the new swanky NoMad hotel The Ned. Booker joined her for the party as well.
Marni was the place to be Saturday evening, as Madonna also attended the show, prior to hitting Marc Jacobs' Heaven party at Elsewhere. Doja Cat did the same, sitting front row before heading to Jacobs' party, where she was a cohost.
James Harden, fresh off the Saks NYFW party on Thursday, was seen at Marni with Collina Strada designer Hillary Taymour.
This season, front row stars included Janet Jackson, Doja Cat, Kim Kardashian, Lori Harvey, Rebel Wilson, Natalia Dyer and Laura Harrier. Fendi made an appearance as well with Kate Moss, Christy Turlington, Shalom Harlow and Amber Valletta all attending.
Saturday night's celebrity scene took place at Givenchy's party at Nine Orchard, the GQ party and of course, the Jacobs party.
READ NEXT: Oprah Winfrey Decided To Sell Her $14.8 Million House Located In Montecito, California To Jennifer Aniston
Sources: Grazia Magazine, WWD, E! News, Entertainment Tonight
Source: Read Full Article