Khloe Kardashian's Thanksgiving Photos Of True Are Too Sweet For Words
Khloé Kardashian and Tristan Thompson spent Thanksgiving together, and it looks like they're feeling the love. Khloé's Thanksgiving photos of True and Tristan Thompson show how thankful she is for her daughter, even after all the drama.
The Keeping Up With The Kardashians star shared a sweet photo of herself and True on Thursday, with her helping True stand up at the Thanksgiving table. "Thankful you picked me," Khloé captioned the post. Thompson also shared a photo of their family of three, with all of them matching in their light pink outfits. "I'm soo blessed ???? Happy thanksgiving from my family to yours #GiveThanks #blessed," Tristan captioned his post.
Khloé also shared several photos of her and Thompson's Thanksgiving spread, and it looks like they pulled out all the stops for their holiday meal. There are the traditional options, including turkey, stuffing, green bean casserole, cranberry sauce, and mac and cheese. And there are a ton of dessert options, including donuts, pie, sugar cookies, black and white cookies, and multiple cupcake styles. Considering the fact that Khloé recently hosted a "cousin cupcake party" for True and the other young Kardashian-Jenner children, it's only fitting that she served plenty of the treats at Thanksgiving, too.
It looks like Khloé spent Thanksgiving in Cleveland to be closer to her partner. Most of her photos are focused on True, but Tristan is in a few of the photos she shared, too. It wasn't just the three of them at their Cleveland home, either — Khloé also shared a photo of a group of friends around their Thanksgiving table. (Still, though, this looks like a small crowd for how much food they prepared — their friends probably went home with some great leftover platters.)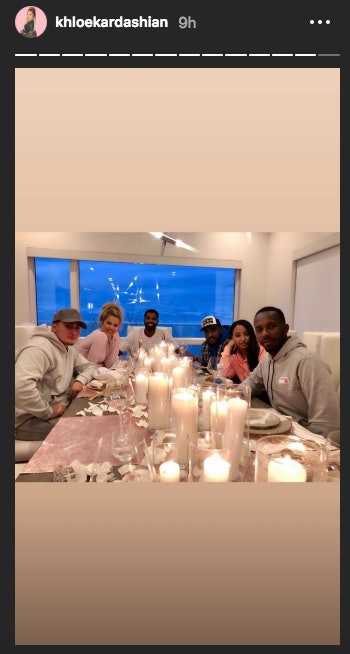 An unnamed source told People that Thompson couldn't travel to California for Thanksgiving due to his basketball schedule. So Khloé decided to bring True to him, and their daughter was able to spend her first Thanksgiving with both of her parents.
Still, it's probably a slightly uncomfortable time for the couple. Even though it's been months since Thompson's reported cheating scandal, they recently relived the drama on Keeping Up With The Kardashians. And Khloé's family wasn't exactly forgiving when the news broke — in one KUWTK clip, Kim Kardashian suggests that Tristan was only sorry about the scandal because of the backlash and how it "embarrassed" him.
But it looks like the couple put all of the drama behind them, at least for Thanksgiving. They really do look happy to be spending the holiday together, and True looks like she had a blast on her first Thanksgiving. And Khloé did say that she was thankful for Tristan in an Instagram Story post ahead of the holiday. So it seems like the two of them really are working past everything that happened before True's birth. They both have a beautiful, healthy baby girl to be thankful for, and it looks like their Thanksgiving was filled with plenty of love.
Source: Read Full Article