Millennial Pink Strawberry Krispies Are Coming — Here's Where To Get Them
Has breakfast been feeling a little blah lately? Good news: Your cereal bowl is about to get a lot more exciting. Strawberry Krispies — that is, strawberry-flavored Rice Krispies — are coming your way in early 2019. As a longtime devotee of strawberry-flavored things, I am really excited about this. Perhaps more excited than cereal actually warrants, but, well… getting overly enthusiastic about random foodstuffs is kind of my jam. Also, Strawberry Krispies are pink — dare I say, millennial pink? — and that's all kinds of delightful. Heck, and yes.
Rumors of Strawberry Krispies' imminent arrival started bopping around the internet roughly a month ago. On Oct. 19, cereal-focused website Cerealously posted an image of the berry-flavored cereal's box — and although we didn't yet know precisely when it would be available, early 2019 seemed like a good bet.
Now, Kellogg's has confirmed not only the cereal's existence, but also when we can expect to see it in stores. According to product information provided to Bustle, Strawberry Krispies "delivers on one of fans' top flavor preferences with a simply, naturally-inspired strawberry flavor that perfectly complements the iconic cereal that snaps, crackles and pops." Subtly pink and with "colors and flavors from natural sources," per the box art, the cereal looks to take everything that's wonderful about Rice Krispies — namely the Pop Rocks-like reaction they have when you pour milk over them — and adds a touch of strawberry flavor. Here's hoping you end up with a bowlful of strawberry-flavored cereal milk at the end of breakfast.
Strawberry Krispies will join the current Rice Krispies cereal lineup — original Rice Krispies, Cocoa Krispies, Frosted Krispies, and Rice Krispies Treats — in January of 2019 at all major grocery stores; they'll be available in two sizes, 11.5 ounces and 16.5 ounces, with prices ranging between about $3.99 and $5.69.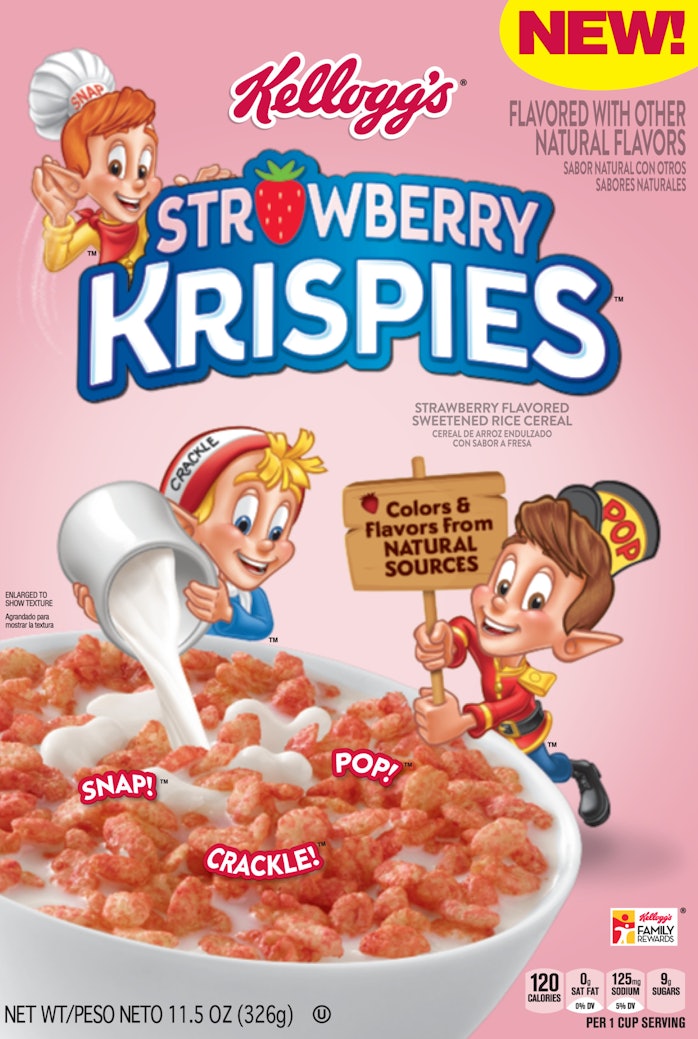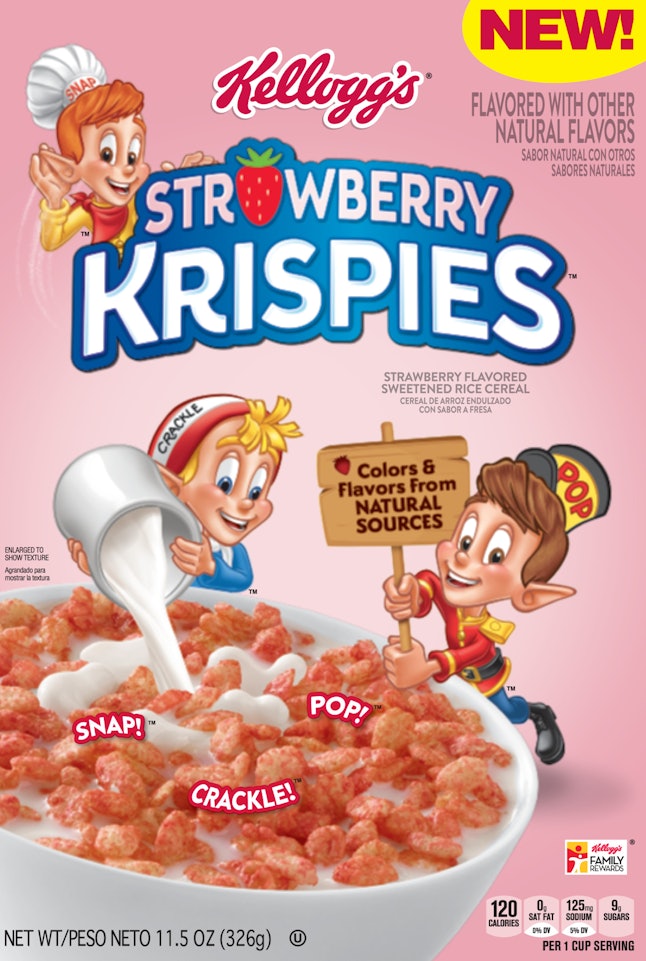 Kellogg's has offered strawberry-flavored varieties of Rice Krispies twice before: Once in 1983, in again in 2007. The 1983 edition actually resembles the 2019 incarnation pretty closely: Like the upcoming version, the cereal was called Strawberry Krispies; it was pink in color; and it was essentially a strawberry version of Cocoa Krispies. (I'd be willing to bet the ingredients list for the 1983 version was quite different, though, what with today's trend towards natural flavors, colors, and sweeteners.) The 2007 version, meanwhile, simply took regular Rice Krispies and added strawberry pieces to them — hence their name, Rice Krispies With Real Strawberries, as opposed to straight-up Strawberry Krispies.
Notably, 2019's Strawberry Krispies are the first new flavor to hit the Rice Krispies cereal lineup in more than 10 years. That previous flavor, interestingly, was also berry-themed — although it wasn't Rice Krispies With Real Strawberries (the cereal pieces themselves for that one weren't flavored; they were just regular ol' Rice Krispies). In 2006, Berry Krispies hit the scene, consisting of a mixture of plain Rice Krispies pieces and red and purple pieces made to taste like berries. Clearly this is a flavor profile with which Kellogg's and the Rice Krispies team are quite familiar.
Rice Krispies themselves, of course, go back much further than that, though — the cereal first appeared on shelves in 1928, according to the official timeline, with the catchphrase "Snap! Crackle! Pop!" beginning to show up in advertisements a year later. Rice Krispies Treats, meanwhile, came along sometime in the '30s — as Matt Lewis noted at The Awl in 2017, the date is debated; an early version without marshmallows seems to have been created in 1932, but a recipe created in 1939 with marshmallows is usually acknowledged as the origin of Rice Krispies Treats as we know them today.
Either way, I'd be willing to bet that Strawberry Krispies will make for one heck of a Rice Krispies Treat.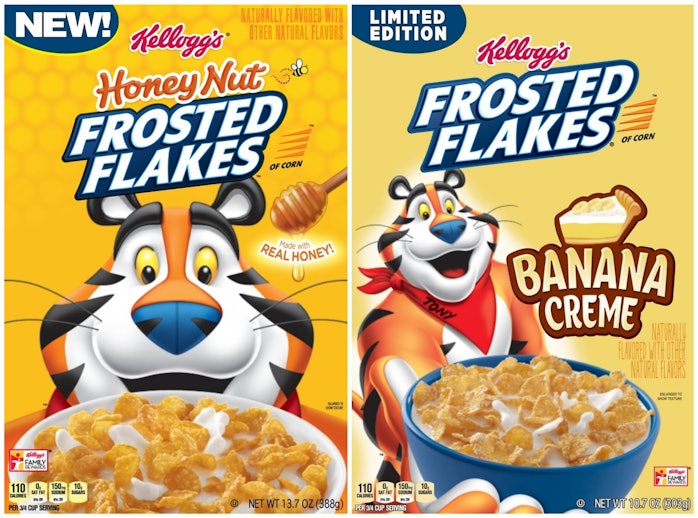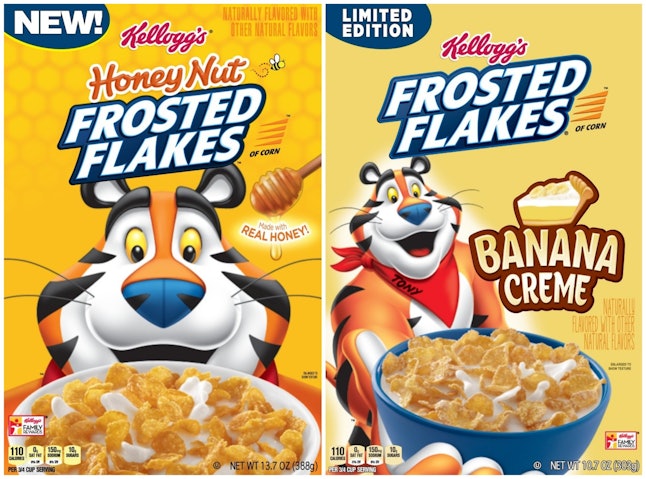 Strawberry Krispies aren't the only new cereal Kellogg's has waiting in the wings right now; two new varieties of Frosted Flakes are also set to debut soon. Honey Nut Frosted Flakes includes a blend of real honeys, browned butter notes (if you're not cooking with browned butter, you're really missing out), and nutty flavors atop the crispy, crunchy corn flake at the heart of classic Frosted Flakes; meanwhile, the limited edition Banana Crème Frosted Flakes cover those same flakes with the flavor of ripe banana, cream, and vanilla.
Look for all of these shiny new breakfast options on shelves in 2019.
Source: Read Full Article