New Mexico teenager praised for 'perfect' tired mom costume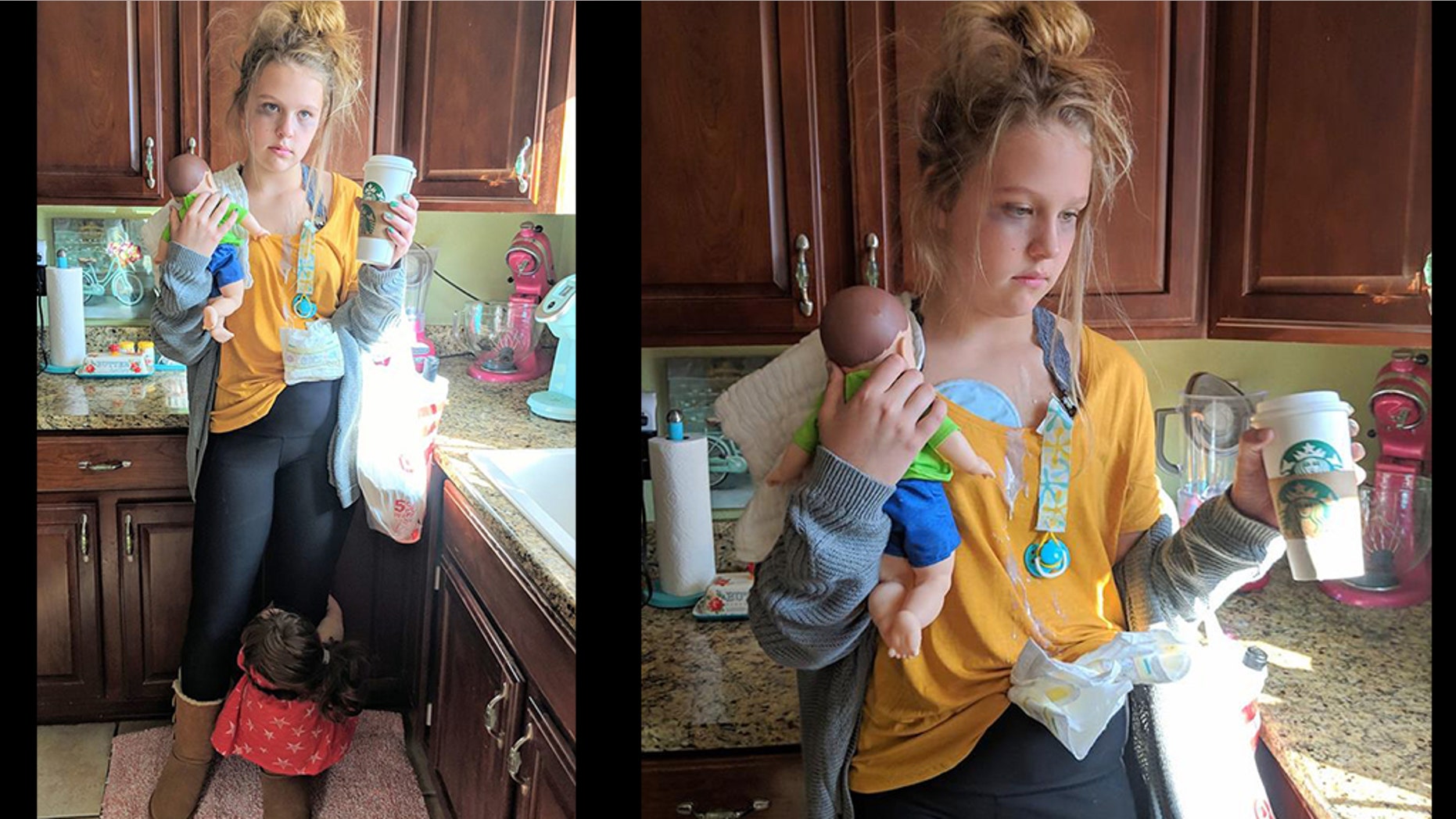 Jillian Schnerch is one of Lindsay and Kyle Hartsock's nine children and often sees her parents juggling their photography business with taking care of their brood daily in their home in Rio Rancho, N.M.
(The Hartsocks' Photography)
A 13-year-old in Rio Rancho, N.M., is going viral for her spot-on interpretation of a "tired mom" costume.
Jillian Schnerch is the fourth-oldest of nine siblings, so she has some experience in how exhausting children can be.
"Growing up in a big family, [Jillian] has seen the blood, sweat, and tears that go into raising kids," Lindsay Hartsock, Jillian's mother, told Yahoo Lifestyle. "She is our biggest helper and loves her eight siblings so much, but they also tire her out!"
MICHIGAN HIGH SCHOOL SENIORS SPORT COSTUMES FOR HILARIOUS ID PHOTOS
Jillian, who works as a greeter at her parents' photography studio, sees other moms also struggling to keep up with their busy kids.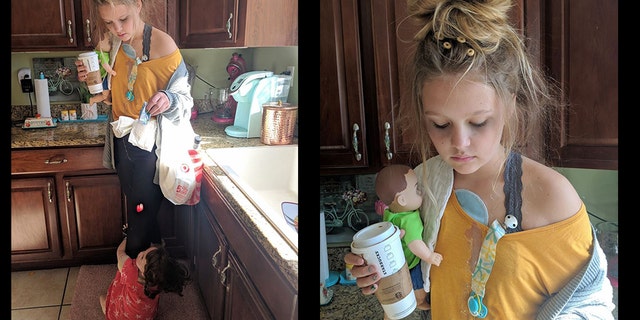 As much as Jillian is just a witness to much of the chaos, she nailed perfectly with some of her experience as a worn-out caregiver to her eight other siblings.
(The Hartsocks' Photography)
"She sees [her parents] trying to manage it all, as well as lots of other mommies who are our clients and come in totally flustered, but so in love with their kids," Hartsock told Yahoo Lifestyle.
With all of Jillian's experience with exhausted moms, she decided to channel that into a costume – and Facebook is crazy about it.
In the photo, posted on the Hartsock's Photography business page, Jillian has a messy bun with Cheerios in her hair, dark eyeshadow under her eyes, and is carrying a Starbucks cup while holding a baby in the other hand. She also strapped a doll to her leg to mimic a toddler refusing to let go of her mother.
MISSOURI BOY'S GREEN SCREEN SCHOOL PHOTOS GO VIRAL
Jillian paired the disheveled look – untucked shirt, yoga pants and shoulder towel with baby spit-up – with another element moms' are saying is completely relatable – a Target bag filled with "diapers, wipes, and three bottles of wine," her mom wrote on Facebook.
One mom was so struck by the costume, she declared, "That's what I look like today! And yesterday. And, well, every day since 2015. NAILED IT!"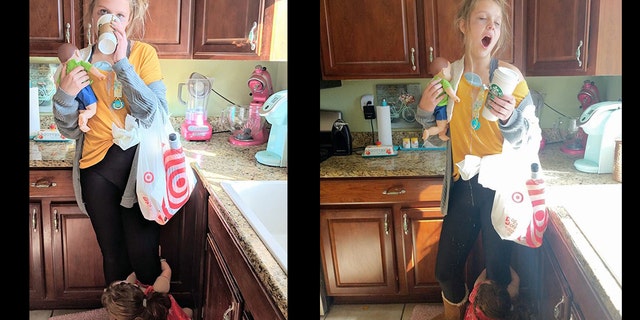 Her hilariously accurate costume is going viral on social media.
(The Hartsocks' Photography)
"The doll tied to her leg is freaking GOLD ," another one commented.
"Perfect costume!!!" one wrote.
One mom related to the costume so much, she wrote, "I don't know who you are but I didn't give you permission to use a picture of me… I'd fight you about this but my kid is screaming again. Brb."
FOLLOW US ON FACEBOOK FOR MORE FOX LIFESTYLE NEWS
As happy as other moms have been to laugh about the costume, Jillian's family is just as excited that her outfit struck a chord with so many mothers.
"We are excited that so many of you can relate loving so much your kids, but being totally exhausted at the same time," Hartsock wrote on Facebook.
Source: Read Full Article