Pete Davidson Is Already Joking About How Quickly He Proposed to Ariana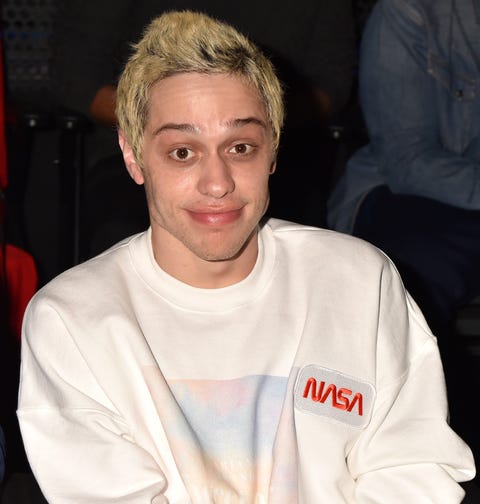 It's barely been two weeks since Pete Davidson and Ariana Grande called off their engagement, and Pete is already sporting a new breakup 'do and joking about how quickly he proposed to the woman who named a whole entire song after him. Classy move, dude!
In a promo for this week's Saturday Night Live episode, Pete joined host Jonah Hill and performer Maggie Rogers to talk about how Jonah is getting up there in age. Pete also managed to slip in a joke about his and Ariana's breakup, which will make everyone cringe even more than his humor already tends to—remember that birth control joke?
With some fresh blue hair dye slapped on his strands, Pete decided to shoot his shot and asked Maggie if she wants to get engaged. He said,"Hey Maggie, I'm Pete. You wanna get married?"
Obviously they barely know each other and this was an obvious reference to how Pete proposed to Ariana after a month of dating. When Maggie shut that down real quick, Pete took score and said he's going zero for three at the moment—his breakup with Cazzie David would be the first major L.
ɢᴇᴛ ᴇxᴄɪᴛᴇᴅ[email protected] hosts #SNL this week with musical guest @maggierogers! pic.twitter.com/RBtFmaAYth
Well, that was sufficiently awkward. Can someone please tell Pete to just cover his tattoos and quietly move on??
Source: Read Full Article