PlayStation Hit 'Bugsnax' Launches on Nintendo Switch, Xbox, and Steam on April 28
After more than a year of PlayStation and Epic Games Store exclusivity, Bugsnax is finally spreading its wings to other platforms. Developer Young Horses announced the news on April 12, revealing that Bugsnax would drop on Nintendo Switch, Xbox, and Steam in just a few weeks. And that's not all — the launch will include the long-awaited Isle of Bigsnax update for all platforms, bringing fresh content to existing and new players alike. Here's what to know about the upcoming Bugsnax launch.
What is 'Bugsnax'?
Bugsnax first launched on PlayStation 4, PlayStation 5, and Epic Games Store (Mac and PC) in November 2020. The game takes place in Snaktooth Island, a unique world where half-bug, half-food creatures run free. Set in a first-person perspective, the player acts as a journalist who visits Snaktooth Island to meet an explorer named Lizbert Megafig and document the Bugsnax in the wild. However, when Lizbert and her cohorts go missing, it's up to players to find them, capturing Bugsnax along the way.
The gameplay involves using a variety of traps and tools to capture 100 different Bugsnax species. As players continue their adventure, they'll find missing residents of Snaxburg. When the inhabitants eat Bugsnax, they'll transform into new variants. Young Horses' synopsis of Bugsnax reads:
"It's up to you to solve the mysteries of Snaktooth Island: What happened to Lizbert? What are Bugsnax and where do they come from? But most of all, why do they taste SO GOOD?"
'Bugsnax' will arrive on Nintendo Switch, Xbox Series X|S, and Steam later this month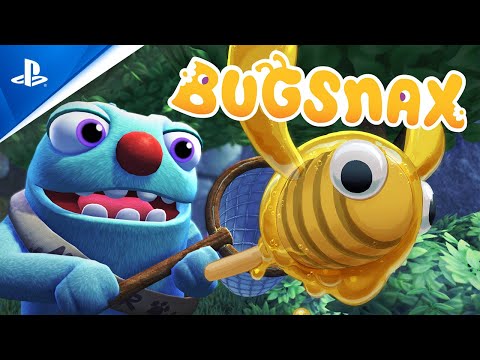 By the end of this month, gamers on all platforms will be able to enjoy Bugsnax. As seen below, Young Horses announced that Bugsnax would launch on Nintendo Switch, Xbox One, Xbox Series X|S, and Steam on April 28. That also includes Xbox Game Pass, where subscribers can download Bugsnax and its new content on day one.
It doesn't look like any pre-orders are available on Switch yet. However, Steam users can now add it to their wish lists. As Polygon notes, Bugsnax will cost $24.99 at launch — that's 20 percent off its original price on PS4, PS5, and EGS.
The launch comes with a 'Bugsnax' free update called Isle of Bigsnax
On April 28, all players will receive access to the free Isle of Bigsnax update. As fans may recall, Young Horses first unveiled the DLC back in October 2021 at Sony's State of Play event.
According to the PlayStation blog, Isle of Bigsnax will bring players to a brand new biome filled with massive Bugsnax. This area will feature more complex puzzles, as current traps aren't big enough to capture these Bugsnax.
In addition to the new biome, Isle of Bigsnax also adds more content to Snaxburg. For example, players will be able to receive mail from the locals, filled with new challenges. They can also build and customize a unique hut, with decorations found as rewards for completing challenges. Lastly, some Bugsnax will now wear hats that players can keep when the Bugsnax are captured.
Bugsnax is available now on PlayStation 4, PlayStation 5, and Epic Games Store. The Isle of Bigsnax update will arrive on April 28 for PS4, PS5, EGS, Xbox One, Xbox Series X|S, Nintendo Switch, and Steam.
Source: Read Full Article