Prince Harry Has Basically Stopped Talking to His Ex Girlfriends Since Marrying Meghan Markle
Before he was married to Duchess Megan Markle (nothing but respect for MY president of the USA Network), Prince Harry had two pretty major long-term relationships. The father-to-be dated Chelsy Davy from about 2005 to 2010, and was with actress Cressida Bonas from 2012 to 2014. Both relationships appear to have ended amicably, and Harry even went ahead and invited both Cressida and Chelsy to his royal wedding back in May (Chelsy in particular got a lot of attention on Twitter for looking slightly put out during the ceremony…see the picture below).
So, is Harry still in touch with Cressida and Chelsy—and, more to the point, are he and Meghan still running in the same social circles as them? Not so much.
"There isn't much of a relationship, in truth," royal expert and author of Harry & Meghan: Life, Loss, and Love Katie Nicholl tells Cosmopolitan.com. "As you would expect and understand, when Harry eventually got married he was always going to sever ties with his exes."
This is exactly the reason why you don't invite an EX to your wedding.
🤣😂 #RoyalWedding #ChelsyDavy pic.twitter.com/zcJFf3i8MY
"My understanding is he has very little to do with them now," Katie continues. "He had a sort of farewell conversation with Chelsy where he spoke to her to basically say goodbye, and I think probably Cressida and Chelsy both knew that after the wedding they wouldn't see much of Prince Harry."
Chelsy and Cressida remain in the same friendship circles as some of Prince Harry's acquaintances (they both attended Princess Eugenie's wedding, for starters!), but Nicholl says Harry and Meghan haven't actually been spending as much time with Harry's buddies.
"He has trimmed down his friendship circle. He doesn't see as much of his old friends as he used to. I mean his school friends, his friends from Eton and his friends from Ludgrove," Nicholl explains. "He's very much focused on his marriage and his wife, and it has been a case of some of his friends falling a bit by the wayside."
As for reports that Harry and Meghan cut ties with these friends due to press leaks, Nicholl confirms that "Some of the friends, some of the extended circle were speaking out. It's very likely that there was a cutting down, an editing of Harry's friends, and also of Meghan's."
Welp! There you have it.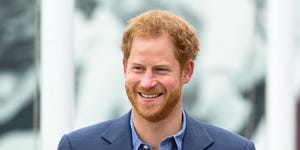 Source: Read Full Article