Sarah Michelle Gellar Just Posted A Lingerie Photo And Her Caption Is Stirring Up Major Drama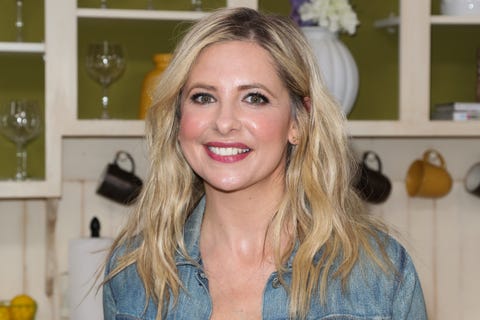 Actress Sarah Michelle Gellar just posted a photo of herself on Instagram looking super-hot in some sexy lingerie. But unfortunately, the caption she added to that photo is stirring up some serious internet drama.
"I'm just going to pin these up all over my house as a reminder not to overeat on Thursday," Sarah wrote, with the hashtag #thanksgivingprep.
View this post on Instagram
I'm just going to pin these up all over my house as a reminder not to overeat on Thursday #thanksgivingprep
A post shared by Sarah Michelle (@sarahmgellar) on
Sarah's fans immediately freaked out, peppering the comments with responses like, "Wow. Really shocked that a woman in a position of influence and a mother would post this."
Of course, some people came to Sarah's defense, saying "Can she not make a joke…? I'm sorry people suck." Another chimed in saying, "I think it's sad that you even have to explain yourself. It's YOUR body, YOUR Instagram account, and YOUR opinion… let it go."
Sarah weighed in on the comments, too: "It's come to my attention that some people think I was 'fat shaming' with this post. That could not be further from my intentions. I love Thanksgiving and unfortunately my eyes are often bigger than my stomach, and I tend to eat so much I make myself sick. This was a joking reminder to myself not to do that. I'm terribly sorry that people were offended by my attempt at humor. Any one that knows me, knows I would never intentionally 'shame' any one on any basis. I am a champion of all people."
Quick reminder: If you are in fact trying to lose weight, one cheat day most certainly won't ruin your diet. In fact, these women say cheat days actually helped them lose weight.
If you're just trying to maintain, you also really don't have anything to worry about. It's basically impossible to gain weight overnight, Samantha Cassetty, R.D., M.S., nutrition director at Luvo previously told Women's Health. Most people actually don't gain that much weight over the holidays, either (#science proves it).
Moral of the story: Go ahead and treat yo'self on Thursday.
Source: Read Full Article