The Best Looks From the Fall 2019 Bridal Runways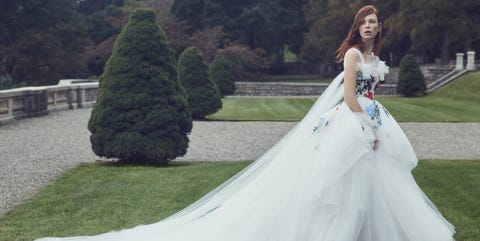 In the aftermath of not one, but two royal weddings, our editors have their eyes set on next year's nuptials–and the best bridal gowns for 2019 aisles. As the Fall 2019 collections make their way down the runways at New York's Bridal Fashion Week, we're highlighting all the standout looks, and the gowns that will define next season's weddings. Here, a breakdown of the top collections, the inspiration behind the gorgeous gowns, and the best looks of the season.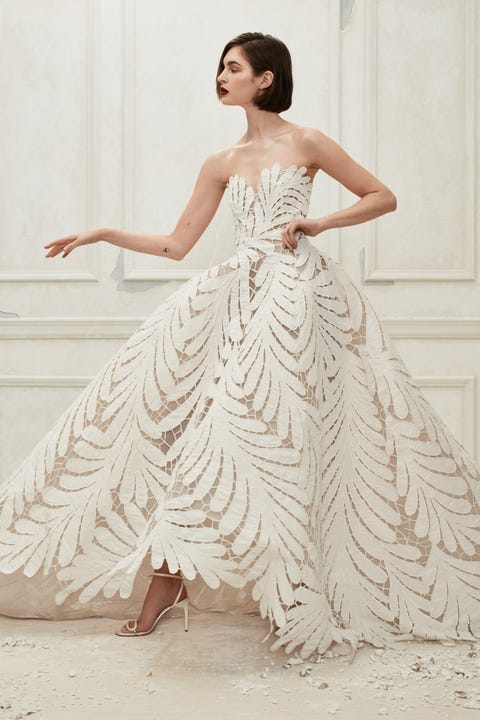 Oscar de la Renta is not just a silk faille house anymore. Laura Kim and Fernando Garcia are proving, yet again, that they can infuse their new inspirations and influences with the old world of ODLR for their most dynamic bridal collection yet. In just 14 looks, the co-creative directors have channeled far more than the coastal, all-American Oscar bride of seasons past. This isn't just Amal Clooney's wedding gown 2.0, it's so much more.
And 'more' means new opportunities for custom changes, which until now, was an offering done only for custom clients, upon approval. This season, about 50% of the collection will allow for slight bespoke requests; certain gowns can be lengthened to reach the floor, or lined for a more covered up look. While this isn't entirely custom, brides who are looking to make a Oscar de la Renta look their own will find that there is a far larger range of finely crafted gowns in this season's offerings for them to choose from.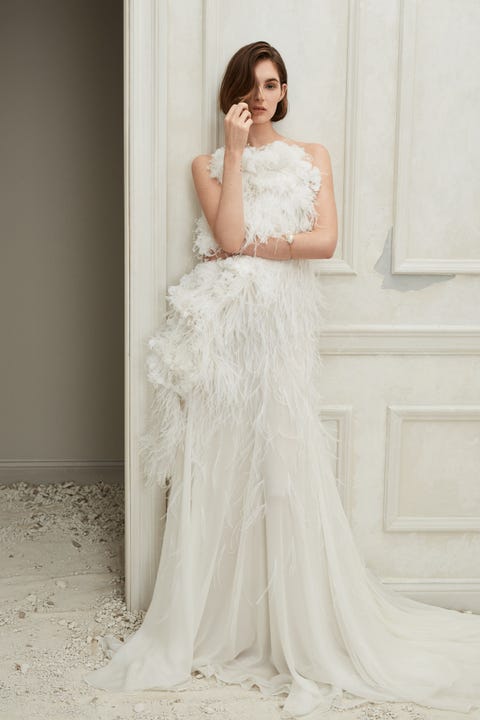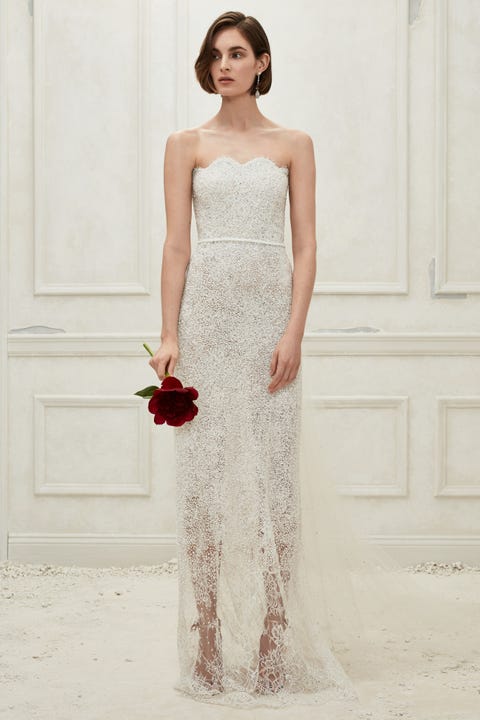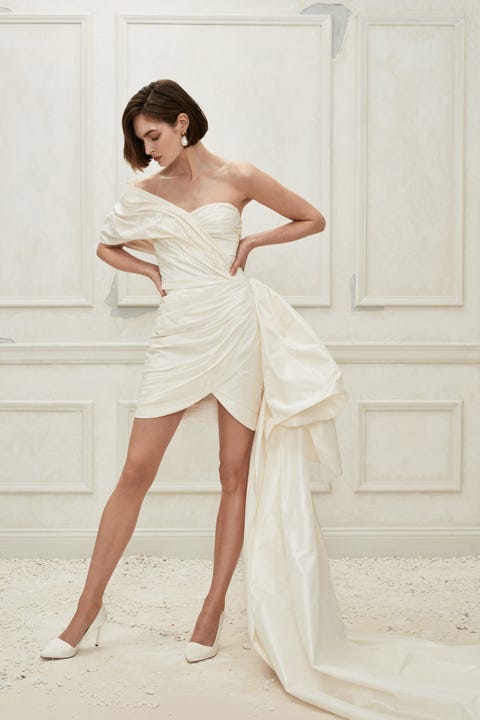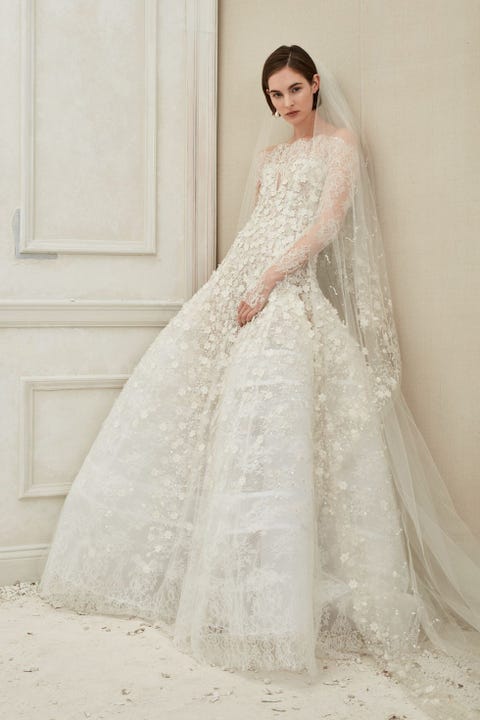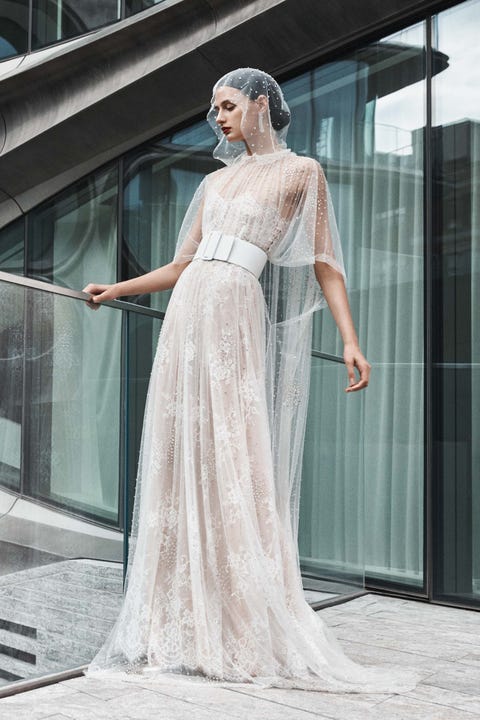 Sparkle, drama, outside-the-box silhouettes, and loads of texture are only some of what Naeem Khan has made a name for himself for in the world of bridal, and this season he took his next-level thinking to…well, to the next level. Khan honed in on what he knows his bride comes to him for–the after party–and put an emphasis on mini dresses, jumpsuits, and gowns that are just sexy enough to spend the whole night in. Standouts included a hooded overdress with dolman sleeves, pictured here, and new riffs on beading that we've come to expect from the house that's known for otherworldly embroideries.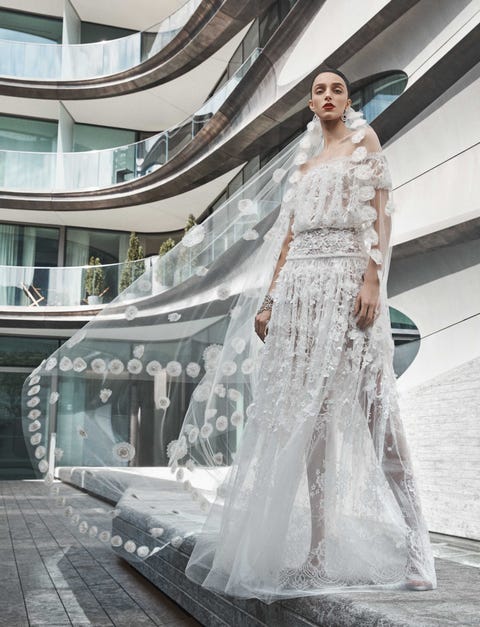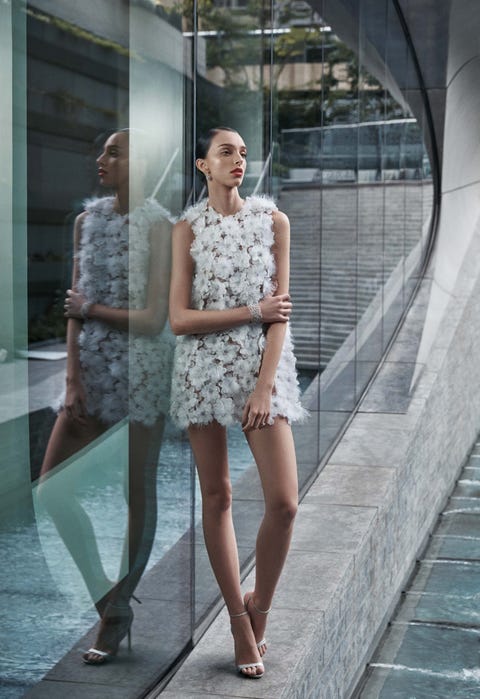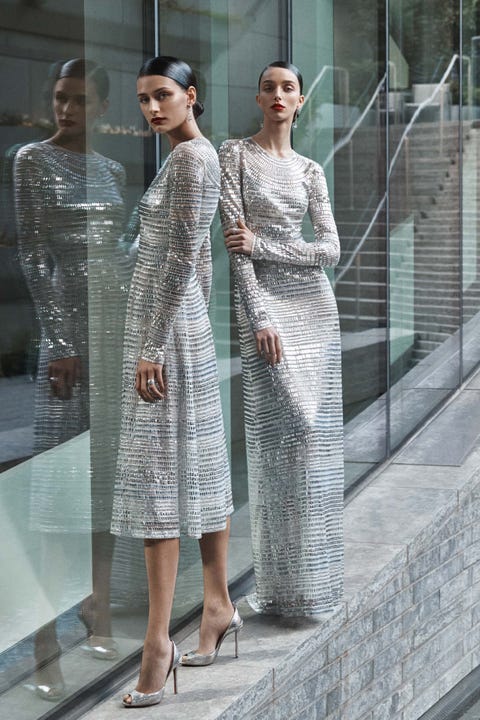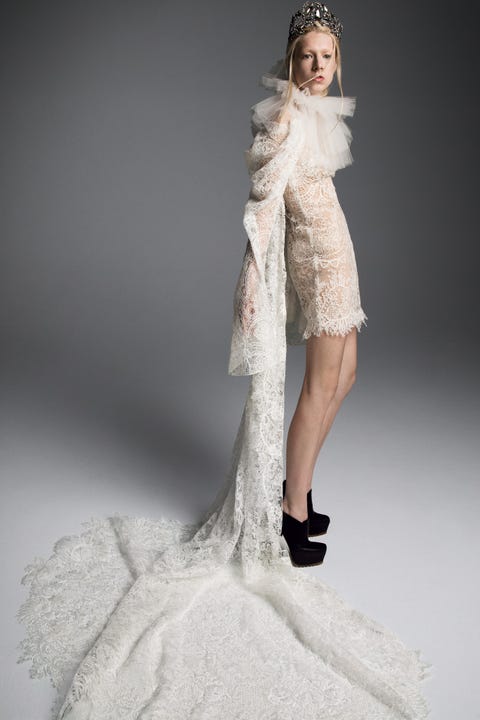 Long live the Queen…of bridal. In the world of royal wedding mania, nothing feels more trite than a riff on the princess bride–until Vera Wang shares her take. When it comes to weddings, Wang is the consummate innovator, and her interpretation of Marie Antoinette and Versailles was leaps and bounds beyond what bridal typically offers in the realm of royal-inspired.
Sure, there were crowns, full skirts, and loads lace, but then there were the Elizabethan collars, and the arch-shaped, intricately pleated tiers, and the sheer corsetry that felt poetic rather than vampy. Last season Wang showed her collection in pops of bold color, and she balanced that infusion of brights with a more quintessentially bridal palette this season: soft ivory, gold and silver laces, hints of pastel blue tulle, and delicious nude and rusty tones. In Wang's bridal monarchy, there truly was something for every bride in the commonwealth–from the classic sophisticate and the sleek minimalist, to the bohemienne, the renegade, and the badass party girl.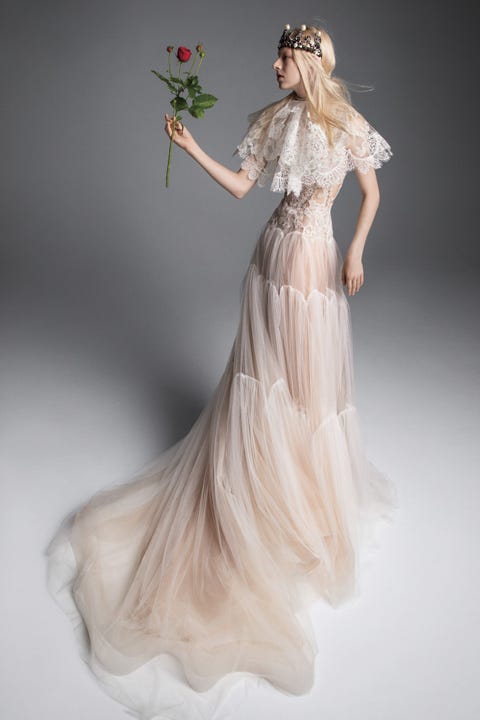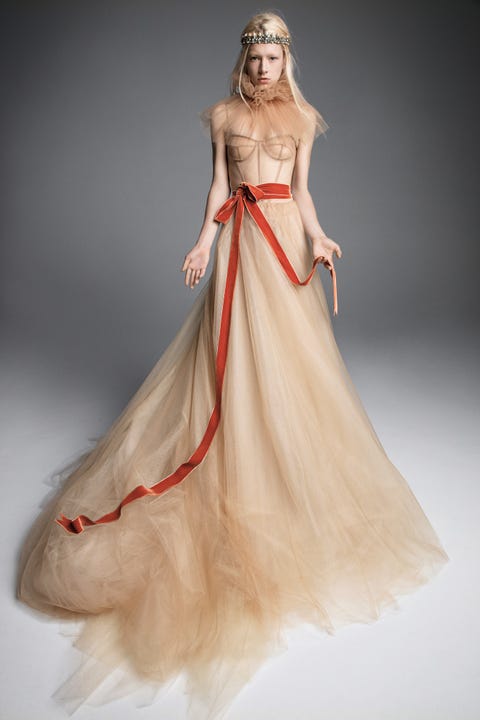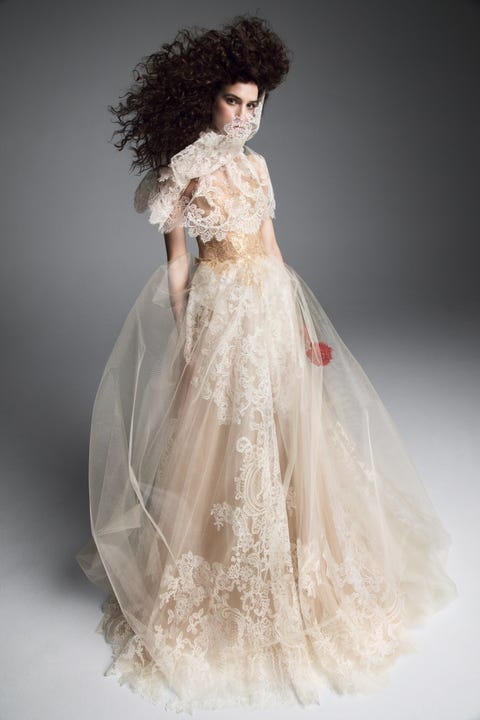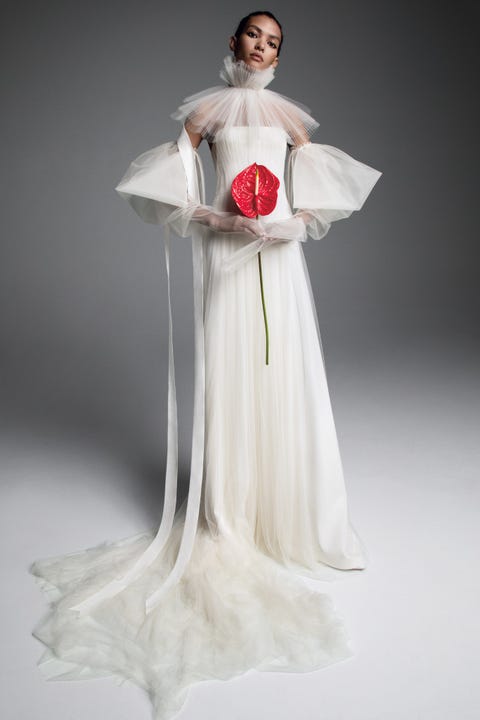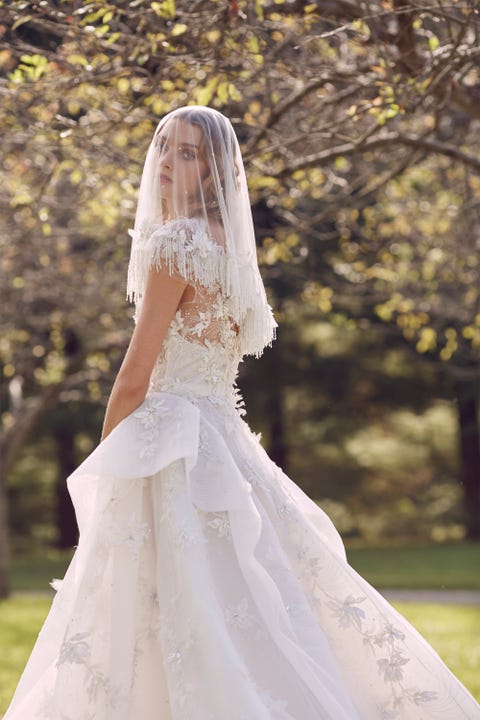 Texture, texture, and more texture! Marchesa is always a parade of three-dimensional appliqués, artfully crafted ballgowns, and hints of red carpet dressing that are undeniably aisle-worthy, and this Fall 2019 offering was no different. Inspired by a winter garden, Georgina Chapman and Keren Craig took to an actual garden to shoot their icy-white confections, which included beaded floral motifs, feathers, and lacework that on paper sounds like spring, but felt appropriate for formal affairs in the snow.
Most interesting was the brand's new takes on veiling, with a shoulder-dusting beaded fringe veil, pictured here, and the oft-matronly coverups, which were modernized as shoulder wraps and a bridal kimono-style jacket. If you're looking to spot the design duo's red carpet roots, look no further than the macaron-pink gown with a plunging neckline and a thigh-high slit.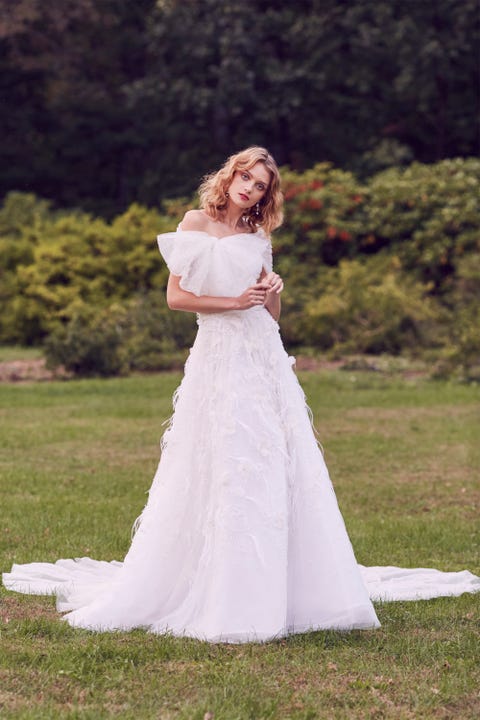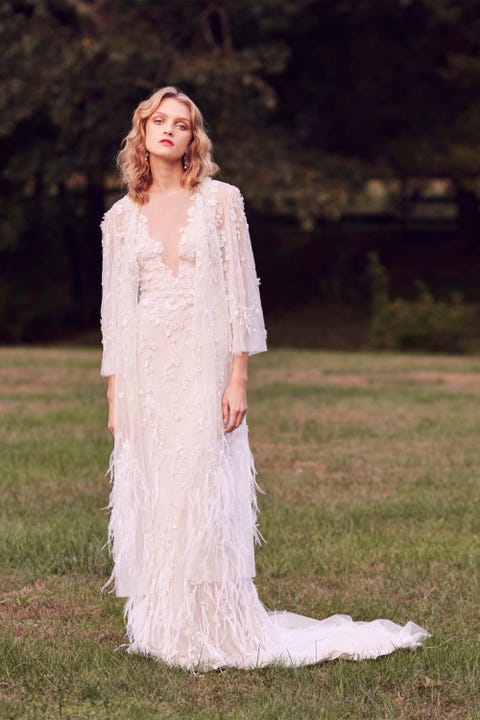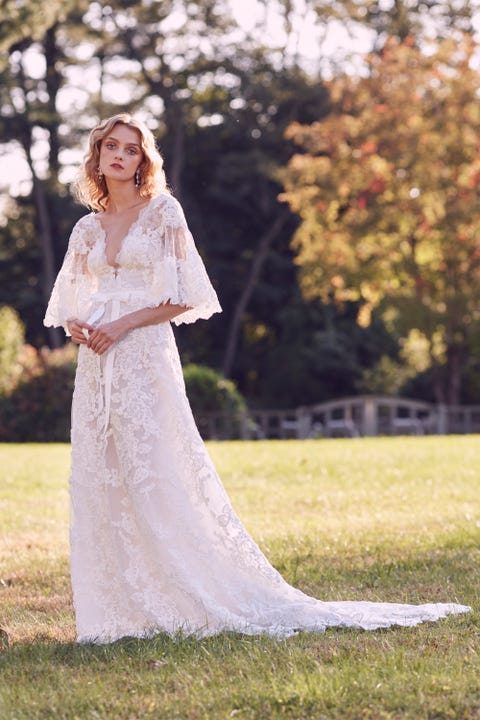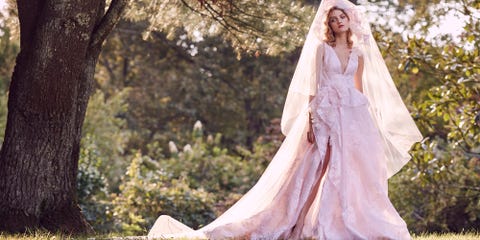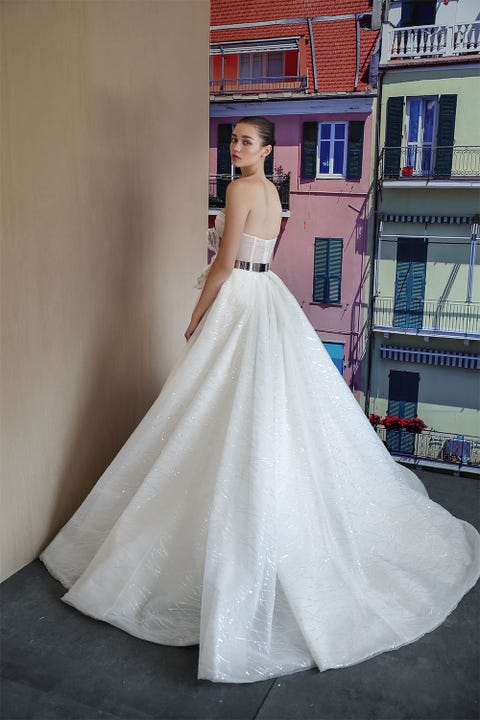 If history is any indication, Galia Lahav and lead designer Sharon Sever's middle names are probably "sexy" and "sultry" respectively–but, as it appears, evolution is on the horizon for the brand that was part-in-parcel of the "sexy bride" wave that washed over bridal a few seasons ago.
This season, the brand took notes from its demi-Couture offerings, most recognizably their latest showing at July Couture, and mixed in their flair for the bodycon to tow the line between dramatic silhouettes and sheer-plus-sparkly mermaids. Inspired by a friend's romantic recent trip to Portugal, Sever imagined a wedding in one of Europe's most stunning landscapes.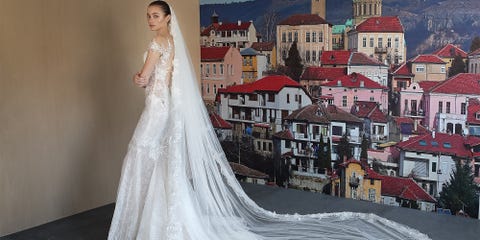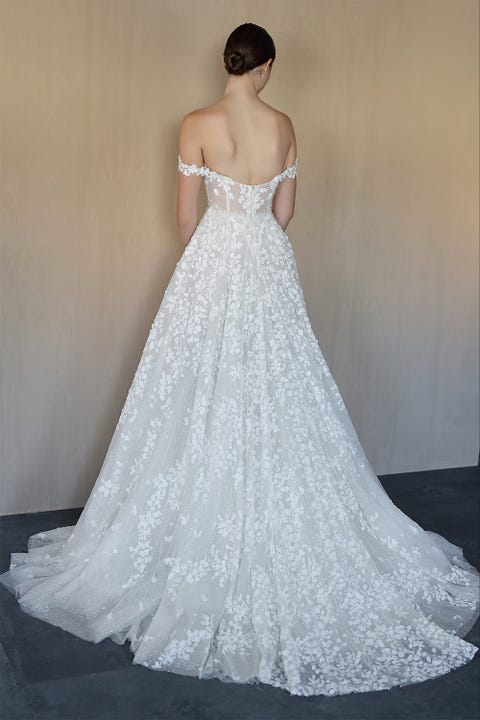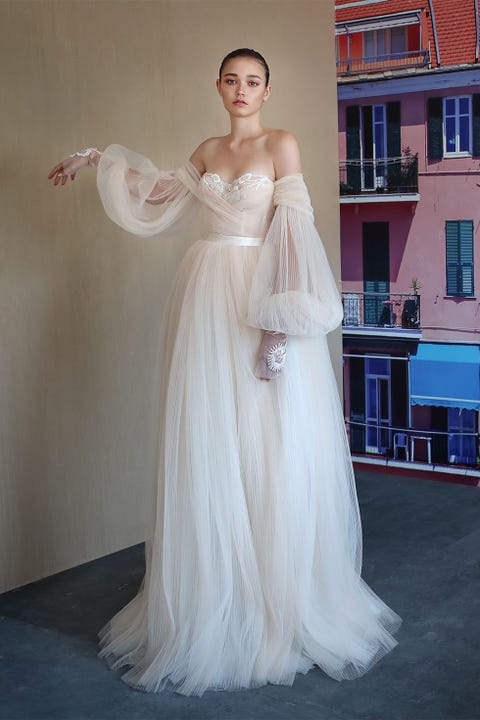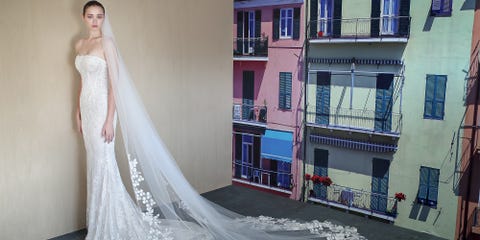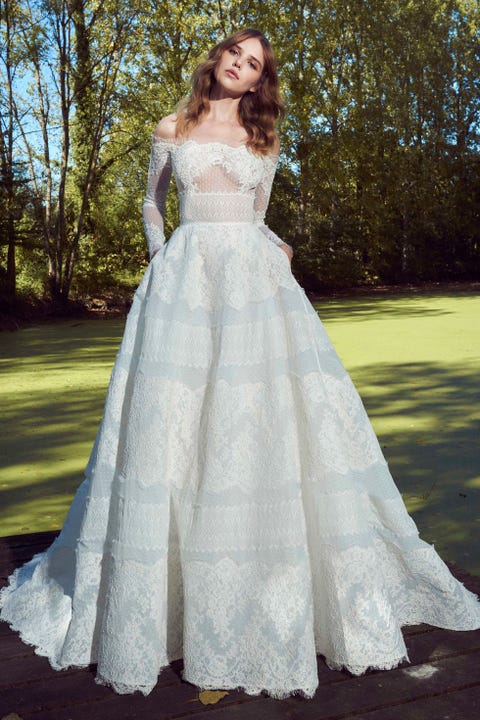 Florals? For Bridal? Groundbreaking. But rather than the classic roses, peonies, and gardenias many bridal designers have taken inspiration from in the past, Zuhair Murad turned to the lotus flower, a symbol of purity and clarity, to anchor this season's embroideries.
Coverage, perhaps on the heels of the many royal weddings this year, was also a theme of Murad's collection this season, with his signature convertible features in tow that allow a bride to have two looks in one for the ceremony and reception, respectively. While sheer and sexy has been a through-line in each of the brand's bridal collections, Victoriana peeked in to contrast the sexier looks this time around–perhaps as another nod to the purity his lotus flower inspiration speaks to.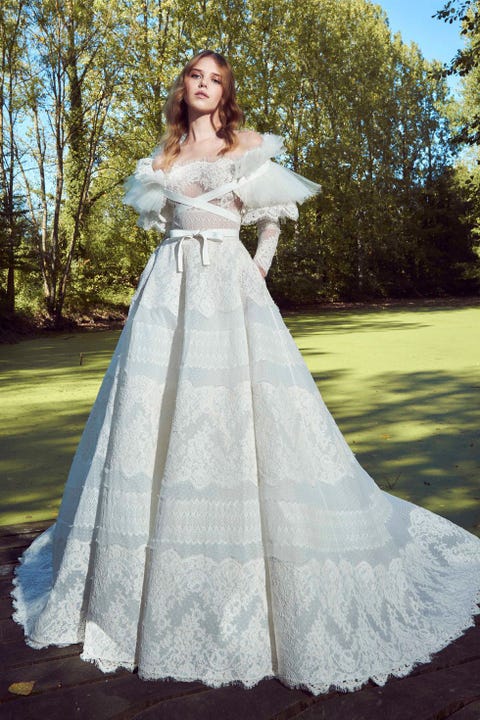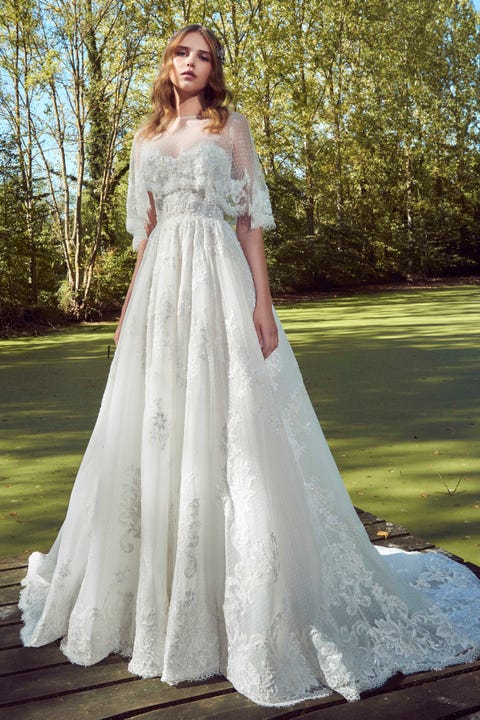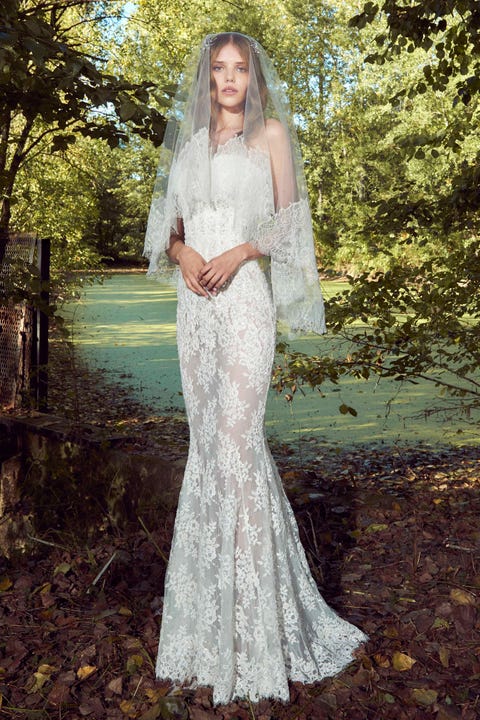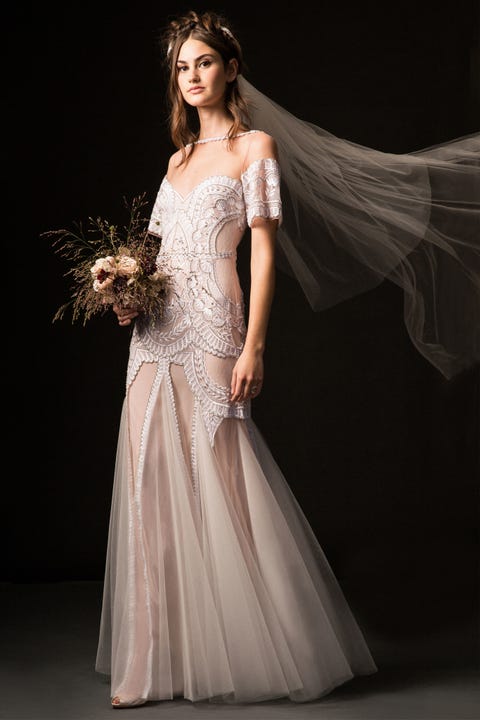 Alice Temperley has a consistent, unique approach to bridal. The collection only grows and evolves, while the bride, for the most part, is consistent. Vintage-inspired, deco at times, and a bohemienne with a glam side pretty much covers Temperley's bride–she isn't your super-sexy glamazon nor is she your over-the-top traditionalist. Ball skirts and super-slim fits have little place in Alice Temperley's world–but her 10 add-ons for the season continued to employ a use of color she's become increasingly fond of in an otherwise white, ivory, and metallic world.
Additions to the bridal collection this season included a rose lace, an off-shoulder rose-toned gown with linear heart-shaped crystal embroidery, and a midi dress that felt as appropriate for a Temperley ceremony paired with a long veil as it would for an after party or civil service. While Alice certainly hasn't changed her bridal stripes, she has delivered what appears to be an ode to her love affair with sparkle–and with shades of pink.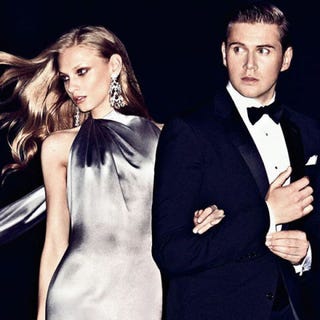 Source: Read Full Article