The First Photos of Meghan and Harry's STUNNING Cotswold Home Have Been Released
How many homes do you have? Just the one? Cool because Meghan Markle and Prince Harry have three. The couple is currently living at Kensington Palace while they wait for their new residence on the Windsor Estate to finish being renovated, but it turns out they also have a place in Cotswold.
Photos of the estate were just revealed by royal reporter Emily Andrews—who first broke the Frogmore news!—and it looks gorgeous.
Royal excl: first picture of the Duke & Duchess of Sussex's Cotswold pad. It's a gorgeous £2.5million Grade II listed farmhouse and barn conversion. pic.twitter.com/IL11GMdcVC
Meghan and Harry's place is reportedly worth £2.5million and was previously a farmhouse and barn before being converted into the kinda spot royals vacation. The Daily Mail reports that the home has four bedrooms (plus a two bedroom "outhouse"), and that Meghan and Harry have used it to host their celebrity friends like George and Amal Clooney, as well as Serena Williams, and Priyanka Chopra and Nick Jonas.
It appears that the couple have a two year lease on the property, but they plan to keep it even after they move into Frogmore Cottage. Honestly, their life is so good.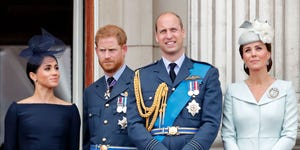 Source: Read Full Article