There's a One Direction Reunion in the Works and Shawn Mendes Will Be an Honorary Member
It has been eons since Zayn Malik decided he made zero friends in One Direction and forged his own sexy solo path in the music industry AKA the beginning of the end of everyone's favorite boy band since the '90s.
Our lives have never been the same ever since, but there is hope, because Niall Horan might be working on a reunion featuring a new honorary 1D member.
Earlier this week, a fan shared a picture of Niall and Shawn Mendes and asked if they'll ever collaborate. Niall, being the angel he is, said, "We're going to try."
We're going to try .
Then Shawn said it's a deal, and Niall said yeet.
Let's do it then
It only gets better from here, folks. After they solidified their new business venture, former 1D member Liam Payne asked, "Can I play the triangle?" I mean, only Satan would say no to that. So, now we have half of post-Zayn One Direction on board, which could be considered a reunion depending on how you look at it.
Once those three were basically locked into this Twitter contract, fans started tagging Louis Tomlinson and Harry Styles to try to get them involved, but who really knows if that'll work. And, I guess, people have sadly given up on the hope that Zayn will ever go back to his X Factor buds.
You should call @Harry_Styles and @Louis_Tomlinson and form a band called another direction.
Someone please start a petition to get these guys back together. The fate of a million teens and 20-somethings depends on it.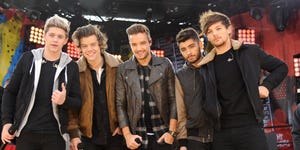 Source: Read Full Article