This New "Elseworlds" Crossover Trailer Gives Fans A Glimpse At Batwoman In Action
Fans of the Arrowverse — aka The CW's DCTV shows Arrow, The Flash, and Supergirl, among a couple others — are buckling in for this year's crossover event. While in years past that's included Legends of Tomorrow, the Legends will be sitting the crossover out this year. However, the television event, titled "Elseworlds," will mark the debut of Ruby Rose's Batwoman. And though details of her character have been kept pretty hush hush, the new "Elseworlds" promo shows Batwoman in action and teases how she'll fit into the established Arrowverse.
While fans have gotten a look at this new Batwoman before, when the first promo photo was released, now the trailer shows what she can do, which includes starring menacingly at the Green Arrow (Grant Gustin, since he's switched roles with Stephen Amell this time around) and Cisco (Carlos Valdes). The promo, appropriately titled "Batwoman Teaser," shows Batwoman standing over the city she protects, the city of Gotham. When she lands in front of the two men, Oliver (Gustin) says, "That's not Batman," and Cisco responds with a breathless, "No, it is not." Needless to say, it sounds like the very existence of Batwoman will come as quite the shock to the superheroes we know and love.
Earlier in the trailer, Oliver and Barry (Gustin and Amell) can be heard off-screen debating whether or not Batman is real. "You don't believe in Batman?" Gustin can be heard asking. Amell responds, "Batman is an urban legend."
In an interview with Entertainment Weekly released on Nov. 19, Amell shared Oliver's thoughts on the Batman. "Oliver is not enthused about the idea that there might be some other vigilante out there." It seems likely that he'll feel the same way when he finds out that Batwoman has taken up the mantle of Gotham's superhero vigilante.
Caroline Dries, who consulted on the crossover and could produce a spinoff Batwoman series, told EW that they wanted to explore what a world without Batman keeping Gotham in line looks like. She said: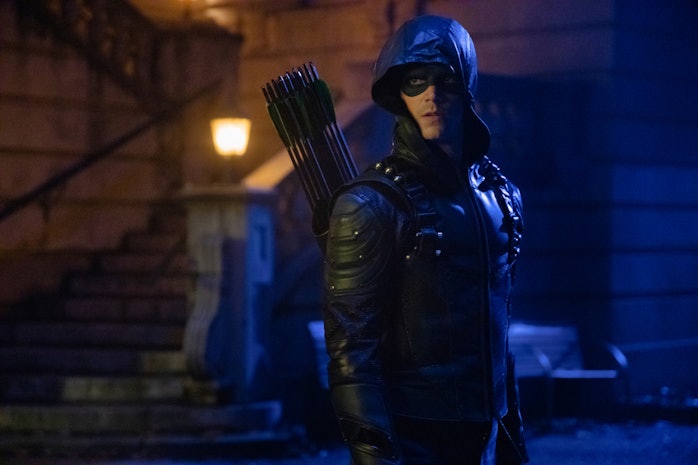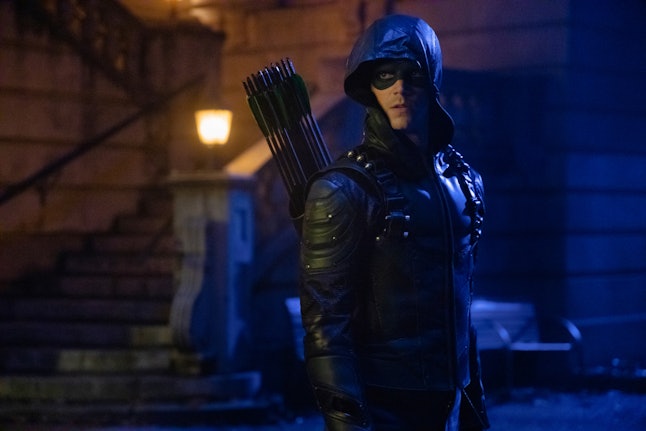 There have been many Batman references in the past across the Arrowverse shows. In Supergirl, before she found out that James Olsen is Guardian, Kara said she doesn't trust vigilantes with gadgets because Kal worked with one once. She even mentions, "masks, the whole voice changer things, it's weird." There have also been references to Wayne Tech and Bruce Wayne in The Flash and Arrow, along with many others nods to Batman's universe. However, since The Flash and Arrow technically take place on a different Earth than the one in Supergirl, it's possible that Oliver and Barry's Bruce Wayne just isn't Batman — at least maybe not yet — which would explain their skepticism in the new promo.
Yet another Arrowverse promo was also released on Monday, Nov. 19. This one showcased Gustin stepping into the role of Oliver Queen, expertly fighting Diggle, and then being shocked that he's the Green Arrow. (Just as Oliver has probably inherited the Flash's speed in "Elseworlds," it seems that Barry has gained the Arrow's strength and skill in hand-to-hand combat.)
All in all, this year's Arrowverse crossover is looking way too good to be true, and hopefully they can really deliver when Dec. 9 comes around. The only trailer fans haven't seen yet is a Supergirl-related one, so that might be coming in the coming weeks. Either way, "Elseworlds" is really coming for fans' expectations.
Source: Read Full Article