War correspondent thought he'd seen it all. Then he went to Queensland
Save articles for later
Add articles to your saved list and come back to them any time.
Queensland filmmaker Michael Ware's 2015 Emmy-nominated documentary Only the Dead, was the culmination of years spent corresponding from Iraq and Afghanistan for Time magazine and CNN.
His National Geographic films covered the war in Ukraine, Iranian spies in Albania and the burning of Papua New Guinean women accused of witchcraft. However, he describes making his first true-crime documentary, The Cape, which investigates the 2003 disappearance of commercial fisherman Bevin Simmonds and his 10-year-old son Brad in the Gulf of Carpentaria, as "going back up the river into the heart of darkness".
Journalist Michael Ware in the Gulf of Carpentaria, where some locals were hostile about the documentary being filmed.
"It's a world that exists in Queensland that even Queenslanders don't know about. It is absolutely Hobbesian," says Ware. "When you peel away law and order, and society and values, who are we really? We can do whatever it is that we want and need, and that's what this small world in this vast expanse is like.
"Despite the landscape being the opposite to Afghanistan, I still felt like I was going up Taliban valleys when I was going up those snaking mangrove swamp rivers to find these fishing families and their encampments. And the way the locals up there don't want to talk about this crime, or these families, so it was with the villagers and the Taliban. Everyone knows who the Taliban is. Everyone knows where they are. But no one wants to talk about it."
It is a story stranger than fiction involving two rival fishing dynasties (the Wards and the ironically named Gaters), an outsider (Bevin Simmonds), a love tryst, rumours of bodies fed to crocodiles or sunk in mangrove mud and the disappearance of the father and son during a routine shark net check on a clear, calm morning. Rival fisherman Michael Gater and his mother Joan were acquitted of the double murder in the Cairns Supreme Court in 2005.
When Ware's longtime producer Justine Rosenthal was arranging the shoot, the continuing domination of the area by both families was evident. It was near impossible to hire vehicles, and a boat had to be brought in from a location near Papua New Guinea.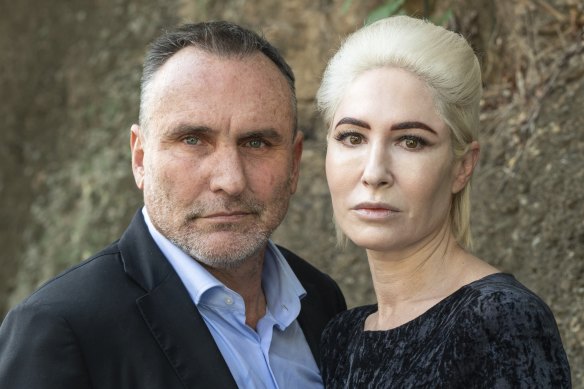 Journalist Michael Ware and producer Justine A. Rosenthal ventured into the Gulf of Carpentaria for their true-crime documentary The Cape.
"We had enormous resistance," Rosenthal says. "There were people who were intimidated enough to not speak with us. So you have to find those who are brave enough to pass on the story, and how they remember Brad and Bevin Simmonds … We came in approaching this as a story, not as true crime, with a sense of making an elegy to the dead."
Those who agreed to participate include fishermen, a retired police officer and a fisheries patrol officer, the Simmonds family, MP Bob Katter, and Wik-iyanh artist and Elder Syd Bruce Shortjoe.
"Bob Katter is one of the stars of the film," says Ware. "I'm sure that will come across as a surprise to many. He can tell a great yarn and he takes his time doing it. But when we distilled down two hours [of interview], there were moments that made him leap out of the screen.
"Whether he was talking about this case, whether he said that this is a wild pioneer frontier where the police may not even exist, you know he was telling the truth. Syd Bruce Shortjoe was another great storyteller. Bruce has an intangible magic about him and just being around him was a great pleasure. Even his silences were voluminous."
Visually, much of the film is devoted to the Gulf, its steamy mangrove jungles and the creatures below its waters.
"Until you've been there you can't possibly imagine it," says Ware. "It's a very easy place to disappear someone … I'm not booking any trips back there any time soon. But that's the nature of it. I remember Iranians harassing refugees that I'd been able to bring to Melbourne. I know what it's like for people to be able to touch you from a distance when you've gone in and told the very darkest thing that they don't want told."
Revealed: The Cape streams from June 18 on Stan, which is owned by the publisher of this masthead.
Find out the next TV, streaming series and movies to add to your must-sees. Get The Watchlist delivered every Thursday.
Most Viewed in Culture
From our partners
Source: Read Full Article