We Tried Starbucks' New Juniper Latte & Here's What It Actually Tastes Like
By now you are probably all too familiar with Starbucks' iconic holiday drink lineup, which returned in full swing this year. But now, my friends, there is a caffeinated plot twist: it turns out the chain wasn't quite finished rolling out the holiday goodies quite yet. In fact, Starbucks just added a Juniper Latte to its lineup, available starting Tuesday, Nov. 27. Since this doesn't sound like any of the typical holiday offerings, you're no doubt wondering what a Starbucks Juniper Latte tastes like — and the answer, quite simply, is that is tastes the way a Christmas tree smells. And weirdly, that taste is delicious.
Juniper berries, the flavor that the drink takes its inspiration from, are known for their pine-like flavor and citrus-y after notes. While the underrated berry isn't used all too often as a main flavor descriptor, it has certainly found a home in Starbucks' latest offering. Bustle had the opportunity to taste the Juniper Latte before it hit stores, and it very much does have a pine taste to it that will remind you of a Christmas tree — but not at all in an off-putting way. The flavor is very subtle, offering a welcome crispness to the sweetness of the rest of the latte; in fact, the flavor profile might remind you of other unusual "plant" flavors that have hit the scene as of late, like rose and lavender.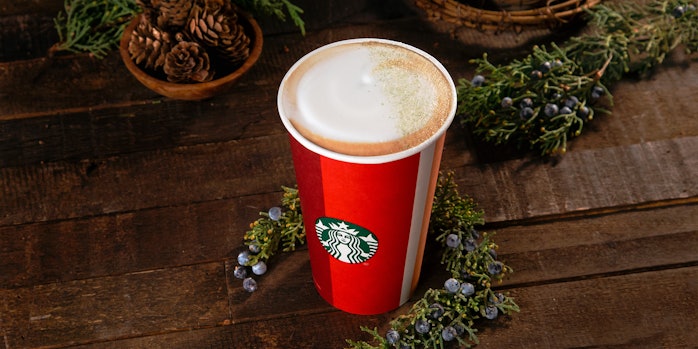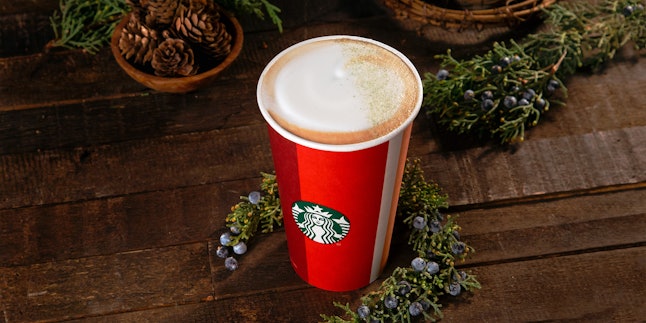 Starbucks achieves this with a juniper syrup, which is blended with Starbucks signature espresso and steamed milk. If you order it as is, it comes with a dusting of pine-citrus sugar on top of velvet foam — a truly delicious experience, if you choose to pursue it in its OG form. That being said, you definitely have the option to customize it with different types of milk, including coconut, Almondmilk, and soy, which I'd be curious to try only because the juniper flavor is so subtle yet distinct that I bet it lends itself to other milks in unique ways.
If the drink seems somewhat familiar to you, it's because this isn't the first time Starbucks has served it; in late 2017, a Wintry Juniper Latte was available at select Starbucks Reserve locations. This recent rollout, though, will hit Starbucks locations nationwide, so you'll be able to drink your Christmas tree in latte form even if you don't happen to be among the lucky people within driving distance of one of the Reserves. Plus, to sweeten the deal, on Dec. 1, Starbucks will donate 20 cents of every handcrafted latte purchase to the Global Fund to help fight AIDS with (RED) at participating U.S. and Canada Starbucks stores — the new Juniper Latte included.
Like the other drinks in Starbucks' holiday lineup, the Juniper Latte will only be around for a limited time, so make sure to get your hands on it while you still can — your taste buds will be confused for a few seconds, and then in bliss for the rest of the day.
Source: Read Full Article