What Will it Take for Rumors of a Feud Between Meghan and Kate to Die Down?
Rumors of a feud between Meghan Markle and Kate Middleton have been running rampant for the past few months. The news media, as well as fans, have been scrutinizing their every move, trying to determine if there is tension between the royal sisters-in-law.
When Kate was not able to attend Meghan's New York City baby shower, everyone wondered if it was because the two were not on good terms.
As many people know, Kate was also left in tears after a dress fitting before Meghan and Prince Harry's royal wedding almost a year ago, and it was speculated that this resulted in tension between the duchesses.
No matter what happens, it seems that the rumors of a rift are constantly circulating. 
At a recent event that took place at Westminster Abbey, Meghan and Kate were seen greeting each other with a friendly kiss on the cheek. It is also well-known that Kate and Prince William visited a very heavily pregnant Meghan at her new home on Easter Sunday.
Since it appears that everything is fine between Kate and Meghan, many are left wondering what it will take for rumors of a feud between the two will die down?
What started the rumors?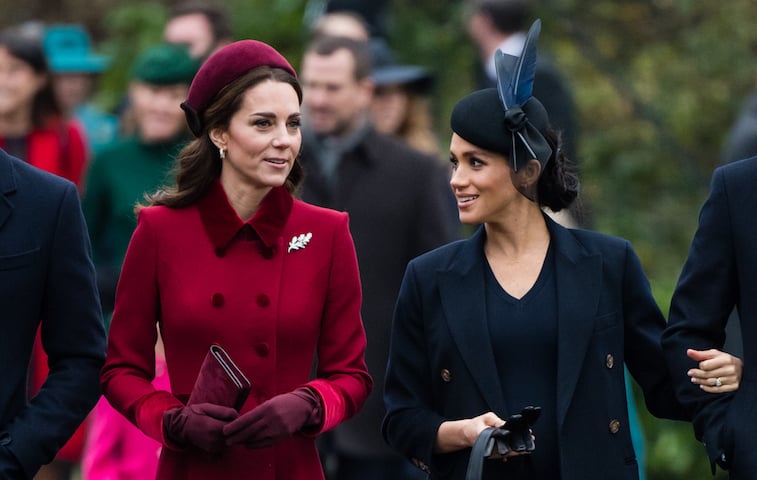 It looks as if the dress fitting was what started all of the rumors in the first place. Apparently, Kate took Charlotte to the fitting for her wedding outfit and became extremely upset.
It turns out that Kate's tears had nothing to do with Meghan, as the Duchess of Cambridge had recently given birth to Prince Louis and was very emotional. The rumors seemed to snowball from there, with many statements, pictures, and interactions between the two being closely monitored.
Did Meghan and Harry leave London because of tension?
https://www.instagram.com/p/Bu__YxKAfOQ/
When Meghan and Harry announced that they were leaving Kensington Palace to move to Frogmore Cottage in Windsor, England, the rumors began flying that the reason for the move was because of the "feud" between the two duchesses.
Naturally, many people thought that Kate and Meghan did not get along and that the Duke and Duchess of Sussex wanted to move as far away as they could.
This particular rumor was put to rest fairly quickly, when royal fans discovered that Meghan and Harry were moving in search of a quieter life, outside of the spotlight of London.
The split of the royal household
The recent split of the royal household came as a surprise to everyone, and naturally, it added to the rumors that there was tension between Meghan and Kate.
Fans and the news media initially thought that Meghan and Harry wanted to be separate from Will and Kate simply because they did not get along. Fortunately, it was revealed that the Duke and Duchess of Sussex were looking for independence, and that was the only reason for the split.
Are the rumors true?
It has been said that there actually is no feud or tension between Meghan and Kate. The sisters-in-law get along just fine, and although they have different personalities and perspectives on royal life, they certainly are not feuding.
So what will it take for the rumors to die down? Time will definitely tell. It could be that with baby Archie here, people will see that Kate is truly happy for Meghan and there is no tension between them.
Or, it is even possible that the two duchesses could become even closer in the near future, and the world will then be able to see that everything is good.
As the weeks and months go by, hopefully, everyone will see that there are no bad feelings between Meghan and Kate and that all is well between the Cambridges and Sussexes.
Source: Read Full Article